Posted on Thursday, June 25, 2020 04:30 AM
The ravines and waterfronts dotted throughout our communities make Durham Region an exceptional place to live. But every year there are people just like you who experience devastation and loss when those normally-calm waters get wild, and water flows where it's not wanted.
We know that our climate is becoming warmer, wetter, and wilder. As our storms become more extreme, the likelihood of damaging floods increases. But there are simple things that you can do to make your family and property more...
Posted on Wednesday, March 11, 2020 10:30 AM
If you're a local business owner, you might be watching the news and wondering how Coronavirus will affect your business. What steps should you take to prepare?
What is Coronavirus?
Coronaviruses are a large family of viruses that cause illness in humans ranging from mild cold-like symptoms to more severe cases that can cause pneumonia, acute respiratory distress syndrome, severe influenza-like illness, kidney failure and even death.
Our experts at Durham Emergency Management recommend you take...
Posted on Saturday, September 28, 2019 03:30 AM
You know you need an emergency kit. Yet with so much on your plate, you haven't gotten to it. The solution? Make it a fun family activity! Here's how:
Talk to your kids about preparedness: Talk with your children about different types of emergencies and the things you will need. Run through some situations that could happen, like having no tap water or no electricity. You are more prepared than you think!
Make your list, and go shopping: Make your emergency kit checklist and go on a fun...
Posted on Monday, July 29, 2019 10:45 AM
Disasters aren't business as usual. But there's a lot your business can do to help—and it starts with networking.
Whether you're in technology, agriculture, food service or skilled trades, your business has specialized skills, equipment, supplies and connections. If there is a disaster, this expertise and equipment could help save lives and improve morale for the people affected.
Examples from around the country
Across Canada, businesses have found ways to support people during forest fires, floods...
Posted on Sunday, July 28, 2019 09:45 AM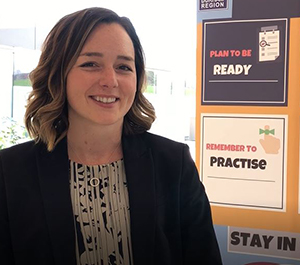 I'm an emergency planner for the Region of Durham. Being in this line of work, I know how important family preparedness is. I walk the talk by making sure my own family is prepared—and that means making sure my kids know how to stay safe, too.
How do I talk to my kids about this important topic? From one emergency-ready mom to another, here are my tips:
Pick the right time: Hungry, cranky or distracted kids are not great listeners.
Talk about the possible emergencies in Durham: Use examples or short...