Learn more: Affordable and Seniors' Housing Task Force six-month progress report
Championing Affordable Rental and Seniors' Housing Across Durham Region
The Affordable and Seniors' Housing Task Force identified a number of strategies and actions to address the need for more affordable rental housing for low- and moderate-income households, and the need for more housing choices for seniors.
The Championing Affordable Rental and Seniors' Housing Across Durham Region report provides a six-point plan of action:
Lead by example by ensuring that the Region is strategic, proactive and anticipatory, and is ready to champion affordable rental and seniors' housing.
Overcome the barriers that are preventing affordable rental and seniors' housing by reducing risks, increasing certainty and offsetting costs.
Partner and build support for affordable housing through improved education, communication, outreach and awareness, and by supporting partners who are in the business of creating and maintaining affordable rental and/or seniors' housing in Durham Region.
Showcase best practices and share information to build Durham Region's reputation as an affordable housing and seniors' housing exemplar, fit for imitation by others.
Advocate responsibly to senior levels of government for affordable and suitable housing that meets the needs of all.
Monitor progress and report on results to ensure that objectives are being met and that success is being realized through on-the-ground action.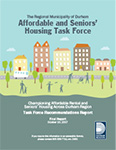 The six-point plan of action sets the stage for 34 recommendations that focus on a full spectrum of solutions, including policy, regulatory, educational, communications, outreach, partnership development, advocacy and reporting efforts.
This report builds on the Durham Region Strategic Plan 2015-2019, Regional Official Plan and At Home in Durham, the Durham Housing Plan 2014-2024 to support the creation and maintenance of affordable rental and seniors' housing.
About the Task Force
Durham Regional Council established the Affordable and Seniors' Housing Task Force. It met monthly from December 2016 to June 2017.
The Task Force:
Reviewed information related to the region's current rental housing supply.
Considered the input of industry experts.
Facilitated public information sharing.
Explored best practices being used by other municipalities and organizations.
You can learn more about its goals, mandate and activities by accessing the Affordable and Seniors' Housing Task Force Terms of Reference.
Membership
Members of the Affordable and Seniors' Housing Task Force included:
Roger Anderson, Regional Chair and CEO
Bob Chapman, Chair of the Finance & Administration Committee and City of Oshawa Regional Councillor
David Pickles, Chair of Health & Social Services Committee and City of Pickering Regional Councillor
Colleen Jordan, Town of Ajax Regional Councillor
John Grant, Township of Brock Mayor
Adrian Foster, Municipality of Clarington Mayor
Dan Carter, City of Oshawa Regional Councillor
Dave Ryan, City of Pickering Mayor
Bobbie Drew, Township of Scugog Regional Councillor
Jack Ballinger, Township of Uxbridge Regional Councillor
Elizabeth Roy, Town of Whitby Regional Councillor
An inter-departmental staff group led by the Region's Social Services Department supported the work of the Affordable and Seniors' Housing Task Force.
Additional information
Affordable, accessible and suitable housing is essential for healthy communities, and strong and vibrant neighbourhoods. On March 14, 2016, the Province of Ontario released an update to Ontario's Long-Term Affordable Housing Strategy (first introduced in November 2010). This update provides a framework to support the review of opportunities related to the supply of affordable rental and seniors' housing across Durham Region.
Next steps
The next progress report is scheduled for early 2019, with the intention of reporting back to Regional Council annually thereafter.