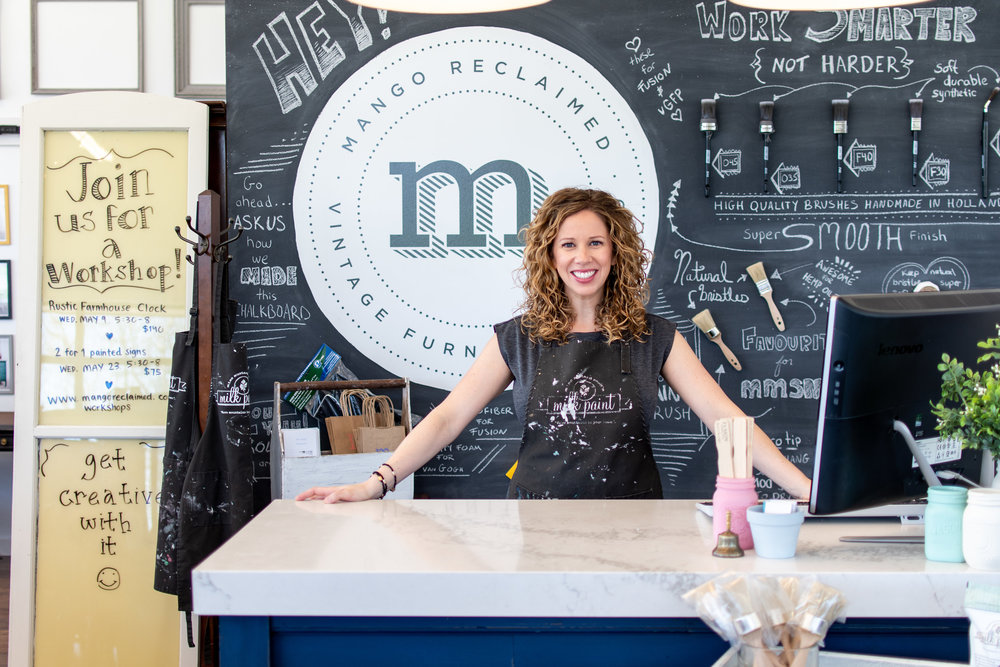 By Jennifer Foden
If you're looking to give your home a facelift with furniture, paint, home decor, etc., then look no further than these three Durham Region businesses.
Mango Reclaimed
Melanie Curley's journey to become the owner of Mango Reclaimed and Mango Paint, a vintage furniture studio and paint line, started with something tragic: her husband passed away. Melanie, who was pregnant at the time, left her job, sold her house in Toronto and returned back to Durham Region where her support network was. "I realized once my son was born that I could not go back to my old job," Melanie says. "I could not imagine commuting into the city every day as an only parent to a job—that was a good job—but [one] that I didn't really care about. So, I started thinking about what I could do out here."
And that's how Mango Reclaimed sprang to life. Melanie had always loved reclaiming vintage furniture. "It's sort of in my DNA, I guess," she says with a laugh. "We have a ton of furniture in our showroom that we paint and sell. We also have pieces that are unpainted that customers can choose their own colours and finishes. People also regularly bring us their furniture and we'll custom paint it for them."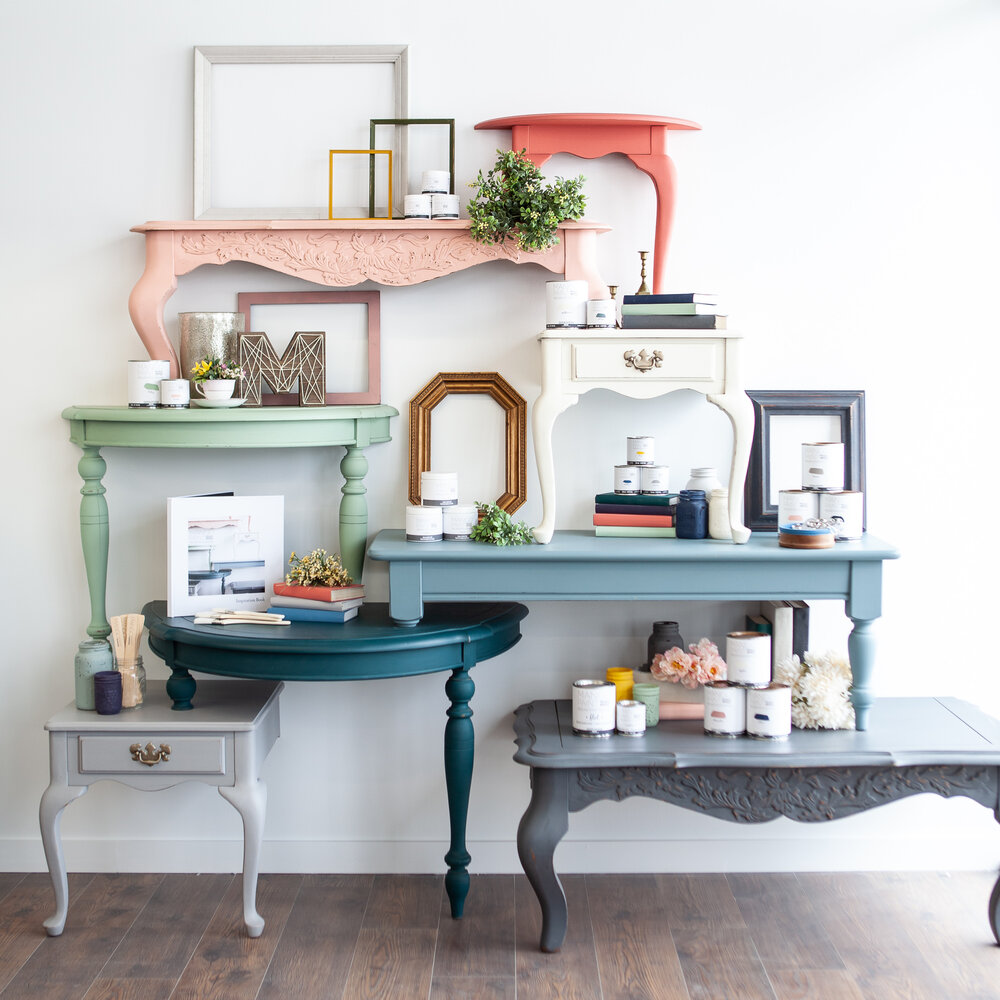 The studio, on Thickson Road in Whitby, opened in 2013 and the business hasn't slowed down since. "Initially we just had one of the studios down there, but we expanded in our fifth year and took over the two studios beside us," says Melanie. Not only has she given new life to more than 4,000 pieces of furniture, but she regularly teaches workshops to interested DIYers as well. In 2019, Melanie also launched her own 26-colour paint line that is distributed at retailers across North America, Europe and New Zealand. Mango Paint is Canadian-made and specifically designed for furniture projects.
Her advice for aspiring business owners? "Just go for it," she says. "Obviously do your research and get your plan in place. But also, don't be afraid to just jump in and learn as you go. We say that sometimes in our studio: 'Oh look, we're building the airplane as we're flying it.'"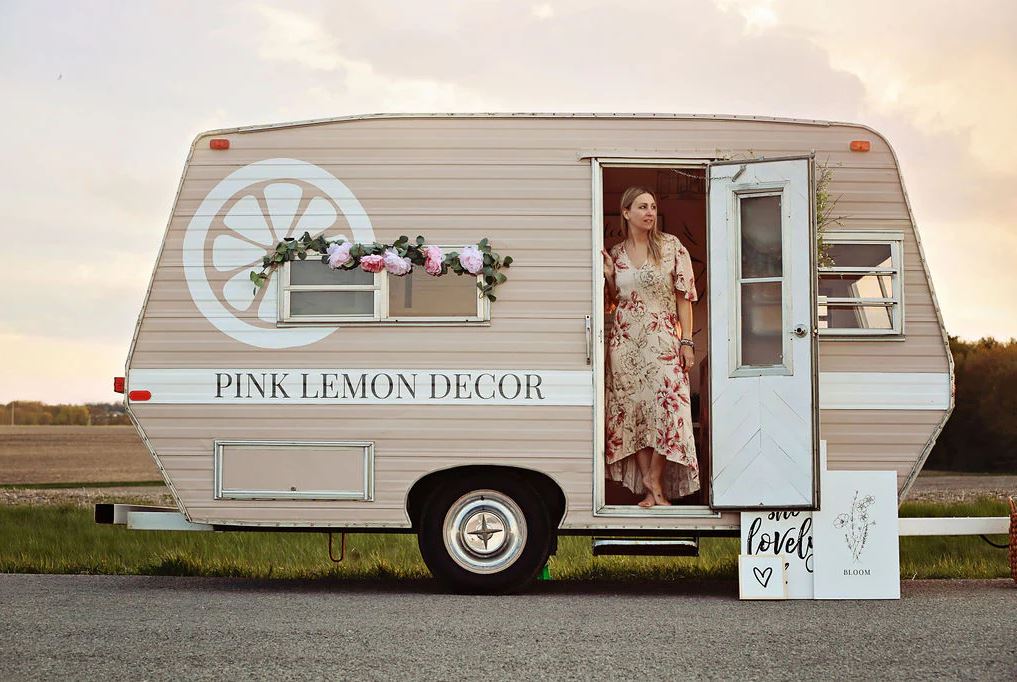 Pink Lemon Decor
Seven years ago, Amber Ross stepped away from a decade-long career in the corporate telecommunications world to spend more time with her family. "It allowed me to pursue my creative passions," says Amber. The business, Pink Lemon Decor, started as a home studio where she made wood signs, but it quickly evolved to making art prints and selling home decor and unique gifts. In 2018, she spent 10 months renovating a vintage trailer into a mobile pop-up shop on wheels. "We are no regular home decor store," she says. "We travel the province in our 1975 pink vintage trailer. We have visited over 50 markets all across Ontario."
And Amber's business has continued to grow. In 2022, she opened a bricks-and-mortar location in downtown Bowmanville. Customers will find all the same art and gifts found in the original mobile pop-up shop, plus a flower market. "We worked with Lisa Radu, founder of Aspen Florist, to create a flower bar where you can create your own bouquet—or, we can help you," Amber shares. The trailer is still on the road and returns each year from spring until snowfall.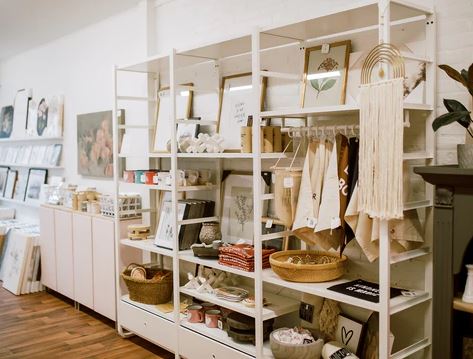 Pink Lemon Decor is all about community. As the business has grown, so has the team. Amber employs a team of three local women who reside in Durham. "We live in the area and there is nothing better than doing business where you live," says Amber. "Our customers are our neighbours and the love for small businesses here in Durham Region is really strong."
What would Amber say to someone considering opening up a business in Durham Region? "Do lots of research and use local resources to help you navigate permits, bylaws, business funding, etc.," she shares. She points to the Clarington Board of Trade and the Bowmanville BIA as valuable organizations she's worked with. "Also, have a plan for growth and invest in your team."

Northdog Wood Co.
It's hard to believe that just six years ago, Jason Sulyma, the president of Northdog Wood Co., a high-end furniture company based in Oshawa, had never built anything with his hands before. Jason was working at Apple and was also a touring musician. "When the band decided to dissolve, I had a month or two where I was kind of feeling sorry for myself," says Jason. The space he was living in didn't have a coffee table and he woke up one morning and just decided to make one. "I really wanted to be creative," he says. "I wanted to do something that was for me and I didn't really care how it turned out. I assumed it was going to turn out terribly." That weekend, he had friends over and someone expressed interest in commissioning one. He started posting his stuff online and one thing led to another. "I kind of fell in love with it," he says. "I left my job at Apple and decided to invest in myself."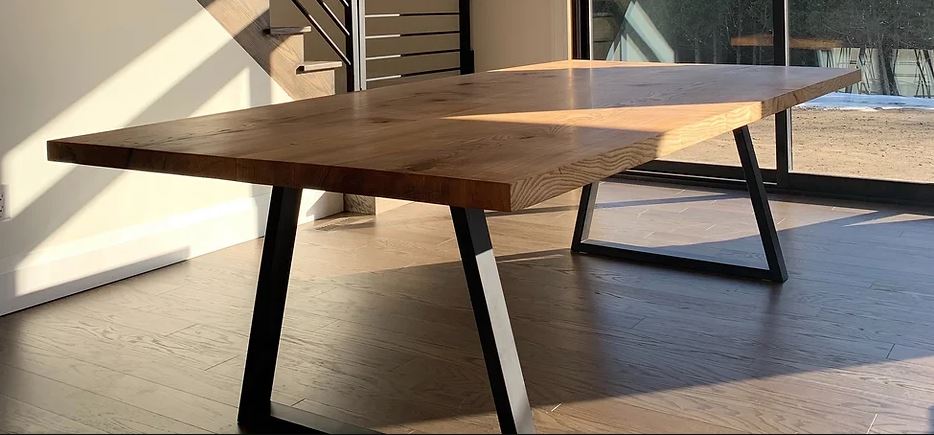 These days, the company is based out of an old heritage building that used to be home to Oshawa This Week. Customers can visit Northdog Wood Co.'s retail space or shop online to order something custom, or buy the necessary materials to make a similar project at home. Jason's furniture is made from mixed materials—reclaimed wood, steel, quartz, etc. —and while he's known for his tables, he's also made custom bars, offices and kitchens, too. "Almost everything we use is sustainably sourced," says Jason. "We're registered with Ontario Wood, which is a seal that says the majority of your wood is salvaged within the province."
Jason has lived in both Toronto and Kingston, but he decided to base his business out of Durham for two reasons. "I grew up here and I know the area, and it felt like home," he says. "But number two was watching the growth of what was happening in Durham—it just made sense to me."