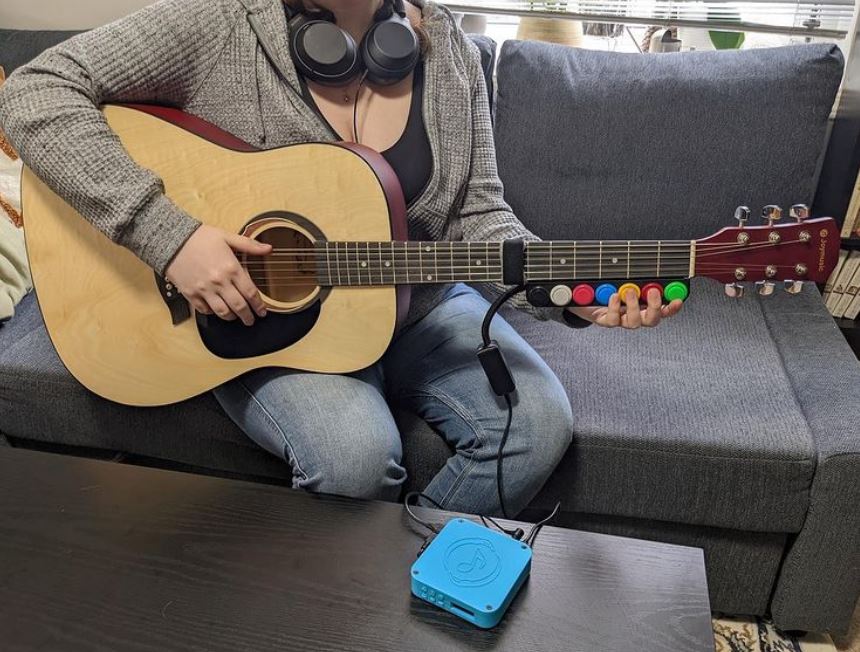 By Jennifer Foden

From adaptive musical instruments to facial gesture recognition technology, these three Durham Region businesses are breaking new ground in the growing accessibility and inclusion space.

Axcessiom Technologies
For Shanjay Kailayanathan, the founder of Axcessiom Technologies, an Oshawa-based tech startup, the inspiration for his business was personal. "I came up with the idea because of a problem I was having," he says.
When Shanjay was 15, he was in a car accident that left him paralyzed from the chest down. Fast forward to university, Shanjay was a software engineering student at Ontario Tech and decided to get back on the road. However, he found that driving his car in a wheelchair was a challenge: "I drove with hand controls," he says. "So, gas and break with one hand and steering with the other. It was hard, sometimes impossible, for me to control other functions of the vehicle–like turn signals, lights, wipers–because both of my hands were occupied. It was obviously a safety issue."

This sparked an idea for a driver assistance system that would use facial gesture and voice recognition technology to activate different functions of a vehicle. For example: Wink your right eye for two seconds and your car's right-hand turn signal would activate. Shanjay took the idea to Brilliant Catalyst, an on-campus business incubator, and the rest–as they say–is history.

Through Brilliant Catalyst, Shanjay received funding and business advice, and at Spark Centre, an Oshawa-based innovation hub, he had access to mentors, advisers and investors. "They were the people we really needed to push us to that next level," he recalls.

Shanjay has since teamed up with Hanna Haponenko, a product designer and his co-founder, hired several engineers via various grants, finished a prototype as well as beta testing, is actively looking for investors and plans to start making sales by the end of next year or early 2024.

And Axcessiom's technology can help far beyond drivers with disabilities, including seniors, new drivers and those operating autonomous vehicles. The company has also partnered with Grandview Kids, a children's treatment centre in Oshawa, to see how the technology could be used in hospitals. "We want to change the world," Shanjay beams. "We want to improve accessibility for everyone."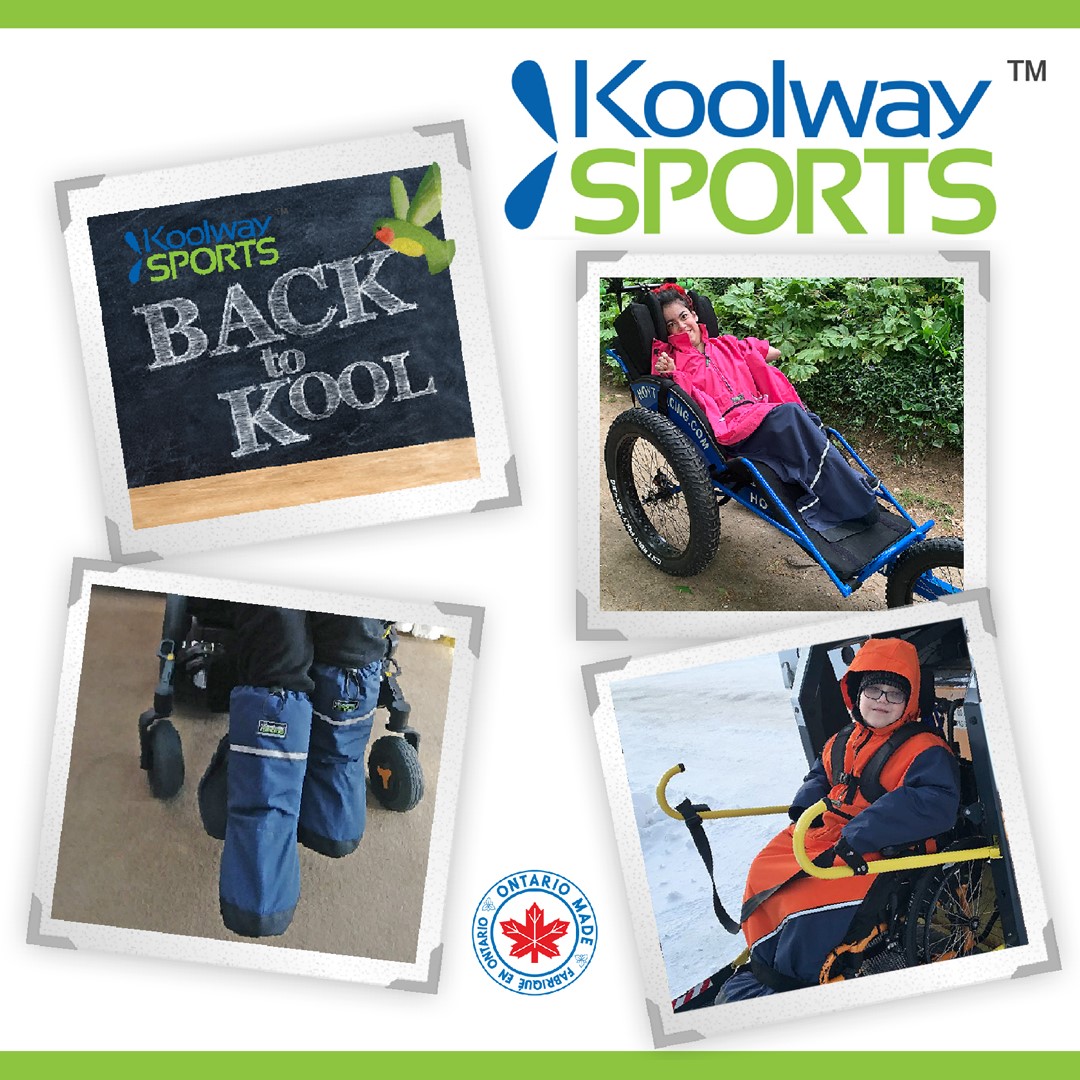 Koolway Sports
Jennifer Gallienne's journey to creating outerwear for adults and children with disabilities started 20 years ago when they lost a job as a graphic artist. "My cousin was making these coats and I said: 'This is a great product, why don't we market it?' I did my research. And I found there was nobody else in the world making coats like this."

Jennifer says it's a challenge for people with disabilities to find outerwear that's easy to put on because each person has unique physical requirements. "A lot of people wear coats backwards and pile themselves up with blankets to keep warm. And it's really not keeping them warm."

The company, now called Koolway Sports, has seen its products evolve over time by listening to their customers. "At first, we used to have a half zipper," Jennifer says. "But then somebody said: 'If you put a full zipper, then we can dress people easier.' And then a mother was pushing her daughter in a running chair and she said it would be great to have some sort of bunting bag attachment to the jacket. So, I sat down with her and said: 'OK, I'll draw this out, what do you think?'"
Each of Koolway's products are tailor-made to fit the customer. "There are no two individuals with the same medical challenges or the same body frame," says John Cook, Jennifer's co-founder and business partner.
The company's ability to adapt was put to the ultimate test during the first year of the pandemic when they began to manufacture reusable hospital gowns. "We called every staff member beforehand to get their buy-in," says John. The company is now back to making outerwear.

Even though the Whitby-based company is focused on the global market versus strictly local sales, all of their products are made right here in Durham Region by sewers who previously worked in the high-fashion industry. And the company supports their community of customers through a donation program. "So, when somebody outgrows a product," Jennifer says. "They can pass it on to another family."


Inclusive Instruments
When Ryan McCaul, now a teacher, was working as a development services worker at Participation House London, it was obvious to him how instrumental–pun intended–music was in the lives of the people he supported.

He initially started by creating iPad touchscreen musical devices but soon realized real instruments were the answer. "There's an important identity piece to playing an instrument," Ryan says. "And I found that the individuals we worked with wanted to be a guitarist and play a real guitar with others."

Ryan went on to study music education, as well as entrepreneurship and innovation, at Northwestern University where he worked with local music programs on an idea to create accessible musical instruments.

After grad school he moved back home to Durham Region and, along with his business partner Ian Gregor, a space engineering grad and former robotics instructor, created Inclusive Instruments. At first, they made custom instruments such as guitars, clarinet, drum pads, etc., and over time, they offered their three most popular designs for sale on their website.

The adaptive electric and acoustic guitars have a button attachment that replaces having to hold down strings to change chords. The air guitar (yes, really!) is a motion-sensor device for those who may have difficulties holding an instrument. "They are real instruments designed for solo or group play," Ryan says with pride.

The company makes everything right in Durham Region and has plans to offer more instruments in the future, like violin or ukulele.
Ryan's advice for someone considering starting a business in Durham Region? "Get connected with 1855 Accelerator," he says without a beat. Ryan shares that the technology accelerator has provided valuable advice, support and contacts since launching his business in 2020. "Ian and I both grew up in Ajax and Pickering," Ryan says. "We started Inclusive Instruments living in Durham and have loved the support of the business community here."