Message from the Commissioner & Medical Officer of Health
I am pleased and proud to present our 2018 Durham Health Check-Up! with an updated design and additional information providing a more comprehensive picture of our 2018 successes and achievements. The Durham Health Check-Up! now incorporates the Performance Report and presents information and stories by program.
Our job is to protect and promote the health of Durham Region residents through the delivery of public health programs and services and paramedic services. The range of our public health programs includes those to support healthy living, healthy families, prevent and control infectious and communicable diseases, protect the public's health from potential health hazards and analyze the health status of Durham Region residents.
We can only accomplish our goals and meet the needs of Durham Region residents with a diverse staff that has varied expertise and skills working in collaboration with our local partners. Our staff includes paramedics, public health nurses, public health inspectors, dental assistants and hygienists, family visitors, infant and child development consultants, epidemiologists and tobacco enforcement officers, just to name a few. Our programs are also supported by the important work of our administrative support staff, graphics technicians and community development, internet and resource coordinators. As you read through the report you will find detailed stories of just some of our achievements in 2018, highlights to show the reach of our services, and some of our key accomplishments.
Robert Kyle, BSc, MD, MHSc, CCFP, FRCPC, FACPM
Key Health Department Achievements

Paramedics responded to 142,762 calls for
emergency and non-emergency service
Responded to 23,126 calls to
Durham Health Connection Line and Environmental Help Line
Durham Health Connection Line Calls
Infectious Diseases Prevention and Control (1,515)
Immunization (12,503)
Healthy Living (498)
Healthy Families (3,318)
General (679)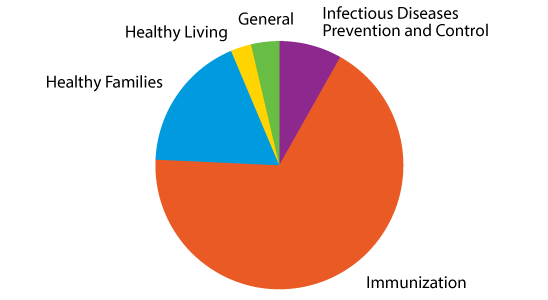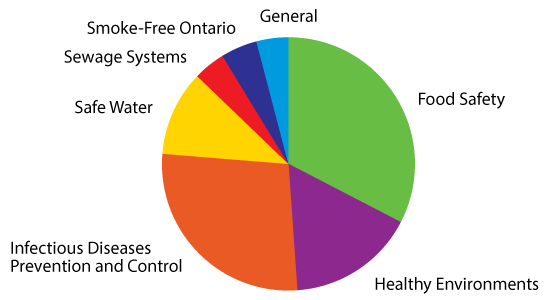 Environmental Help Line Calls
Infectious Diseases Prevention and Control (1,264)
Food Safety (1,504)
Smoke-Free Ontario (215)
Safe Water (503)
Sewage Systems (188)
Healthy Environments (751)
General (188)
6,324 reports of infectious diseases investigated
Administration
Promotional videos help to tell the story of public health programs and services
The Health Department developed a series of promotional videos to help inform Durham Region residents about the role of public health in the community. The "This is Public Health" video series is a collection of seven videos focusing on the work performed by Health Department staff and the many lives that are touched by the Health Department's programs and services.
The series includes the title video, This is Public Health, followed by six additional videos including:
These and other informative videos providing details on more Health Department programs and services are available on the Health Department's YouTube channel.
---
Administrative Services
Goal: To provide effective and efficient support to all Durham Region Health Department divisions, programs and services that help to enhance the delivery of the Ontario Public Health Standards and to meet all requirements of internal and external customers.

Renovated the Port Perry office in collaboration with program managers and the Works Department.
Implemented a staff engagement strategy for Administrative Services staff.
Community & Resource Development (CARD)
Goal: To provide support to all Durham Region Health Department divisions, programs and services, helping to enhance compliance with Ontario Public Health Standards.
Revamped Durham Health Check-Up, the Health Department's annual online community health report.
Developed and produced six divisional promotional videos for the "This is Public Health" video series, resulting in over 17,500 views on YouTube and Facebook.
Issued 79 media releases and public service announcements.
Coordinated 20 program/divisional advertising campaigns.
Posted 1,549 social media messages, including 696 for Facebook, 676 for Twitter and 177 Instagram posts.
Privacy & Information Security
Goal: To provide effective and efficient privacy and information security support to all Durham Region Health Department divisions, programs and services that help to enhance compliance with applicable privacy and public health related legislation, information security standards and information management best practices.
Reviewed and updated the Incident Management Policy and Procedure.
95 per cent of Durham Region Health Department staff completed the online privacy training module.
Delivered privacy and security training to 191 Regional staff, students and contracted workers.
Investigated and closed eight privacy incidents.
Health Analytics, Research & Policy
Goals:

Population Health Assessment: Public health practice responds effectively to current and evolving conditions and contributes to the public's health and well-being with programs and services that are informed by the population's health status, including social determinants of health and health inequities.

Health Equity: Public health practice results in decreased health inequities such that everyone has equal opportunities for optimal health and can attain their full health potential without disadvantage due to social position or other socially determined circumstances.

Effective Public Health Practice: Public health practice is transparent, responsive to current and emerging evidence, and emphasizes continuous quality improvement.
Engaged with the Central East Local Health Integration Network (CE LHIN) to share local health neighbourhoods information.
Collaborated with the CE LHIN and other health units on a survey module for the Rapid Risk Factor Surveillance System (RRFSS) regarding opioid use during pregnancy and breastfeeding.
Produced and distributed 208 population health assessment and surveillance information products.
Completed 103 ad hoc data requests for information or data summaries.
Supported 30 program evaluations and two needs assessments.
---
Infographics developed to help communicate disease trends
The Health Analytics, Research and Policy (HARP) team produces an annual report, Infectious Diseases At A Glance, to communicate disease trends in Durham Region. To highlight key infectious diseases of public health significance, HARP developed a collection of infographics. These infographics summarize disease trends and case characteristics for the last five years, highlight common symptoms and risk factors, and emphasize testing and treatment best practices.
These infographics provided highlights on the following topics:
Health Protection
Check&Go! disclosure program – easy access to health inspection results
The Health Department has made it easier for area residents to access health inspection results through the new Check&GO! disclosure program. This program builds on the previous public posting of food establishments and personal service settings, known as DineSafe Durham and Know Before You Go, respectively.
The Check&GO! disclosure program consists of on-site signage at establishments and online postings of health inspection results, confirmed infection prevention and control (IPAC) lapses, and complaints and legal activities designed to help Durham Region residents make informed decisions and protect their health.
In November 2018, the Check&GO! disclosure program was launched following the implementation of a new disclosure by-law which was passed by Durham Regional Council. This new program now provides access to online inspection results for:
food establishments,
personal service settings,
child care settings,
recreational water facilities (public swimming pools, spas and splash pads),
small drinking water systems, and
recreational camp facilities
Check&GO! is built on the backbone of the Health Department's new inspection system software, Hedgehog 5. Launched in 2018, this new system has modernized the Health Department's ability to collect, analyze and report on electronic health inspection information. Through cloud technology, public health inspectors can enter inspections results in real time, with inspection results posted online within five minutes of being completed.
Increasing food handler training accessibility through multi-language initiatives
Ontario Regulation 493/17 (Food Premises) came into effect in July 2018, eliminating the patchwork of mandatory food handler training programs (FHT) across Ontario. This change requires all food service premises operators to now take the mandatory FHT certification and requires operators and owners to ensure that at least one certified food handler is working at the location during every hour that the premises is operating.
Given the rapidly growing and diverse population within Durham Region, the Health Department is expanding both course options and languages offered for this training, to better support members of the community in obtaining the required FHT certification. This was done by providing the exam in 18 languages and translating the course study guide into 10 different languages. In addition, 16 of the Health Department's public health inspectors are fluent in a total of 20 languages and can assist in exam support, as well as on-site translation with food premises operators where English is the second language.
The Health Department had great success with the FHT training course delivered in Cantonese in November 2018, with plans to expand and offer an additional course in 2019. The FHT team conducted one on one support with visually impaired students to help them gain success in certification and partnered with the Canadian Hearing Society on two occasions for hearing impaired students.
---
Emergency Management
Goal: To enable consistent and effective management of emergency situations.
Developed and implemented a plan, in collaboration with Ontario Power Generation, Ministry of Health and Long-Term Care and other stakeholders to collect 240,000 potassium iodide (KI) tablets and re-distribute KI tablets to first responders and institutions within the 10 km primary zones of Pickering and Darlington Nuclear Generating Stations.
Launched three communication campaigns to raise public awareness about KI tablets.
Reviewed and updated the Continuity of Operations Plan.
Participated in one large-scale Regional reception centre emergency exercise and 24 smaller emergency exercises with local municipalities and community partners.
Received 275 after-hours calls; 96 per cent of callers received a response within one hour.
Food Safety
Goal: To prevent or reduce the burden of food-borne illness and support the implementation and enforcement of the Healthy Menu Choices Act, 2015.
Completed all inspections and re-inspections of high-risk, moderate-risk, and low-risk food premises in accordance with the Ontario Public Health Standards, for a total of 7,515 food premises inspections.
Inspected 831 regulated food service premises for compliance with the Healthy Menu Choices Act, 2015.
Provided 12 no-cost food handler training courses in partnership with Durham College.
Provided 52 food handler training courses of which 30 were provided for priority populations, proctored 18 exam challenges and certified 2,906 new food handlers.
Created four new vlogs: Food Safety Hacks, Breast Milk Storage Safety, Picnic Food Safety, Breaded Chicken – are you preparing it safely?
Identified 9,315 violations of the Health Protection and Promotion Act (HPPA) and Food Premises Regulation.
DineSafe Durham issued 6,498 (98 per cent) green, 133 (2 per cent) yellow and 20 (<1 per cent) red postings.
Healthy Environments
Goal: To prevent or reduce the burden of illness from health hazards in the physical environment.
Launched a pilot of the new Cold Warning and Information System with community partners in December 2018.
Recreational camp inspections now publicly disclosed through Check&Go! disclosure program.
Issued five Heat Warnings (140 days) and two Extended Heat Warnings (six days).
Addressed 903 health hazard inquiries/complaints.
Inspected 70 school portables for structural deficiencies that could lead to mould growth and seven re-inspections.
Ontario Building Code - Part 8 (Sewage Systems)
Goal: To prevent diseases in humans and contamination of the physical environment due to on-site private sewage systems.
Completed all sewage system inspections in accordance with the Lake Simcoe Protection Act, 2008 and the Ontario Building Code.
Conducted 630 inspections and re-inspections of private sewage systems and issued 215 building permits for installation of private sewage systems.
Safe Water
Goal: To prevent or reduce the burden of water-borne illness related to drinking water and to prevent or reduce the burden of water-borne illness and injury related to recreational water use.
Conducted 694 inspections of all regulated and non-regulated recreational water facilities in accordance with the Ontario Public Health Standards.
Completed all inspections of small drinking water systems in accordance with the Ontario Public Health Standards.
Recreational water facilities and small drinking water systems inspections now publicly disclosed through the Check&Go! disclosure program.
Responded to 126 reports of adverse water and issued 18 Boil-Water Advisories/Orders and Drinking Water Advisories.
Obtained 805 water samples at 13 public bathing beaches.
Healthy Families
Durham Health Connection Line
Goal: To ensure Durham Region residents have access to health information and counselling and referral to appropriate resources on health issues as outlined in the Ontario Public Health Standards.
Responded to inquiries by telephone and email to provide assessment, health education, counselling and referrals to community resources.
across the Health Department to support program activities.
Child and Youth, Prenatal and Newborn, and Healthy Babies Healthy Children
Goal: To achieve optimal preconception, pregnancy, newborn, child, youth, parental and family health.
Launched a public awareness campaign targeted to women of child-bearing age in Clarington to promote physical activity, nutrition and stress management programs. Key messages were featured on Cineplex movie screens, Durham Transit bus shelters, digital screens in office lobbies and recreational facilities, and on the Municipality of Clarington website.
Facilitated seven Supporting Mothers and Infants Learning Experience (SMILE) sessions for expectant young mothers and their support people.
Facilitated 22 health education sessions at Ajax and Pickering Welcome Centres to address parenting needs of newcomer parents.
Launched a survey to obtain client feedback about Healthy Babies Healthy Children (HBHC) services as part of a plan to evaluate the program.
Completed 409 Nursing Child Assessment Satellite Training (NCAST) assessments with clients in the Blended Home Visiting program.
Completed a total of 3,754 HBHC public health nurse home visits and 3,623 family visitor visits.
Facilitated 192 sessions at five Food 4 Thought sites.
Facilitated 140 breastfeeding groups (221 new clients).
Facilitated nine Eat Play Love group drop-in sessions, in collaboration with community partners, for vulnerable parents in Oshawa, reaching 63 parents, three support people and 91 children.
Infant & Child Development
Goal: To enhance the growth and development of children, including those with a developmental disability and/or risk of developmental delay by partnering with families to provide support, information and early intervention services.
Revised program operations and services based on new guidelines from the Ontario Ministry of Children, Community and Social Services.
Implemented a communication plan to increase community partner awareness of program changes.
Ongoing engagement with families and professionals through social media.
Provided home visiting services to 948 infants and children and 851 families; held 32 pre-term baby check-ins serving an additional 47 families.
As part of a six-month pilot project, provided 48 supported transitions into child care for infants and young children with special needs.
Provided supported school transitions for 55 young children with special needs.
Healthy Living
Addressing the opioid crisis in Durham Region
The opioid crisis is a complex public health issue. There are many factors that have led to the significant increase in opioid-related overdoses including, but not limited to, high rates of opioid prescribing and the emergence of strong synthetic opioids in the illegal drug supply, such as fentanyl.
In August 2017, the Ontario Ministry of Health and Long-Term Care (MOHLTC) announced that Ontario public health units were accountable under the Ministry's Harm Reduction Program Enhancement plan to address the opioid situation through: naloxone distribution and training; local opioid response; and, opioid overdose early warning and surveillance.
Naloxone Distribution and Training:
Naloxone distribution requirements for public health units include: serving as Regional naloxone distribution hubs for eligible community organizations who work with at risk clients/families or friends; and, providing agency training on recognizing the signs of overdose, reducing the risk of overdose, and administering naloxone in cases of opioid overdose. Public health units are also required to collect naloxone data from community organizations, support agencies with policy development and increase awareness of community organizations regarding naloxone availability.
The Health Department has partnered with 20 community agencies/organizations, to provide opioid overdose prevention and response training, assistance with policy development, as well as access to naloxone. As of December 2018, approximately 1,042 naloxone kits and 146 naloxone refills have been ordered and distributed to eligible community agencies.
Local Opioid Response Plan:
Formed in fall 2017, the Durham Region Opioid Task Force includes key partners from across the Region. The Durham Region Opioid Response Plan, contains three priority areas for action:
coordinate surveillance activities and data indicators, and develop a real time response plan;
develop a harm reduction strategy that fosters service coordination, access to treatment and harm reduction supplies for priority populations in Durham Region; and
address stigma by increasing awareness about the connection between mental health, trauma and substance use among the general population, as well as health care providers.
Collaboration with community partners and various stakeholders is ongoing to accomplish the work outlined in the Durham Region Opioid Response Plan.
Oral Health using Encounter to track client records
In 2018, the Oral Health division transferred all client records to ENCOUNTER, the electronic medical record system used by other programs within the Health Department.
This was a big change for Oral Health which involved discontinuing the use of paper medical records and creating electronic versions of forms to produce typing templates and forms to collect data, transitioning from a dental specific scheduling software, dead-filing all paper records for Oral Health clients, and training staff on the new system. Preparation for this transition took approximately one year.
Four staff were chosen to become subject matter experts (SMEs) who worked closely with other SMEs in the Health Department to create the workflows, new documents and train staff. The benefits of working in the electronic format include consistent charting of services provided to clients and one centralized repository for data from which to pull reports.
Protecting the community's health through smoke-free legislation
In 2018, the revised Smoke-Free Ontario Act, 2017 (SFOA, 2017) was passed by the province. The new SFOA, 2017, combines two previous provincial Acts, the Smoke-Free Ontario Act, 2006 and the Electronic Cigarette Act, 2015, resulting in a strengthening of smoking and vaping laws to protect people from second-hand smoke and vapour. The new SFOA, 2017 regulates the sale, supply, display and promotion of tobacco and vapour products. It also regulates the smoking of tobacco and cannabis (medical and recreational), and the use of e-cigarettes to vape any substance.
The Health Department's tobacco enforcement officers (TEO) received training from the MOHLTC on the SFOA, 2017 just prior to implementation in October 2018. TEOs continue to receive information and updates on the interpretation of the new legislation as they face new challenges involving enforcement efforts; these challenges relate to the display and promotion of vapour products, and the increased incidence of vaping by youth in schools, as well as on school property.
Through the implementation of the new legislation, the MOHLTC has directed public health units to use a progressive enforcement strategy. This involves providing education and training to the operators, followed by warnings and then, if required, laying charges for issues of ongoing non-compliance with the new requirements.
New MOHLTC smoking and vaping protocols and guidelines also came into effect in October 2018, which require disclosure of tobacco sales convictions under the SFOA, 2017; these are posted on the Region's website. The Health Department also developed and shared information with stakeholders across Durham Region on the health risks associated with smoking, vaping and the use of cannabis.
In addition to the SFOA, 2017 implementation, the Health Department also completed the repeal and replacement of the current Regional Smoke-Free By-law, passed in 2002, with a new Regional by-law. Since 2002, there have been several changes to smoke-free legislation at the provincial level, as well as the legalization of cannabis in Canada on October 17, 2018.
The new Regional smoke-free by-law will remove the outdated sections in the previous by-law and will include new requirements to strengthen smoking and vaping restrictions in workplaces and public places throughout Durham Region. The new Regional by-law is currently in the final approval stages.
---
Chronic Disease Prevention
Goal: To reduce the burden of chronic diseases of public health importance* and improve well-being.

*Chronic diseases of public health importance include, but are not limited to, obesity, cardiovascular diseases, respiratory disease, cancer, diabetes, intermediate health states (such as metabolic syndrome and prediabetes), hypertension, dementia, mental illness and addictions.
To date, have recruited 94 participants for the BETTER Health: Durham research project in Priority Neighbourhoods.
Implemented the "Leave the Pack Behind" provincial communication campaign to promote tobacco-free living to young adults.
Finalized a Healthy Living Framework that incorporates healthy eating, physical activity and sleep messages and launched a Healthy Routines section on durham.ca.
Collaborated with Durham College and the Ontario Tech University to implement the One Day Stand event to raise awareness and strengthen support for smoke-free campuses.
Collaborated with 37 school communities to promote active travel initiatives.
Collaborated with 27 community partners advocating for health equity related to recreational opportunities.
Provided four workshops for 60 educators related to physical literacy and healthy eating.
1,937 grade 5 students accessed the Grade 5 Action Pass for use in local recreation centres in eight municipalities.
Prevention of Injury & Substance Misuse
Goal: To reduce the burden of preventable injuries and substance use.
Collaborated with 10 stakeholders to develop Durham Vision Zero plan and developed actions related to: intersections; pedestrians; cyclists; young drivers; aggressive drivers; distracted driving; impaired driving; and, commercial motor vehicles.
Provided curriculum support to 25 elementary schools regarding stress management.
Provided school/school board training sessions to 546 educators related to stress management for students.
Consulted with 245 youth regarding mental health promotion in collaboration with school and community partners.
Partnered with 10 schools to implement a youth engagement strategy to address substance use including: tobacco, cannabis, opioids and alcohol use among youth. Students collectively engaged 10,000 peers, school staff and parents through their youth-led plans.
School Health
Goal: To achieve optimal health of children and youth in schools through partnership and collaboration with school boards and schools.
Supported school boards through the process of developing school health and well-being strategic plans.
Implemented public health programs and services at Durham District School Board (DDSB) youth hubs in collaboration with youth and community partners.
Developed a plan to implement the vision screening program in 2019 for 7,500 senior kindergarten students in 186 elementary schools.
2,124 school visits conducted by public health nurses.
Seventy-nine schools were presented with the Healthy School Award for implementing the Healthy Schools model.
Supported 60 school communities in creating an environment supportive of healthy living behaviours, including healthy eating, physical activity and sleep using the Healthy Schools approach.
Oral Health
Goal: To enable all children in Durham Region to attain and sustain optimal oral health and development potential, and to support adults who require assistance in accessing oral health information and services.
Assisted 2,329 children to access oral health care through the Healthy Smiles Ontario program.
Purchased the material to expand digital radiography technology in the dental clinic; installation expected in 2019.
Provided 28,081 oral health screenings of children and youth, including 27,110 screenings at schools, 632 screenings in the Health Department clinic and 339 screenings in community settings.
Identified 1,680 children as requiring urgent dental care and 1,035 children with non-urgent dental needs.
Provided preventive dental treatment to 3,648 clients in the dental clinic.
Provided oral health education to 7,301 students at 44 high risk schools.
Smoke-Free Ontario Act, 2017
Goal: To ensure that tobacco, e-cigarette vendors and other organizations that are subject to the Smoke Free Ontario Act, 2017 are in compliance with the Act and to restrict youth access to tobacco products and e-cigarettes.
Completed all tobacco and e-cigarette compliance inspections and investigations.
Drafted a new regional smoke-free by-law which addresses smoking of cigarettes, cigars, pipes, water pipes, hookahs, cannabis, medicinal cannabis, or any other lighted or heated smoking products and vaping of any substance intended to be inhaled including nicotine, cannabis and medicinal cannabis.
Provided eight training sessions for e-cigarette vendors with a total of 149 participants.
Laid 51 charges against tobacco vendors for sale or supply of tobacco to youth.
Conducted 780 compliance inspections of tobacco vendors.
Conducted 284 youth access inspections of e-cigarette vendors and issued 78 violation-warning notices.
Infectious Diseases
Protecting school students' health through up to date immunization
The Health Department maintains and assesses immunization records for each child attending school in Durham Region. This work is done to increase the protection of children from several vaccine preventable diseases. As directed by the Immunization of School Pupils Act (ISPA), students are required to have immunizations for nine diseases: diphtheria, tetanus, pertussis, polio, measles, mumps, rubella, meningococcal and varicella. The Health Department is required to enforce the ISPA each year. Parents/guardians can also choose to pursue a medical or a conscience exemption to have their child excused from immunizations.
During the school year, all families are provided with information about the importance of immunization and the requirements of the ISPA. Specific notices are sent to families where students are overdue for required immunizations. If the requirement for proper immunization is not met, a student may receive a suspension notice.
Leading up to suspension, nurses work closely with parents and the school community to ensure each student is protected and their record is up to date. If a student is not up to date on their immunizations, the student may be suspended from school for a maximum of 20 days. Over 111,000 students were enrolled in school in Durham Region for the 2017-18 school year, of which 1,183 were suspended. After six school days, over 80 per cent of suspensions were resolved and students were back in class.
Parents can also submit either a medical or conscience exemption. For parents seeking conscience exemption, a mandatory education session was introduced in September 2017. A total of 193 medical exemptions and 493 conscience exemptions were received during the 2017-18 school year.
The Health Department has immunization information that has identified specific communities that may need additional support to protect their children. Nurses work closely with families and within the school communities in these areas to ensure their children were fully immunized.
Working to control and prevent TB in Durham Region
Tuberculosis (TB) is a disease which is preventable and curable, but remains an epidemic in much of the world. TB is responsible for the death of over a million people each year, mostly in developing countries where TB is prevalent.
TB disproportionately affects those facing social inequities and lack of access to health services. It is a contagious disease caused by bacteria and usually attacks the lungs, but can affect any part of the body. TB is spread from person to person through close, prolonged contact and breathing the same air which contains the TB germ.
Public health works to reduce the burden of TB through prevention and control. This includes the management of people who are on immigration medical surveillance, cases of inactive TB infection, cases of active TB disease and follow-up with anyone who may have been exposed to TB or has been identified as a contact of a person with active TB disease. An infographic highlighting TB in Durham Region from 2013 to 2017 was created and shared with healthcare providers.
In 2018, Durham Region Health Department:
Investigated 38 potential cases of active TB including, 20 confirmed active cases.
Followed 435 contacts of active TB cases.
Administered 597 TB skin tests.
Assessed 335 cases of inactive TB infection.
Followed 93 clients on TB medical surveillance.
---
Immunization
Goal: To reduce or eliminate the burden of vaccine preventable diseases through immunization.
Completed immunization record assessments of all school-aged children for the 2017-2018 school year.
Implemented strategies to improve immunization coverage rates in local priority neighbourhoods.
Implemented strategies to help reduce vaccine wastage in accordance with the Ontario Public Health Standards.
Administered 206 doses of influenza vaccine at five high risk priority population clinics.
Administered 32,733 doses of vaccine to students: 7,538 doses of meningococcal vaccine; 11,906 doses of hepatitis B vaccine; and, 13,289 doses of HPV vaccine.
Distributed 21,186 immunization notices to elementary and secondary school students in accordance with the Immunization of School Pupils Act.
Maintained the immunization status of 7,745 children in 165 licensed child care centres in accordance with the Child Care and Early Years Act, 2014.
Infectious Diseases Prevention & Control - Health Protection
Goal: To reduce the burden of communicable diseases and other infectious diseases of public health importance.
Investigated 1,005 sporadic cases of diseases of public health significance in accordance with the Ontario Public Health Standards.
Responded to all complaints regarding infection prevention and control lapses resulting in 19 postings on durham.ca.
Increased the number of available low-cost rabies vaccination clinics.
Provided education and training workshops on animal bite prevention and post-exposure rabies treatment.
Developed and distributed infographic posters on Lyme disease and rabies to walk-in clinics, urgent care clinics and veterinarian offices.
Conducted 4,402 storm water management pond West Nile virus assessments.
Conducted 166 investigations related to institutional outbreaks.
Conducted 1,301 infection prevention and control inspections: 293 of licensed child care centres; 172 of health and residential facilities; and, 836 of personal services settings.
Issued 132 notices of condemnation/seizure of equipment and/or instruments to personal services settings owners/operators.
Infectious Diseases Prevention & Control - Population Health
Goal: To reduce the burden of communicable diseases and other infectious diseases of public health importance.
Managed all sporadic infectious disease cases and contacts in accordance with the Ontario Public Health Standards including management of two large TB investigations.
Focused efforts to promote publicly funded vaccines to community agencies that provide services to men who have sex with men.
Developed a client satisfaction survey for sexual health clinic clients, to be administered in 2019.
Provided 939 home Directly Observed Therapy visits to active TB clients.
Completed 12,532 clinic visits for assessment, treatment, education and counselling related to pregnancy and sexually transmitted infections/blood-borne infections.
Paramedic Services
Goal: To deliver a quality Paramedic Services system that is responsive to client needs and to reduce mortality and morbidity related to illness and injury through the provision of pre-hospital advanced life support procedures. (Primary program delivery is through the Region of Durham Paramedic Services with assistance from the Central Ambulance Communications Centre and local fire department tiered response programs).
Exceeded all Canadian Triage Acuity Scale (CTAS) response time targets.
Revised the deployment plan in collaboration with neighbouring paramedic services to ensure that there is no duplication of services at regional borders.
Reviewed the patient priority system agreements with community partners.
Established a memorandum of understanding with Durham Regional Police Service (DRPS) to enhance training and deployment of tactical paramedics working with the DRPS Tactical Support Unit.
Reviewed staffing patterns to ensure an accurate deployment model is used that addresses changing call volumes.
Launched Peer Support team, consisting of 16 front-line paramedics and two superintendents, available 24/7 to provide support to staff.
---
Primary Care Outreach Program provides supports and services for vulnerable populations
In 2018, Region of Durham Paramedic Services implemented the Primary Care Outreach Program (PCOP) pilot project. A partnership between the Region's Health and Social Services Departments, this pilot began on June 13, 2018 in the Oshawa area to provide outreach services to vulnerable populations including those who are homeless and under-housed, and who may have mental health and addiction challenges. The program consists of an advanced care paramedic and a social worker, working with community partners to deliver services to these populations and help individuals to connect with community supports.
The PCOP team works by travelling to various priority neighbourhoods within Oshawa, providing services Monday to Friday, 8 a.m. to 4 p.m. As of early 2019, the PCOP team provided support to 244 clients; of these clients, 48 per cent reported that they were homeless, which included living on the streets, in tents, vehicles and shelters, 27 per cent reported that they had housing, and housing status was unknown for 24 per cent of clients. Additionally, 15 clients found housing while the pilot was active.
The PCOP team indicated that an important aspect of the program is to engage with clients, build trust and follow-up on previous referrals, to continually provide clients with the connections for needed supports. The PCOP team also noted that they have seen an improvement in the number of clients willing to seek assistance and that the team's relationships with community partners has been strengthened.
As a result of the program's success, Durham Regional Council endorsed the adoption of the Primary Care Outreach Pilot initiative as a permanent program to be administered by Region of Durham Paramedic Services.
Research and Evaluation
Health Analytics, Research & Policy
Continue to participate in a Locally Driven Collaborative Project to identify gaps in child and youth surveillance in Ontario: Phase 2 on school climate surveys.
Conducted an evidence review using the Evidence-Informed Decision-Making model on the cost-effectiveness of mobile health services.
Participated on the Ethics Review Committee to review six research proposals.
Healthy Families - Child and Youth, Prenatal and Newborn, and Healthy Babies Healthy Children
Collaborated with HARP in the development of pregnancy and breastfeeding, and pregnancy and opioids RRFSS modules.
Collaborated with Ontario Tech University to conduct a randomized control trial on the effects of breastfeeding education in the prenatal period.
A report entitled 'Survey of New Mothers in Clarington' was completed based on findings of a survey completed in 2017. Findings from the survey guided the development of strategies to address the benefits of physical activity, nutrition and stress for women of child-bearing age.
Healthy Living - Chronic Disease Prevention
Collaborated with HARP on the BETTER Health: Durham research project in Priority Neighbourhoods.
Healthy Living - School Health
Healthy Schools in Durham Region: Your Opinion Counts! process evaluation re: public health nurse strategies supporting school communities.
Completed Evidence-Informed Decision Making report on Enhancing Capacity of Public Health Nurses in Schools.
Infectious Diseases Prevention & Control - Population Health
Completed men who have sex with men clinic evaluation.
Education
Health Analytics, Research & Policy
Coordinated the Research & Knowledge Exchange Symposium in collaboration with the Research & Knowledge Exchange Committee.
Delivered 42 presentations (23 external and 19 internal).
Student placements for three Master of Public Health students.
Health Protection
Student placements for four public health inspector students from Ryerson University.
Six student West Nile virus field technicians.
Two public health inspector students from Ryerson University hired for mandatory maintenance sewage system inspection program.
Oral Health
Student placements for 82 Durham College dental assistant students and 43 Durham College dental hygienist students.
Five lectures to Durham College Dental Assisting, Dental Hygiene and Dental Office Reception students.
Representation on Durham College Dental Program Advisory Committee.
Population Health
Healthy Living
Student placements for 37 Bachelor of Science in Nursing (BScN) students from Ontario Tech University (OTU).
Student placement for one BScN student from Ryerson University.
Student placement for one BScN student from Trent University.
Healthy Families
Student placements for 28 BScN students from OTU.
Student placement for one Master of Nursing student from Ryerson University.
Immunization
Student placements for 10 BScN students from OTU.
Infectious Diseases Prevention & Control
Student placements for four BScN students from OTU.
Region of Durham Paramedic Services
38 primary care paramedic preceptors.
236 full-time and 90 part-time paramedics completed 24 hours of Region of Durham Paramedic Services continuing education and 24 hours of base hospital continuing medical education.
2018 Financial Information

2018 Expenditures
Health Analytics & Administration ($11,293,748)
Health Protection ($5,975,946)
Healthy Families ($10,956,379)
Healthy Living ($11,893,732)
Infectious Diseases ($12,603,458)
Paramedic Services ($48,225,185)
Total $100,948,448
2018 Revenues
Province of Ontario ($56,210,665)
Region of Durham ($44,042,036)
User/Program Fees ($695,747)
Total $100,948,448