Durham Region pleased that GO East Extension is moving ahead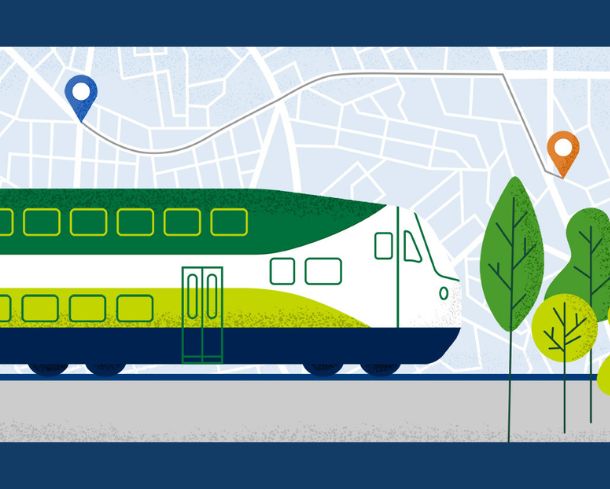 Whitby, Ontario – Durham Region is pleased that the GO Lakeshore East extension to Bowmanville was included in the provincial budget and is moving ahead. It will bring a much-needed connection to the larger GO Transit network.
This expanded rail transit service will help to reduce congestion in the Greater Toronto and Hamilton Area (GTHA), while connecting people to education and job opportunities.
The Region of Durham has worked closely with the City of Oshawa, Municipality of Clarington, Metrolinx and the Ministry of Transportation to make this transit option a reality for convenient travel within Durham, across the GTHA and beyond.
Residents and visitors will have access to frequent, reliable and accessible transit that will help them optimize their time, spending less time travelling and more time with family and friends. It's a level of service that will open opportunities to explore all that Durham has to offer.
As Durham Region focuses on recovery from the pandemic, this long-anticipated project has the potential for major economic impacts. It will support the development of transit-oriented communities, increase housing supply, create jobs, and play a key role in investment attraction.
Metrolinx is proceeding with procurement for the project. For more information about the project and to view the business case, visit the Metrolinx Bowmanville Expansion website.
The GO Lakeshore East Extension will help to grow and stimulate the Region's economy, moving forward. Learn more by visiting the Region's GO Lakeshore East Extension website.
Quotes
"This marks a significant milestone—one that will help to transform the way we connect with each other for decades to come. Durham Region has worked closely with our local municipalities, Metrolinx and the Ministry of Transportation to bring this convenient transit option for travel within Durham. We were pleased to see this confirmation in the provincial budget and look forward to continuing this work with our partners. Together, we are helping to keep Durham on the right track, for generations to come."
- John Henry, Regional Chair and CEO, Region of Durham
"Clarington welcomes the announcement that the GO Lakeshore East Extension procurement process is moving forward. This is a positive and tangible step forward as we look to start the work on this critical project that will create an integrated transportation network to drive economic growth. It's an integral piece of the growth puzzle that will improve the quality of life for thousands of people in Clarington and across the Region."
- Adrian Foster, Mayor of Clarington
"The City of Oshawa looks forward to next steps and the start of construction. Durham Region and the great City of Oshawa have been eagerly awaiting this project that will bring economic growth and jobs to our community and support active transportation and connectivity."
- Dan Carter, Mayor of Oshawa
– 30 –
For media requests, please contact CorporateCommunications@durham.ca.