I'm an emergency planner, and this is how I talk to my kids about emergencies.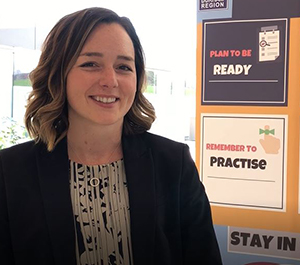 I'm an emergency planner for the Region of Durham. Being in this line of work, I know how important family preparedness is. I walk the talk by making sure my own family is prepared—and that means making sure my kids know how to stay safe, too.
How do I talk to my kids about this important topic? From one emergency-ready mom to another, here are my tips:
Pick the right time: Hungry, cranky or distracted kids are not great listeners.
Talk about the possible emergencies in Durham: Use examples or short stories to explain what could happen and why it is important to be prepared. You want them to know the event could be scary and their feelings are normal. You can refer to Durham Region's list of hazards, or think of situations you've seen in the past—like the ice storm or a long power outage.
Use pictures, videos or things they can touch: If you engage your kids, they will be more likely to retain the information. You can also talk about emergencies they might have seen on television or heard on the radio.
Be age-appropriate: Talking to young kids about a nuclear emergency will be too abstract, but as they get older they will be able to understand more. Let your kids set the pace using their questions as a guide. They will signal how much information they're ready to handle.
Focus on safety, not danger: Focus on how by being prepared, your child will be safe in an emergency.
Start making your family emergency plan and kits: Download the Region of Durham's Are You Ready? guide to help you. The more your kids take part, the more they'll remember what to do!
Don't forget to remind your children they're safe and protected. The hazards you discuss may never happen. This conversation is just one of the ways, like having smoke alarms and carbon monoxide detectors, that you keep them safe.
Caitlin Rochon is an Emergency Management Coordinator with the Region of Durham's Emergency Management Office.
---
Related articles and information