Join us for an in-person Public Information Centre about the widening of Rossland Road in Oshawa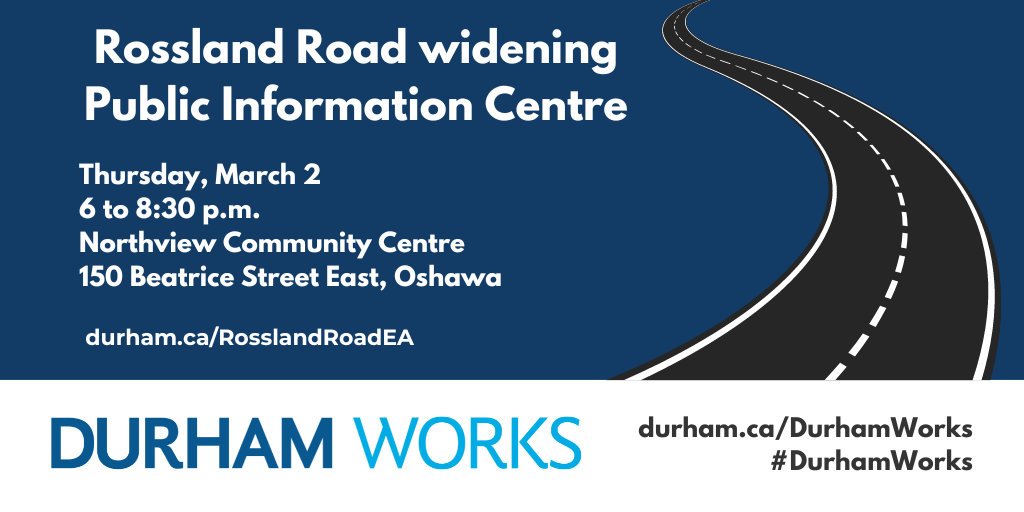 The Region of Durham is holding an in-person Public Information Centre (PIC) to discuss the reconstruction and widening of Rossland Road, from 400 metres west of Ritson Road to Harmony Road, in Oshawa. The PIC is on Thursday, March 2 from 6 to 8:30 p.m. at Northview Community Centre, 150 Beatrice Street East in Oshawa.
The widening of Rossland Road is identified in the Durham Transportation Master Plan as the preferred solution to address operational deficiencies, road safety and increasing traffic volumes and the project is a Municipal Class Environmental Assessment (MCEA). The PIC will include:
An overview of the Class EA process and existing conditions.
The preliminary recommended design and alternative design concepts.
Next steps for the project.
Public consultation is a key component of the study. For those who are unable to attend the in-person event,, the material presented will be posted on the Region's website following the PIC and will remain open for comments until March 17 at durham.ca/RosslandRoadEA.