Accessibility Widget Statement
Our website was built with inclusion and accessibility in mind, recognizing the various challenges that may exist for persons having disabilities. We have made efforts to accommodate the many unique needs of those accessing the website with various features to support your experience. Please contact accessibility@durham.ca or 1-800-372-1102 ext. 2009 for further assistance.
We are continually working to ensure our website is compliant to the Web Content Accessibility Guidelines (WCAG) and supports the various unique needs of the community. An accessibility widget is included on our website to enhance the user experience.
Select the Accessibility Menu to begin using the features. Please wait a moment for the menu to load completely.
Accessible Format
If this information is required in an accessible format, please contact Accessibility or 1-800-372-1102 ext. 2009.
How to use the Accessibility Widget
The UserWay Website Accessibility Widget, is powered by a third party dedicated accessibility server. The widget is intended to improve the user experience while navigating the website. The widget works best with Microsoft Edge or Google Chrome browsers.
Watch "How to use the Accessibility widget" video.
To activate the accessibility Widget using a keyboard only, complete the following three steps:
Three ways to access the accessibility widget.
There are three ways to activate the accessibility Widget, using keyboard shortcuts, using a screen reading program and using a mouse.
Select the Ctrl and U keys on your keyboard.

Using a keyboard only, open a webpage and complete the following three steps:
a) Select the tab key. This will allow a "Skip to Content" option

b) Select the tab key again. This will enable accessibility for people with visual disabilities

c) Select the tab key again to open the accessibility menu

d) Select "Enter" on your keyboard
e) Wait a moment for the accessibility menu to load
f) Select the features of your choice
Note: If you are using a screen reading program and wish to use the screen reading feature in the accessibility widget, you will need to mute your screen reading program.
3. Using a mouse, select the icon "Accessibility Menu" on the bottom left corner of the webpage.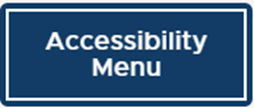 Feedback
We want to hear about your experience using the accessibility widget.
Please take a moment to complete the feedback form.
Please note, the feedback form will prompt you to choose the program you would like to contact. Select "Accessibility" in the dropdown menu. See below.