How to appreciate the Great Taste of Ontario Trail in Durham Region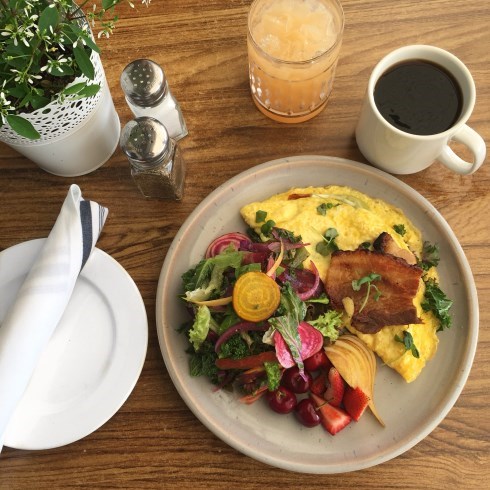 By: Christopher Mitchell
https://www.travelingmitch.com/
When you begin to fully recognize just how remarkable Durham's food and drink offerings are, it
opens up a whole new world of opportunities and understanding.

Many Ontario communities in Durham Region are shaped by the local businesses who aim to
offer farm-to-table, or in some cases, just open up the farm. There are orchards where families
can pick their own apples, restaurants where you can see the garden where your meal was
grown, wineries that harness the power of our robust soil, breweries that have quietly become
community hubs, and ice cream shops that make those warmer days just a bit more
memorable.

Of course, with the volatility of recent times, small businesses have suffered. Those same small
businesses that, in many respects, are the backbone of our respective regions. That's part of
what makes "The Great Taste of Ontario" such an important initiative for Durham, as well as the
province at large.

What Exactly is The Great Taste of Ontario?

The Great Taste of Ontario is a movement designed to share the stories behind the businesses
in regions across Ontario, but also, on a broader scale, to remind people that Ontario is very
much worth exploring.

With travel limited, people have focused more on what's around them. The trend to truly look
and appreciate what's local has picked up steam during the pandemic, and all signs point to this
trend continuing. Not to mention, over and over and over again, it's clear that people have been
floored by all that they've discovered, and the interest in further discovery has never been
greater.

That is ultimately what The Great Taste of Ontario is about—providing a field guide to the best
food and drink in Ontario, region by region.

How Does It Work?

Your journey with The Great Taste of Ontario starts by downloading a virtual passport which will
help you plan your trip. In this case, you'll want to download the passport for Durham Region,
and perhaps even the Clarington Tourism Passport as well.

Once you've downloaded the passport and you're ready to start exploring, you can then safely
visit the Durham Region growers and makers associated with that passport. As you might
imagine, as you support local businesses in Durham, you'll get a stamp on your passport.
Essentially, you just very simply check-in at the local businesses on your mobile device.
Each time that you check-in, you become eligible for rewards. You can use these rewards to get
some epic Ontario swag, or you can also donate your rewards to a couple of deserving
charities, such as Second Harvest Food Rescue and FoodShare.
You can also access physical prizes such as arts, crafts and handmade cheese boards, among
other things. They're currently in the process of allowing you to redeem your check-ins for gift
certificates at Feast On Certified restaurants as well, so keep your eyes peeled for that.
Of course, during this time safety is the highest priority. The growers and makers in Durham are
meeting the Safe Travel Standards, and individuals must also do their part by keeping their
distance, wearing masks and washing their hands regularly. Please also double-check that the
location you're aiming to visit is open during the hours you're planning to arrive by checking
Google, giving them a call or sending them an email, or visiting their website.
Hours are also listed on the Durham passport itself, but it never hurts to check once more, as
hours can change occasionally.

Which Durham Makers and Growers Are Participating?

There are so many noteworthy restaurants, farms, breweries, wineries and orchards in Durham
Region, but the following establishments are the ones you'll find on your Durham passport.
Here's a quick overview of each spot, to help you decide which spots you'd like to check-in at
first.

Durham Restaurants

Bistro '67: Bistro '67, located on Durham College's Whitby Campus, is all about the "field-to-
fork" dining experience. The meals are served up and prepared by staff and students who
incorporate the farm right outside the window into their dishes. It's just a fun place to eat.

Butchies: This Whitby restaurant is owned by popular Food Network personality Chef Andrea
Nicholson. They're famous for their smoked meats, and emphasize the inclusion of seasonal
sides and dishes on the menu. Their pie is also off-the-charts.

The Fire Hall Bistro: Located in pretty little Orono, The Fire Hall Bistro offers modern French
cuisine while sourcing and supporting local.

PORT: PORT, based in Pickering, is all about creating an elevated dining experience in
Durham. They've got a creative menu that could be best described as modern American fare,
but they source locally and seasonally—and that approach clearly works for them.

Urban Pantry: Contemporary Canadian cuisine at its finest—that's what Urban Pantry is known
for. They're farm-to-table focused, and it shows with the freshness and seasonality of their
offerings. There always seems to be something new and interesting afoot at Urban Pantry.

Durham Breweries and Cideries:
All or Nothing Brewhouse & Distillery: This is one of Durham's most coveted breweries.
They're based in Oshawa, and they've set up shop in a unique old Beer Store that they've
modernized and made their own. Besides that, they also make great beer.

Banjo Cider: A farm-based cidery in Uxbridge that's focused on making handcrafted cider in
small batches. Notably, they use 100% Ontario apples to make their product.

The Second Wedge Brewing Company: An Uxbridge based brewery that might as well be the
definition of "neighbourhood brewery." They're a community pillar, but beyond that they make
exceptional beer filled with flavour and character. They also have a lovely beer garden and
seem to always have great music playing.

Durham Farms and Orchards

Archibald's Orchard and Estate Winery: Archibald's differs from other orchards in the region
in that this Bowmanville orchard runs their own fruit winery. They have both dry wines as well as
dessert wines, and also make hard ciders and non-alcoholic ciders. On top of that, they offer a
pick-your-own apples experience and an apple market.

MacMillan Orchards: Located in Ajax, MacMillan has been a household name in Ontario
orchards for almost 70 years! Like so many other orchards, they're best known for their
incredible homemade pies, but they also sell fresh and frozen local fruits and vegetables.

Pefferlaw Creek Farms Maple Syrup: A good old family run Ontario farm business with a
penchant for making delicious maple syrup. Located in Uxbridge, they're operating on 400 acres
of sugar bush, and of course they use the sap from trees to make your favourite pancake
topper.

Pingle's Farm Market: Pingle's Farm Market, located in Hampton, is all about fun. They have
year-round pick-your-own experiences, a popular corn maze, and a popular farm market with
100% Canadian sourced grocery items.

Willowtree Farm: Willowtree is a family-owned and operated farm based in Port Perry. They're
well-known for their year-round market store that only sells Ontario-made products. They've got
preserves, prepared meals, a butcher shop, fresh produce and so much more.

Durham Dessert, Coffee, & Light Fare

Cool Cow: Located in Beaverton, they describe themselves as "youth-run" and "adult guided."
They serve up delicious Kawartha Dairy, and aim to employ and support the local community.
It's known as a kind, welcoming spot.
No login? Please enter your details below to continue.