Make the most of Bike Month in Durham Region!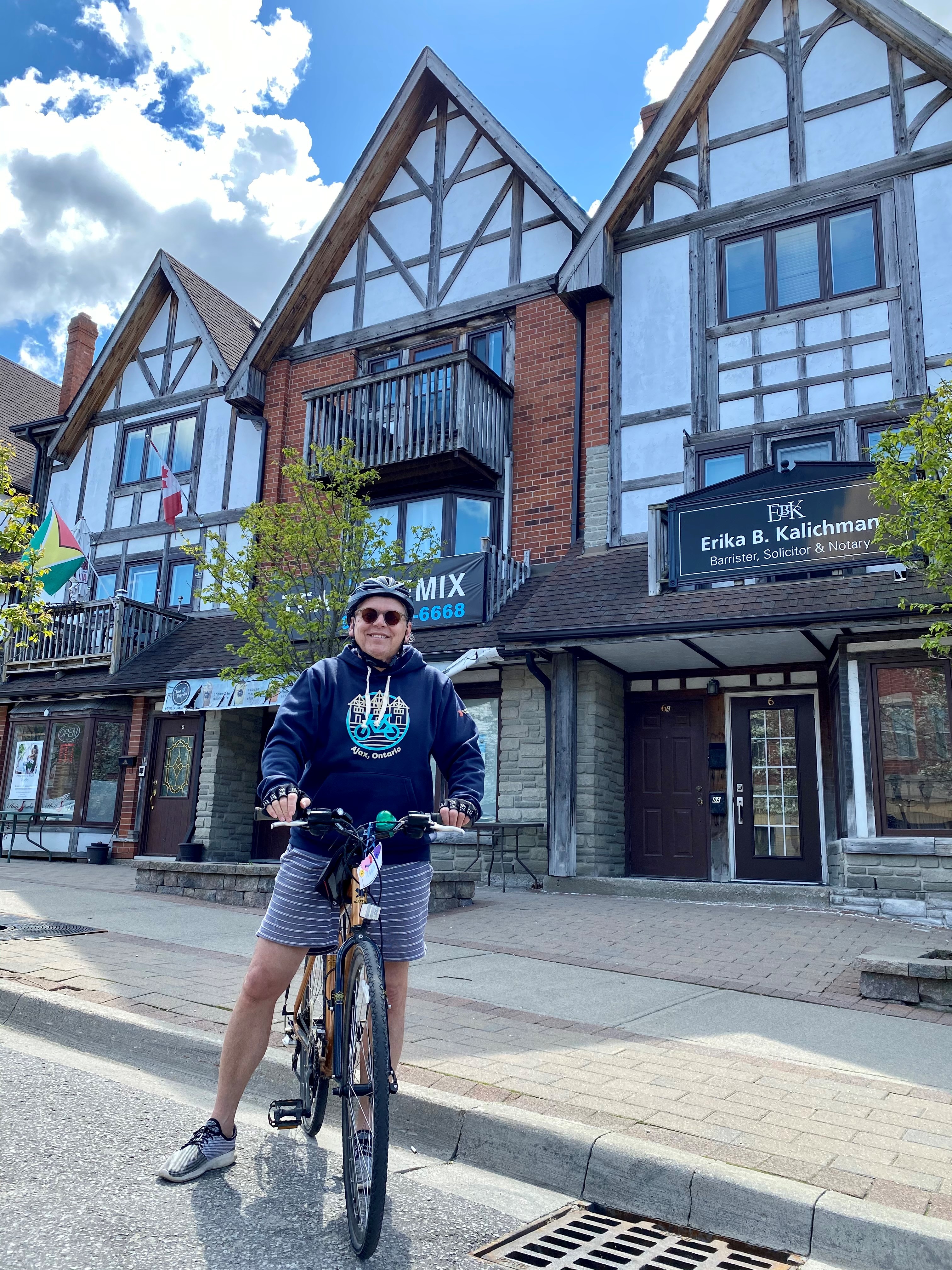 Pictured: Don Terry, Chair of the Sport Durham Advisory Committee, cycles at Pickering Village in his Durham is Home hoodie- www.durhamtourism.ca/shop
By: Chris Mitchell
There are few feelings better than bringing out the bike for a ride when the spring or summer sun is in the sky. In fact, all winter we wait in anticipation for moments just like that. So when we do get the opportunity, we really ought to take advantage.
If you do decide to go for it now that warmer weather is here, you'll undoubtedly thank yourself when the next winter rolls around once again—though your bike will likely have to hibernate in the garage while the snow is on the ground. Put it to good use while you have the chance!
Thankfully, Durham Region clearly understands all that, and that's why they're inviting folks to celebrate Bike Month this June.
What exactly is Bike Month?
Bike Month, simply put, is your opportunity to dust off the bike, grease up the chain, pump up the tires, and get moving! More specifically, it's a chance to consider if and how you might be able to replace car trips with bike trips, to learn a variety of new skills, and to sit on the saddle and wear a smile a little more.
As part of Durham Region's commitment to health and happiness, they're encouraging people to take the bike month pledge.
If you let Durham know how you plan to celebrate Bike Month, you'll be automatically entered to win some great prizes. You can pledge that you're going to commute by bike, ride more for fun, try out new trails, or anything in between!
As for prizes, you could win:
Durham Bike Month Prize Pack
$50 gift card to a local business
$100 gift card to Cycle Life
Support local from the seat of your bike
With the Bike and Buy Durham initiative, Durham Region is looking to encourage people to get on their bikes this June, while simultaneously visiting businesses that offer curbside pickup. As part of this campaign, you'll find particular businesses that have been deemed bicycle-friendly but, visiting any shops in Durham Region will allow you to enter the contest.
To enter, simply make a purchase at a local business between June 14 and June 30, and then submit a photo via email to ActiveTransportation@durham.ca. You'll want to show what you bought, as well as your bike outside the business, and don't be scared to get creative and have some fun with this! In the end, that's what Bike Month is all about.
While exploring, please ensure that you're staying up to date with and adhering to the current public health guidelines.
Safety first
As part of Durham Region's commitment to safe cycling, they'll be providing helpful tips and videos throughout the month to help you learn more about cycling. You'll get information on what equipment you need, cycling best practices, how to prepare for your ride, and general safety tips.
You can start by heading to Durham Region's YouTube Channel and checking out the "Durham Cycling Stories playlist," but also note that they'll also be posting on Twitter, as well as on Facebook.
The videos will be running from June 1 to June 30, but you'll also have access to a fantastic little booklet on Bike Month Safety Tips which can be downloaded for free.
Events in your area
Municipalities across Durham are all-in on Bike Month, and they've got a delightful array of activities that will be running for the duration of June.
Explore the links below to find out what your municipality will be getting up to this month, so you can be sure to make the most of Bike Month this year!
Where should you go cycling?
Thankfully there is no shortage of great spots to do a little biking in Durham. That includes both road and mountain biking, so whatever you're hoping to do during Bike Month, you can.
Many people don't know that Durham Region has planned 14 different cycle tours for people to take advantage of. Here are the routes:
Route 1 - Great Lakes Waterfront Trail
Route 2 - Greenbelt Route
Route 3 - North Brock Loop
Route 4 - South Brock Loop
Route 5 - Beaverton/Cannington Route
Route 6 - Uxbridge Loop
Route 7 - Pickering/Ajax Loop
Route 8 - Whitby Loop
Route 9 - Oshawa/Courtice Loop
Route 10 - Oshawa Urban Loop
Route 11 - West Clarington Loop
Route 12 - East Clarington Loop
Route 13 - Scugog/Caesarea Route
Route 14 - Scugog/Uxbridge Loop
You can easily download the Durham Cycle Tours Map, which gives you plenty of options no matter where you're based in Durham Region. This may also be your excuse to safely explore and support local businesses in portions of Durham that you're less familiar with, and to do it all on two wheels.
If you're more into mountain biking, then check out the Durham Region Trails Guide. And, if a foray into mountain biking turns you into an enthusiast, then consider joining the Durham Mountain Biking Association.
Now's the time to ride!
If there was ever a moment to get riding, it's now. As you can see there's no shortage of incentive to do so. It's your chance to see Durham Region on two wheels.
Perhaps this whole article could be summed up by the simple yet highly motivating slogan associated with this whole movement.
Ready. Set. Ride.
No login? Please enter your details below to continue.