Planning the perfect golf weekend in Durham Region!
Bunker Hill Golf Club, Pickering

By Christopher Mitchell, Traveling Mitch
As a travel writer, I first began to be interested and captivated by Durham Region from a culinary perspective. I visited places like Bistro '67, Urban Pantry, and a handful of local breweries to get a better sense of just how terrific (and entrepreneurial) the food and beverage scene was in this region.
I began to realize, however, that Durham Region also shined in another department - golf! And that sent me on a course (no pun intended) that I'm very grateful I began to investigate. As Durham Region notes rather succinctly, "whatever you choose, you'll enjoy a day that includes good times and beautiful scenery."
Below, I'll aim to give you an overview of a variety of different ways that you can approach golfing in this region. What I want to highlight in particular is that golf can be your focus in some ways, but it's not hard to think bigger, and to plan a weekend around it. Instead of just playing that Saturday round, you can also rather easily add a restaurant visit before or after (or both!), or turn it into an overnight with multiple rounds of golf in the mix.
Durham is full of communities and local businesses that are well worth visiting, and so it can start with golf, but it certainly doesn't have to end there. Or, it could be all golf, all day - it's your weekend, so you get to make the choice, but the important thing to know is that, in Durham, you have options.
Want to Keep it Easy? Think Stay and Play
There are three packages on offer that you'll want to have on your radar.
The Driving Durham Package offers two nights at the Homewood Suites Toronto/Ajax, with the chance to play three rounds in total at Deer Creek Golf and Banquet Facility, Royal Ashburn, and Cherry Downs, respectively.
Royal Ashburn Golf Club offers both one and two night stay and play packages, and their modern cabins on the golf course are spectacular. Breakfast, lunch, and dinner is often included in the package, and when I took part in their stay and play offering, we even had a golf lesson with the club pro. I'd strongly recommend this experience.
Finally, Wooden Sticks offers a 36 hole overnight stay package in one of their six luxury cabins. One lunch, dinner and breakfast is included. Wooden Sticks is one of Canada's best.
What's nice about the stay and play packages is that when you finish your round, you can have a beer and rest easy knowing that you're playing again the very next day.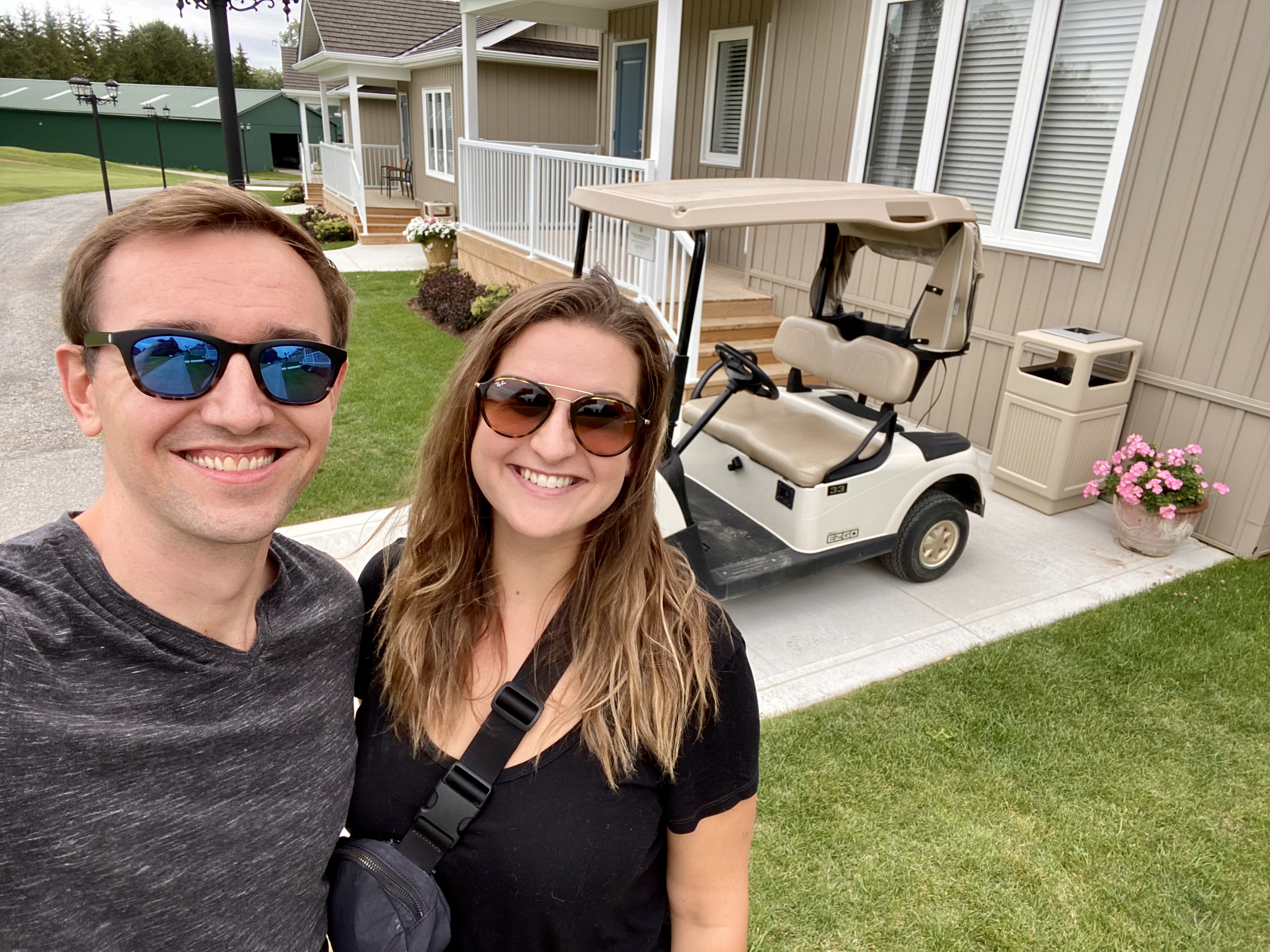 18 Hole Public Courses You Might Want to Consider
All of these courses are worth visiting in their own right, so to start, I'd recommend visiting based on your location (and perhaps what surrounding region you might want to explore in more depth after), and then work your way through the list.
In one case, my partner and I decided that we wanted to spend a little more time in Uxbridge, so we played a round at Mill Run Golf Club on a beautiful autumn day. We then paired that with dinner after at Urban Pantry, and a pint at Second Wedge Brewing Co., which recently reopened their doors after suffering damages from a tornado. They deserve support no more than ever, as they're a valuable part of the Ontario brewing and Uxbridge community - and their beer is absolutely top-notch.
We've done a similar routine with Oakridge Golf Club, followed by dinner at Marwan's Global Bistro, and a pint at Old Flame Brewing Co.
By the way, If you fall in love with golf out here, and you're really looking to dive into the golf scene in Durham, you might want to look into joining three of the private golf courses - Coppinwood in Goodwood, Oshawa Golf and Curling Club in Oshawa, or Wyndance Golf Club, a member of Club Link located in Uxbridge.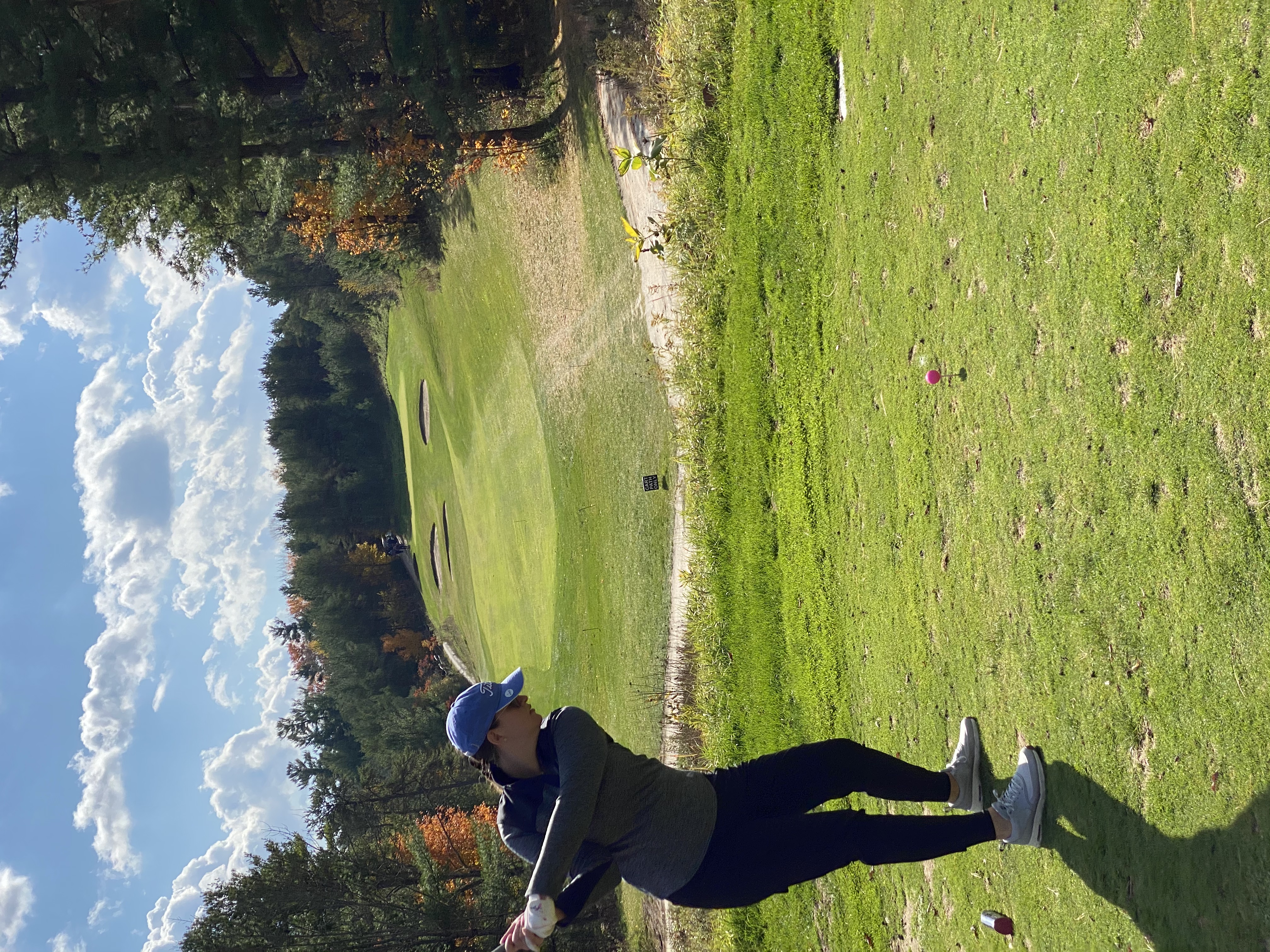 What Other Courses Are on Offer?
Beyond 18 hole public courses, there are also plenty of 9 hole, executive and mid-sized golf courses to consider. Here's what you're looking at in Durham Region:
Hy-Hope is a fun place to play a round, largely because it's not too demanding, but you also have the chance to stop at their store and bakery before or after the round. The last time we played there, there was also a featured chef working the BBQ, so look out for opportunities like that! We had lunch there after our round, and grabbed an absurd amount of baked goods for the road. We actually stayed over in Durham that night, so ate dinner a little later on at Harvest in Brooklin.
We're also huge fans of Bunker Hill. It's 12 fantastic holes that honestly made me wonder if the 12 hole game is better than 18 holes! It's a way for folks who like golf—but aren't necessarily golf enthusiasts—to fit in a round, but not have it dominate the whole day. It's championship style par three golf at its finest. Again, we planned this round with other stops in mind. After we played Bunker Hill, we went to the iconic burger joint in Pickering, Big M, and ate to our hearts' content.
If you do decide that you want food to be a part of your golfing adventure (at least beyond golf course tuna sandwiches at the halfway house), I'd also recommend fitting in a visit to Michael Kelly's Restaurant in Brooklin or Haugen's Chicken & Ribs in Port Perry. For breakfast, you'll also want to circle Annina's Bakeshop in Goodwood!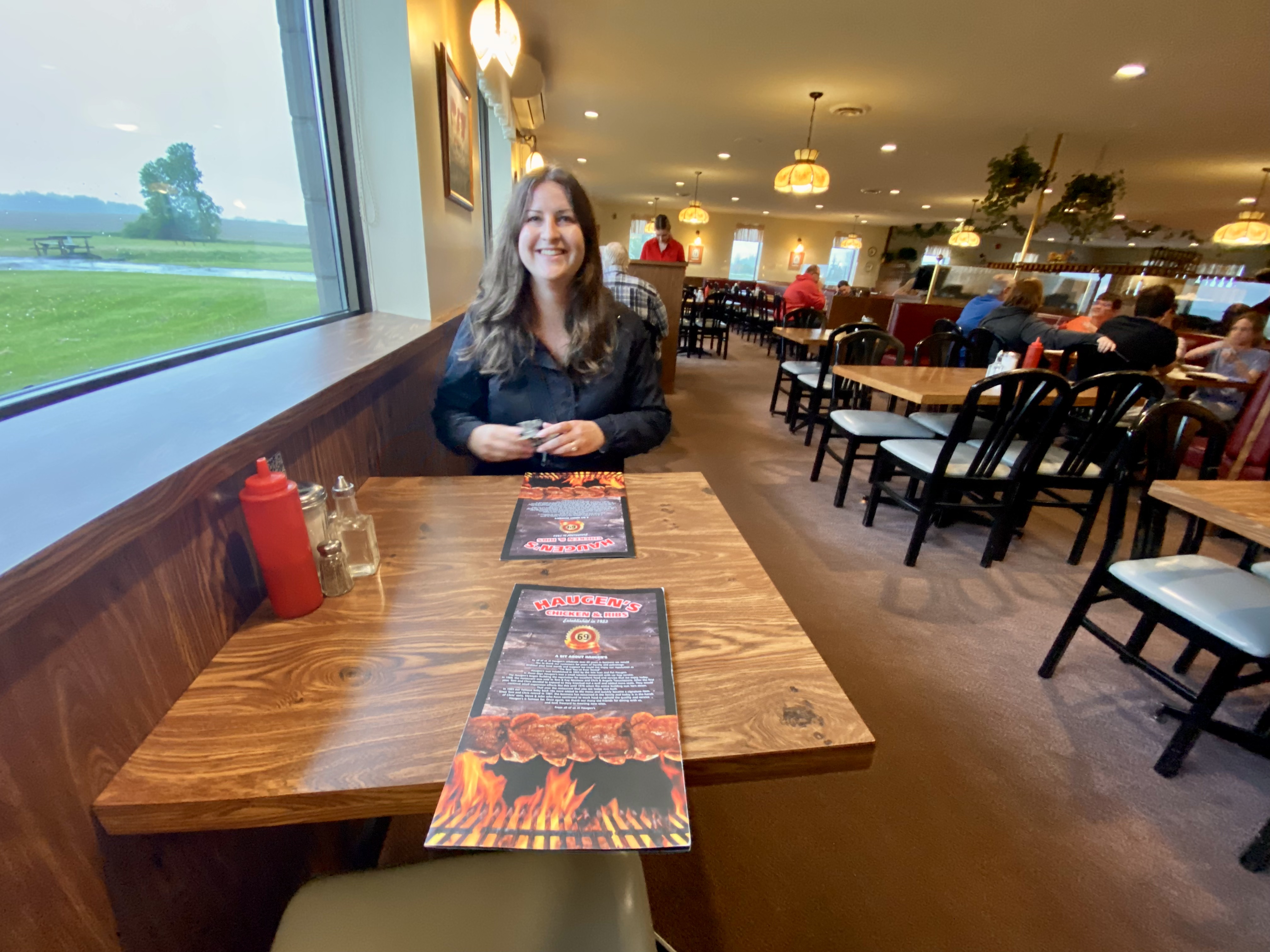 It's Golf, But It's More Than Golf
Golf is one of the best ways to get outdoors and appreciate the natural beauty of this beautiful region. It's also one of the easier ways socially that we can get back together with our friends and family—but my point is that it's not a big stretch in Durham to turn that round into a full day, or even an overnight stay or weekend getaway.
While you're out with that old friend, why not go out for dinner? When you've got that round scheduled with your partner, start the day with going out for breakfast. After your round is finished, stay the night on the course itself.
These are all options—and great ones at that—when you're considering not just where, but how, to appreciate golf in Durham Region.
No login? Please enter your details below to continue.