Your Guide to North Durham Cideries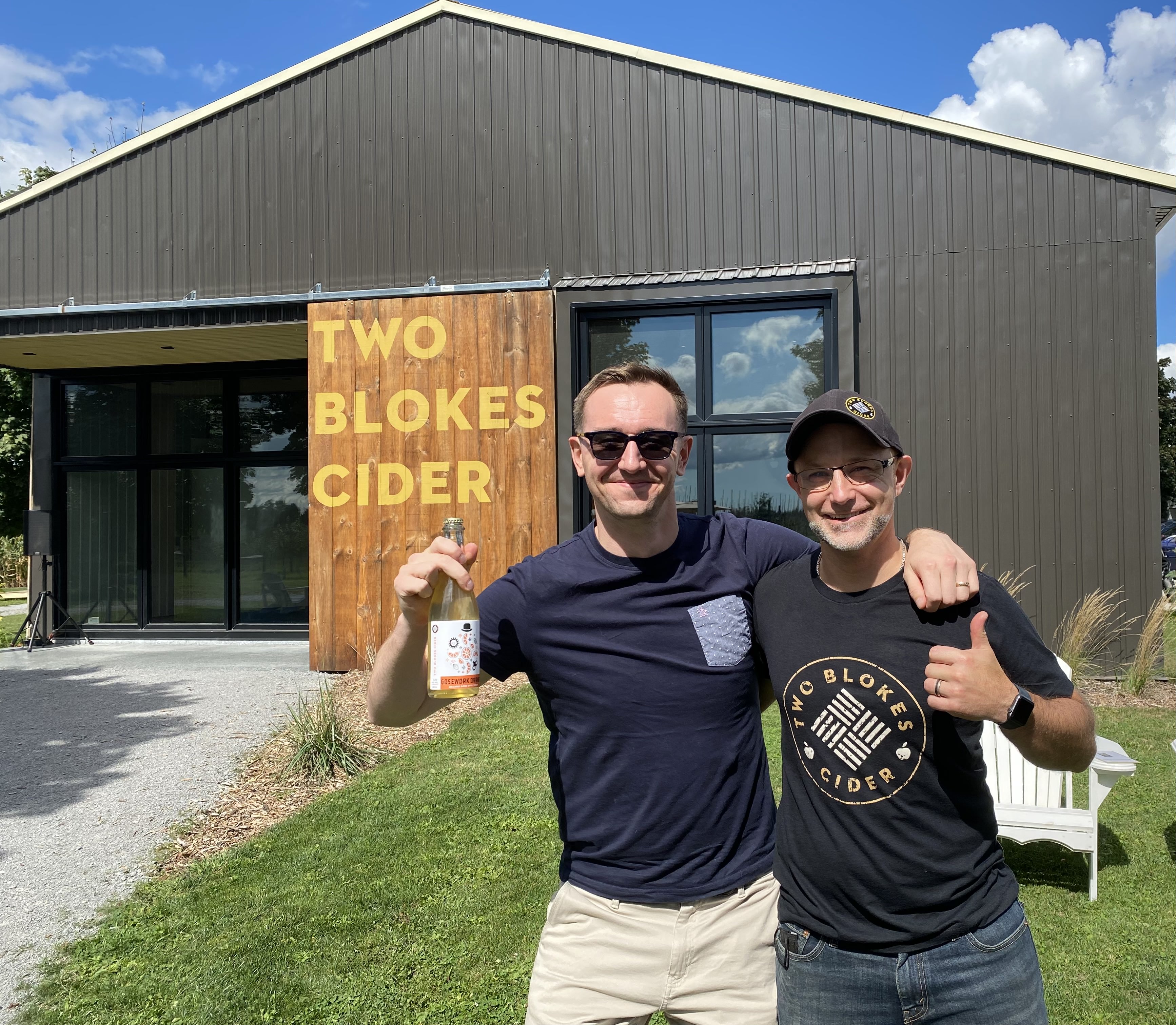 By: Chris Mitchell, Traveling Mitch
In recent years, cider has become increasingly popular across the province, and Durham Region certainly isn't an exception. Much of that rise in popularity has to do with a simultaneous rise in both quality and experimentation in the world of Ontario cider, and Ontarians ultimately coming to the realization that some of the best cider on the planet can be found in their very own backyard.
Cider, for those who are unfamiliar, is simply an alcoholic beverage that's made from the fermented juice of apples. Funny enough, cider is considerably more like wine than beer (which it's often compared to), since it's fermented and not brewed.
However, like beer nowadays, it's often the brewer's fingerprints that really make a cider come alive. Perhaps they've added a fruit other than apple, or an herb like lavender or mint. Ultimately, the sky's the limit, and you're in luck because North Durham is dotted with exceptional cideries that put creativity at the forefront of their brewing process.
North Durham Cideries That Need to Be on Your Radar
Below, you'll find an eclectic mix of establishments that ensure you can do a cidery crawl of sorts in North Durham Region. Of course, please make sure that you have a designated driver or means of transportation organized for yourself if you do decide to tackle them all in one day.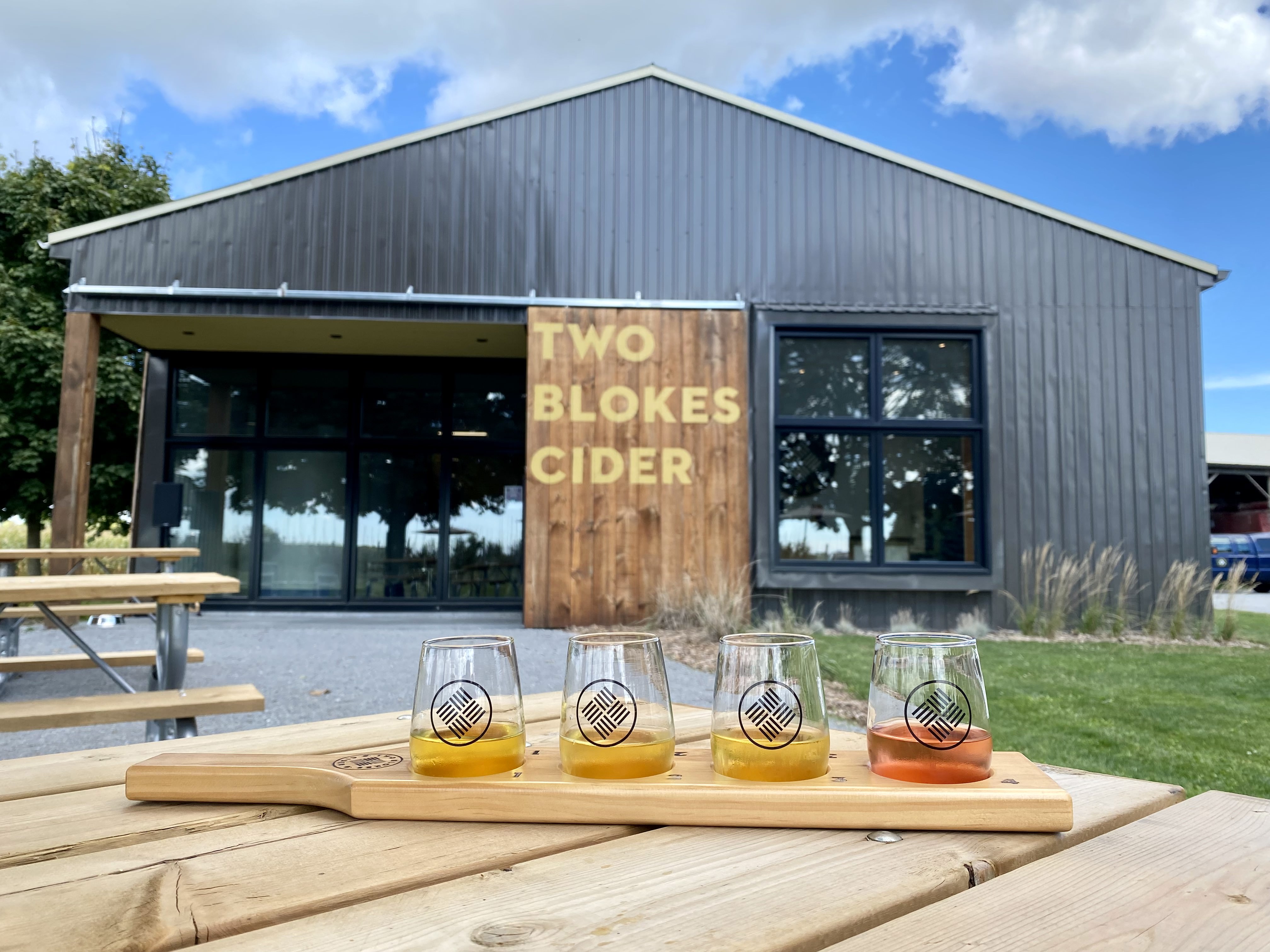 Two Blokes Cider offers a playful and creative selection of ciders that are headlined by offerings such as gose style ciders (aptly named Gosework Orange, in this case), traditional pub ciders, brandy cask ciders, as well as a dry hopped cherry cider called "Hop My Cherry," which is a fan favourite, and thus isn't always in stock!
Matt and Andy (the two blokes) met in 2011 and bonded over their shared history of living in the UK, and their mutual love of cider. Before they knew it, with the incredible support of their family and friends, in 2015 Matt and Andy went from two blokes who loved cider to the proud owners of Two Blokes Cider!
When you visit, you'll see that they have an orchard with over 2000 apple trees which represent ten different bittersharp and bittersweet cider varieties of apples. These are not the kind of apples you want to pick and eat right off the tree, but my goodness do they ever work in cider.
With their expanding food options as well as their foray into concerts and the like, this is a cidery that is clearly aiming to become a community hub, and so far, they're doing a mighty fine job of it.
Their new cider house is looking sharp, and is currently open Friday to Sunday, from 12 to 6 p.m.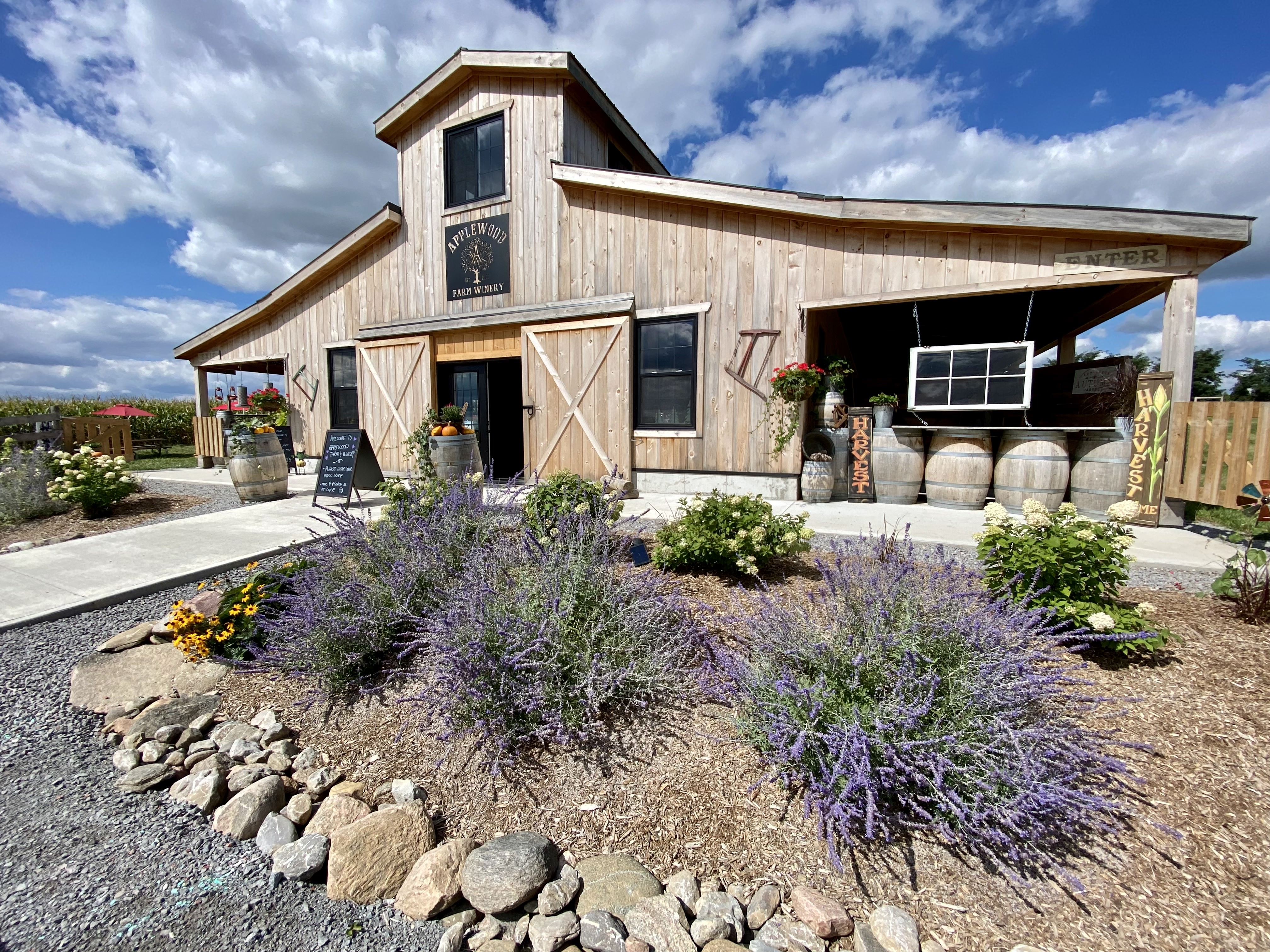 Applewood Farm Winery is an award-winning winery that has produced fruit wines, cider, and meade for over 20 years! You can let your tastebuds guide you when it comes to what to try. If you're looking for a recommendation, their Apple Jack, which they note is essentially an apple bourbon, is definitely worth a try. Another option is their semi-sweet fruit wine known as "Eden," which is a blend of their own strawberries and rhubarb that goes down beautifully on a summer's day, and they typically have a few ciders on tap on the farm-side patio.
Recently Applewood built a stunning wooden building that serves as the focal point of their property. It's crystal clear that Matthew and Stephanie, the owners of Applewood Farm, are proud to be family run, and are focused on family fun. With their 40-acre corn maze, pumpkin patch (in the fall), opportunities for strawberry picking, and large open spaces for children to play, you can see that their main objective is to put smiles on peoples' faces. Of course, smiles and good fruit wine and cider also tend to be rather synonymous.
Matthew sums it up well when noting that their target audience is unique in the cider world. "We want the whole family for the day, for a complete immersive experience," he said. "You can have a date while the kids are playing."
Winery hours are Thursday to Sunday, from 11 a.m. to 5 p.m.

If you're on a cider tour of Durham Region or North Durham in particular, then Slabtown Cider is an ideal place to pop by to try cider and grab a bite to eat.
Slabtown is known for making cider in small batches that pack a lot of flavour. As they say, they love to source "honeys from my local combs, and habaneros from just down the road." They always have a cider that's fitting for the season. So, if it's fall, you'll find a Pumpkin Spice cider on the shelves or on tap – which is delicious, by the way!
More so than most cideries, Slabtown is extremely experimental, and it's led to some unique and popular creations. It means that there really is something for everyone here. They've got everything from Mint Cucumber to Honey Habanero, and Ginger Spritz to Pineapple Mimosa. It's the perfect cidery to get a flight, and to try a couple of their classics (the Founder's Dry is a nice bet) alongside some of their more eccentric offerings.
They've got an extensive menu that features everything from homemade pizza (gluten free crust is available as well) to impressive charcuterie boards, and pastas and mains to salads and handhelds.
If you're looking for something a little different, the Shrimp Tacos are excellent, especially if you're keen on something a touch lighter so that you can leave plenty of room for cider. Speaking of cider, Slabtown is known for making cider in small batches that pack a lot of flavour. As they say, they love to source "honeys from my local combs, and habaneros from just down the road."
You can check out their patio and eatery hours, as well as farm-store hours right here. The main thing to note is that both are closed on Mondays.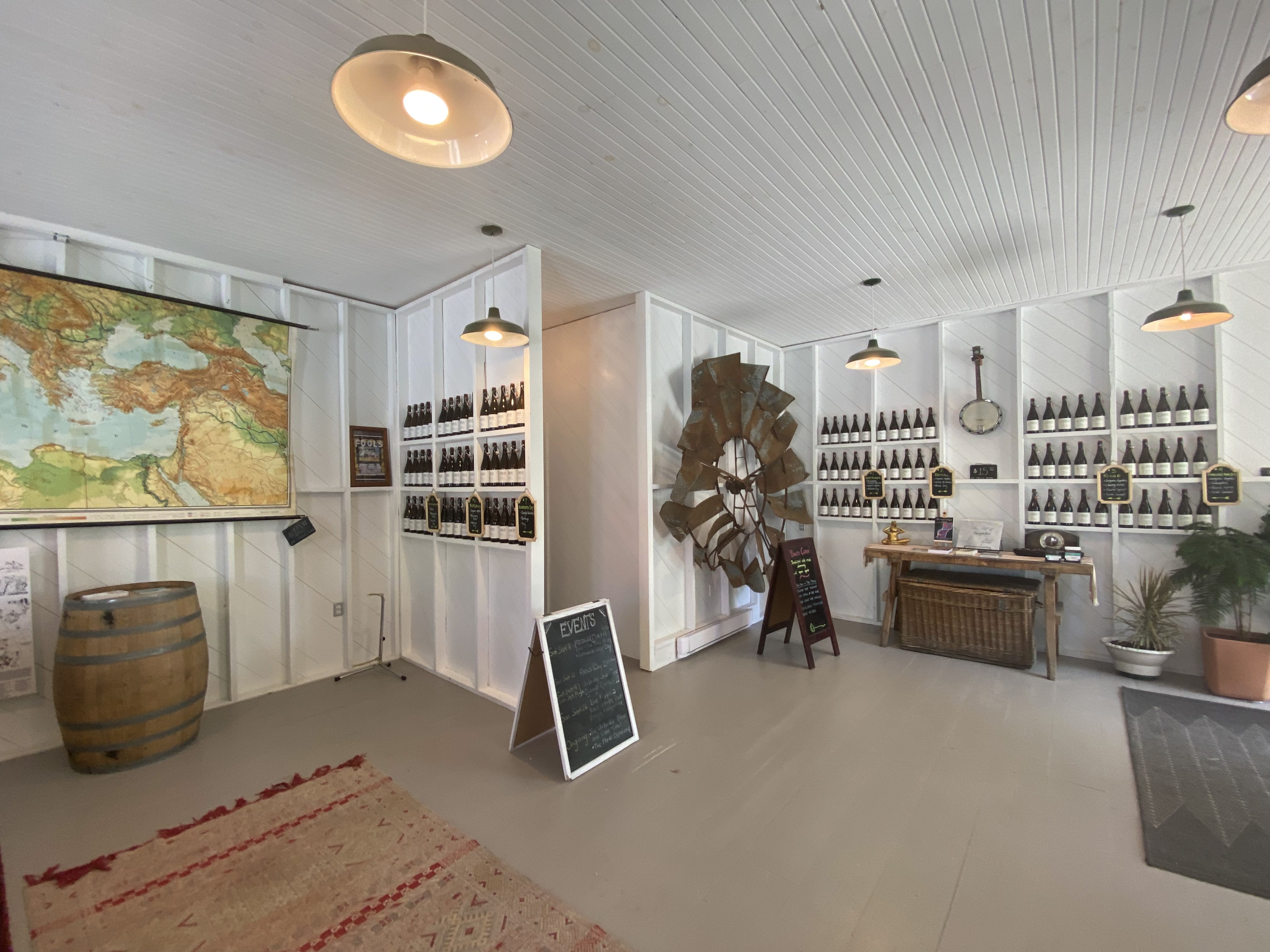 Just down the road from Slabtown is where you'll find Banjo Cider. The proximity of these cideries to each other makes it relatively easy to do a bit of a North Durham cidery crawl. Of course, if you are driving that day, you can always simply make a point of picking something up from each cideries' store for later.
Banjo is known for their small batch, handcrafted traditional dry cider that, at its core (pun intended) is all about reviving the lost art of traditional cider making. This is a cidery to let your sweetness preference guide the way. If you're keen on bone dry ciders, then you'd be wise to start with their Revival cider made from organic apples. Their Rouge, a blend of apple and dark cherry, is a touch sweeter, and more on the medium sweetness side, and if you're keen on sweet, then their Bluegrass, a blend of traditional cider and blueberry wine, is what you're looking for.
Banjo Cider is situated on a picturesque property, and during the warmer months, they've got a fantastic area just behind their store that's ideal for cider sipping. their bottle shop is open Thursday and Friday from 1 to 6 p.m. Of course, the patio being open will be seasonally contingent!
Explore Durham Through Its Cider
North Durham has really come into its own with its cider production in recent years, and so it's very much worth taking the time to explore and appreciate the cideries listed above.
Though not technically in the northern part of the region, if you're a cider fan, you may also want to consider Geissberger Farmhouse Cider in Hampton, as well as Archibald's Estate Winery in Bowmanville.
So, get out there and sip away, find your new favourites, and help support these deserving local establishments that all bring something unique and important to the Durham Region cider landscape.
No login? Please enter your details below to continue.