Durham Region is the right choice for a bright future. Find out why.
Building activity
Building activity is thriving in Durham Region. Learn more on our Planning for Growth page.
Demographics
Population
In 2016, the population of Durham Region was 673,075. It is estimated that 810,000 people will be living in the region by the year 2021, with a projection of 970,000 people by 2031.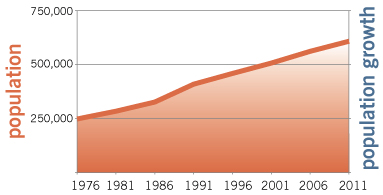 Ethnicity
Durham Region has 10 per cent of the Greater Toronto Area's (GTA) population. Immigration is a large reason for growth. It accounts for nearly two-thirds of our population growth in the last five years.
As of 2011, the ethnic origin of Durham residents was mainly European, North American, Asian, Caribbean and First Nations.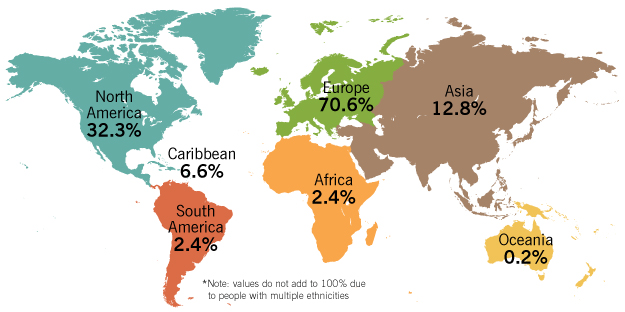 Home language
Our most common languages other than English include Italian, Tagalog (Filipino), Urdu, Polish, German and Spanish.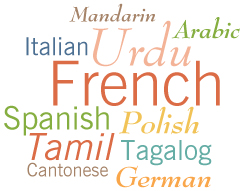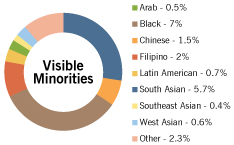 Development approval
Our Planning Division is responsible for the Durham Regional Official Plan. It sets a policy outline and manages future growth development. Learn more about development approvals.
Development charges
View our Development Charges page to learn about local area-specific development charges.
Education
Primary and secondary institutions
Durham Region has a strong, vibrant, publicly funded education system that focuses on high levels of student achievement to suit every child's need.
The school boards serving the region are comprised of 181 elementary schools (120 public, 56 Catholic, five French), 34 secondary, and 45 alternative or private institutions.
Public schools
Private schools
In addition, there is also a variety of additional private and independent schools. Students attending private and independent schools pay fees to attend.
Post-secondary schools
There are two universities, three colleges and seven continuing education facilities located in Durham Region. View our Education and Schools page for more information.
Watch our video Think Big, Think Durham - Post-Secondary to learn more about advanced educational opportunities in our area.
Incentives
Canadian agricultural funding for small businesses
Commercialization
Digital media
Energy
Export/Global
Human resources and training
Research and development
Small business
Labour force
Durham has a highly skilled and specialized labour force. Established expertise in training and attracting the next generation of professionals has been nurtured and enhanced with high-level post-secondary programming, research and development, as well as quality employers.
Employers benefit from access to the workforce, competitive wages and tax system. The overall labour costs in Canada are also amongst the lowest in the G7.
View the Think Big, Think Durham - Talent video to see how Durham Region's entrepreneurs and innovators are an emerging force of educated, skilled and diverse individuals.
Labour force commute
Durham Region Transit (DRT) operates 73 routes and integrates service with GO Transit bus services, along highways 2, 12, 401 and 407 corridors.
DRT's "One Fare Anywhere" agreement with GO Transit allows customers to transfer between DRT and GO Transit bus without additional costs.
DRT fleets are 100 per cent accessible, offering accessible buses for specific routes and inclusive transit options for persons with disabilities.
Labour force education levels
The level of education for Durham residents 18 years old and over is an important indicator for the present and future labour force in Durham Region.
In 2016, about 83 per cent of Durham's population, between 18 and 64 years old, had a certificate, diploma or degree.
83 per cent have a certificate, diploma or degree.
30 per cent have high school certificate or diploma.
21 per cent have CGEP or other non-university certificate or diploma.
21 per cent have university certificate, diploma or degree.
Location
Durham Region is part of the Greater Toronto Area (GTA) and is located at the eastern gateway of the Greater Toronto Region, offering access to over 135 million consumers within a day's drive.

Durham Region offers a high standard of living for both city and rural dwellers, with access to ample green space and lakes, as well as urban amenities.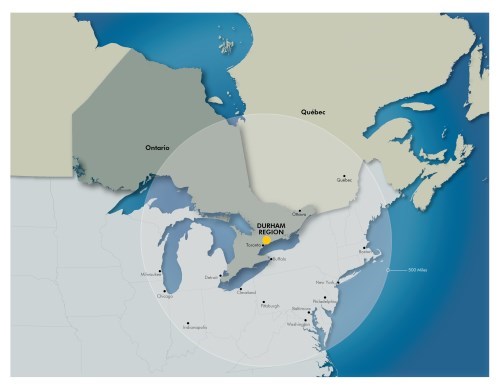 Durham Region consists of eight local area municipalities. The cities of Oshawa and Pickering; the towns of Ajax and Whitby; the Municipality of Clarington; and the townships of Brock, Scugog and Uxbridge characterize the region's urban-rural mix.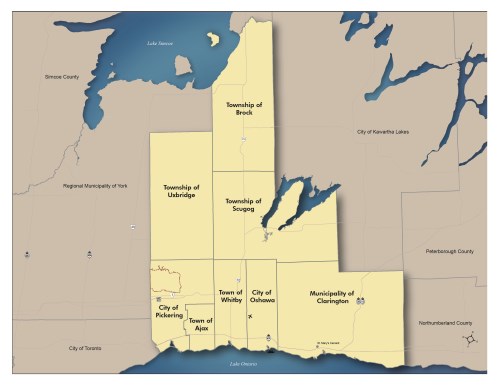 The urban areas in south Durham Region have experienced rapid growth in the residential, industrial and commercial sectors. North Durham is predominately rural, with a thriving agricultural sector. It also lies within the provincially designated Greenbelt and contains the environmentally significant Oak Ridges Moraine.
Distance to major cities from Durham region

| City | Mile | Km | City | Mile | Km |
| --- | --- | --- | --- | --- | --- |
| Toronto | 36 | 56 | Buffalo | 132 | 214 |
| Hamilton | 77 | 123 | Detroit | 258 | 414 |
| Kitchener | 91 | 146 | Cleveland | 325 | 524 |
| Niagara Falls | 114 | 183 | Pittsburgh | 351 | 565 |
| Windsor | 252 | 406 | Boston | 561 | 903 |
| Montreal | 308 | 494 | Chicago | 546 | 879 |
| Ottawa | 251 | 404 | New York | 505 | 813 |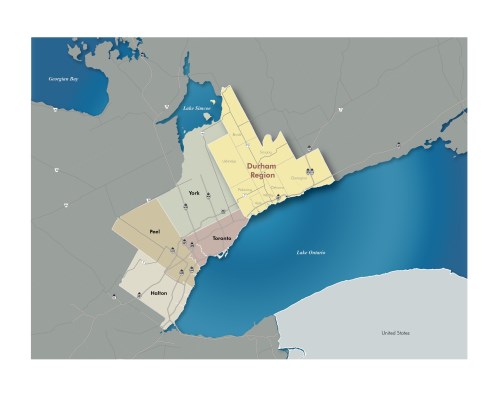 Durham Region is becoming the GTA's ideal location for industry and commerce, particularly in agri-business; energy, environment and engineering; innovative technology; health sciences; manufacturing; and tourism.
Employment lands
Learn more about the developing and servicing status of employment lands across Durham Region.
Transportation hub
Durham Region's transportation network is made up of highways, shipping ports, railway lines, and local and international airports.
Watch our Think Big, Think Durham - Transportation video to learn more about our progressive means of transportation.
Major employers
Major public employers
The Regional Municipality of Durham
Major private employers
Telecommunications
Durham Region offers many industry leading technology partners, delivering innovative solutions to support and improve your business. The region is home to a number of wireless and wireline providers and several satellite services providers, including:
Taxes
Learn more on our Property Taxes page.
Utilities
The Regional Municipality of Durham and a number of service providers supply electricity, gas, water, and sewer to businesses and the general public.
Natural gas providers:
Electricity providers:
Municipal water and sewer providers:
The Regional Municipality of Durham
Quality of life
Not only is Durham Region a well-known area, but a well-desired lifestyle! Less than an hour's drive from Toronto, awaits our charming and vibrant communities. With a mix of urban excitement and country charm, Durham is a wonderful place to live, visit, explore and discover.
View the Think Big, Think Durham - Lifestyle video to see what Durham Region has to offer.
Housing
Durham Region offers various housing options, including traditional family homes, apartments/condominiums, townhouses, rural properties and custom-builds.
In 2017, the average cost for a home is $665,211. The average monthly rent for a three-bedroom home is $1,265.
Visit the Durham Region Association of Realtors website for more information.
Health care
Lakeridge Health's five hospital sites serve Durham's diverse population.
With more than 4,000 doctors, nurses and other health care professionals, and nearly 1,000 volunteers, Lakeridge Health has a reputation as a quality leader and innovator in health care.
The R.S. McLaughlin Durham Regional Cancer Centre is one of the top-ranked cancer centres for quality by Cancer Care Ontario.
Ontario Shores Centre for Mental Health Sciences is a leader in mental health care, providing a spectrum of specialized assessments and treatment services for people living with complex mental illness.
Emergency services
Police services
Durham Regional Police Service (DRPS) serves Durham's eight local area municipalities and is composed of approximately 1,200 full and part-time employees, including police and civilian personnel.
Fire protection services
Fire protection services in Durham Region are provided by each lower-tier municipality. There are 27 fire stations in operation throughout the region, and each station is committed to providing the highest level of life safety and property protection to residents, visitors and businesses in these communities.
Paramedic services
Region of Durham Paramedic Services (RDPS) provides high-quality professional paramedic services.
Request information and/or familiarization tour
Our Economic Development and Tourism team is the main point of contact for local business assistance. We provide information about:
Foreign investment
New startups
Corporate relocation
Expansion and retention of existing businesses