Whether starting up or established, growing or transforming, Durham Region's tri-institutions help businesses accelerate.
Durham Region's business and innovation community has an advantage – the tri-institutions: Durham College, Ontario Tech University, and Trent University Durham GTA. These well-recognized schools offer access to top talent like students and new grads, are home to world-renowned centres for research and development, assist with solving big problems and generating business solutions, offer flexible and in-demand upskilling programs, and develop valuable customized partnerships with businesses.
With over 30,000 full-time students enrolled in post-secondary education in Durham Region annually, we are brimming with opportunity for businesses looking to tap into talent.
Durham College
With campuses in Oshawa and Whitby, Durham College (DC) offers over 11,400 full-time students access to more than 140 post-secondary programs, including four honours bachelor degrees and nine apprenticeship programs. Applied research at DC – facilitated by the Office of Research Services, Innovation and Entrepreneurship (ORSIE) and its five research centres – solves business and social challenges through innovation and collaboration by engaging industry, faculty, students and the community-at-large in research projects to address the needs of a technology-driven knowledge economy.
Trent University Durham GTA
The Oshawa campus of Trent University opened in 2010, building upon 40 years of presence in Durham Region. With 2000 students enrolled annually, the campus offers Bachelor of Arts and Science degrees, post-graduate certificates and master's programs. The campus focuses on the needs of business management and community health and wellness, offering community-based research to their partners. Trent University Durham GTA (Trent U Durham) is renowned for the innovative and ground-breaking research conducted by faculty and students, on campus and around the world.
Ontario Tech University
With two campuses in Oshawa, Ontario Tech is a modern, forwarding-thinking university that advances the discovery and application of knowledge to accelerate economic growth, regional development and social innovation. Researchers, students and graduates are inspired and equipped to make a positive impact in a tech-focused world through understanding and integrating the social and ethical implications of technology. With seven faculties, more than 10,000 students in over 115 programs, the STEM-focused university houses more than 80 specialized research laboratories and facilities.
Work with Students and Graduates
Student talent bring with them leading-edge training and vibrant energy to projects at your business. As a business, you can help provide students with an opportunity for experiential learning whole benefiting from student talent.
Experiential Learning
Durham College:
Durham College offers a range of experiential learning opportunities as a formal component of program study, including co-ops, placements, capstone projects, practicum, volunteer work, internal exchanges and experiences in applied research.
Trent U Durham:
Trent Durham offers students the opportunity to gain career related experience in virtually every program. Including workplace projects, capstones, and applied research.
Ontario Tech University:
Ontario Tech University has a long history of offering experiential and work-integrated learning to its students including co-ops and internships, capstone projects, practicum and research opportunities. These activities enrich student learning while preparing them for their future careers. For the organizations who hire them, it is a valuable and effective way to build a network of future employees.
Co-Ops, Internships and Placements
Durham College:
Offering a student a field placement or co-op opportunity with your organization is a terrific way to re-energize your business, provide a student with a valuable paid or unpaid work experience, develop your mentoring skills and help build the workforce your organization needs.
Trent U Durham:
Currently, placement, practica and internship opportunities exist in 14 departments at Trent. Examples are the placement opportunities in Business Administration, Child & Youth Studies and Policing & Community Well-being.
Ontario Tech University:
Experiential learning enriches student learning while preparing them for future careers. For the organizations who hire them, it is a valuable and effective way to access the fresh thinking, skills and capabilities that students offer while also building a network of future employees. Students in each of the seven faculties (Business and Information Technology, Education, Engineering and Applied Science, Energy Systems and Nuclear Science, Health Sciences, Science, and Social Science and Humanities) have the opportunity to complete co-ops, internships, practicums or work placements with organizations.
Recruitment and Hiring Graduates

Durham College:
Let Durham College's Career Development office connect you with the right candidates to support your vision. Durham College graduates bring top-notch talent in more than 140 areas of study who are well-prepared for today's workforce and know what it takes to succeed. Contact us for assistance with your recruitment efforts for full-time, part-time, contract or seasonal staff.
Trent U Durham:
Trent University Careerspace is your on-campus and online resource for recruiting qualified students and recent graduates for your organization. Gain a valuable team member with fresh ideas from the number one undergraduate school for producing leaders of tomorrow, and bring a student's education to life.
Ontario Tech University:
Working with the Career Centre to recruit students is an investment in your business and their future. We offer many opportunities and formats for organizations to recruit top talent both in-person or remotely. Throughout the year, we invite employers to visit our campus to learn about the scholarly activities of our students. Partnering with the university provides you with unique opportunities for your organization to work with student teams, to build your brand, to conduct research and more.
Access Research, Labs and Testing Facilities
Businesses can access specialized research and development facilities and talent in Durham Region.
Innovation and Entrepreneurship
Durham College:
Applied research at Durham College is facilitated by the Office of Research Services, Innovation and Entrepreneurship (ORSIE), which is comprised of three interrelated, yet distinct, teams:

Applied research
FastStart (Entrepreneurship)
Institutional research and planning
As one of Canada's Top 50 research colleges, applied research at Durham College focuses on developing innovative, practical solutions for real world problems, connecting industry and community partners with faculty expertise and students, and providing access to state-of-the-art facilities and research equipment.
Trent U Durham:
Research at Trent is lead by the Office of Research & Innovation. Trent's distinctive interdisciplinary, collaborative approach to research sets us apart from our peers, with our strengths and the strategic directions summarized around three areas of excellence: Humanities, Culture & Indigenous Studies, Aging, Health & Sustainable Communities and The Environment.
Ontario Tech University:
Ontario Tech has ranked #1 in cross-sector research and has more than 500 community and industry partners. Our mission is to build a community of experts, influencers and entrepreneurs to put more Canadian ventures on the map. Research assets include:

The Office of Research Services (ORS) facilitates the development, protection and commercialization of Ontario Tech intellectual property (IP) that solves real-world and future-facing challenges.
Brilliant Catalyst is the start-up incubator and experiential-learning hub. We're passionate about setting up innovative thinkers and entrepreneurs for success.
Brilliant Catalyst: Home to Canada's Start-Up Visa (SUV) program to give entrepreneurs the opportunity to immigrate to Canada in order to establish a new business.
Brilliant Developer Studio: The hub for real-world practical learning, and customized digital solutions.
Areas of Research Focus
Durham College:
Durham College has five leading-edge applied research centres, including:

The AI Hub
Centre for Cyber Security Innovation
Centre for Craft Brewing Innovation
Mixed Reality Capture Studio
Social Impact Hub

In addition, the Office of Research Services, Innovation and Entrepreneurship offers research specialization in: Advancing Agriculture, Agri-business and Tourism, Enabling Technologies for the Future, Cultivating Healthy Lives and Resilient Communities and Enhancing Scholarly Teaching and Learning. A sixth centre will soon be a reality for innovation and applied research in skilled trades.
Trent U Durham:
Distinguished scholars at Trent University Durham are noted as top researchers in their fields of study. Research at Trent University Durham is grounded in the University's core values of interdisciplinary study and collaboration. Programs of innovative researchers include: Anthropology, Business Administration, Child and Youth Studies, English Literature, History, Media Studies, Philosophy, Psychology, Social Work and Sociology.
Ontario Tech University:
Ontario Tech has appeared in the world's most influential global university rankings: the Times Higher Education World University Rankings as well as ShanghaiRanking's Global Ranking of Academic Subjects. These rankings are consistent with other international recognition that the university has received. The results demonstrate Ontario Tech's growing global influence and reach for its excellence in research and teaching. Modern and forward thinking, Ontario Tech University is a research-intensive Canadian university that advances the discovery and application of knowledge to accelerate economic growth, technological advancement, regional development, healthy communities, and social innovation. Our research strengths and priorities include:
Advanced Manufacturing and Materials

Intelligent Manufacturing and Materials Innovation

Automotive Engineering, Transportation and Electrification Systems

Autonomous Vehicles and Systems

Community Wellness, Human Performance and Health Promotion

Healthy Populations, Community Well-Being and Social Justice

Crime, Justice and Forensics Sciences
Digital Technologies, Machine Learning and Artificial Intelligence

Data Science, Artificial Intelligence and New Technologies

Energy, Applied Bioscience and Environmental Sustainability

Canada's Energy and Environmental Future

Social Innovation, Disruptive Technologies and the New Economy
Access Business Services
From customized training to start-up supports, businesses can tap into a range of services offer by Durham Region's tri-institutions.
Applied research
Durham College:
The Office of Research Services, Innovation and Entrepreneurship (ORSIE) is Durham College's research and innovation hub, providing research and development solutions through funding opportunities, faculty expertise, state-of-the-art research facilities, and student learning experiences for small- to medium-sized enterprises. In partnership with industry and community agencies, ORSIE conducts projects that model or simulate solutions, develops and tests prototypes, adopts new technologies and knowledge, and develops and evaluates new or improved products and processes.
Ontario Tech University:
The university's Research Institutes, Centres, Groups and Infrastructure include:

ACE Climatic Wind Tunnel
Borehole Thermal Energy Storage System
Brilliant Energy Institute
Institute for Disability and Rehabilitation Research
Centre for Small Modular Reactors
Centre on Hate, Bias and extensionremism
Clean Energy Research Lab
Digital Life Institute
Educational Informatics Laboratory (EILab)
Energy Systems and Nuclear Science Research Centre
Institute for Cyber Security and Resilient Systems
Internet of Things Research Laboratory
Materials Characterization Facility
Joint Research Centre in AI for Health and Wellness
Silicon Hall (Micro-Nano Fabrication Facility)
STEAM-3D Maker Lab
The Visualization for Information Analysis lab (vialab)
Business services
Durham College:
Durham College's Solutions for Business offers a variety of innovative business services and supports Our teams of professionals work together seamlessly to provide talent acquisition, skills training and upgrading, research and development, funding procurement and charitable giving. Our meeting centre at the W. Galen Weston Centre for Food at the Whitby campus also offers 7,500 square feet of contemporary space to accommodate intimate board meetings, team planning days, presentations, celebrations, corporate functions and trade shows, with catering provided and prepared by executive chef Raul Sojo and his team of skilled staff and students.
Ontario Tech University:
Brilliant Developer Studio: The hub for real-world practical learning, and customized digital solutions.
The Social Research Centre (SRC): Explores the research needs of the client and create an appropriate research plan to properly suit these needs. The SRC offers quantitative and qualitative research methodologies, including surveys, interviews, focus groups, and other research approaches a client may need.
Advanced facilities for testing
Durham College:
With five research centres, Durham College's Office of Research Services, Innovation and Entrepreneurship provides numerous opportunities for product testing. For example, the Centre for Craft Brewing Innovation offers access to expertise, state-of-the-art technology and micro-analytical services, allowing craft brewers to experiment with new recipes and flavour profiles, propagate and maintain yeast strains and conduct scientific analyses to ensure the microbiological integrity of the beer.
Ontario Tech University:
ACE Testing and Research Facility offers research, testing and/or product development for projects that require controlling the climate to tight tolerances, and then repeating that condition over and over again. ACE is setup to test electric, hydrogen fuel-cell, autonomous vehicles (AV) and test battery performance in a full spectrum of climate conditions.
Clean Energy Research Lab pioneers clean energy research and seeks to uncover major solutions for climate change. The lab's mission—develop clean energy technologies and move them from laboratory to commercial and industrial application.
The Materials Characterization Facility provides access to a variety of resources and services to support research activities and development in materials science. Modern instrumentation operated by a multidisciplinary team of experts support a comprehensive analysis at the micro to the nanoscale, promoting the development of novel materials and technologies.
Train Your Workforce
Durham College:
Interested in upskilling or reskilling your workforce? Do you require custom classroom training or eLearning development for your company? Durham College's Corporate Training Services has been delivering high quality, consultative, results-driven training to organizations and individuals across Ontario for over 30 years. With numerous corporate clients, we have experience customizing offerings across a variety of sectors.
Durham College's Centre for Professional and Part-time Learning (PPL) offers approximately 80 programs and over 1,000 courses for part-time learners. Whether seeking academic or professional development opportunities, PPL courses can help people at all levels build the knowledge and skills needed for both immediate and long-term career success. Courses are available in-class or online.
Trent U Durham:
Does your business have an upskilling or reskilling need? Provide suggestions on Micro-Credentials or Upskilling Programs.
Ontario Tech University:
Continuous Learning is the hub for not-for-credit programming at the university. Working in hybrid with all faculties, Continuous Learning builds and houses certificate programs and learning opportunities including micro-credentials that support lifelong learning.
TALENT's vision is to transform Ontario's workforce by creating talent pipeline in key sectors impacted by digital transformation. Affiliated with Ontario Tech University, TALENT develops industry-approved micro-credentials to prepare customers for high-growth careers of the future.
Customized Solutions
Explore custom programs, partnerships, speaking opportunities and more.
Durham College:
At Durham College, creating partnerships that benefit our students, community and economy is at the heart of what we do. We work to customize solutions for businesses that meet their specific needs. We lead in our community through environmental stewardship and building social inclusion, while contributing to economic success.
Our program faculty and applied researchers are leaders in their fields. Offering real-world experience and valuable insights, our experts can help your business grow and are often called upon to share their knowledge at events, speaking engagements, and panels. With a deep talent pool to draw from, we can work with you to create the perfect solution.
Do your employees need to update or acquire new skills? Do you require custom classroom training or eLearning development for your company? Corporate Training Services is a division of Durham College that has been delivering high quality, consultative, results-driven training to organizations and individuals across Ontario for over 30 years.
Trent U Durham:
At Trent Durham we encourage businesses to visit a class to speak about your experience working in the field. We work to encourage students and educate them on sectors of work.
Ontario Tech University:
Working with us will enable you to address your direct challenges and improve your overall business practices and strategies, determine cost-efficiency strategies, achieve greater capacity and project scope, maximize talent to help enhance your productivity and meet your objectives. Access top talent from Ontario Tech University, including both undergraduate and graduate students, adding significant value to your research team.
Ontario Tech is source to a diverse collection of faculty expertise and thought leadership, available for media interviews, speaking engagements, panels and more. Contact our Expert Centre to learn more about our experts.
The Continuous Learning department offers corporate and customized training. We work with you to deliver a wide range of courses that can be tailored to the needs and culture of an organization. Our training specialists identify learning gaps and can design the course or certificate program that suits your needs with flexible program lengths, timing, location and delivery.
Tap into Talent. Get started: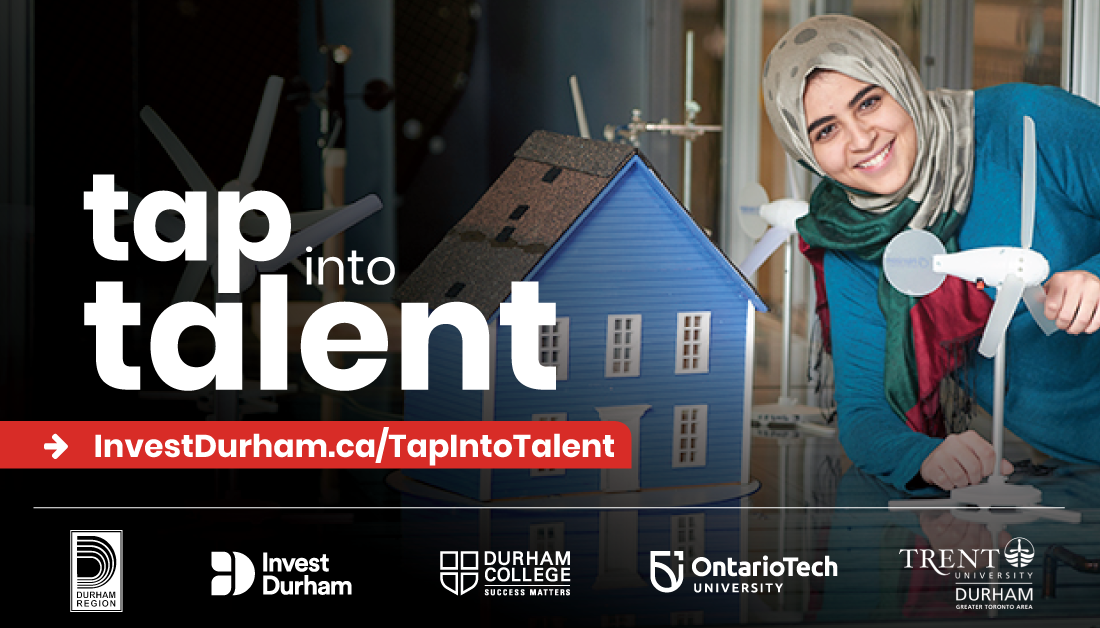 Durham College:
Tara Brodie, Director, Corporate Training Services
tara.brodie@durhamcollege.ca
Trent University Durham GTA:
Employer Engagement
Kristen Papadakos, Workplace Partnerships
(905) 435-5102 extension. 5042
employerengagement@trentu.ca
Ontario Tech University:
Partnership Office
Jennifer Alsop, Strategic Partnership Officer
(905) 259-8567
partnerships@ontariotechu.ca