We're confident our innovation community will continue to change the world.
Since 1864, when Robert McLaughlin started his journey to transform human mobility, businesses in Durham have committed to improve lives—not just for local residents—but also for the world.
Here in Durham Region, we're not just innovating; we're innovating to solve big problems. We are building a robust innovation ecosystem that translates research and development assets into jobs and investment.
A Timeline of Innovation in Durham Region
Today, by supporting innovators in everything from artificial intelligence to electric and autonomous mobility, and from clean tech to agri-tech, life sciences, health, and creative industries, our business ecosystem is evolving so that Durham's innovators continue to lead global solutions.
Video footage courtesy of Parkwood National Historic Site, The Robert McLaughlin Gallery Thomas Bouckley Collection, and ACE Climatic Wind Tunnel.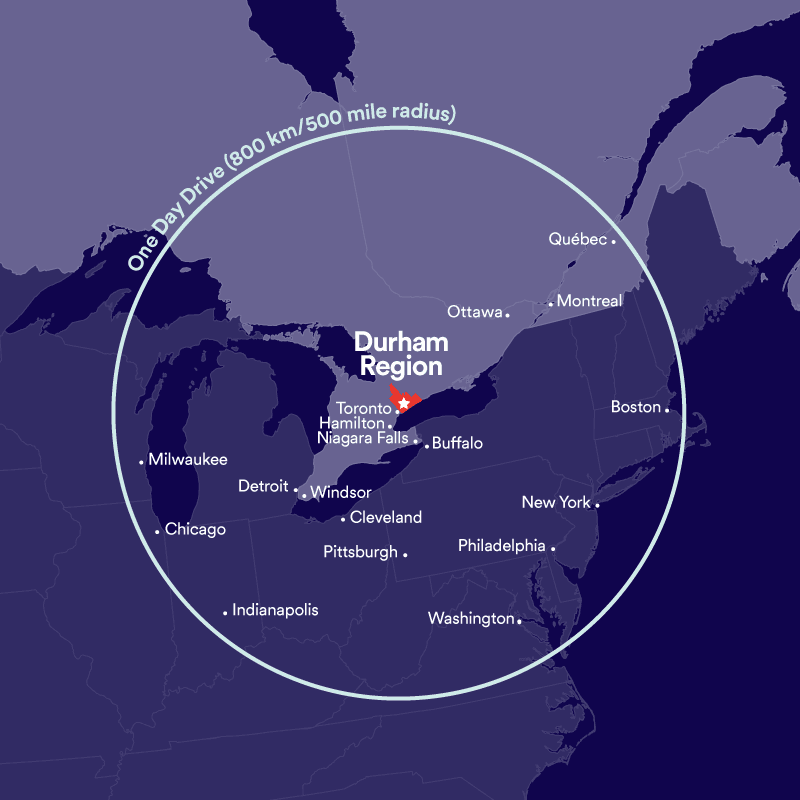 Durham Region, Ontario, Canada
Invest Durham is committed to working with others who share our vision of building a modern innovation economy in Durham. Collaboration between industry, post-secondary institutions, government and innovation centres, alongside a robust talent pipeline, positions Durham Region to be at the forefront of innovation in Canada—and the world.
We're inviting you to share in our excitement as innovators in Durham Region create significant economic impact in one of the premiere geographies of innovation in North America.
Located in the Greater Toronto Area, Durham Region is made up of eight local area municipalities, including the cities of Oshawa and Pickering; the towns of Ajax and Whitby; the Municipality of Clarington; and the townships of Brock, Scugog and Uxbridge.
An opportunity to join this innovation community awaits your business in Durham Region.
---
Invest Durham helps organizations expand their businesses in Durham Region, Ontario, Canada.
We are your first point of contact to navigate decisions required for investment and expansion in the region. We offer personalized support from business plans through to growth and expansion.
Connect with the Invest Durham team. We are confident our team will be able to support your business expansion in Durham Region.