Nationwide, Durham Region is known for its strength in the automotive sector and as a leader in energy innovation. Today, these sectors are converging and creating new opportunities and Durham Region is now an important location for the interplay of energy innovation and advanced mobility.
Durham Region has long been at the forefront of the automotive industry, with a history of innovation that dates back to 1832, when R.S. McLaughlin launched his horse-drawn sleigh and carriage company in Oshawa. Over time, carriages made way for automobiles, as Robert McLaughlin & Sons rebranded to McLaughlin Motor Company—which later merged with Chevrolet to become General Motors of Canada (GM). Today, the General Motors Technical Centre in Oshawa serves as an integral part of GM's Global Engineering operations.
Autonomous Vehicles (AV) and Electric Vehicles (EV) are expected to disrupt transportation behaviours and electricity demand. In Durham Region, we are focused on accelerating the clean energy economy, which provides opportunities in research, development and implementation of new technologies. Our innovation ecosystem—which includes energy innovation, automotive technologies, post-secondary institutions, and a thriving start-up community, alongside our energy and automotive industry leadership—encourages further sector transformation.
Durham Region is positioned to be the leader in developing the next generation of mobility, and is a key player in advanced and future mobility in Ontario through its:
Strong talent pipeline; home to the only accredited Automotive Engineering Program of its kind in Canada
Strength in automotive software systems - development and testing;
Available office and lab space for innovative research and development opportunities;
Premier electric vehicle charger testing facilities at ACE at Ontario Tech University;
Thriving autonomous technology start up ecosystem; and,
Pipeline of innovative projects.
Please contact us to learn more about joining this thriving ecosystem.
Ontario Vehicle Innovation Network (OVIN)
The Ontario Vehicle Innovation Network (OVIN) is a provincial program created to encourage the collaboration of industry, academia and government to increase the development of connected and autonomous vehicles (C/AV).
OVIN is driving the future of automotive and mobility. Durham Region is home to one of the seven Regional Technology Development Sites (RTDS) across the Province of Ontario, with a focus on Human Machine Interface and User Experience. The Durham RTDS provides an opportunity for small and medium sized enterprises (SME) to develop and test new C/AV products, and test emerging technologies and prototypes.
Whether you are an industry partner, a startup, or an SME, there are many ways for you to get involved. Contact us, or contact RTDS to get started.
Learn more about OVIN in Durham Region:
ACE Climatic Aerodynamic Wind Tunnel
ACE Climatic Aerodynamic Wind Tunnel (ACE) at Ontario Tech University is the first testing and research centre of its kind in Canada. It is operated by Ontario Tech University and located on the North Campus in Oshawa, Ontario.
ACE provides a full range of testing facilities, including one of the largest climatic wind tunnels in the world, that can be used to run multiple weather simulations. These simulations can involve:
Temperatures of blistering heat (+60C) to frigid cold (-40C);

Crosswinds and wind speed up to 280 kilometers per hour; and,

Relative humidity ranging from 5 to 95 per cent.
ACE has capabilities to replicate the effects of the sun and is hydrogen-capable, which allows for fuel cell development. It is also an EV Charger testing facility that can be leveraged for testing of electric, hydrogen fuel-cell, AV and test battery performance in a full spectrum of climate conditions.
ACE continues to be a core research facility in Canada, supporting research in automotive transportation, energy, aerospace, civil engineering, architecture and climate physiology. It provides a full range of testing facilities, educational and research labs, and available offices or hoteling space for faculty, academic and industry visitors. This commercial test facility is available for rent to manufacturers, start-up companies, and researchers in Canada and around the globe.


Project Arrow
Ontario Tech attracts the brightest research and academic minds in areas including additive manufacturing, automotive engineering, aerodynamics, electrification, energy storage, battery chemistry and cybersecurity. The university was chosen as the build partner for Project Arrow, the first all-Canadian, zero-emission concept vehicle, due to its global reputation for excellence in energy, automotive, smart mobility and engineering research expertise.
Learn more about advanced mobility projects at ACE:
Featured Connected and Autonomous Technologies
Axcessiom technologies: A facial gesture-based Driver Assistance System, for drivers with disabilities who are unsatisfied with existing vehicle adaptations.
Korechi innovations: RoamIO, an autonomous robot enabled with AI and high precision spatial awareness to automate tasks and address shortage of skilled labour for fruit and vegetable farmers, and turf-care managers.
Synkar: A Brazilian-Canadian robotics company bringing robotics into day-to-day logistics. Synkar develops specialized in autonomous delivery solutions—robots as a service—for emerging markets.
The Whitby Autonomous Vehicle Electric (WAVE) shuttle pilot project: an autonomous (self-driving) electric shuttle that integrates smart infrastructure along the route to help create safer roads for pedestrians, transit customers and other drivers, the first of its kind in North America.
General Motors Autonomous Vehicle Test Track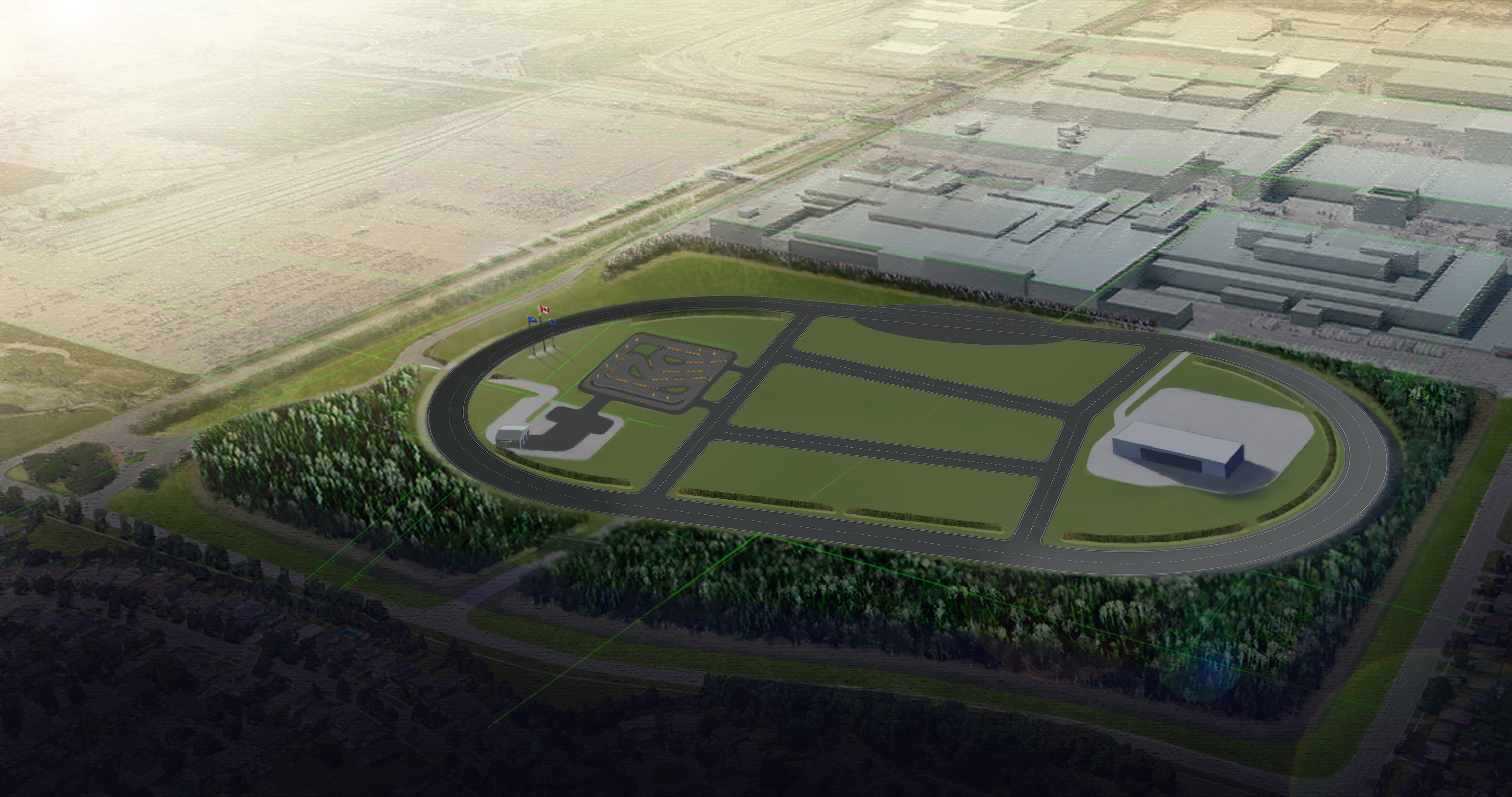 In May 2019, General Motors Canada announced a C$170 million investment in their Oshawa operations. Part of the investment included plans to transition Oshawa Assembly from vehicle assembly to one focused on stamping, related sub-assembly, and other miscellaneous activities for GM and other automotive industry customers. In 2020, GM's Oshawa operations have been producing masks for Health Canada.
GM is also converting part of their Oshawa property into the Canadian Technical Centre (CTC) McLaughlin Advanced Technology Track—a 55-acre test track for autonomous and advanced technology vehicles. The CTC McLaughlin Advanced Technology Track will support advanced software and engineering work being conducted at GM's Canadian Technical Centre campuses in Oshawa and Markham, and further positions Durham Region on the cutting-edge of automotive technology development in Canada.
Project Arrow
The Automotive Parts Manufacturing Association (APMA) of Canada launched the first original, full build, zero emission concept vehicle named Project Arrow through an all Canadian effort through joint efforts of the world class automotive supply sector in Canada and post secondary institutions. The finished concept vehicle was unveiled in January 2023.

Ontario Tech University was the lead academic institution for Phase 2 of Project Arrow, with engineering specifications and aerodynamic testing taking place at the ACE Climatic Aerodynamic Facility.

The project was headquartered at ACE's Innovation Garage, a defined collaboration space at Ontario Tech where Project Arrow's Canadian industry partners, professors, researchers and students interacted. The Innovation Garage includes laboratories, as well as manufacturing, office and collaboration spaces to serve the needs of the project.

Learn more about Project Arrow: