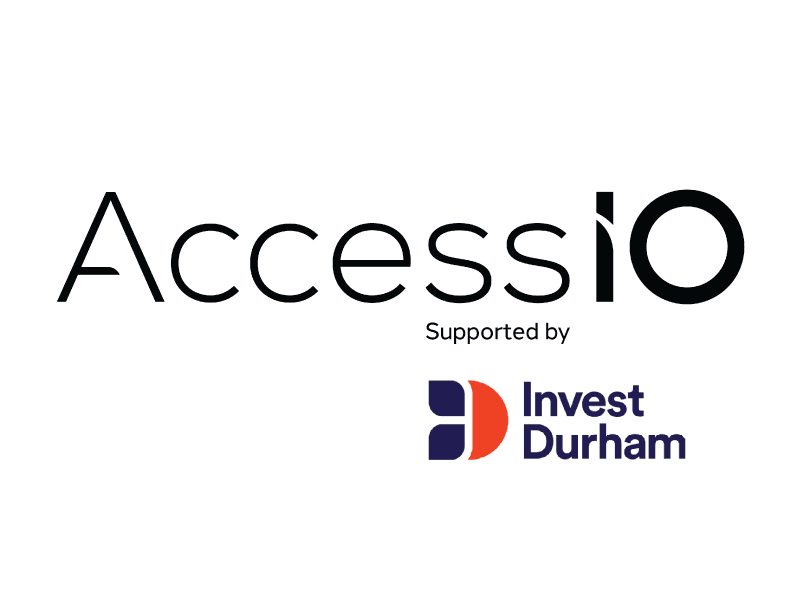 Whitby, Ontario – Building upon successful events in 2019 and early 2020, Access IO is returning to Durham Region. Access IO is a high-impact event focused on sourcing new technologies to solve real-world problems.
The event invites startups to collide with the angel investment community, industry experts and potential customers. Startup companies selected for the showcase will have one minute to pitch their solution.
Abilities Centre and Grandview Kids will co-host the first 2022 event. Abilities Centre is a 125,000 square foot facility offering sports, fitness, arts and life skills programming, as well as research and education opportunities for people of all ages and abilities. Grandview Kids provides specialized programs, outpatient clinical treatment and support to thousands of children and youth with physical, communication and developmental needs, and their families.
The two organizations will come together at Access IO at Abilities Centre on September 14, to seek technology solutions supporting accessibility, belonging, and inclusion. Attendees will include startup founders, investors and innovation leaders with interest in procurement.
Access IO is hosting two exciting events⁠—one in September and one later in November⁠—each with their own theme and host organizations. Access IO is presented in partnership with Invest Durham (Durham Region Economic Development and Tourism), and will include:
Access IO with Grandview Kids and Abilities Centre
Theme: Technology Supporting Accessibility, Belonging and Inclusion
Date: Wednesday, September 14, from 5:30 to 9:30 p.m.
Location: Abilities Centre, 55 Gordon Street, Whitby
Access IO with Centre for Canadian Nuclear Sustainability
Theme: Decontamination, Containment and Dismantling for Nuclear Energy
Date: Wednesday, November 9, from 5:30 to 9:30 p.m.
Location: Centre for Canadian Nuclear Sustainability, Pickering Parkway, Pickering
A third event was to be hosted by Lakeridge Health hospital network and Ontario Shores Centre for Mental Health Sciences in June but was postponed. A replacement event will take place at a later scheduled date.
Durham Region's innovation ecosystem comes together at Access IO, with innovative thinkers, investors, customers and other partners gathering to further strengthen the startup community and create opportunity for growth.
To learn more about Access IO's event series taking place in Durham Region, including how to apply for the upcoming Access IO showcase with the Centre for Canadian Nuclear Sustainability, or to register as an investor or attendee, visit accessio.ca.
Quotes
"We are excited to welcome entrepreneurs from across the country to the Access IO event series to showcase their ideas and bring new solutions to some of the world's biggest challenges. Durham Region is the right community for innovators to start and build their businesses."
– John Henry, Regional Chair and Chief Executive Officer, Region of Durham
"The Town of Whitby is pleased to be the host community for this Access IO event that provides a unique forum for entrepreneurs to showcase their innovative technological solutions to potential investors and organizations. It's great that this event focuses on accessibility, belonging and inclusion, topics of significant importance to our Town. I can't think of a better location to host this event than at the Abilities Centre, a place that helps and creates a sense of belonging for people of all abilities."
– Don Mitchell, Town of Whitby Mayor
"One of the biggest overlooked components of startup success is sales. Business development seems to come second to raising capital, however both are critical in ensuring stable growth—traction is needed to raise capital, and capital is needed to support marketing and sales. Access IO events are designed to support the synergy between sales and raising capital, while developing strong relationships with industry experts and government to give emerging technology companies rich resources to help them scale.
The support of Invest Durham is a testament to the Region's commitment to build an innovative future and attract class-leading technology companies from around the world to set up and operate in Durham Region. Since Access IO events are not-for-profit, invite-only events with no cost to attend or showcase at, they can only be successful with the amazing support of our partners and sponsors."
– Patrick Lyver, Co-Founder, Access IO
"We are thrilled to collaborate with Access IO and our partners across the region to give ambitious entrepreneurs a platform to pitch their ideas. This event series will bring top talent to the region and connect them with industry experts and investment opportunities to propel their innovative ideas forward."
– Simon Gill, Director of Economic Development and Tourism
About Durham Region
Durham Region is—simply—more. Located on the eastern side of the GTHA, Durham is a region with momentum. Offering a competitive advantage like no other, Durham is a community where talented, smart, diverse and ambitious people—known for their innovation, creativity, skills and education—bring access to world markets, insights, invention and traditions. A place where an innovative ecosystem helps propel new ideas forward. Where ingenuity and industry help tackle global challenges. Visit durham.ca to learn more about one of Canada's fastest growing communities.
– 30 –
Media inquiries:
The Regional Municipality of Durham:
Jessie Reed – Communications Advisor
CorporateCommunications@durham.ca