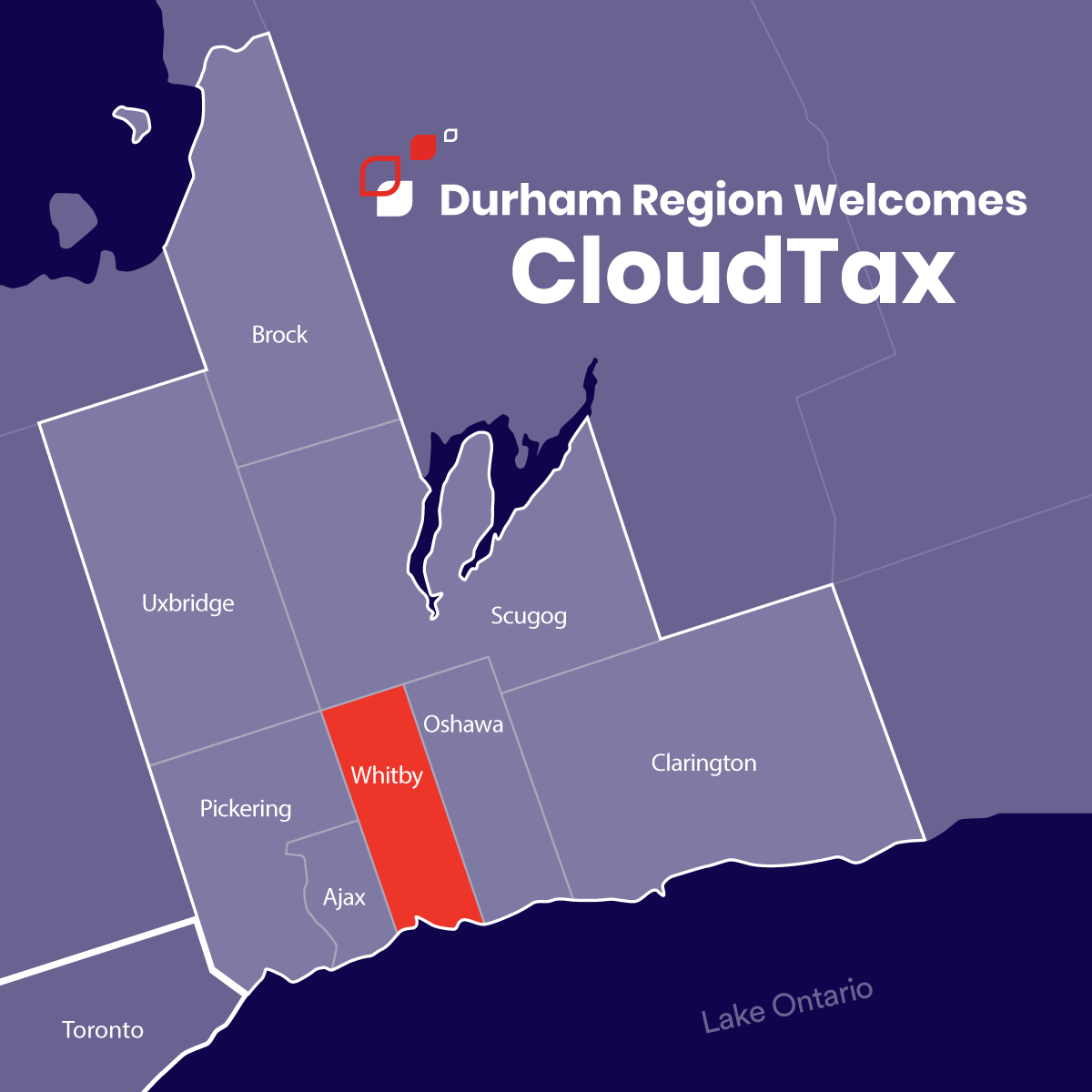 Whitby, Ontario – CloudTax, Canada's newest financial technology (FinTech) company with solutions in automating personal tax return filings, has selected 1855 Accelerator in Durham Region as the location for its newest office and for acceleration advisory services.
1855 Accelerator and Invest Durham joined forces to bring this investment to the region.
"1855 Accelerator and Invest Durham offer the most compelling value proposition for tech startups in the Greater Toronto Area, including an extensive, knowledgeable ecosystem, world-class talent pool, and a welcoming environment to build a FinTech software company. These partners demonstrated trust and sincerity from day one, and by reputation, we know they will help us become one of Canada's next FinTech unicorns!" said Nimalan Balachandran, CEO and Founder of CloudTax Inc.
"Durham Region is proud that innovative companies continue to choose our world-class technology ecosystem to grow and expand their businesses," said Simon Gill, Director, Economic Development and Tourism, Invest Durham. "Durham Region is leading the way in several industries because our innovation community is applying advanced new technologies to meet the needs of consumers, with incredible and dramatic impact. CloudTax is joining an innovation community that we're confident will continue to solve the world's biggest challenges."
Durham Region's innovative ecosystem, deep financial services and banking industries, as well as its talented technology and engineering workforce—fuelled by Durham College and Ontario Tech University—were factors that influenced the company's choice to establish a regional office in Whitby.
"We are so excited that a company like CloudTax, founded in Canada, disrupting tax tech, and bringing a truly valuable solution to market, has chosen 1855 Accelerator. In a very short time, 1855 Accelerator has built a strong reputation in its approach to supporting technology companies to become self sufficient and accelerate sales growth. We offer a unique and proven approach. CloudTax is yet another startup that sees the competitive advantage of joining our world-class ecosystem," said Dennis Croft, Chief Executive Officer of 1855 Accelerator. "We look forward to helping CloudTax attain Canadian unicorn status."
Media inquiries:
Cloud Tax North America:
Nimalan Balachandran –CEO & Founder
nim@cloudtax.ca


The Regional Municipality of Durham:
Jessie Reed – Communications Advisor
CorporateCommunications@durham.ca

1855 Accelerator:
Dennis Croft –Chief Executive Officer
DennisCroft@1855Whitby.com