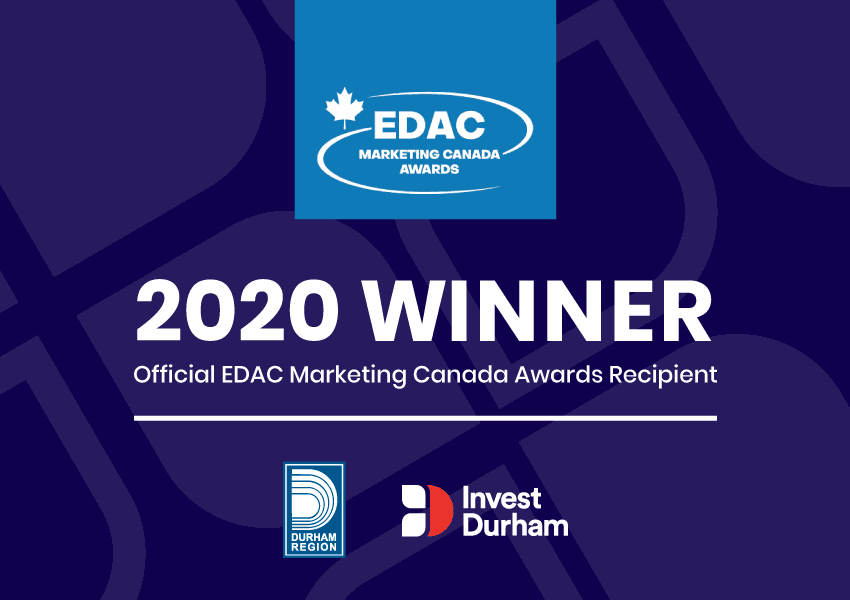 Whitby, Ontario – Downtowns of Durham, along with two other Regional initiatives, have received national recognition at the Economic Developers Association of Canada's (EDAC) Annual Marketing Canada Awards.
DowntownsOfDurham.ca was created in response to the COVID-19 pandemic. In early March 2020, the Durham Economic Task Force (DETF) was formed, and through conversations with Business Improvement Area (BIA) leaders the DETF determined that, due to the limited ability to promote events and the halting of tourism, the downtown and main street areas of Durham Region would face an array of business challenges and be hit hard economically.
As a result, the Downtowns of Durham project was created to promote the downtown and main street areas, supporting them during closures and restrictions, with a view to also support their recovery. The site includes a searchable database of businesses organized by geography, and contains information about COVID-specific business offerings, such as curbside pick-ups. In partnership with the BIAs of Durham Region, as well as local area economic development teams, the website launched in May 2020 and now has over 850 business listings.
Each of the 14 downtown areas on the site includes a business directory that is searchable by map or by category, and the site also has a blog-style section for stories written by residents; sharing their favourite shops and restaurants, and reasons to visit each downtown.
This project is part of DETF's economic support and recovery plan. To learn more about Invest Durham's COVID-19 response, visit InvestDurham.ca/CovidResponse.
In addition to the Downtowns of Durham project, the Region also received national recognition for the 2019 Invest Durham Annual Report and Vertical Farming campaign. To learn more about the awards, visit edac.ca.
Quotes
"Congratulations to Regional staff on these prestigious awards and for once again showcasing Durham Region's economic leadership. Not only does the Downtowns of Durham project highlight the need to support local as a community, but the Vertical Farming Campaign and 2019 Invest Durham Annual Report highlight the important work being done to market our region as investment worthy."
- John Henry, Regional Chair and CEO
"Each of these awards highlights the economic achievements of not only the Region, but of our community partners. The Downtowns of Durham project wouldn't have been possible without the Durham Economic Task Force and our partners on the project – the Durham BIAs. Throughout the COVID-19 pandemic, Durham businesses have faced many challenges, and this project is just one example of how we've been able to work jointly together to support our business community in recovering from the impacts of the pandemic."
- Simon Gill, Director of Economic Development and Tourism, Region of Durham
Quick Facts