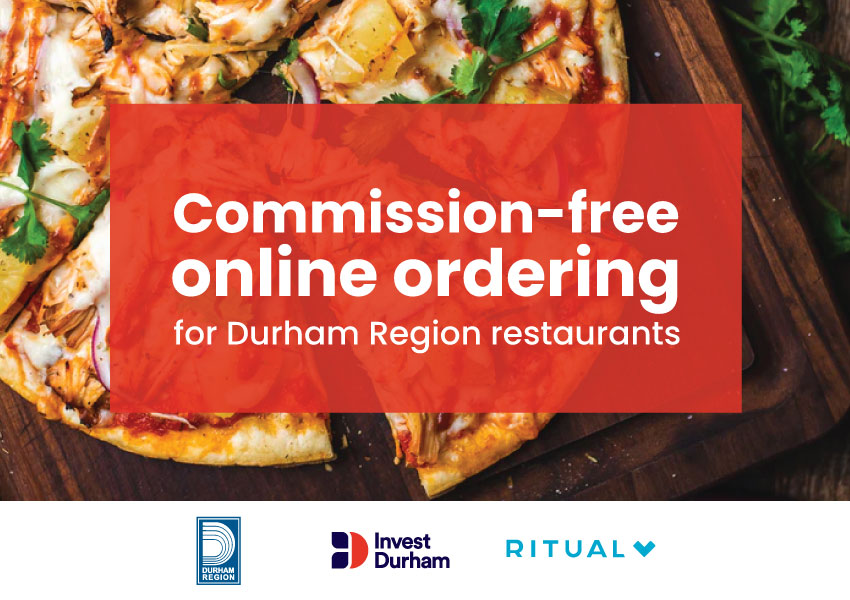 Whitby, Ontario – The Regional Municipality of Durham, in partnership with Ritual, is pleased to announce support for local restaurants and food services in Durham Region through Ritual ONE—an accessible, online method of contactless food ordering.
This service allows local restaurants and food-based businesses, in need of a digital ordering solution, to provide customers with a method of placing orders for dine-in, or contactless pickup or delivery. Ritual ONE is an easy way for businesses to accept digital orders from their website and social media accounts. QR code menus and ordering are also available.
By signing up for Ritual ONE, Durham businesses will be able to:
Provide customers with a convenient way to place takeout or delivery orders digitally.
Showcase their restaurant's brand through custom branding and menu photos.
Convert customers into regulars through Ritual's automated marketing program.
Streamline business operations by reducing the number of in-store devices.
Utilize customer insights and feedback to improve the ordering experience.
Through this partnership, and with support from PayPal, Ritual will provide their commission-free digital ordering platform, Ritual ONE, to Durham businesses at no cost for the remainder of 2020. This includes waiving set-up fees, monthly subscription fees and credit card processing fees. Businesses will be provided with a dedicated Ritual ONE expert for onboarding and support, and will be able to opt-out at any time without penalty.
To start accepting online orders, local businesses are encouraged to sign up for Ritual ONE.
This initiative is part of the Durham Economic Task Force's economic support and recovery plan. To learn more about Invest Durham's COVID-19 response, visit InvestDurham.ca/CovidResponse.
Quotes
"By converting local food services online through Ritual ONE, the community of Durham will be able to better adapt to the new contactless way of eating and supporting locally. Not only will residents be able to access the local foods they love, but their favourite meals will be available at their fingertips. This is a great initiative to help support our economy and ensure our local business community stays Durham strong."
- John Henry, Regional Chair and CEO, Region of Durham
"Ritual ONE is making it one step easier for Durham restaurants and food-based businesses to adjust to the impacts of COVID-19. By offering online ordering, businesses will be able to increase sales and expand their existing market to new customers—providing local restaurants and food-based businesses with the tools they need to generate online sales, and succeed in today's environment of contactless delivery and pickup."
- Simon Gill, Director of Economic Development and Tourism, Region of Durham
"Local businesses are what make our communities thrive. Ritual is here to support Durham Region and its businesses during this time with Ritual ONE. Ritual ONE equips businesses with the tools they need to accept contactless orders and keep 100 percent of their profits through 2020."
- Ray Reddy, CEO, Ritual
Quick Facts
The Durham Economic Task Force is partnering with Ritual to provide local businesses an easy way to accept digital orders online and on-site.
Invest Durham and the Durham Economic Task Force are promoting numerous programs and grants that are available to businesses to facilitate digital transformation. Explore options at InvestDurham.ca/DigitalServices.

As part of the Digital Main Street (DMS) program, Digital Service Squads are available for Durham businesses to provide additional support to expand their digital presence, adopt innovative tools and explore new training opportunities. To learn more about the program or apply for a DMS grant, visit DigitalMainStreet.ca.
The Region provided additional funding to augment the program to support businesses that fall outside defined BIA areas or are not located on "main streets". To learn more about the additional funding programs available, contact BACD.
The Region joined DMS ShopHere to provide independent businesses and artists an opportunity to develop an online store, free of charge, with specific branding, messaging, digital marketing, shipping and inventory management.
The Durham Economic Task Force—made up of the Region of Durham's Economic Development and Tourism team, all eight local area municipalities, Business Improvement Areas (BIAs), Business Advisory Centre Durham (BACD), all Durham Chambers and Boards of Trade, Durham College, Ontario Tech University, and Trent University Durham GTA—to advocate for the urgent needs of our business community and support the delivery of various programs to eligible businesses in Durham Region. For more information, visit InvestDurham.ca/CovidResponse.