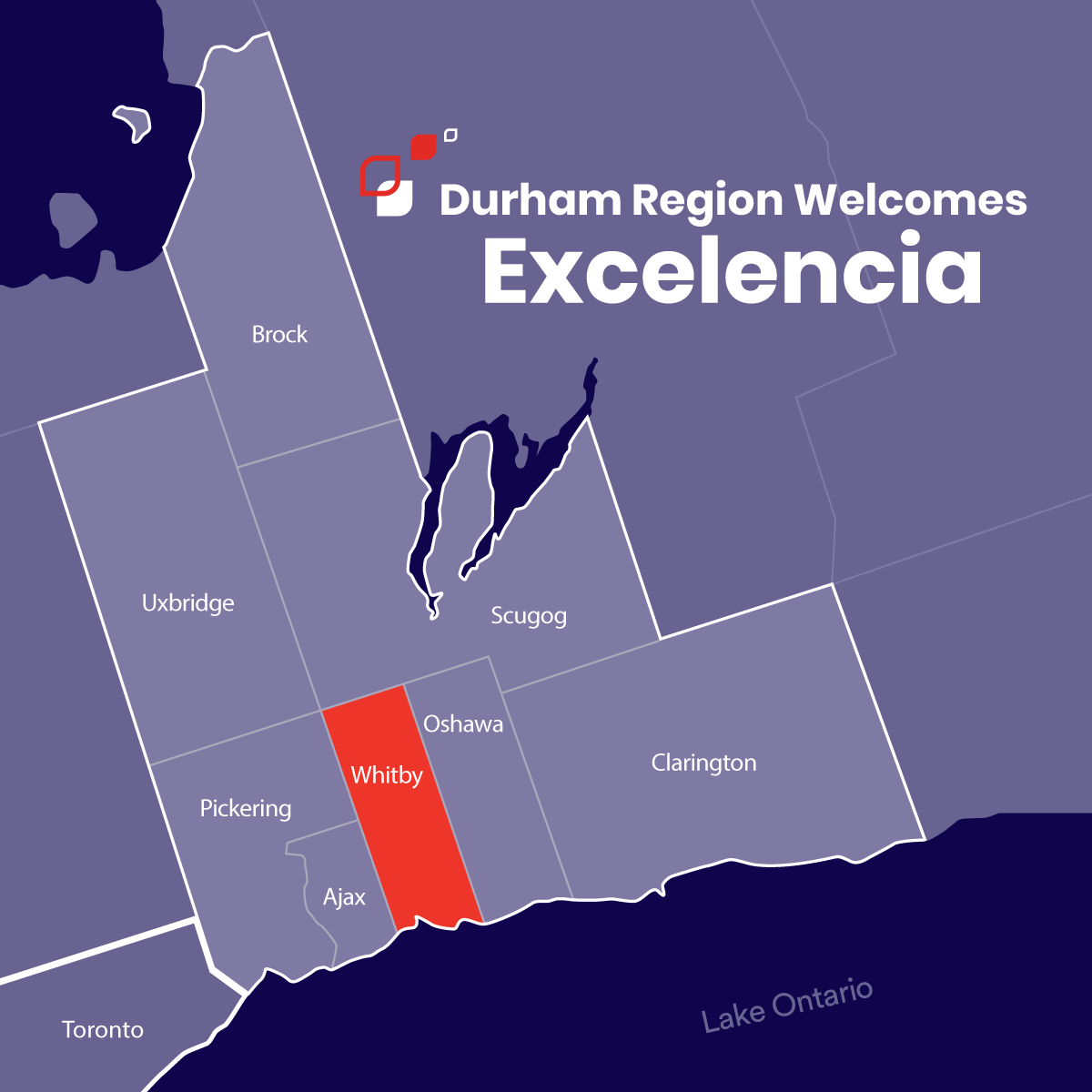 Whitby, Ontario – Excelencia Consulting, a global leader in technology and information technology services, has selected the 1855 Accelerator in Durham Region as the location for its new Canadian office. As its first Canadian location, the company's new operations in Whitby will help to further service its growing North American client base. Headquartered in India, Excelencia Consulting worked with Toronto Global and Invest Durham, in collaboration with 1855 Accelerator, to bring its investment to Durham Region.
"The 1855 Accelerator, Toronto Global and Invest Durham provided a very welcoming approach to our long-term plans and expansion into Canada. The ecosystem introductions are second to none, and this has been a sincere and committed experience," said Sharath Balakrishnan, Managing Director, Excelencia Consulting North America.
"Toronto Global has recognized the importance of the India market and the synergies between the two economies — especially in the technology sector— and that's why we made the decision to create a team focused on that crucial market to capture these opportunities," said Mark Cohon, Chair, Toronto Global. "We are so pleased that our team, working closely with Invest Durham and the 1855 Accelerator, was able to assist Excelencia with finding a new home here. We couldn't be happier to welcome you to Durham Region."
"We are thrilled to welcome Excelencia Consulting to the Toronto Region. Our partnership with Invest Durham and the 1855 Accelerator has evolved to become a best-in-class service to our international clients," said Stephen Lund, Chief Executive Officer of Toronto Global. "On our recent trip to India, our team had the opportunity to visit Excelencia's Chennai office and meet with the senior leadership team. It was amazing to see the great people and culture the company has. They will be a wonderful addition to the ecosystem in the Toronto Region."
"Durham Region is proud to be selected by Excelencia Consulting," said Simon Gill, Director, Economic Development and Tourism, Invest Durham. "Durham Region is leading the way in several industries, and technology continues to be a growing capability we offer as our region is one of the première geographies of innovation and economic impact in North America. We're confident that Excelencia is joining an innovation community that continues to solve the world's biggest challenges."
Durham Region's innovative ecosystem, deep financial services, energy, manufacturing, health care and banking industries, and talented technology and engineering workforce—fuelled by Durham College and Ontario Tech University—were factors that influenced the company's choice to establish an office in Whitby.
"In a very short time, 1855 Accelerator has built a strong reputation for its approach to international technology companies expanding into Canada. We offer a unique and proven approach. Excelencia is yet another global leader who sees the competitive advantage of joining our world-class ecosystem," said Dennis Croft, Chief Executive Officer of 1855 Accelerator. "We look forward to supporting the Canadian growth of Excelencia Consulting and helping its team establish long-term commercial success here in North America."
About Excelencia Consulting:
Excelencia brings the right teams and technologies together to optimize agility, enable resiliency and drive operational excellence. With a seasoned technology team of 350+, Excelencia delivers industry changing ERP Services, Cloud Services, Managed Services and Outsourced IT team Solutions.
- 30-
Media inquiries:
Excelencia North America:
Sharath Balakrishnan, Managing Director
sharath@excelenciaconsulting.com

Toronto Global:
Julia Sakas
Director, Marketing & Communications
647-729-0735
jsakas@torontoglobal.ca

The Regional Municipality of Durham:
Jessie Reed, Communications Advisor
CorporateCommunications@durham.ca

1855 Accelerator:
Dennis Croft, Chief Executive Officer
denniscroft@1855whitby.com