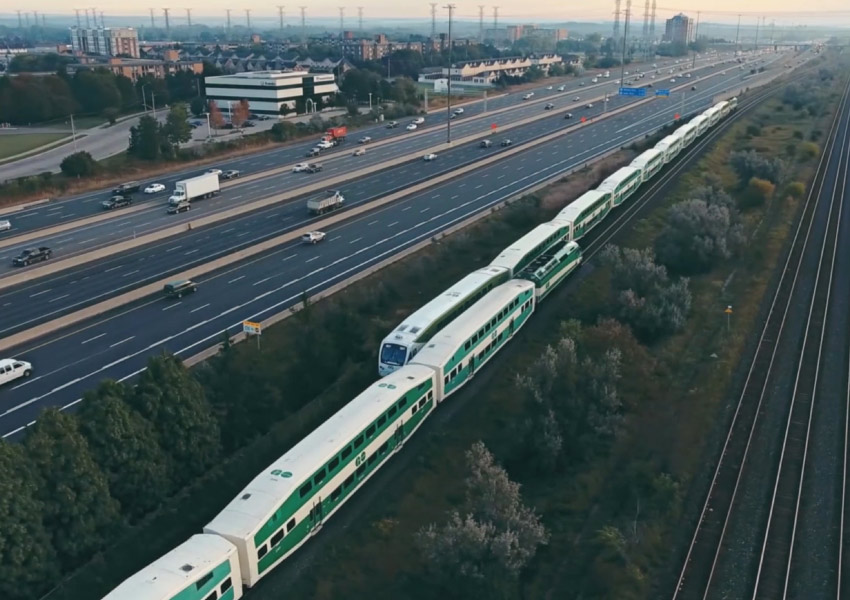 Whitby, Ontario – The following statement is being issued on behalf of John Henry, Regional Chair and Chief Executive Officer for The Regional Municipality of Durham:
"Today, Durham Region remains on the right track. We are pleased to see the GO east expansion moving ahead; offering an option that meets the needs of our growing communities.
Metrolinx has confirmed a route—north of Highway 401—that will provide rail service from Union Station (in Toronto) to Thornton's Corners, a central station in downtown Oshawa, and GO stations in both Courtice and Bowmanville.
A route that will help to deliver economic revitalization of our downtown areas; transform and connect communities; increase transit ridership; stimulate job creation and mixed-use development around the stations; and drive an increase in land value within the rail corridor.
It's a route that will contribute to our connected communities; a key component of our future land use plans. It connects with local transit spines, three post-secondary campuses, employment areas, and central areas slated for mixed-use development and intensification.
Plus, it supports an integrated and active transportation network that is accessible by foot, bicycle or bus.
We look forward to the city-building, economic development, and transit ridership growth that will occur for decades to come.
With our community expected to reach 960,000 residents and 350,000 jobs by 2031, this announcement ensures that Durham Region will have strong rail options that complement our existing transportation network."
Our community partners were also supportive of this announcement:
"This is excellent news for all Clarington residents. It will improve our quality of life and spur significant investment. It is also a great example of co-operation between the various levels of government, the business community and economic development. It shows that when we work together, we can come up with the best solution for our community." - Adrian Foster, Mayor of Clarington
"The City of Oshawa is excited to hear the good news that the business case still points to north of Highway 401 as the preferred route for Metrolinx's GO East Extension, and we thank the province and our partners for advancing this key priority. This route will bring two new GO stations to Oshawa, creating significant economic growth and jobs, and supporting active transportation. We look forward to next steps, including the support and approval of the Metrolinx Board and to continuing to work with the provincial government to deliver the easterly extension of the GO train." - Dan Carter, Mayor of Oshawa
"I am pleased to see support for Option 2. This will maximize the overall economic benefit to the Region—now and in the future—and provide improved access for GO riders." - Don Mitchell, Mayor of Whitby
For more information, please contact Corporate Communications.