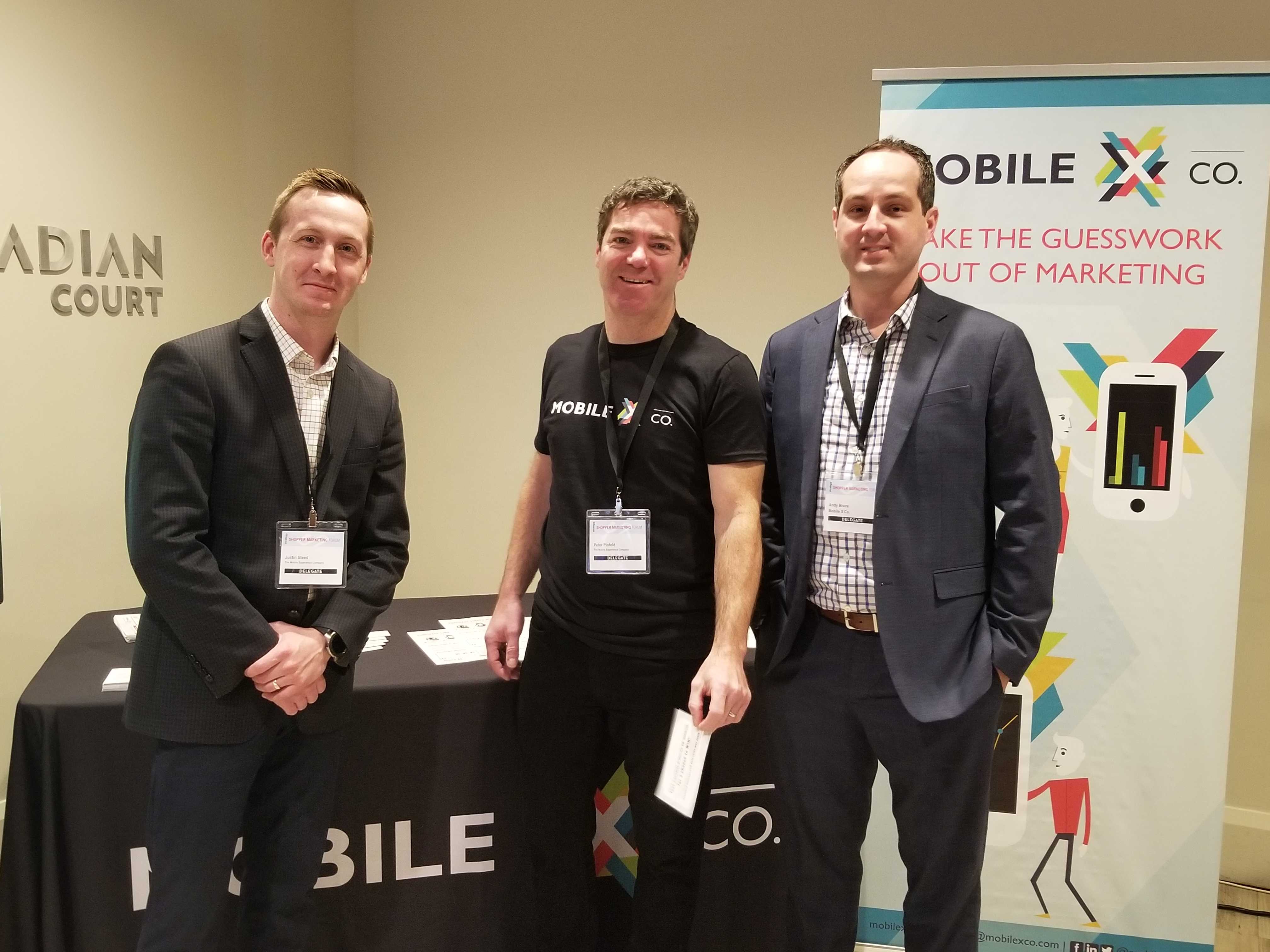 By Jennifer Foden
Did you know Durham Region is home to a diverse group of marketing automation businesses? We chatted with three founders about what it's like running a company in this growing space.
MobileXCo
More than 15 years ago, Andy Bruce, now the founder and CEO of MobileXCo, a Whitby-based marketing and analytics company, was working at Unilever when he noticed the business was spending a lot of money promoting their products in retail stores, but very little was done in terms of measurement. "I would see promotions that said, 'here's your chance to win $100,000 in prizes,' and brands would write a cheque without too much thought. People would fill out a simple ballot on the web and then that data would go to a fulfilment company that facilitates a draw and they hand over a prize to a winner," Andy says. "And the way I looked at it was: we're going to do that anyways. Why wouldn't we use that as an opportunity to better understand who the individual people are that are actually participating?"
So, in 2012, Andy launched his company. The way it works: a customer sees in-store advertising for a rebate, contest, etc., if they buy a particular brand's product—Coca-Cola®, Folgers, OREO, among others. Once they purchase it, they upload a photo of their receipt to a web-based app to redeem a rebate or enter a contest. Then, MobileXCo is able to provide purchasing data to brands so they can better understand their consumer base. "Where do they shop, what do they buy, when do they shop, what other products do they buy in their basket of goods?" says Andy.
Although Andy has a small satellite office in Toronto, his business is very much rooted in Durham Region. MobileXCo is one of the founding members of 1855, a technology accelerator in Whitby. The company also won the first ever Ignite, a pitch competition hosted by Spark Centre, a business incubator in Oshawa. And they've worked closely with Ontario Tech University and Durham College on co-op placements; three current employees are recent graduates. "One of the big reasons Durham is so great is because of the access to the talented students that have a desire to work locally after they graduate."
GroundLevel Insights
Asif R. Khan has lived in Durham Region for more than 20 years and always had to commute to Mississauga, Waterloo and downtown Toronto to the tech companies he worked for. However, he eventually struck out on his own and wanted to stay closer to home. In early 2018, he created GroundLevel Insights, a Pickering-based startup that provides marketing insights from movement science data. "We use anonymous mobile geolocation data and artificial intelligence to look for patterns in how people move about in the physical world," says Asif. "We buy and license data from brokers around the world that have negotiated directly with apps like Starbucks, Uber, etc. We also complement that with cellular network data, social media data and hardware-based sensors."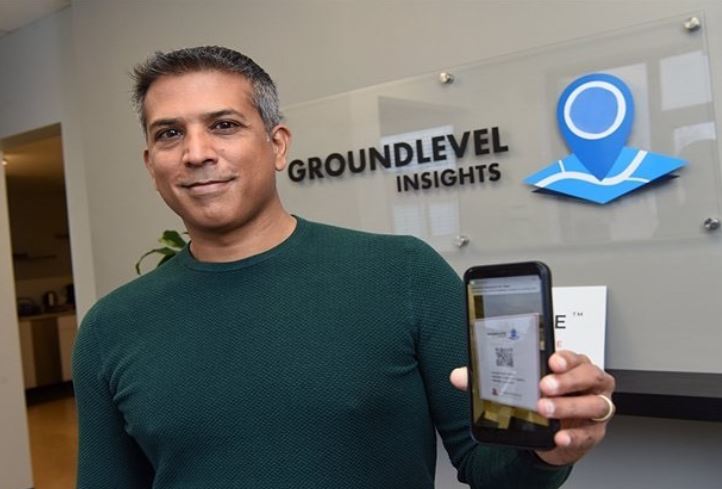 Asif's main customer base is retailers, restaurant chains, sports teams and tourist properties. "We help them better understand the behaviour of their patrons: who is visiting, how often, where else they go before and after, etc.," says Asif. "We don't sell data directly to our customers, but instead provide them with a custom dashboard that visualizes the behaviour of their patrons." This data helps companies—across Durham Region, Canada and beyond—better understand their consumer base so they can create location-based ad targeting, as well as identify cross-promotional or loyalty partners.
Asif has given back to the community on a local and national scale. During COVID-19, his company redirected all of their development resources to build Canatrace, a free symptom screening tool that was used by more than 10,000 businesses in every province and territory. Closer to home, he has provided opportunities in Durham that weren't always available to him. "I wanted to create jobs locally—for those that had to commute like me—as well as help establish a tech community in the region and work to support economic development and investment attraction to the area."
SmartDesk CRM
Craig Poulton and Robert Killin met each other working at a tech company more than 20 years ago. "Although our time there together was short, we worked on several projects afterwards," says Craig. In 2016, Craig, Robert and two other partners started a company that focused on business consulting, human resources and technology implementation. They pivoted their strategy and focus in 2018 and renamed the company to SmartDesk CRM, which is a customer relationship management software service that helps small- to medium-sized businesses organize and automate their marketing, sales and customer service activities. "Our first two years we focused primarily on two key customers and developed our product around their needs," says Craig. "However, in 2020, we started developing a more robust cloud-based version in order to compete with HubSpot and Salesforce."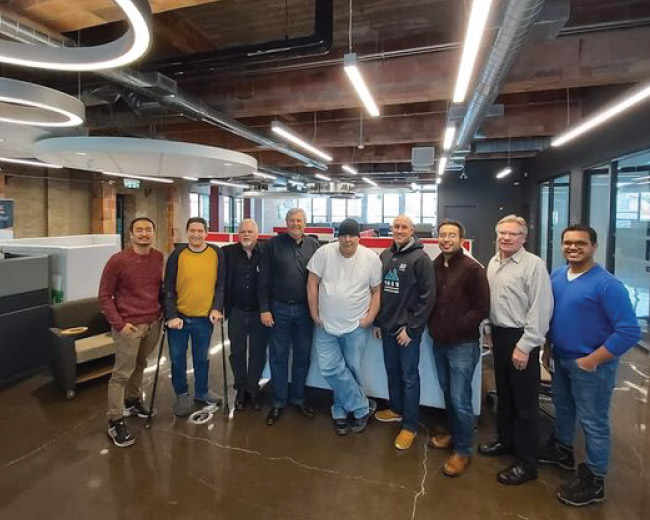 The company was founded in Whitby and has been a member of 1855 since it opened. "Although we have ambitions to grow into the U.S. this year," says Craig. "Whitby will remain our home base for years to come."
Robert and Craig have plenty of advice for entrepreneurs considering opening up a business in Durham Region. "This region is smaller than other areas of the GTA, but that is not a disadvantage," says Craig. "It won't take business owners long to get to know leaders in the business community simply by joining and participating in local chamber events." The duo points to Invest Durham, Ontario Tech University, Whitby Chamber of Commerce, Town of Whitby Economic Development, as well as 1855 as go-to resources. "1855 is a great facility and opportunity for any Durham-based business that is in its early stages of development," says Craig. "The cost savings by using their facilities and the networking and support is what every business needs to get a leg up. To have a business accelerator in Whitby is what Durham needs to attract exciting new companies and local tech jobs to the region."