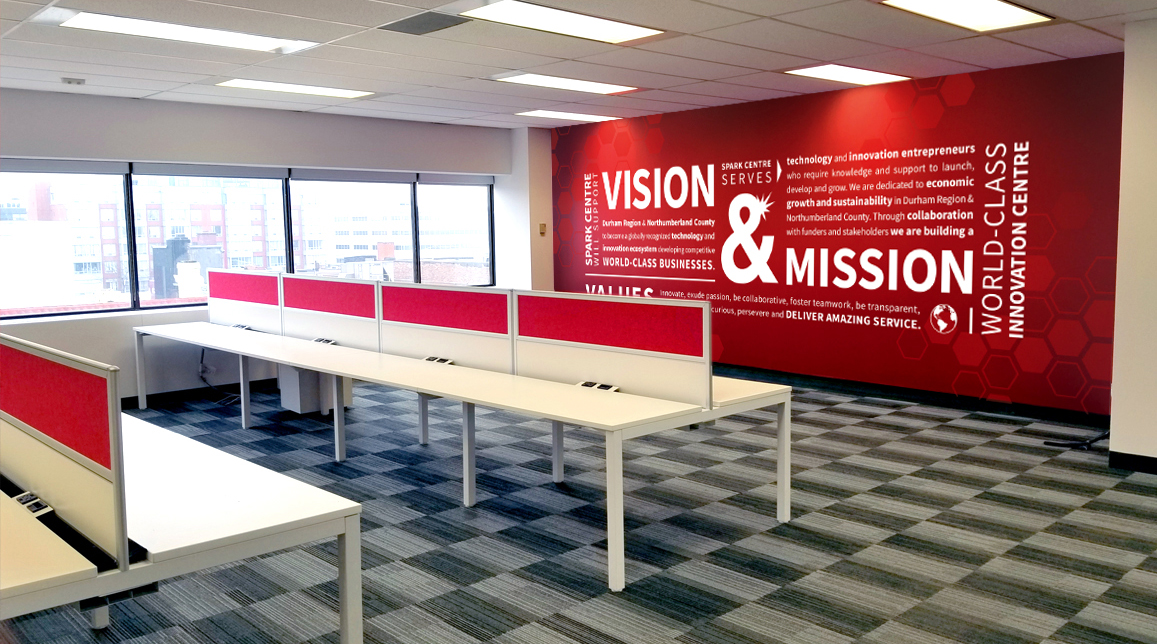 By Jennifer Foden

There are many options for coworking spaces across Durham Region, each offering something a little bit different. We talked to the founders of three of them to learn more about what they do.

The Firms
When Cindy Ross, a managing director at a criminal law firm in Durham Region, couldn't find a coworking space she was proud to bring clients to, she created one for herself. "I love what coworking spaces do, but we're not a traditional coworking space," says Cindy, who is now also the founder and managing director of The Firms—a boutique coworking office for lawyers, engineers, mortgage advisors, and other business professionals. The Firms has a business casual dress code, and the space itself has the look and feel of a sophisticated and chic big-city law office. "I brought Bay Street to downtown Oshawa," says Cindy, a nominee at this year's RBC Canadian Women Entrepreneur Awards. "When you come in, you feel like you are part of a bigger firm."

The 4,000-square-foot space, located steps from the Oshawa courthouse, has 12 private offices, two meeting rooms, a boardroom, an open-concept flex desk area, underground parking, a kitchen with an espresso machine and snacks, and a staffed reception. The private offices are important for Cindy's main clientele as, "Privacy is very important in our line of work." Prices vary depending on the professional's needs. "You can come in for two days a week," Cindy explains. "Or you can just use the meeting rooms, boardrooms or an office on an hourly basis, or you can be here full-time. We also have people using us as a head office only—like a second address. So really, we're about helping in any way we can with our space."

It was important to Cindy, who has a teaching background, to provide professional development opportunities to the clientele working in the space. They host monthly roundtables on everything from time management to marketing to business best practices. "And I find that's what people love most about the space," Cindy says. "Not just the beauty and what we offer, but because we care so much about helping others grow their business."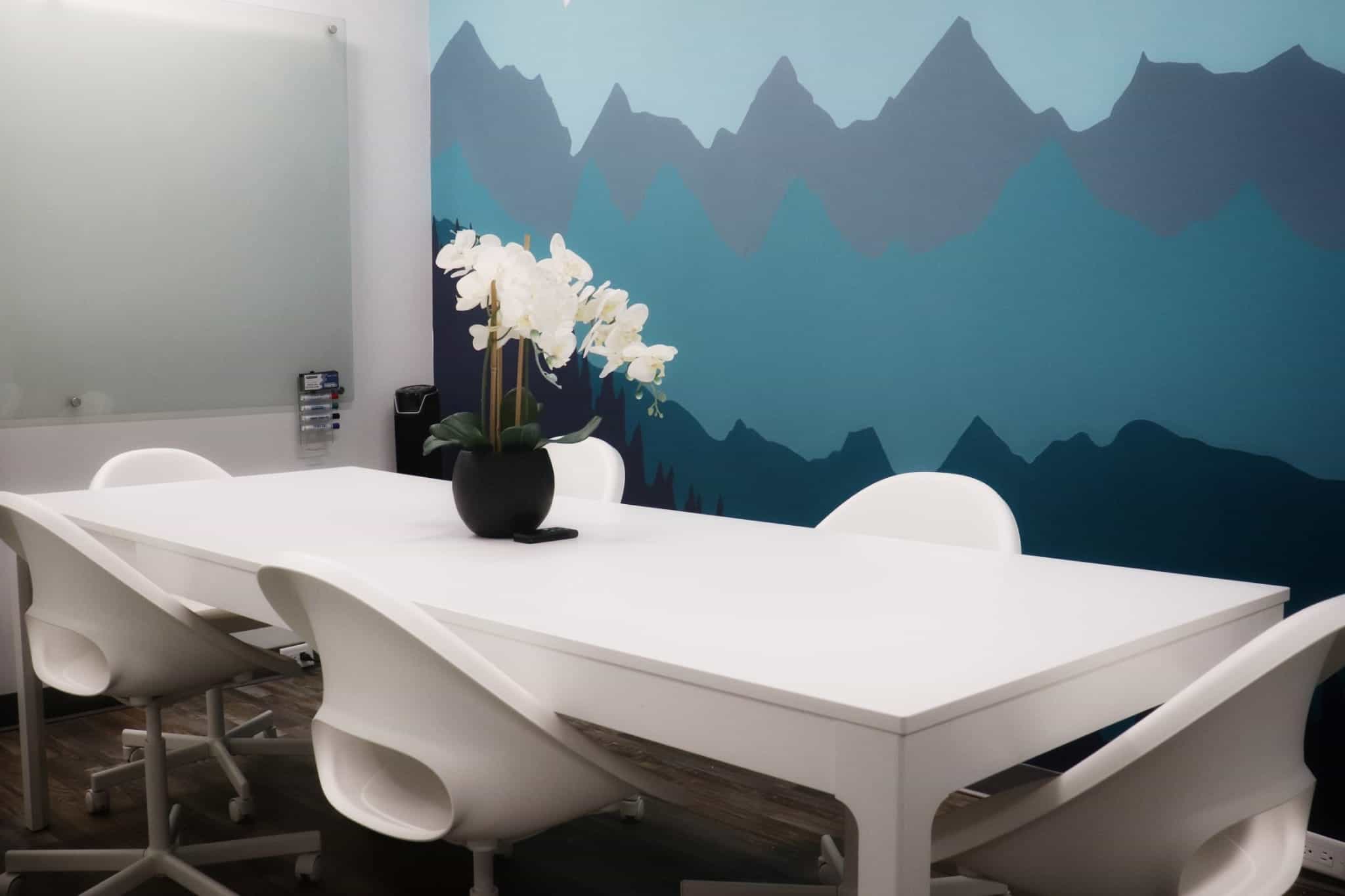 Studio 57
Lord Simcoe Place—a 51,000-square-foot commercial office building located in downtown Oshawa at 57 Simcoe Street South—has been run by Cindy Malachowski's family for 50 years. "It's the home of Oshawa's original printing press from more than 100 years ago," she says with pride. The tenants of the building include law firms, architects, non-profit organizations and local government, however, when Cindy took over the property in 2017 when her father passed away, she noticed there was a need for smaller office space in downtown Oshawa. "With demand for larger office space dwindling, we found that startups and new entrepreneurs were looking for a place to get out of their home offices and grow their businesses," says Cindy.
Enter Studio 57. The recently renovated modern shared office space is located inside Lord Simcoe Place with 12 individual locked offices that share a common area, meeting room and kitchenette. The coworking space opened in 2021 to businesses like health and wellness experts, massage therapists, a francophone publishing house, tech companies and more. In order to keep costs low for tenants, offices are unfurnished and are offered on a month-to-month lease to ensure the space is a good fit. "It's exciting to keep up with the times by reinventing ourselves," says Cindy. "And to be a part of Oshawa's growth and success."

Cindy says there are a lot of great resources in Durham to help entrepreneurs. She points to the Business Advisory Centre Durham (BACD)—a Whitby-based non-profit small business support service—for helping her with both Lord Simcoe Place and Studio 57. "My background in health care and academia provided me with some basic skills to navigate commercial property management," says Cindy. "But I desperately needed help with the business and strategic planning aspect. BACD helped me with everything from budgeting to marketing and facilitated a lot of connections to ensure I had resources whenever they were needed."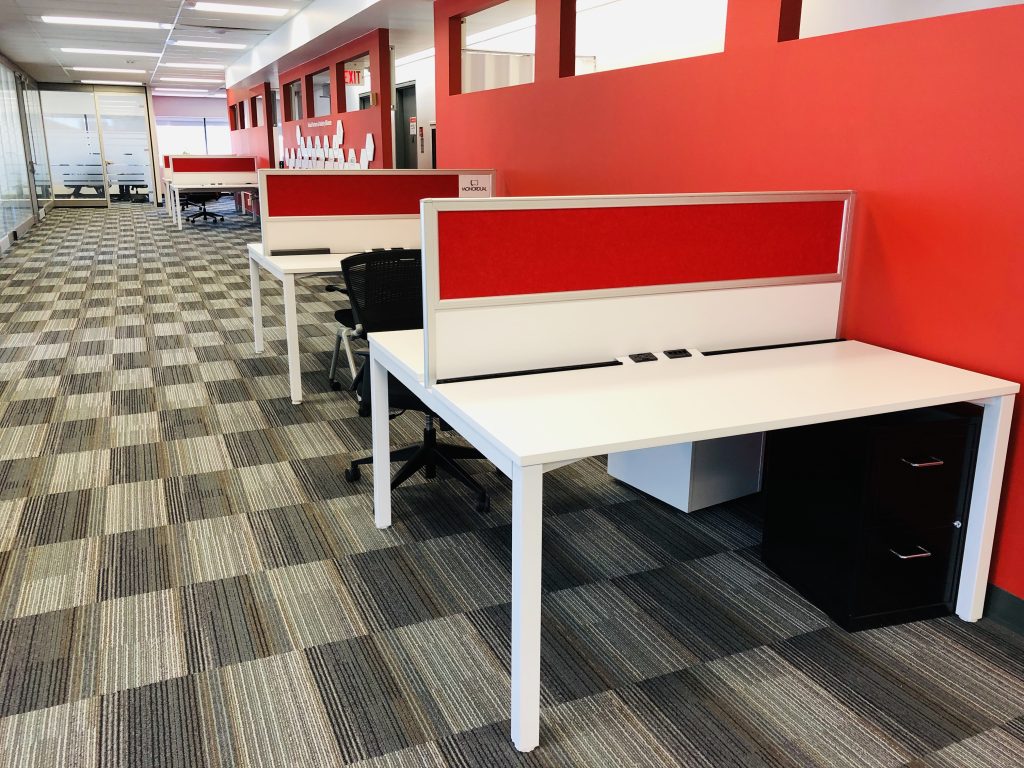 Spark Centre
Although Sherry Colbourne is not the founder of Spark Centre, a provincially funded non-profit, she has been at the helm of the business incubator since 2017. "We're a Regional Innovation Centre," says Sherry, Spark Centre's CEO. "We're in the same family as MaRS, Communitech and Invest Ottawa."
Spark Centre's mandate is to support technology and innovative startups in Durham Region with their business ideas. "If they've got an idea and they're looking to build that into a viable business, we can support them with access to mentorship, coworking space, networking events, and more," says Sherry. "And if current businesses are looking to scale, we can help connect them with funding opportunities and angel investors."

Spark Centre also helps aspiring businesses who are currently not in Durham Region. "We are designated by the Government of Canada to support entrepreneurs who are coming in internationally," says Sherry. "We will help review their business plan, offer them a letter of support if we deem it a viable company and incubate them virtually until they arrive in Durham Region. That letter will help them in their process of gaining a work permit or visa to come to Canada."

Inside Spark Centre's physical space—a 9,000-square-foot building in downtown Oshawa—are offices and desks available to technology and innovation startups. There are 10 private offices and approximately 40 hotelling desks. There is also an event space, two board rooms, a kitchen and reception area. "It's a very open concept," says Sherry. "It's nice to sit and have lunch with other people in the building."

As for why Sherry was drawn to work at Spark Centre? "Entrepreneurs are smart, resourceful and scrappy. Any day I can spend in the company of smart people, is a good day. Being in a position to help them expand their business concepts, build innovative solutions and scale their businesses, has been the highlight of my career", says Sherry.