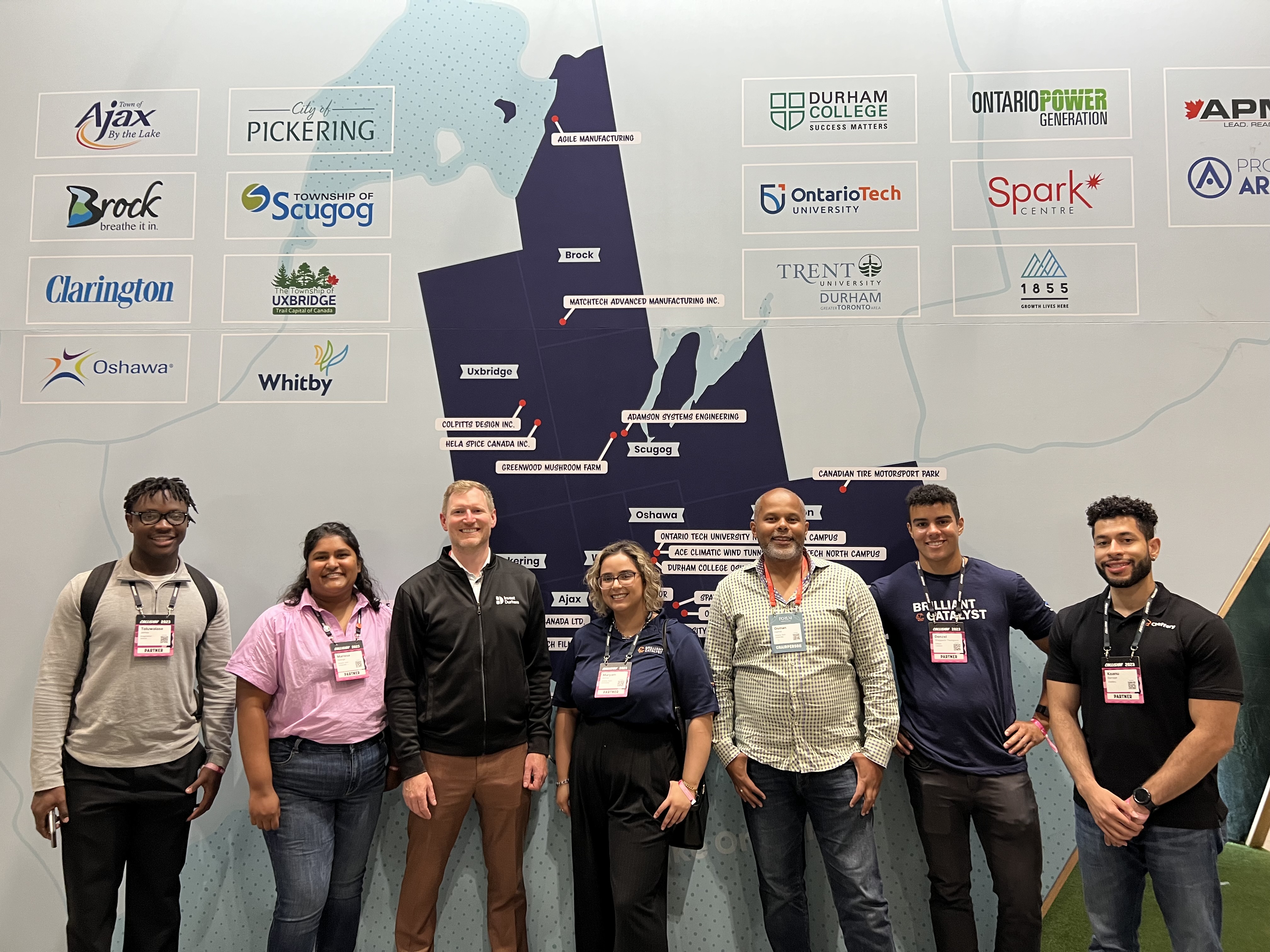 Image: The Brilliant Catalyst team celebrates at Collision Conference with Invest Durham. From left to right is Toluwalase James, Marissa George, (Brilliant Catalyst) Simon Gill, Director, Economic Development and Tourism (Invest Durham), Maryam Akhtar, Dr. Osman Hamid, Denzel Sheppard-Thompson, Keanu Barrage (Brilliant Catalyst).
Brilliant Ventures Fund launching in Fall 2023 will focus on supporting startups in the community and beyond
Released June 28, 2023 via Ontario Tech University
Turning an idea into a viable business can be an exciting process, but it requires a significant investment of finances, time, mentorship and research along the way.
As a champion of innovative and entrepreneurial culture, Ontario Tech University nurtures an environment of research and discovery that supports turning new ideas into business ventures and innovations. The university's Brilliant Catalyst, an innovation and experiential learning hub, currently offers a number of unique learning opportunities and programs that support entrepreneurial activities at the university and provide key access points for community companies looking to connect with on-campus talent and campus facilities. Under the Office of the Vice-President, Research and Innovation, Brilliant Catalyst brings together a community of experts, influencers, entrepreneurs and advisors to prepare the next generation of innovative thinkers to launch and grow successful businesses.
In the Fall of 2023, external startup companies will have access to even more support from Brilliant Catalyst through the Brilliant Ventures Fund (BVF), an exciting new university-operated fund for startups. BVF will focus on providing startup capital investment (money raised by an entrepreneur to help cover business costs until it can turn a profit), and venture support (help for growing startups) for projects aligned with the university's key priorities, including 'tech with a conscience': improving the lives of humans and the planet through the ethical application of technology.
Brilliant Catalyst seeks to connect with tech-focused or tech-powered startups in the earliest stages of getting their operations off the ground. Preference will be given to companies that are based in Canada to facilitate partnerships with, and contributions to, the Canadian market and its partners.
Companies that receive funding through BVF will have access to Brilliant Catalyst resources, including the ability to tap into a unique pool of talent and innovation at the university (students, alumni and faculty members), through experiential learning and research activities.
To learn more or apply for BVF, contact Dr. Osman Hamid, Director, Creativity and Entrepreneurship, Brilliant Catalyst, Office of the Vice-President, Research and Innovation.
Quote:
"Without initial funding, particularly at the earliest stages where ideas are still being developed, many startup companies would never get off the ground. Through the Brilliant Ventures Fund, Ontario Tech University once again demonstrates its commitment to driving economic growth, regional development and social innovation in Ontario, and in the Canadian and global contexts. By joining the Brilliant Catalyst ecosystem, entrepreneurs will receive funding and access resources that will enable their companies to thrive and contribute to a better future within and beyond our community."
- Dr. Osman Hamid, Director, Creativity and Entrepreneurship, Brilliant Catalyst, Ontario Tech University
Learn more about Brilliant Catalyst.