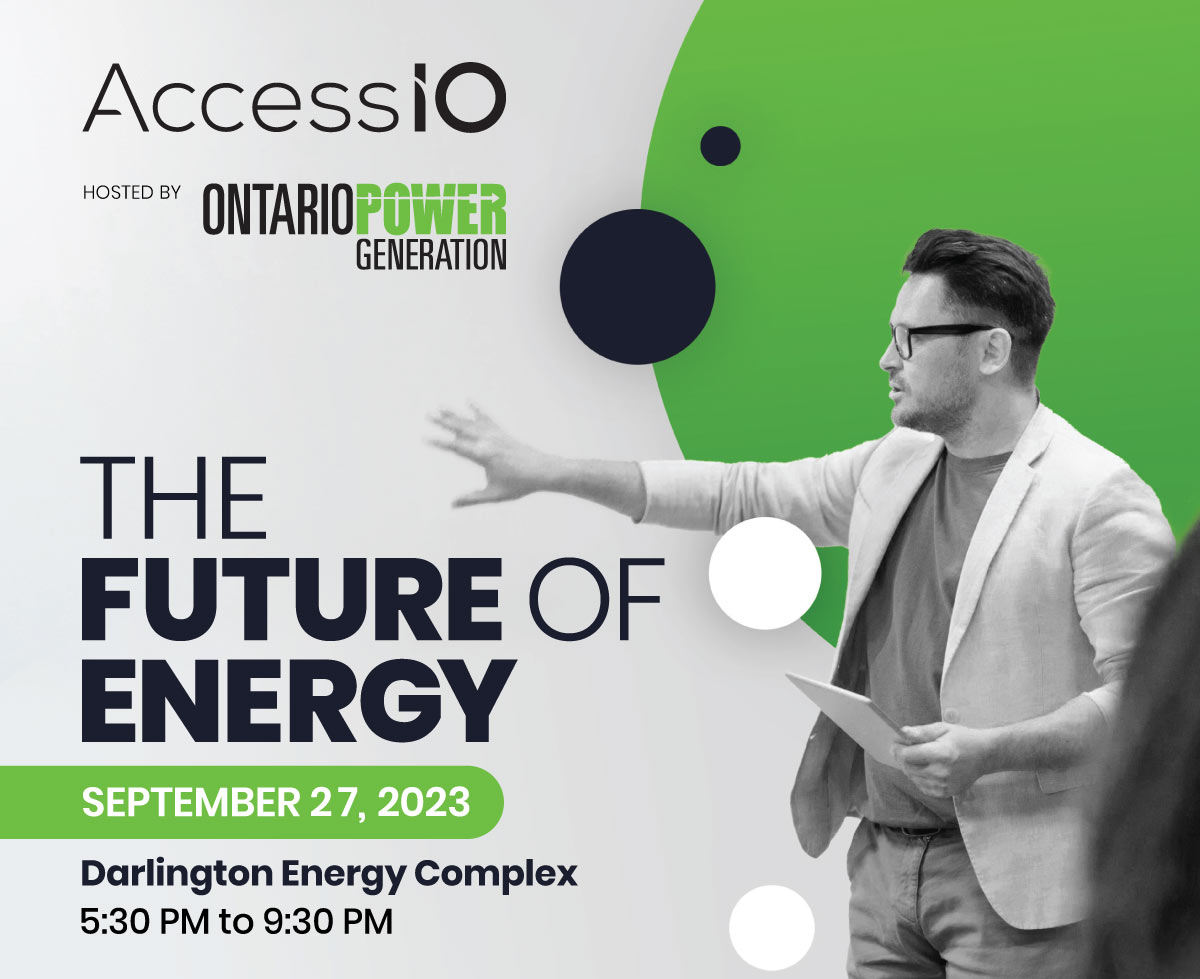 Access IO is an exciting innovation event series where startups, industry experts, angel investors and potential customers collide. Durham Region's innovation ecosystem comes together at Access IO—where innovative thinkers, investors, customers and other partners gather to further strengthen the startup community, and create opportunity for growth.
The next Access IO event—The Future of Energy—will take place at Ontario Power Generation's Darlington Nuclear Complex. This high-energy innovation event is seeking founders and startups interested in pitching their technologies in Artificial Intelligence, Enterprise Solutions, NextGen Automation, Immersive Tech (AR/VR), and Cyber Security. These innovations are critical in supporting the energy needs of our future.
The host, Ontario Power Generation, is the largest electricity generator in the province of Ontario and innovations in new digital technologies are constantly embraced.
Durham Region is the Clean Energy Capital of Canada and offers tremendous opportunities for businesses in energy and environment industries to grow, with a focus on transitioning to a clean and sustainable economy.
Access IO with Ontario Power Generation
Theme: Digital Technology Supporting the Future of Energy
Date: September 27 from 5:30 to 9:30 p.m.
Location: Darlington Energy Complex (1855 Energy Drive, Courtice, ON)
Apply to showcase by August 18
Access IO and Ontario Power Generation is looking for market-ready groundbreaking innovations to showcase to investors, potential buyers, advisors, and mentors that can grow your business. To learn more about the types of technology that OPG is looking for or to apply, AccessIO.ca.
To request an Invest Durham guest registration code, contact us.
Access IO: The Future of Energy is supported by:
Ontario Power Generation, Municipality of Clarington, Invest Durham, Angel Investors Ontario, Ontario Centre of Innovation, Canadian Venture Capital Private Equity Association, Pitch Score, Kleurvision, and the National Research Council of Canada.