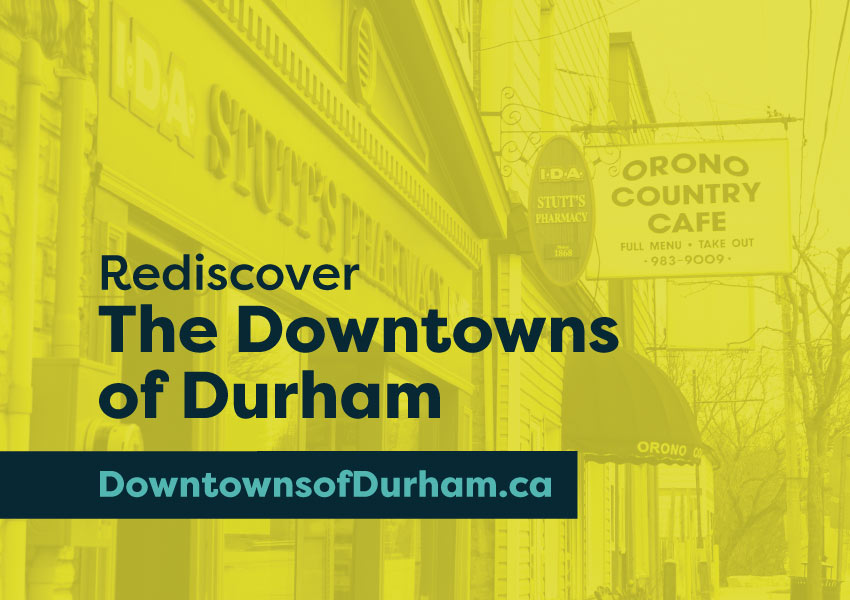 Whitby, Ontario–The Region of Durham, in collaboration with local business improvement areas (BIAs), have launched a new online platform—Downtowns of Durham—to support the region's vibrant downtown-area businesses.
Downtowns of Durham will offer residents and visitors a chance to explore the region's many "main street" shops, restaurants, and services virtually, as they recover. From historic storefronts to family owned restaurants, each of Durham's 13 distinct downtown areas are home to a diverse range of small businesses in urgent need of support.
Developed in response to the COVID-19 crisis, the new platform makes it quick and easy to see which businesses are operational, and which offer delivery, curbside pick-up, or online shopping. You can search by location, industry and service or product offered. It is the first collective project that all local BIAs have undertaken, with the goal of raising the profile of Durham's downtown businesses and encouraging local momentum for these areas.
To learn more, please visit DowntownsOfDurham.ca.
Quotes
"Our main streets and downtowns offer a glimpse into each community's vibrant and diverse culture. They are where businesses flourish and residents gather for parades and festivals. They attract investment and tourism into our community and provide a hub where we can work, shop, live and learn. I encourage you to rediscover the downtowns of Durham Region this summer and all year long."
– John Henry, Regional Chair and Chief Executive Officer
"Durham Region's downtowns offer urban excitement and country charm; from quaint décor shops to craft breweries and from gourmet cupcakes to spicy roti. Our downtowns also offer the practical services our communities need; from law offices to pharmacies. Working in partnership with our region's BIAs we are supporting these diverse businesses as they recover."
– Simon Gill, Director of Economic Development and Tourism
Quick Facts
Durham Region has 13 distinct downtown areas which are located in Ajax, Pickering Village, Whitby, Brooklin, Oshawa, Bowmanville, Newcastle, Orono, Port Perry, Sunderland, Beaverton, Cannington and Uxbridge.
Downtown businesses are facing unique challenges due to their high density of locally owned and independent businesses which rely on daily foot traffic from surrounding offices, which are now closed. Also, many of their promotional campaigns are tied to events such as parades and festivals which are not able to occur due to the pandemic.