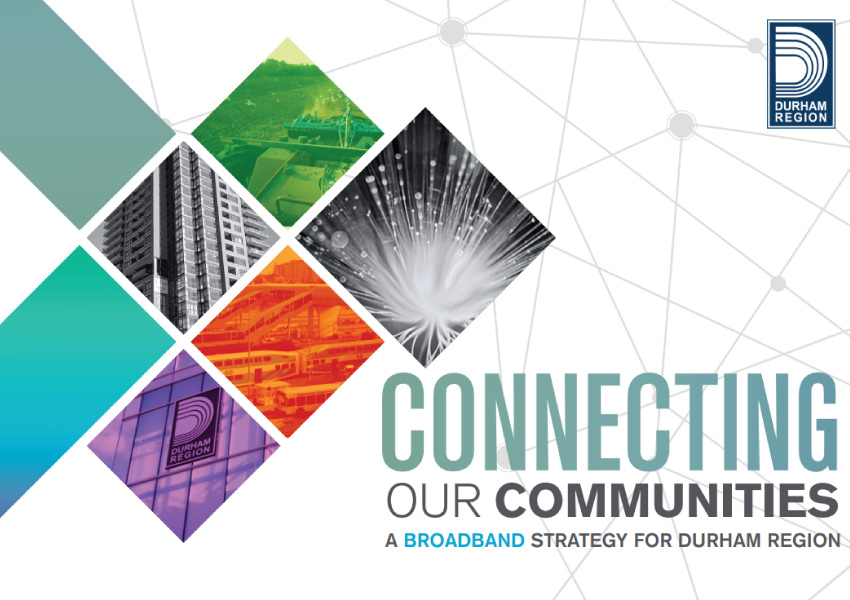 Whitby, Ont. – Recognizing the importance of adequate broadband infrastructure for the well-being and economic competitiveness of the region's residents, businesses and institutions, Durham Regional Council has approved Connecting our Communities: A Broadband Strategy for Durham Region.
Broadband is internet access that is always on; available at higher speeds than traditional dial up; and can transmit large amounts of data quickly. For entertainment, communication and numerous online services, access to broadband is essential.
"Access to high-speed broadband internet has been recognized as a crucial driver for quality of life and economic competitiveness," said Regional Chair and Chief Executive Officer John Henry. "Our council understands that technological innovation is important, and that broadband is a vital piece of modern infrastructure. We need to be prepared for the digital future."
Connecting our Communities: A Broadband Strategy for Durham Region positions the Region to support and facilitate broadband deployment, without duplicating the responsibilities of senior levels of government, or competing with the private sector in the provision of services. The 10 actions contained within the strategy focus on the Region's efforts around collaboration, addressing service gaps, and supporting improved affordability.
Although the region's urban residential areas are benefitting from service upgrades, rural areas and certain employment areas remain underserved.
"Our rural areas have reported issues and constraints, such as lower services speeds, limited providers, and a reliance on wireless broadband technologies," said Brian Bridgeman, Commissioner of Planning and Economic Development. "For businesses that are not pre-serviced with broadband, the capital costs to upgrade or install broadband is quite expensive. This hinders the ability of businesses to take advantage of internet-based technologies, which can impact their long-term business viability. We believe the strategy provides a foundation for the Region to support a resolution to these challenges."
The Broadband Strategy was completed in two phases. Phase one focused on background and baseline information, including assessing current services, gauging the interest of various parties (public and private sectors), consulting with key stakeholders, and identifying potential municipal roles in broadband delivery. Phase two focused on the preparation of the strategy itself; including outlining actions the Region should take to support broadband.
A copy of the strategy is available here.