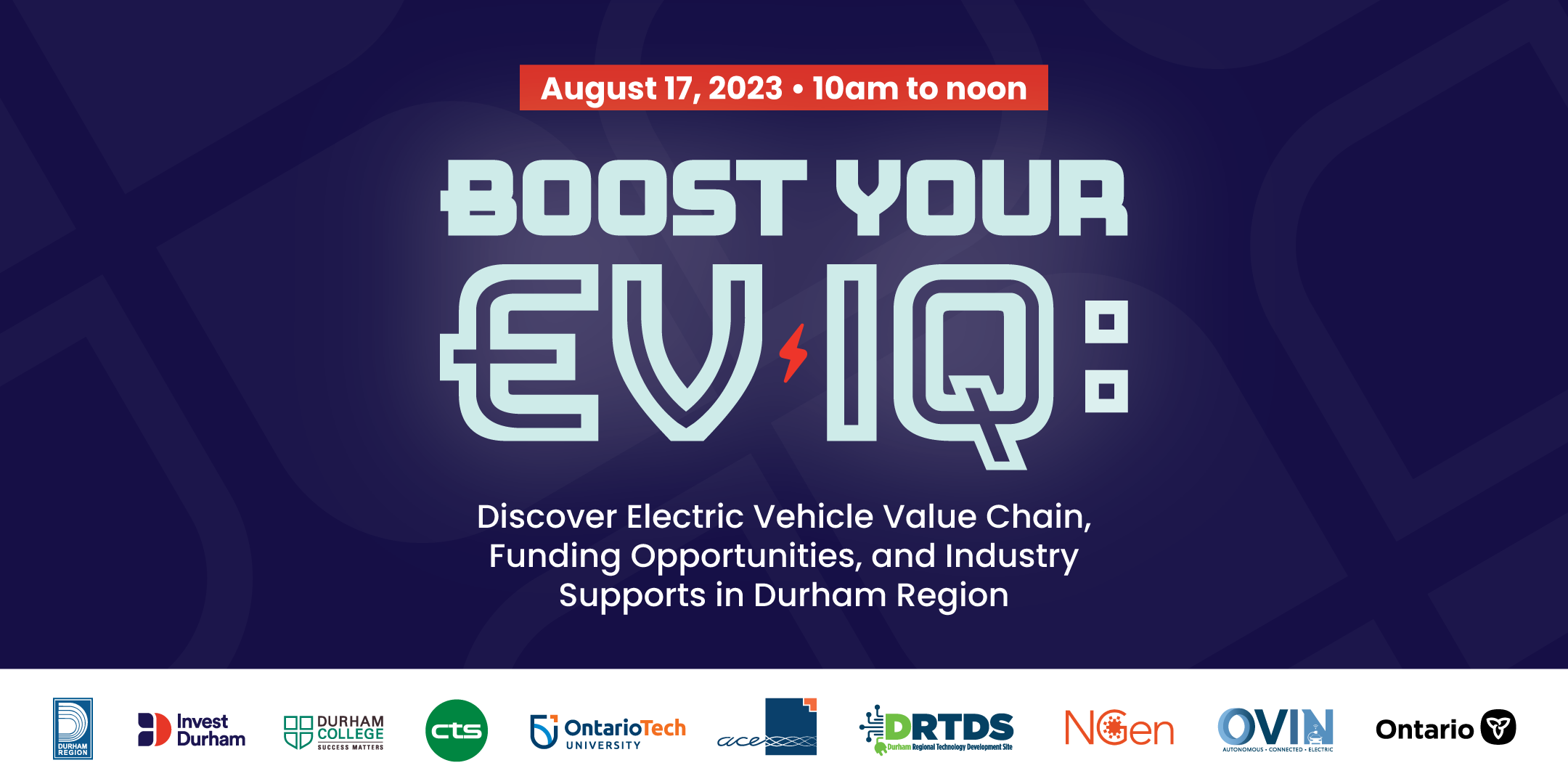 Whitby, Ontario – The Region of Durham's Economic Development and Tourism division (Invest Durham)—in partnership with Durham College, Ontario Tech University, Next Generation Manufacturing Canada (NGen), Ontario Vehicle Innovation Network (OVIN), and Durham Regional Technology Development Site (Durham RTDS)—are empowering the transition to Electric Vehicles (EV) through collaboration.
Located on the east side of the Greater Toronto Area, Durham Region offers a competitive business environment that links the future of energy with advanced automotive.
With the recent major investment and funding announcements into Ontario's EV supply chain, there are exciting and immediate opportunities for business growth, innovation and collaboration in Durham Region.
On August 17, Invest Durham and partners are hosting a Boost your EV IQ Webinar as an opportunity to hear from industry leaders and learn about funding opportunities, investment opportunities in the EV value chain, and industry supports in Durham Region. This event will be held, and streamed nationally, from Durham College's Corporate Training Immersive Hub, in partnership with:
Automotive and automotive tech companies of all sizes—from startup, small and medium enterprises, to original equipment manufacturers—as well as researchers, academic community, technology innovators, industry professionals, skilled trades, corporations interested in corporate training information, and others interested in EV, are invited to register.
To connect with Invest Durham, and learn how you can amp up your business in Canada's Clean Energy Capital, visit InvestDurham.ca.
Quotes
"Durham Region's innovation community and its collaborative nature are helping to ensure Durham is a welcoming environment for business investment. Through partnerships and the expansion of Durham's EV sector, Durham is continuing to prove it's the best place to invent, engineer and test clean, connected and electric technologies."
– John Henry, Regional Chair and Chief Executive Officer
"Durham Region is the Clean Energy Capital of Canada and is a leader in innovating electric technologies. Our strong talent pipeline and key assets place Durham at the convergence of the clean energy and mobility sectors. Through partnerships on the federal, provincial and local levels, Invest Durham is collaborating to create opportunities to grow the EV sector in Durham Region."
– Jacquie Severs, Acting Director of Economic Development and Tourism
"We are helping to build a whole new industry here from critical minerals, sustainable processing, batteries, fuel cells, electronics, powertrain, advanced materials, and final assembly. It will take collaboration and an ecosystem built on the best in research, advanced technologies, and manufacturing that Canada has to offer. That's the strategic role that NGen will play. We're excited to work with our partners in Durham Region to seize this opportunity."
– Jayson Myers, CEO, NGen
Quick Facts
Durham Region is the largest municipal region within Ontario and makes up the eastern side of the GTA (Greater Toronto Area) with an expected population of 1,300,000 by 2051.
Durham Region is the Clean Energy Capital of Canada and has nearly 200 years of automotive engineering and innovation combined.
Durham Region has a strong history of technological innovation and is the number one region for high-tech job growth across North America. Our collaborative business ecosystem and emerging technology cluster includes several of Canada's fastest growing technology companies.
The Region of Durham is continuing to expand EV charging infrastructure installation with the recent announcement of more than $600,000 in federal funding from the Zero Emission Vehicle Infrastructure Program.
Project Arrow, an all-Canadian, zero emission, electric concept vehicle, was engineered and manufactured at Ontario Tech University's ACE Climatic Wind Tunnel. In partnership with APMA Canada and Ontario Tech University, Invest Durham showcased the Project Arrow vehicle at the 2023 Collision Conference.
About Durham Region
Located on the eastern side of the GTHA, Durham is a region with momentum. Offering a competitive advantage like no other, Durham is a community where talented, smart, diverse and ambitious people—known for their innovation, creativity, skills and education—bring access to world markets, insights, invention and traditions. A place where an innovative ecosystem helps propel new ideas forward. Where ingenuity and industry help tackle global challenges. Visit durham.ca to learn more about one of Canada's fastest growing communities.
– 30 –
Media inquiries:
The Regional Municipality of Durham:
Corporate Communications
905-668-4113 extension 2383
CorporateCommunications@durham.ca