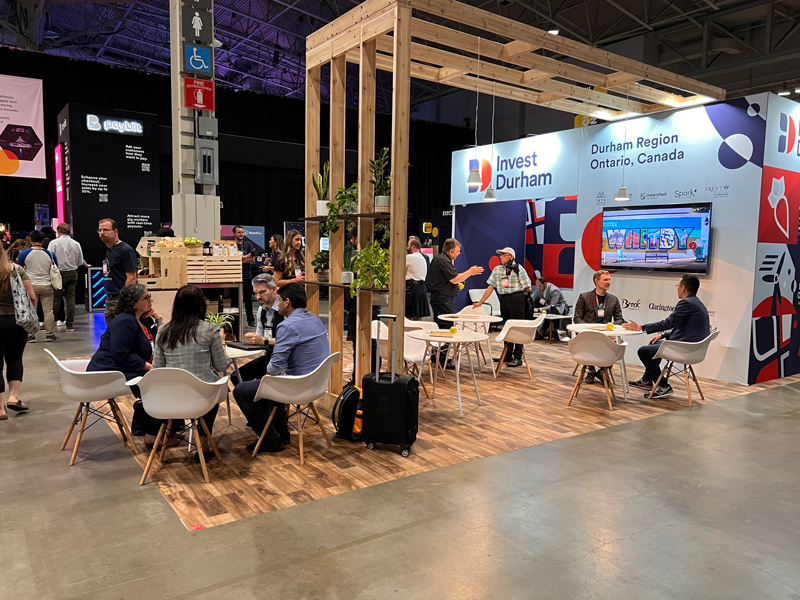 Last week, the Collision Conference returned to Toronto and Invest Durham was a partner.
Promoted as the fastest growing technology (tech) conference in North America with more than 35,000 attendees meeting, learning, investing and doing business, Collision provides a stellar opportunity to connect with innovators from Canada and around the world.
To establish a significant footprint and high brand visibility for Durham Region at the conference, our Invest Durham team worked with Durham Region's innovation community; our eight municipal partners (Ajax, Brock, Clarington, Oshawa, Pickering, Scugog, Uxbridge and Whitby); our three post-secondary schools (Durham College, Ontario Tech University, and Trent University Durham GTA); and two of our startup support organizations (1855 Technology Accelerator and Spark Centre). Together, these 14 partners presented Durham Region's innovation community to the world in a six-by-nine metre pavilion.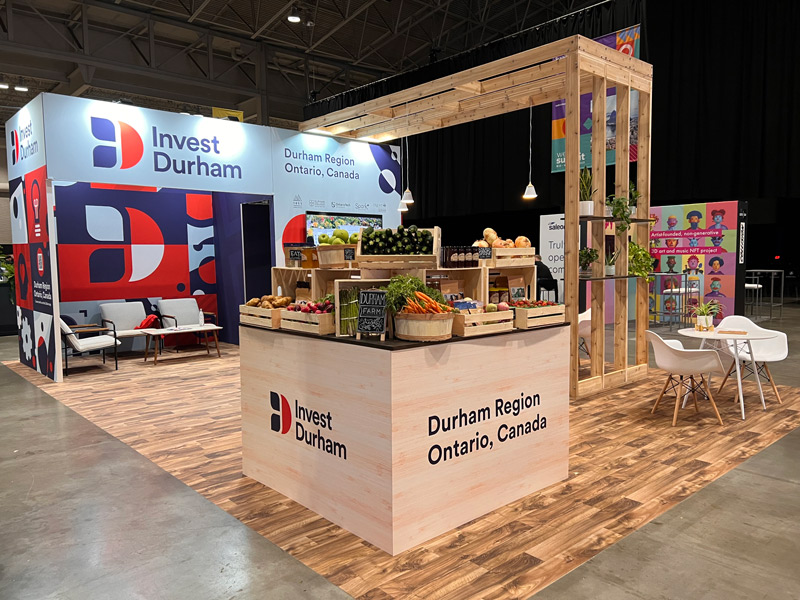 Image: the Invest Durham pavilion
When 14 partners come together in co-operation, magical things happen.
Not only did this group create a strong on-site presence with a memorable activation area, but we also further strengthened our community's communication of our value proposition for investment.
As an event partner, we were able to bring a contingent of representatives from across our organizations and innovation community. Among our group of 64 representatives were leaders from a diverse range of projects and teams: Ontario Tech's student success team, leads from the Brilliant Catalyst incubator, as well as the university's workforce development arm TALENT; a range of innovative minds from Durham College, from an Artificial Intelligence researcher to a farm manager from the W. Galen Weston Centre for Food; the dean of the Trent University Durham GTA campus, who has a special interest in creative communities; and team leads from Access IO, a Durham Region-based investor event and pitch competition. The group also included economic development officers and investment attraction specialists representing all areas of Durham Region.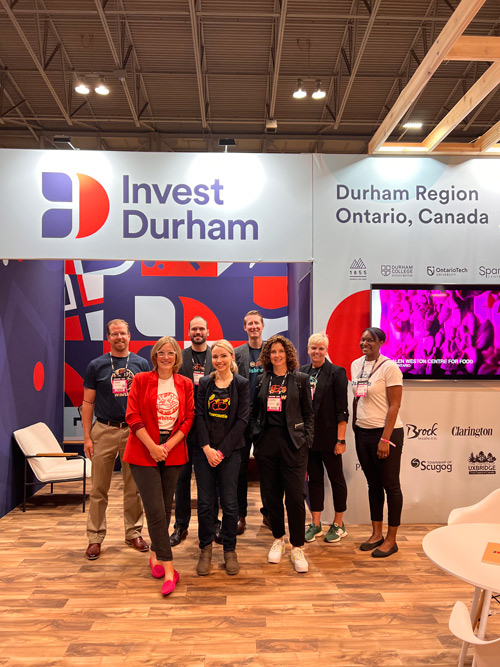 Image: A few of our group just before day one of the event opened, wearing our Durham is Home t-shirts

A delicious opportunity for engagement
Held on hot summer days in the heart of Downtown Toronto, we knew we'd see not only thousands of people inside the conference, but hundreds more walking to their vehicles or transit, and we leveraged that opportunity too. We parked our Durham Tourism van in a highly visible area and handed out more than 250 cans of Partake non-alcoholic beer over two days. Why? Because Partake is a research partner of Durham College. The Centre for Craft Brewing Innovation helped develop the product, which has gone on to win national awards and recognition. Partake is a great example of a Durham Region innovation success story that people could experience—and we were thrilled to provide another reason to remember that Durham Region is a delicious place to live while you rapidly grow your innovative business.

Image: Our team's pop-up activation at the Enercare centre parking area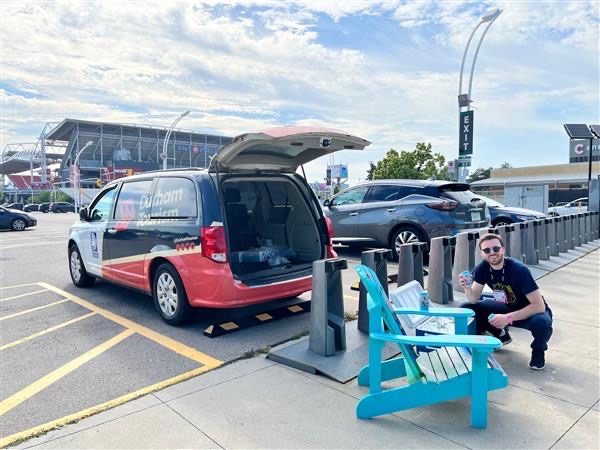 Image: Our pop-up activation included a lounge chair painted by Scugog Council for the Arts member Mina Daya

#DurhamAtCollision by the numbers:
3 on-site announcements.

14 Durham Region partners working together.

24 busy conference hours.
64 attendees in the Invest Durham partner group.

250 packages of local honey, jam, salsa, tea and coffee handed out.

35,000 attendees at Collision.
The efforts of our broader team have resulted in securing hundreds of investment leads and thousands of brand impressions for Invest Durham, which promotes Durham Region as the very best opportunity for investment in the Greater Toronto Hamilton Area. The project is not over yet; we're continuing to follow up with media coverage opportunities and investor tours that have directly resulted from this event.
The Invest Durham Pavilion
Based on Durham Tourism's brand promise of "urban excitement and country charm," our pavilion was inspired by locally owned businesses. To represent urban excitement, we created a lounge area that took inspiration from the dining room at Chúuk restaurant (Pickering) which also included plants from Petit Soliel Studio (Whitby). To represent country charm, we created a farmers' market with products from local producers including Willowtree Farm (Port Perry), Aves Coffee Co. (Oshawa), and Foggy River Farm (Sunderland), nestled among locally grown produce.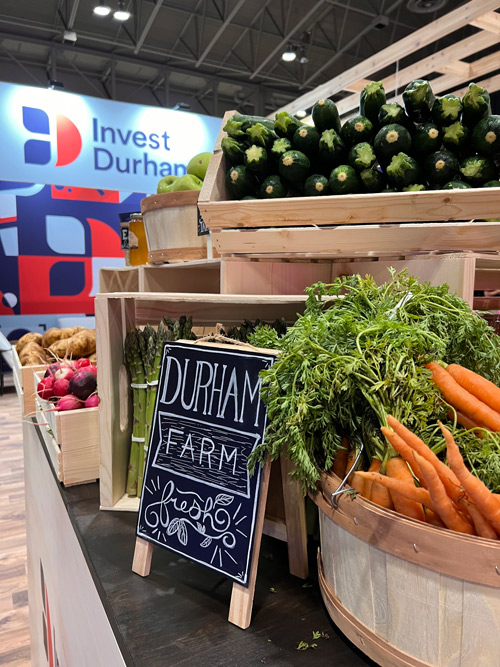 Image: Durham Region is a delicious place to live while you rapidly grow your tech business.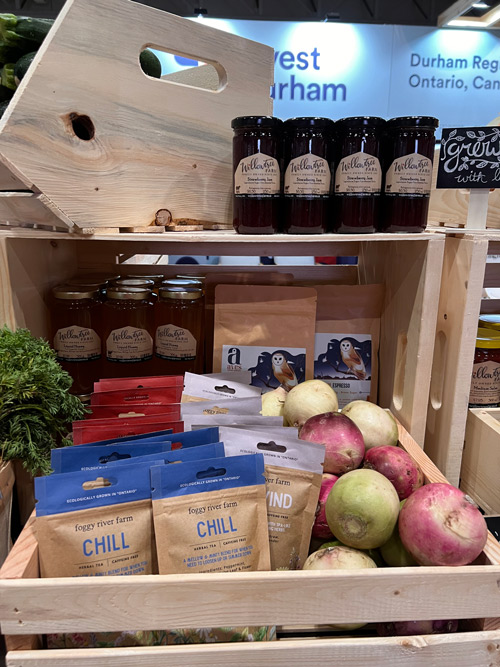 Image: Local food products created a ton of interest and a great give-away for attendees who learned more about Durham Region and agreed to hear more from us in follow up.


Across the rear of our space was a Durham Region proximity map, which highlighted our innovation assets as well as innovative businesses from all areas of Durham Region. It also faced the event's executive lounge area, providing high visibility for our community, while also acting as a useful tool to discuss our geography with international investors.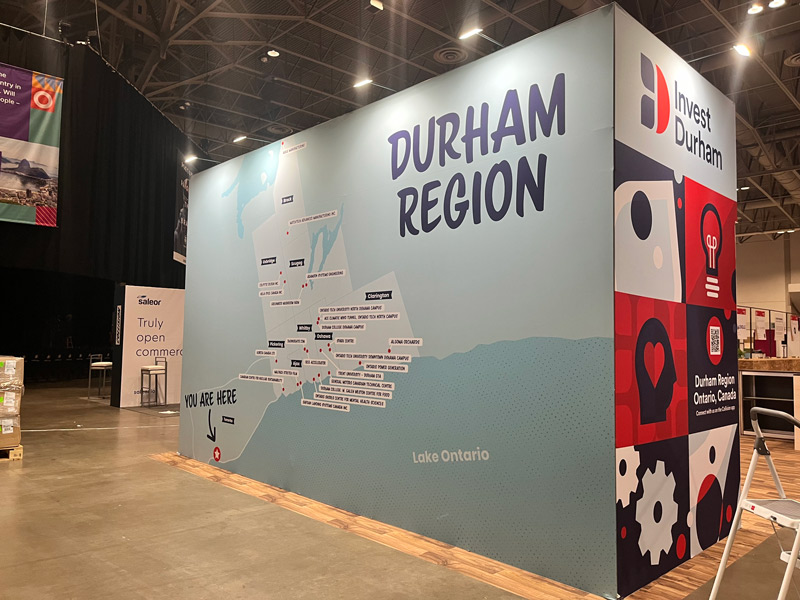 Image: Our proximity map was a useful tool to discuss location with international investors.


These elements together clearly communicated why Durham Region is a delicious place to live while you grow your tech business.
A warm, welcoming space and a great uniter—food—provided a friendly conversational opening into promoting Durham Region's quality of life and innovative technology business supports, which include a strong talent pipeline from three post-secondary schools, as well as supports for startup business at Spark Centre, acceleration services at 1855, and three startup VISA programs.
Announcements at Collision Conf
With the tech news cycle dominated by #CollisionConf content last week, you may have missed three exciting announcements held on-site at the event:
Investment announcements:
Partnership announcement: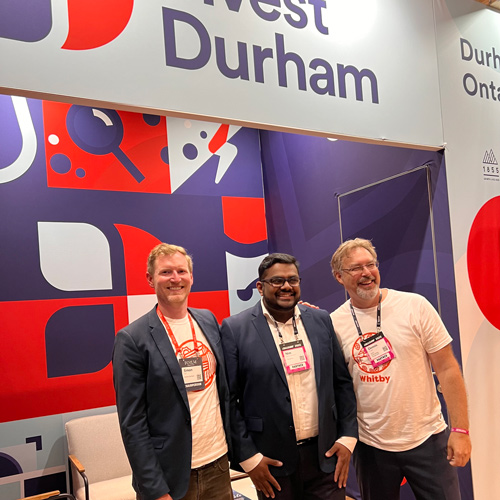 Image: From left to right: Simon Gill (Invest Durham), Nim Balachandran (CloudTax), Dennis Croft (1855)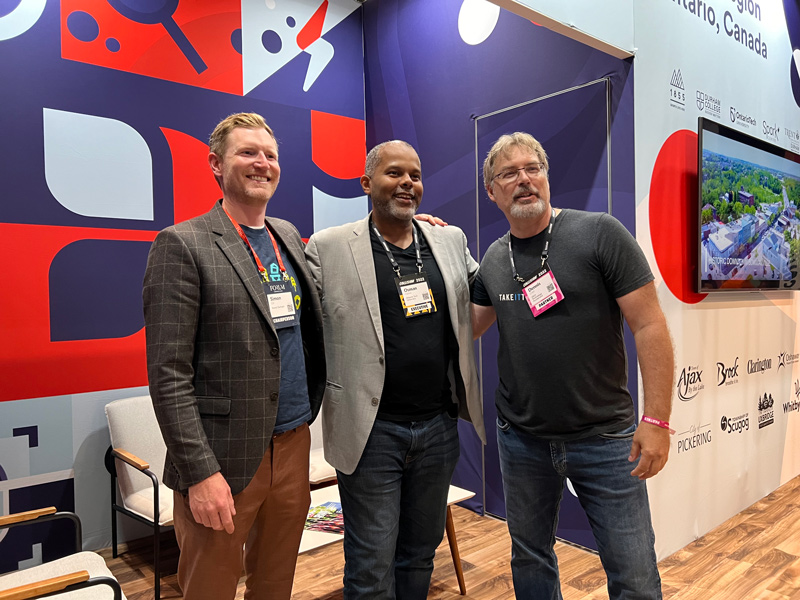 Image: From left to right: Simon Gill (Invest Durham), Dr. Osman Hamid (Brilliant Catalyst at Ontario Tech University), Dennis Croft (1855)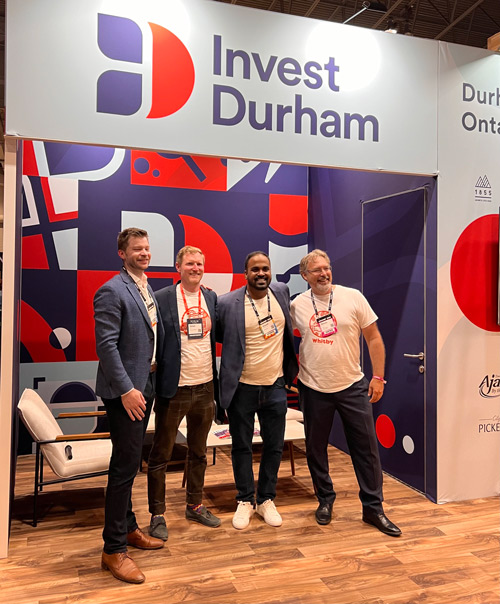 Image: From left to right: Daniel Hengeveld (Toronto Global), Simon Gill (Invest Durham), Sharath Balakrishnan (Excelencia Consulting), Dennis Croft (1855)
Additional announcements
It was a busy news week for Durham Region's innovation community. Further announcements included:
We would like to thank our innovation community partners in Durham Region for their participation in this event.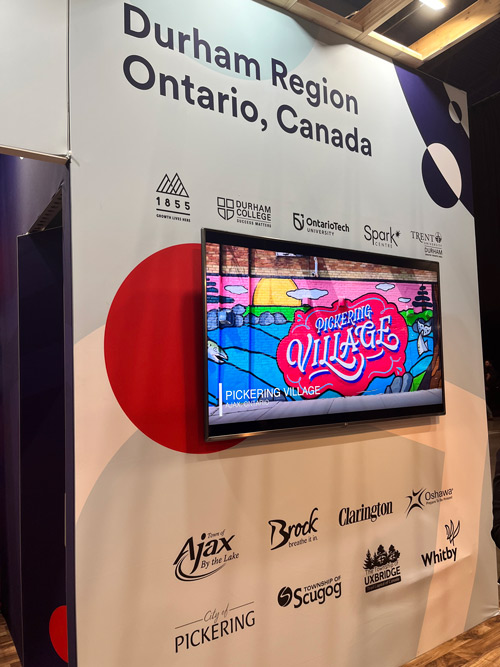 Read more about Durham at Collision:
Collision Conference returns in 2023. If you would like to know more about our participation and outcomes, please contact us.
Want to learn more about Durham Region's innovation community or learn about upcoming events? Sign up for our monthly enews!