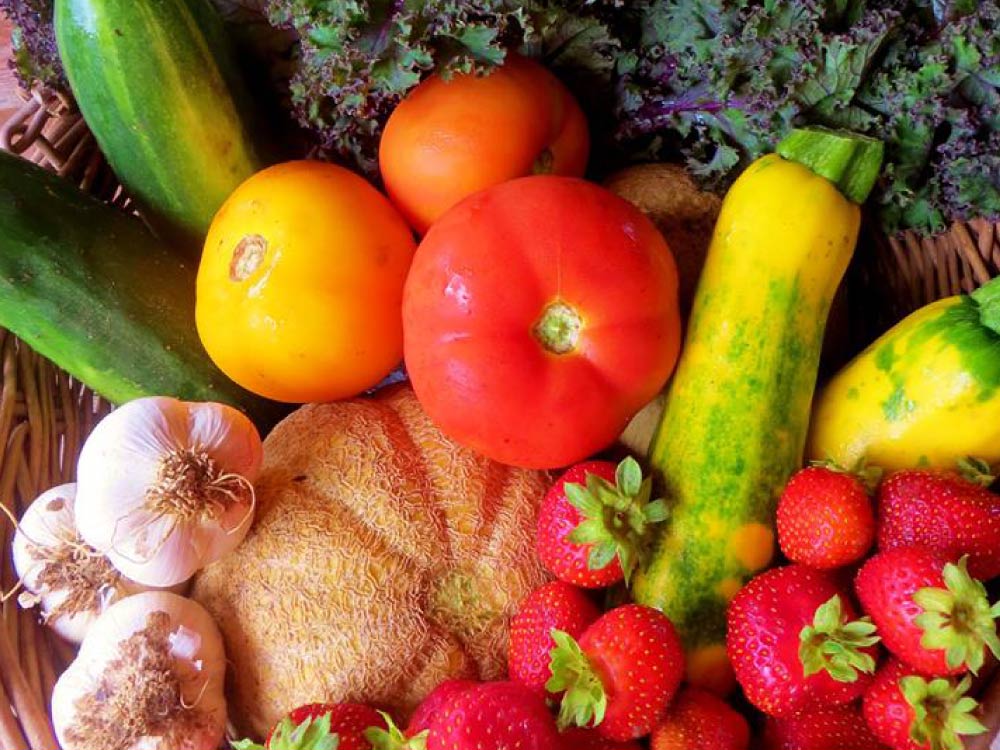 Durham Region has a vibrant local food movement that is connected to our local farmers and producers. Farm-fresh products include a range of goods from beef and lamb, to honey and jams, to fresh fruit and vegetables. Our region is home to many craft beverage producers making wine, beer and cider, as well as numerous farmers' markets, and bakers and bistros that focus on local ingredients.
Where to find local food in Durham Region
Durham Region is made up of the cities of Oshawa and Pickering; towns of Ajax and Whitby; Municipality of Clarington; and townships of Brock, Scugog and Uxbridge. Across the region there are markets, on-farm retail, and online options to purchase local food.
The Invest Durham Local Food Directory provides a list local food sources that can be searched by location or by type, such as Community Supported Agriculture (CSA), Farmers' Markets or online retailers.
We are proud supporters of the Durham Farm Fresh (DFF) Marketing Association. DFF is a membership association representing farms, farmers' markets, retailers, chefs and restaurants located within Durham Region. DFF provides resources for local producers and connects those interested in local food to the agricultural products grown in the community. Check out what's in season and find DFF farms near you on their interactive map.
More ways to discover local food in Durham Region:
Farming in Durham
Durham Region is home to more than 1,300 farms, and our agriculture sector is one of the largest primary goods-producing sectors. Production includes beef and dairy cattle, poultry and egg, sheep and goat, oilseed and grain, vegetable and fruit, and greenhouse, vertical farms, nursery and floriculture.
Durham Region's farmers are known for their modern technology; state-of-the-art farming practices; research and innovation; and effective distribution of goods.
Get to know farmers in your community with Durham Farm Connections (DFC). This year, DFC is offering virtual farm tours, showcasing a range of agri-food operators across Durham Region.
Vertical and indoor farming

What is vertical farming? Vertical farming allows farmers to grow fresh food year-round indoors. Through vertical farming stacked layers, farmers can use less water, reduce pesticides, and continue to focus on sustainability. Growers produce products via humidity and temperature control; artificial lighting (sometimes mixed with natural light); roots misted with water (rather than saturation); and monitoring of nutrients and fertilizers.
In Durham, there are more than 100 farms that focus on vertical farming, greenhouse growing, nursery and floriculture production.
Some examples of vertical and indoor farming businesses thriving in Durham Region:
W. Galen Weston Durham College Centre for Food
Focused on field-to-fork and sustainable business practices, the spectacular W. Galen Weston Centre for Food is home to Durham College's programs in culinary, food and farming, horticulture, hospitality, and special events management, along with a retail store and Bistro '67—a fine dining restaurant. The campus also includes the Centre for Craft Brewing Innovation (CCBI) which offers the local beverage industry access to industry leading technology.
A recognized leader in food, urban agriculture and horticulture science education, Durham College recently announced it had received a $5 million donation from The Barrett Family Foundation. The funds will be used to create The Barrett Centre of Innovation in Sustainable Urban Agriculture (Barrett Centre). They are developing new industry professionals, and giving students a toolbox and experiences to continue to cultivate both local food and local communities.
Food processing and local food businesses in Durham Region
Durham Region is home to both large and small businesses in the food processing value chain, including production, processing, packaging, distribution and logistics.
Some examples of small food and beverage businesses include:

Some examples of larger food and beverage businesses include:
Starting a food business in Durham Region
Our entrepreneurship and innovation ecosystem are part of what makes Durham a great place to start a business—and our partners can help you achieve your business goals. Work with us to discover ideal locations and partnerships to ensure your business is a success.


Small and home-based food business
The Business Advisory Centre of Durham Region (BACD) is a not-for-profit organization that specifically supports entrepreneurs in Durham Region and has numerous success stories within the food industry. They provide business advisory services, training and mentoring, as well as workshops, funding programs and networking opportunities.
The Province of Ontario recently announced their support for home-based food businesses by providing a guide on how to start a home-based food business. The guide includes an overview of public health requirements that need to be followed as a food operator. To further support these entrepreneurs, the government has also made regulatory changes to allow more flexibility to sell low-risk, home-prepared foods. These supports are part of the government's continued efforts to help small, independent businesses succeed and contribute to Ontario communities during COVID-19.
Small, medium and large food business
Durham Region and our local area municipalities are nimble and open for business—we collaborate to help businesses with their investments. Across Durham Region, there are numerous industrial, office and retail properties available for sale or lease. Our team can assist your business in selecting a location. The benefits to locating a food business in Durham Region include:
To locate or expand your food business in Durham Region, contact us for support!
Incentives
Selected currently available incentives include the below programs:
Please contact us for assistance with these incentives.
Quick links: