Posted on Friday, September 27, 2019 05:30 AM
Landfill mining is an opportunity to reduce greenhouse gas emissions and leachate impacts on groundwater quality, divert material not previously separated for recycling, recover energy from reclaimed waste, and eliminate the need for long-term groundwater monitoring.
Durham began landfill mining activity in October 2018 at the closed Blackstock landfill site in the Township of Scugog.
Waste was excavated and placed into a rotating trommel screen to mechanically separate waste from soil. Landfilled...
Posted on Thursday, September 12, 2019 07:30 AM
Waste collection staff do their very best to pick up your materials. Remember, they do not pick up material that has not been properly set out or sorted.
To ensure your materials are collected, remember the following:
Set out your items by 7 a.m. on your collection day. Collection crews start at 7 a.m. and their routes may change without notice, so you may not have the same collection time every week.
Stay within the weight limit of 20 kilograms (44 pounds) for each blue box, green bin, garbage...
Posted on Wednesday, August 28, 2019 07:30 AM
Not sure where it goes? Let us help you. Use Know Before You Throw to search for information on how to properly dispose of waste items.
Here is a reminder of common household items that can and can not be put in your blue box:
Plastic containers
Plastic bottles
Bakery and cookie trays
Fruit and vegetable containers
Plastic egg cartons
Takeout food containers
Single serve yogurt and pudding cups
No plastic bags
No Tupperware-type containers
No hangers
No plastic straws or cutlery
No motor oil...
Posted on Tuesday, August 13, 2019 07:00 AM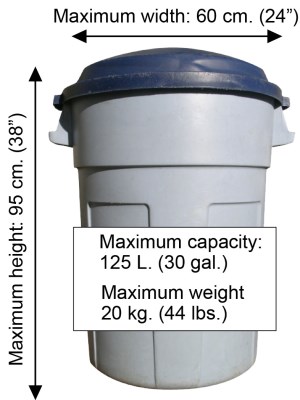 Oversized garbage cans increase the risk of shoulder and back injuries to garbage collectors. These cans easily hold more than the allowed 20 kilograms (44 pounds) of garbage and are difficult to handle, making it unsafe for collectors to lift. Only bylaw-approved garbage cans will be collected by garbage collectors. Each garbage collector picks up from as many as 1,000 households per day!
According to Durham Region's Waste Management By-law:
Garbage cans must hold less than 125 litres (30 gallons).
Maximum...
Posted on Monday, July 29, 2019 08:00 AM
The Works Department is making cycling safer on our roads with Durham's first cyclist detection device. The device has been installed at the intersection of Bonacord Drive and Cochrane Street in Whitby.
This innovative technology detects when bicycles and other vehicles are present at the intersection, and adjusts traffic signal timing accordingly. When bikes are present, the signal time adjusts to allow the cyclist time to safely cross the intersection. When there are no bikes present, the time is...