About E-mobility
E-mobility, also referred to as micro-mobility, is a general term used to describe small, lightweight human- or electric-powered modes of transportation such as e-bicycles and e-scooters to help people get from A to B. These modes of transportation are typically used for shorter trips than by car.
Assistive mobility devices, such as wheelchairs and mobility scooters, are exempt from the rules and regulations identified through the Region's E-scooter and Traffic By-laws.
On January 1, 2020, the Ontario Ministry of Transportation (MTO) launched a five-year pilot to permit Electric Kick Scooters (E-scooters) on roads. The province outlined that it is up to municipalities to pass by-laws to permit the use of E-scooters locally and determine where they can and cannot operate. The Region of Durham has opted-in to the E-scooter pilot project and has also updated its traffic and parking by-law to recognize E-bikes, to conform with the Highway Traffic Act.
The Region of Durham recognizes the use of micro-mobility as a means of transportation while also prioritizing the safety of all residents and visitors who use Regional roads, trails and pathways. To learn more about the types of E-mobility devices and rules and regulations for where and how to use these devices safely, see the information and materials provided below.
Types of E-mobility Devices
E-bikes:
E-bikes are bicycles equipped with an electric motor that can assist the user in propelling the bicycle.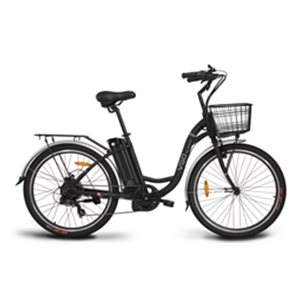 Traditional style:
A pedal-driven bicycle of conventional exposed fork-and-frame bicycle design and appearance that does not resemble a motor scooter or motorcycle.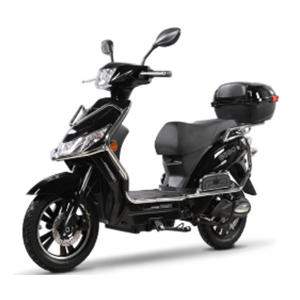 Scooter style:
A vehicle that has the appearance of a motor scooter, with a seat and an open frame that may be stepped through and a platform on which the rider's feet may rest.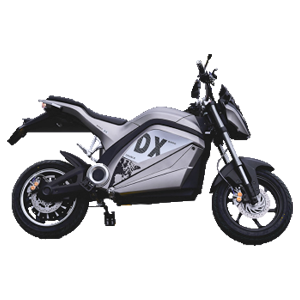 Motorcycle style:
A vehicle that has the appearance of a motorcycle, with a saddle designed to be straddled and a footrest, pedals or pegs where the rider's feet may remain secure.
E-scooters:
Electric Kick Scooters are two-wheeled devices that a user stands on, holding a handlebar, are powered by a rechargeable battery and can travel at a speed of up to 24 kilometres per hour.
Electric kick-style: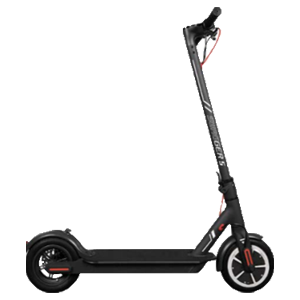 Who can ride an E-scooter or an E-bike?
Anyone ages 16 and older can use an E-scooter or E-bike. Helmets are mandatory for riders under the age of 18 years old.
Where can I ride an E-scooter or an E-bike?
Regional roads with a posted speed limit of up to 60 kilometres:
Within a bike lane on a Regional road; or,
If bike lanes do not exist on a Regional road, E-scooters and E-bikes are permitted to operate as close as practicable to the right-hand curb or edge of the roadway or within the paved shoulder.
Where can I park an E-scooter or E-bike?
E-scooters and E-bikes must be parked in an upright position and may be parked in the same locations as traditional bicycles, including:
Ring and post racks, charging stations (where available);
Corrals that support electric kick-scooters or e-bikes in an upright position or enable the frame to be secured; and,
An area designated by pavement marking or official or authorized sign for parking of E-scooters or E-bikes.
Safe Travel Tips
General Rules:
Helmets must be worn by riders under the age of 18; however, it is encouraged that all riders wear a helmet for their safety.
Only one rider per E-scooter is permitted - passengers are not allowed.
Do not carry, tow, push or pull another person, device or object while using your E-scooter. You may carry purses and backpacks with you.
For E-scooter and E-bike Users:
Keep a safe distance of at least 1 metre from pedestrians and other road users, shoulder, path, walkway, multi-use pathway at all times and give way to a pedestrian or bicycle by slowing or stopping when there is not enough space for the pedestrian, bicycle/E-bike, and/or E-scooter device.
Signal your intention to turn using hand signal or signal lights if available on your device.
Travel in the same direction as vehicular traffic.
Stay to the right and pass on the left.
When crossing intersections, alleys, and access-ways, scan your path to make sure people driving see and yield to you. E-scooter users must dismount within a crosswalk or pedestrian crossover.
Slow down as you approach an intersection or in congested areas.
Use your horn or bell to warn others of your approach and if you plan to overtake and pass them.
Ensure your E-scooter has a light that can be seen by others, particularly at night.
For Drivers, Pedestrians and other Road Users:
Expect and look for people on E-scooters and E-bikes.
Pedestrians and cyclists should keep to the right to allow other devices such as E-scooters and E-bikes to pass on the left.
Remember to give at least 1 metre of distance between your vehicle and an E-scooter or E-bike user sharing the road.
Check your mirrors, using the dutch reach, when exiting your vehicle to avoid "dooring" oncoming E-scooter or E-bike users that may be approaching.
Policies and By-laws
Events
E-Scooter and E-Bike Demo – June 15, 2022
On June 15, 2022, the Region hosted a demo of e-scooters and e-bikes at Regional Headquarters. Attendees were able to learn more about e-mobility devices, rules, regulations and safety tips outlined in the new Regional Electric Kick Scooter By-law. Vendors were on-site to provide an opportunity for attendees to experience e-scooter and e-bike devices firsthand.
Educational and Promotional Materials
Educational Poster for E-Mobility Devices