2021 Business Plans and Budgets
The Region of Durham provides a wide range of programs and services to a growing and diverse community of residents and businesses. The Region's business planning and budget process reflects our commitment to provide services within a framework of financial stability and transparency. You can learn more on the Region's YouTube channel, Lets Talk Durham Budget 2021.
As one of the fastest growing municipalities in North America, the annual budget allocates resources to ensure Durham residents and businesses enjoy a high quality of life with quality programs and services that align with the key priorities outlined in the Durham Region Strategic Plan.
Durham Regional Council is considering the proposed 2021 Property Tax Supported Business Plans and Budget at its meeting on Wednesday February 24, 2021. The proposed 2021 Property Tax Supported Business Plans and Budget totals $1.488 billion in gross expenditures, requiring a 2021 tax levy of $726.6 million. This represents a net property tax increase of 1.98 per cent or approximately $55 for the average residential home and is lower than the 2.0% guideline.
The proposed 2021 Business Plans and Budget provides for the increased demands on the Region's front-line programs and services in response to the COVID-19 pandemic; positions the Region to implement its COVID-19 recovery plan; allows for targeted investments in key strategic priorities identified in the Region's Strategic Plan; and balances these pressures with the need for taxpayer affordability and competitive property taxes recognizing the financial impact the pandemic has had and continues to have on residents and businesses. Specific investments included in the proposed budget includes:
Implementation of body worn cameras by Durham Regional Police (phase 1 of 3);
Long-term care home investments to enhance the level of care and supports for residents;
Anti-racism initiatives, including working with community stakeholders to develop and implement a diversity, equity and inclusion community development strategy and action plan;
Implement a Climate Change Masterplan to achieve GHG reduction targets in support of Council's declaration of a Climate Emergency;
myDurham311 modernization initiative to transform our customer service delivery;
Advance the deployment of broadband infrastructure to underserved areas pending successful outcomes of the Region's various grant applications;
Continue to advance the development of the Region's Official Plan – Envision Durham;
Prepare a Transit Oriented Development implementation strategy to capitalize on the economic and community building benefits associated with rapid transit investment;
Significant social housing investments including both the supportive housing development as well as the microhome pilot project;
Work with the province and Lakeridge Health to provide three additional nurses for the mental health support unit;
Provide funding for Grandview Children's Centre, Lakeridge Health Bowmanville, Durham College Whitby and Trent University Durham for their capital building projects under the Region's Community Investment Grant program; and
Provide for the ongoing maintenance, renewal and expansion of the Region's infrastructure including roads, bridges, fleet equipment and facilities.
Proposed 2021 Property Tax Supported Business Plans and Budgets
For more information or questions about the budget, please contact us at budgets@durham.ca or by phone at 905-668-7711 extension 2302 or 1-800-372-1102 (toll-free).
Regional Business Planning Cycle
The Regional Municipality of Durham's business plans and budgets are a key component of the Region's business cycle.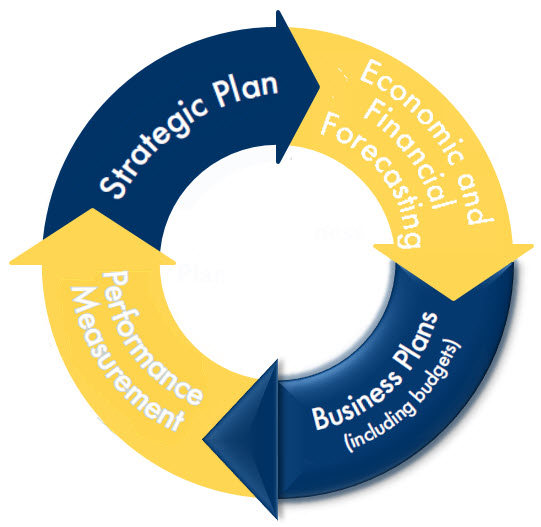 The business planning process includes:
Strategic planning
Risk assessment
Multi-year economic and financial forecasting
Property tax and user rate guidelines
Asset management planning
Long-term financial planning
Detailed business plans and budgets
Performance measurement
Our business plans and annual budgets outline the operating and capital financing needed to deliver essential services to our residents. The budgets align with the Durham Region Strategic Plan. They also provide funding to:
Maintain existing levels of service.
Address critical needs.
Address legislative and regulatory changes.
Outline strategic programs enhancements in priority areas.
The Region prepares two budgets. The first is for services funded by property taxes, which presents the operating and capital funding requirements for the following Regional services:
Durham Regional Police Service (DRPS)
Durham Region Transit (DRT)
Regional roads and bridges
Solid waste management
Social services:

Long-term care and services for seniors
Social housing
Social assistance
Children's services
Family services

Public health
Paramedic services
Planning and economic development
Emergency management
9-1-1 services
The second is for the user rates that provide operating and capital funding requirements for the municipal water and sewer services. Homeowners receive a water and sewer bill based on how much they use. Water and sewer services are not funded by property taxes.
Property tax supported Regional business plans and budgets
Approved water and sewer user rate Regional business plans and budgets
Region of Durham Water Financial Plan