2021 Business Plans and Budgets
The Region of Durham provides a wide range of programs and services to a growing and diverse community of residents and businesses. The Region's business planning and budget process reflects our commitment to provide services within a framework of financial stability and transparency. You can learn more on the Region's YouTube channel, Lets Talk Durham Budget 2021.
As one of the fastest growing municipalities in North America, the annual budget allocates resources to ensure Durham residents and businesses enjoy a high quality of life with quality programs and services that align with the key priorities outlined in the Durham Region Strategic Plan.
As an important step Regional Council has established a property tax levy target not to exceed an overall guideline of 2.0 per cent - an annual increase of $56 for an average residential property owner in Durham Region with a current estimated 2021 current value assessment of $483,100. For more details on the Region's 2021 Guideline, please see the Report and Presentation in the 2021 Guideline file towards the bottom of this page.
On December 8, 2020, the Finance & Administrative Committee will consider the 2021 Water and Sanitary Sewerage business plans and budgets and nine year capital forecast along with the 2021 water supply and sanitary sewer user rates and make recommendations to Regional Council which will consider these matter at its December 16, 2020 meeting. The proposed 2021 water supply and sanitary sewer user rates will result in an increase of $7.72 or 0.75 per cent for a typical residential customer.
2021 Business Plans and Budget – Updated Key Dates
September 30, 2020 - Council
2021 Property Tax Supported Budget Guidelines
Corporate Asset Management Update Report
October 21, 2020 - Virtual Town Hall
December 16, 2020 - Council
2021 Water and Sewer User Rate Study - Public Notice
2021 Water and Sewer Business Plans and Budgets
February 24, 2021 - Council
2021 Strategic Property Tax Study
2021 Property Tax Supported Business Plans and Budgets
Virtual Budget Town Hall
Thank you to everyone who joined our virtual Budget Town Hall! Your questions, feedback and suggestions will help inform Durham Region's budget priorities for 2021.
Missed the event? Review the Town Hall presentation or watch a recording of the event on the Regional Streaming page (under live events). Additional information is available at Durham Budget 2021.
Want to learn more? Reach out to us for more information about the budget process (Contact Us information is located at the bottom of page including email link).
Regional Business Planning Cycle
The Regional Municipality of Durham's business plans and budgets are a key component of the Region's business cycle.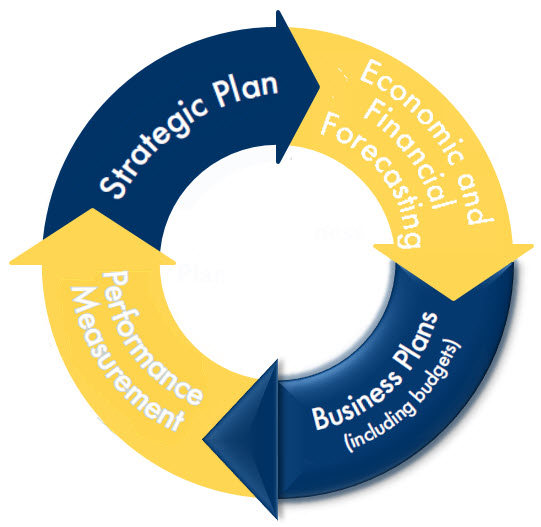 The business planning process includes:
Strategic planning
Risk assessment
Multi-year economic and financial forecasting
Property tax and user rate guidelines
Asset management planning
Long-term financial planning
Detailed business plans and budgets
Performance measurement
Our business plans and annual budgets outline the operating and capital financing needed to deliver essential services to our residents. The budgets align with the Durham Region Strategic Plan. They also provide funding to:
Maintain existing levels of service.
Address critical needs.
Address legislative and regulatory changes.
Outline strategic programs enhancements in priority areas.
The Region prepares two budgets. The first is for services funded by property taxes, which presents the operating and capital funding requirements for the following Regional services:
Durham Regional Police Service (DRPS)
Durham Region Transit (DRT)
Regional roads and bridges
Solid waste management
Social services:

Long-term care and services for seniors
Social housing
Social assistance
Children's services
Family services

Public health
Paramedic services
Planning and economic development
Emergency management
9-1-1 services
The second is for the user rates that provide operating and capital funding requirements for the municipal water and sewer services. Homeowners receive a water and sewer bill based on how much they use. Water and sewer services are not funded by property taxes.
Property tax supported Regional business plans and budgets
Approved water and sewer user rate Regional business plans and budgets
Region of Durham Water Financial Plan