2020 Business Plans and Budgets
Durham Regional Council is considering the 2020 Business Plans and Budgets for property-tax supported programs and services.
The proposed 2020 Business Plans and Budgets is a plan that focuses on front line services for Durham Region residents which ensures service levels are maintained - in response to reductions in provincial funding - while making responsible and strategic investments in key priority areas.
The recommended 2020 Business Plans and Budgets include total gross expenditures of $1.4 billion requiring a 2020 tax levy of $696.8 million. This represents a net property tax budgetary increase of 2.2 per cent or approximately $59 for an average residential home and is lower than the overall 2.5 per cent guideline approved in November.
Many of the strategic investments in the proposed 2020 Business Plans and Budgets are focused on enhancing front line services to residents including:
Enhancing emergency coverage along the 401 corridor with 12 new paramedics and a new 24 hour ambulance;
Continuation of paramedic Incident Response Unit (IRU) through evening hours enhancing opportunities for advanced care paramedic response to critical calls;
Supporting seniors through the implementation of the Ontario Seniors Dental program;
Addressing poverty and social infrastructure of Durham communities through increased investments to reduce and eliminate homelessness;
Developing a Master Housing Strategy and completing a Portfolio Review of the Durham Region Local Housing Corporation housing stock, including investing additional funds to meaningfully advance the outcomes from these reviews and achieve Council's affordable housing targets;
Additional front line staff at the Region's long-term care homes including personal support workers, a nurse practitioner, a registered practical nurse and a recreational programmer;
Prioritizing investments in climate change, innovation and diversity initiatives;
Investing in transit service enhancements across the network; and
Improving road safety through the implementation of various Vision Zero initiatives.
The 2020 recommended property tax supported Regional Business Plans and Budgets will be presented, at The Regional Municipality of Durham Headquarters, 605 Rossland Road East, Whitby, to the Finance and Administration Committee on Tuesday, February 11, 2020 and Wednesday February 12, 2020 (if required) and, if supported, Regional Council on Wednesday February 26, 2020.
2020 Summary Business Plans and Property Tax Supported Budgets – Recommended
2020 Detailed Business Plans and Property Tax Supported Budgets – Recommended
For more information or questions about the budget, please contact the Finance Department at budgets@durham.ca or by phone at 905-668-7711 extension 2302 or 1-800-372-1102 (toll-free).
Individuals who would like to provide feedback on the proposed budgets at the meetings can do so by attending the Durham Regional Council meeting – on February 26 - and indicating they would like to speak. For further information regarding the Committee and Council meetings please contact the Regional Clerk at 905-668-7711 ext. 2097.
Regional Business Planning Cycle
The Regional Municipality of Durham's business plans and budgets are a key component of the Region's business cycle.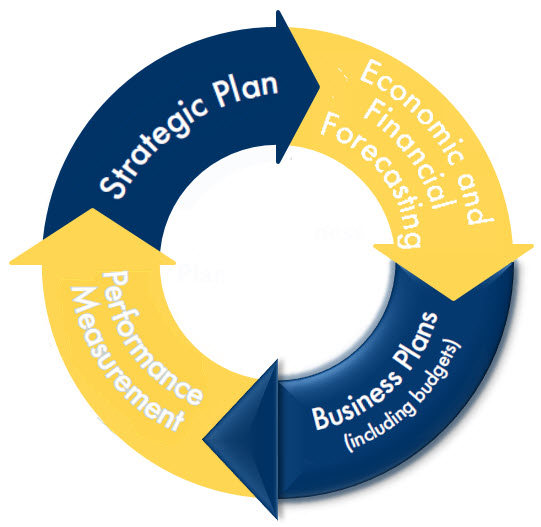 The business planning process includes:
Strategic planning
Risk assessment
Multi-year economic and financial forecasting
Property tax and user rate guidelines
Asset management planning
Long-term servicing and financing studies
Detailed business plans and budgets
Performance measurement
Our business plans and annual budgets outline the operating and capital financing needed to deliver essential services to our residents. The budgets align with the Durham Region Strategic Plan. They also provide funding to:
Maintain existing levels of service.
Address critical needs.
Address legislative and regulatory changes.
Outline strategic programs enhancements in priority areas.
The Region prepares two budgets. The first is for services funded by property taxes, which presents the operating and capital funding requirements for the following Regional services:
Durham Regional Police Service (DRPS)
Durham Region Transit (DRT)
Regional roads and bridges
Solid waste management
Social services:

Long-term care and services for seniors
Social housing
Social assistance
Children's services
Family services

Public health
Paramedic services
Planning and economic development
Emergency management
9-1-1 services
The second is for the user rates that provide operating and capital funding requirements for the municipal water and sewer services. Homeowners receive a water and sewer bill based on how much they use. Water and sewer services are not funded by property taxes.
Approved property tax supported Regional business plans and budgets
Approved water and sewer user rate Regional business plans and budgets
Region of Durham Water Financial Plan