2022 Approved Business Plans and Budget Highlights
The approved 2022 Business Plans and Budget supports targeted investments in key strategic priorities identified in the Region's Strategic Plan that include: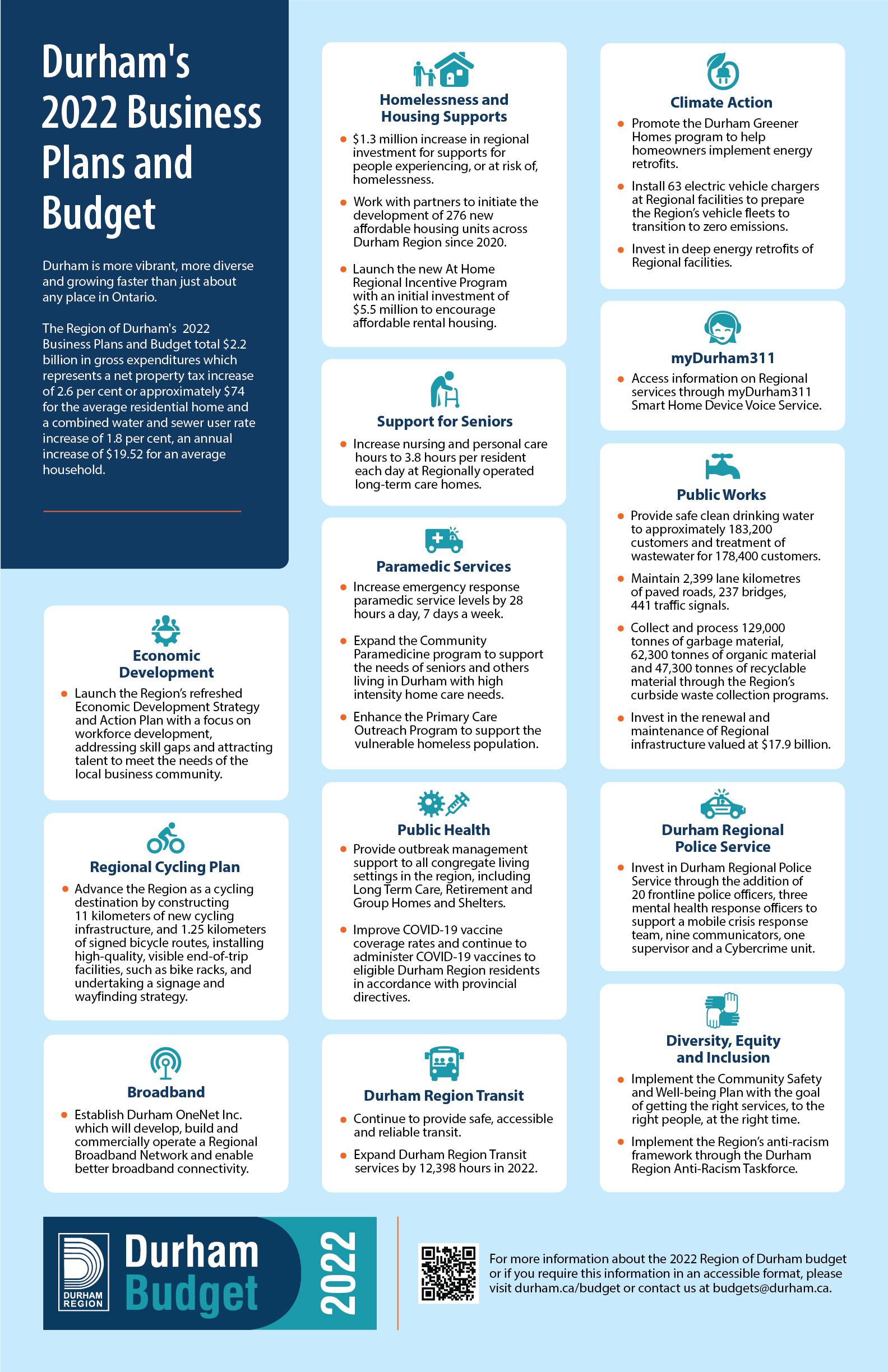 2022 Approved Property Tax Supported Business Plans and Budget
Durham Regional Council on February 23, 2022 approved the 2022 Property Tax Supported Business Plans and Budget. The approved 2022 Property Tax Supported Business Plans and Budget totals $1.73 billion in gross expenditures, requiring a 2022 tax levy of $760.2 million. This represents a net property tax increase of 2.6 per cent or approximately $74 for the average residential home with an assessed value of $483,100.
The approved 2022 Business Plans and Budget provides for the increased demands on the Region's front-line essential programs and services in response to the COVID-19 pandemic; positions the Region to implement its COVID-19 recovery plan; allows for targeted investments in key strategic priorities identified in the Region's Strategic Plan; and balances these pressures with the need for taxpayer affordability and competitive property taxes recognizing the financial impact the pandemic has had and continues to have on residents and businesses. Specific investments in the budget includes:
Key investments in Police Services including 20 new front-line officers, implementation of a crisis call diversion response program, three new mental health response officers to support a 24/7 mobile crisis response team, nine additional communicators and one supervisor, creation of a cyber security division, and advancing the implementation of the body worn camera program.
Significant investment in the Region's four long-term care homes including increasing the nursing and personal care hours from an average of 3.4 hours/resident/day to 3.8 hours/resident/day across the Region's homes and increased capital investments totalling $1.1 million in new equipment and improvements in the Region's homes.
Double the size of the Region's Primary Care Outreach Program to provide social work outreach and paramedic services to vulnerable populations, including those who are unsheltered and under-housed and who may have mental health and additional challenges.
Increase in Paramedic Services through one additional 24/7 ambulance to service the growing Seaton Community as well as increasing existing paramedic services by four hours per day.
Implement the new Community Paramedicine Program which will provide support to high intensity needs clients requiring supplemental community paramedicine services beyond home and community care.
$1.3 million increase in regional investment for homelessness supports for people experiencing, or at risk of becoming homeless.
Strengthen diversity, equity and inclusion across the Region including implementation of the Region's Community Safety and Wellbeing Plan
Advance the Region's Corporate Climate Change Action Plan and achievement of the Region's target of net zero greenhouse gas emissions by 2045 including installation of 63 electrical vehicle chargers at Regional facilities, acquisitions of electric/hybrid vehicles including acquisition of DRT's first battery electric buses, energy enhancements at a number of Regional facilities and undertaking comprehensive building condition assessment and level three energy audits to advance the Region's pathway to net zero for Regional facilities.
Advance the myDurham311 project by enhancing the customer journey while creating a consistent, convenient and customized experience.
Finalize and launch a refreshed Economic Development Strategy and Action Plan and continue to provide supports to local businesses as they recover from the COVID-19 pandemic.
Continue to plan for the approval of the Lakeshore East GO Extension to Bowmanville and related Transit Oriented Development Strategy to capitalize on the economic and community building benefits associated with rapid transit investment.
Develop and expand the Region's Broadband Network and establish partnerships to enable the delivery of broadband services in unserved and underserved communities across the Region positioning Durham Region as the location of choice for business.
Advance the recommendations contained in the Regional Cycling Plan Update including approximately 11 kilometers of new cycling infrastructure to be implemented as part of the Regional roads construction projects and an additional 1.25 kilometers of signed bicycle routes on infill road segments, undertaking a signage and wayfinding strategy, assisting in developing school safety plans and working with partners to facilitate a Durham cycling event.
Continue to grow and recover Durham Region Transit service including an increase of 12,398 hours of services, bringing the total planned hours of services to 551,075 for 2022.
A 0.25 per cent increase in the dedicated levy to support future healthcare investments in the Region including the Lakeridge Health Bowmanville site redevelopment, the redevelopment of the Oak Valley Health Uxbridge site and the Ontario Shores Centre for Mental Health Sciences redevelopment in Whitby.
Investment in the renewal and maintenance of the Region's infrastructure valued at $15.9 billion including roads, bridges, facilities, Durham Regional Local Housing properties to maximize the value of the Region's assets over their life cycle.
For more details about the business plans and budgets please follow the links contained in the Property Tax Supported Business Plans and Budgets accordion at the bottom of this page.
Your voice matters! Residents can also subscribe to receive the latest Budget updates at the Your Voice Durham webpage.
2022 Approved User Rate Supported Water Supply and Sanitary Sewerage Business Plans and Budget
Durham Regional Council on December 22, 2022 approved the 2022 water supply and sanitary sewer user rates and business plans and budget. The approved 2022 Consolidated Water Supply and Sanitary Sewerage Business Plans and Budget totals $477.9 million and requires a total of $235.7 million in user rate revenue ($118.2 million water and $117.5 million sewer). This requires a 2022 combined water and sewer user rate increase of 1.8 per cent, an estimated annual increase of $19.52 for an average Durham Region household.
In addition to investments required for the continued operations of these systems in compliance with regulatory performance requirements - providing safe clean drinking water to approximately 183,200 customers and treatment of wastewater for 178,400 customers - further strategic investments are being funded to advance new infrastructure and operations in response to growth pressures; address critical renewal and replacement of capital infrastructure maintaining water and sewer assets in a state of good repair in alignment with asset management best practices; and realize the achievement of the Region's climate change mitigation and adaptation targets.
For more details about the water supply and sanitary sewerage business plans and budget please follow the links contained in the Water Supply and Sanitary Sewage Systems Business Plans and Budgets accordion for 2022 at the bottom of this page.
2022 Virtual Budget Town Hall
Thank you to everyone who participated in Durham Region's virtual 2022 Budget Town Hall. A recording of the event is now available at Your Voice Durham. View a copy of the presentation here.
To learn more about how you can get involved, or to submit a question please email budgets@durham.ca.
To learn more about how the Budget is prepared watch this short video shared as part of the event:
Region of Durham Business Plans and Budget Process
The Region of Durham provides a wide range of programs and services to a growing and diverse community of residents and businesses. The annual Business Plans and Budget outlines the cost of delivering these essential programs and services and ensures resource allocations are aligned with Regional Council's strategic objectives and meet service, infrastructure and legislative requirements within a framework of financial stability and transparency.
The Region's Business Plans and Budgets are a critical component of the Region's annual business planning cycle which also includes strategic planning, economic and financial forecasting and performance measurement.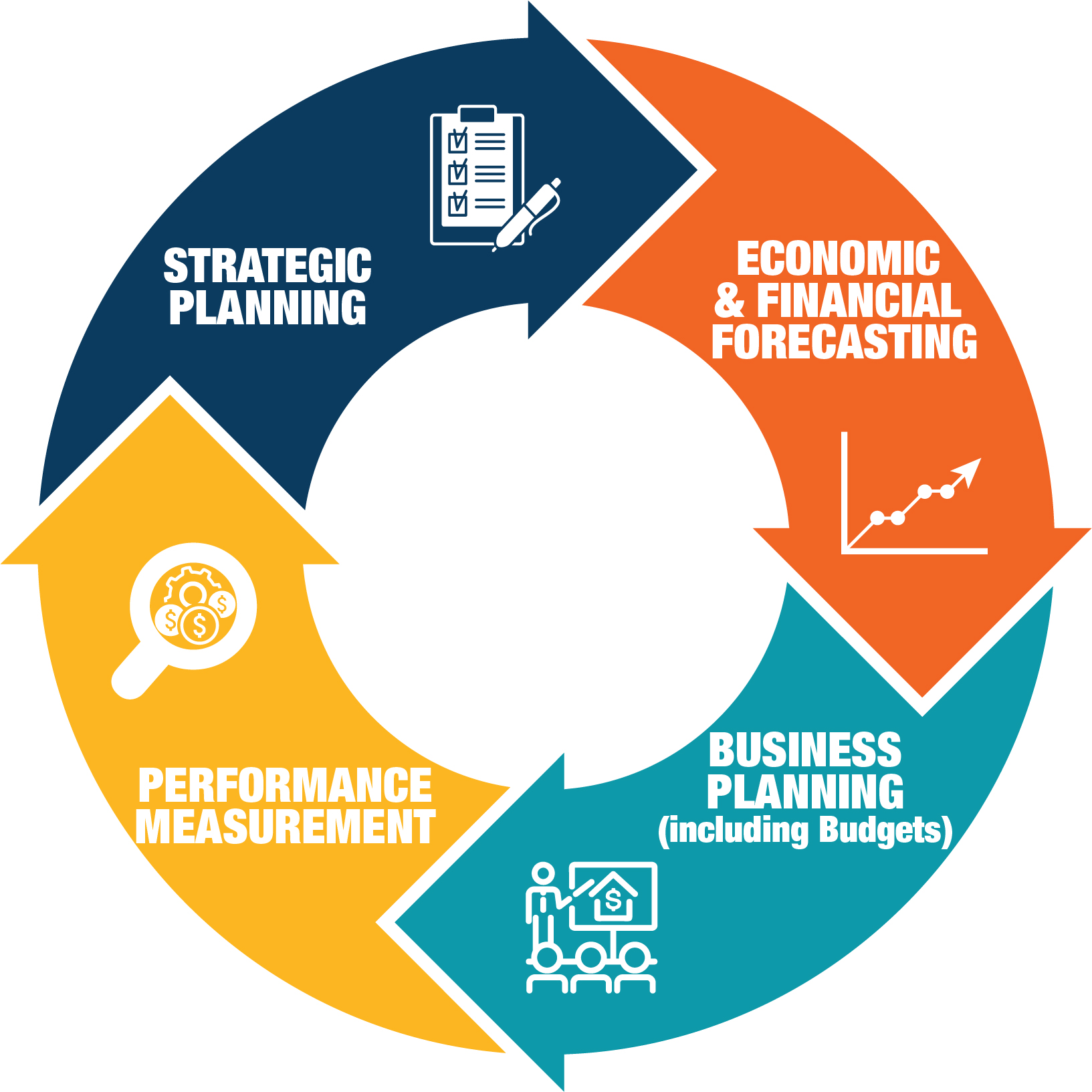 The Region prepares two budgets. The first is for services funded by property taxes, which presents the operating and capital funding requirements for the following Regional services:
Durham Regional Police Service (DRPS)
Durham Region Transit (DRT)
Regional roads and bridges
Solid waste management
Social services including social housing, social assistance, children's services, family services and long-term care and services for seniors
Public health and paramedic services
Planning and economic development
Emergency management
9-1-1 services
The second is for water and sanitary sewer services which are billed on a consumption basis to customers who are connected to the municipal systems. These services are user rate supported and are not funded from Regional property taxes.
For more information or questions about the budget, please contact us at budgets@durham.ca or by phone at 905-668-7711 extension 2302 or 1-800-372-1102 (toll-free).
Property Tax Supported Business Plans and Budgets
Water Supply and Sanitary Sewage Systems Business Plans and Budgets
Region of Durham Water Financial Plan