Regional Business Planning Cycle
The Regional Municipality of Durham's business plans and budgets are a key component of the Region's business cycle.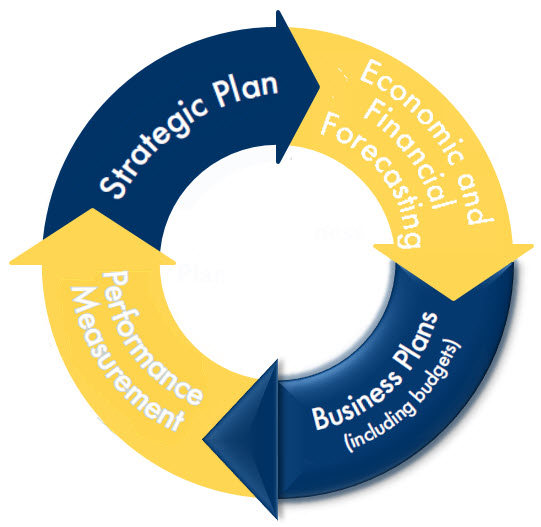 The business planning process includes:
Strategic planning
Risk assessment
Multi-year economic and financial forecasting
Property tax and user rate guidelines
Asset management planning
Long-term servicing and financing studies
Detailed business plans and budgets
Performance measurement
Our business plans and annual budgets outline the operating and capital financing needed to deliver essential services to our residents. The budgets align with the Durham Region Strategic Plan. They also provide funding to:
Maintain existing levels of service.
Address critical needs.
Address legislative and regulatory changes.
Outline strategic programs enhancements in priority areas.
The Region prepares two budgets. The first is for services funded by property taxes, which presents the operating and capital funding requirements for the following Regional services:
Durham Regional Police Service (DRPS)
Durham Region Transit (DRT)
Regional roads and bridges
Solid waste management
Social services:

Long-term care and services for seniors
Social housing
Social assistance
Children's services
Family services

Public health
Paramedic services
Planning and economic development
Emergency management
9-1-1 services
The second is for the user rates that provide operating and capital funding requirements for the municipal water and sewer services. Homeowners receive a water and sewer bill based on how much they use. Water and sewer services are not funded by property taxes.
2019 Approved Property Tax Supported Regional Business Plans and Budgets
The 2019 Approved Business Plans and Budgets of $1.22 billion results in a net property tax increase of 1.89 per cent or $4 per month for a Region-wide average residential homeowner.
The 2019 Approved property tax increase of 1.89 per cent achieves an affordable tax increase for business and residential property owners, gives consideration to continued reassessment increases being phased-in, provides for a number of base pressures and non-discretionary items that are required to continue to deliver the Region's existing programs and services and provides for strategic investments to support the following key priorities:
Innovate operations and administration
Respond to ongoing legislative and regulatory changes
Invest in infrastructure renewal
Manage the challenges of growth and affordability
This budget has a focus on front line services to residents including:
Front line police officers
Investigators in the Police Human Trafficking Unit
Victim Services Partnership
9-1-1 communicators
Transit service improvements
Implementing Vision Zero policies and action plans to guide the Region and its road safety partners toward creating safer roads and reducing the number of collisions, road fatalities and injuries
Investments to further address poverty and the social infrastructure of Durham communities
Additional front line health care aides, recreation staff and nurses at the Region's long-term care homes
Three additional ambulances (two staffed 12 hours and one staffed 24 hours)
Continuation of the primary care outreach program
Investments in broadband, climate change, innovation and diversity initiatives
Budget Open House
The Region of Durham held a budget open house on the Business Planning and Budget Process at Regional Headquarters on February 13, 2019. The event was live streamed on the Regional website and Facebook. We would like to thank all participants who attended or participated online.
You can view the archived event broadcast on our Live Stream page and a copy of the presentation is available below.
2019 Region of Durham Budget Open House Presentation
2019 Regional Budget Summary
The total Regional budgeted gross expenditures for both property tax and user rate supported services is $1.6 billion with water and sanitary sewer user rate services accounting for $417 million and property tax supported services $1.2 billion. For a brief two page summary of the Region's 2019 Business Plans and Budgets, please click on the link below.
2019 Durham Region Business Plans and Budgets Summary
Approved property tax supported Regional business plans and budgets
Approved water and sewer user rate Regional business plans and budgets
Region of Durham Water Financial Plan