Be You. You Belong!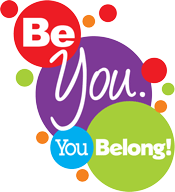 We are all about building connections!
The Be You. You Belong! initiative aims to help parents and caregivers of children under six-years old in Ajax and Pickering connect with local services that support healthy child development.
Many community agencies work together to help families feel welcomed and respected when they come to their programs.
Going out to various community programs and events helps families connect with where they live.
Find early learning programs and child care in your neighbourhood Public health events calendar
It takes a village to raise a child. Learn more.
Be You. You Belong!
The message "Be You. You Belong!" aims to strengthen relationships between families and their community. This important message was created after speaking with families in Ajax and Pickering about their experiences with being a parent.
We asked... What is it like to be a parent or a caregiver in Ajax and Pickering?
Check out what parents had to say!
Come to free programs every day to learn about how children learn by playing, meet other parents, and talk to staff who know about children's development.
Find early learning programs and child care in your neighbourhood
Public health events calendar
Raising a child is a special time in your life
You may have many questions. Learn more about: