---
Durham Region Health Department has extended the hours of the Durham Health Connection Line
Current hours of operation are 8:30 a.m. to 8 p.m., Monday to Sunday.
We are currently responding to messages only. Please leave only one message and your call will be returned in priority sequence.
Please ensure you have read this message fully to clarify how to get the answer to your question as quickly as possible.
Our current priority is to hear from:
Health care providers who are seeking or reporting information
Residents who have recently travelled outside of Canada, including the United States of America, and are experiencing symptoms of COVID-19 including fever, cough, or difficulty breathing.
Residents who have been in close contact with someone who has recently travelled outside of Canada and are experiencing symptoms of COVID-19 including fever, cough, or difficulty breathing.
Our ability to properly manage the COVID-19 situation in our community is dependent upon being able to speak with those residents described above. As such, all other residents with questions or concerns regarding COVID-19 are asked to first read through this web page and, if you do not find your answer, phone Telehealth at 1-866-797-0000.
---
---
---
Information for health care professionals
Information for the school community
What is COVID-19?
Coronaviruses are a large family of viruses that cause illness in humans ranging from the common cold to more severe diseases.
A novel coronavirus is a new strain that has not been previously identified in humans. In some cases, illness caused by novel coronavirus can be mild. In more severe cases, the novel coronavirus can cause pneumonia, acute respiratory distress syndrome, severe influenza-like illness, kidney failure and even death.
On December 31, 2019, a cluster of cases of pneumonia was reported in Wuhan City, China. Recent information has confirmed a novel (or new) coronavirus (COVID-19) as the likely cause.
What should I do if I have the signs and symptoms of COVID-19?
There is increasing evidence of community transmission of COVID-19 in Durham Region. This means that the virus is spreading in the community and is not only linked to travel or other known cases.
Signs and symptoms may include:
fever
new cough
shortness of breath
The Health Department recommends that anyone who has mild cold or respiratory symptoms, such as a new cough, or sore throat (even if they have no travel history), and has not been tested for COVID-19, should self-isolate at home for 14 days, or until their symptoms have resolved, whichever is longer.
If you develop worsening symptoms (fever, new cough or difficulty breathing) continue to self-isolate and seek clinical assessment using one of these four options:
Contact Durham Health Connection Line 905-668-2020 or 1-800-841-2729.
Contact Telehealth Ontario at 1-866-797-0000.
Contact your primary care provider by phone.
If you are in medical distress and need urgent care, you should call 911 and let them know you are self-isolating because of COVID-19.
How is it spread?
COVID-19 can be spread from person to person through:
Close personal contact, such as touching or shaking hands.
Contact with nose and throat secretions (e.g., coughing and sneezing).
Touching an object or surface with the virus on it, then touching your mouth, nose, or eyes before washing your hands.
It is currently not known how long COVID-19 can survive outside of the body on a surface.
How can I protect myself?
The Ontario Ministry of Health is advising all residents to practise social distancing to reduce their exposure to other people. It is recommended to avoid contact with people outside of your immediate family.
All Durham residents need to be aware of their underlying medical conditions and seek medical attention if there are changes from their regular baseline level.
To reduce the spread of germs, including COVID-19 and the flu we recommend that you:
Wash your hands often with soap and water or hand sanitizer when hands are not visibly dirty.
Cough or sneeze into your sleeve or elbow and encourage others to do the same.
Wash your hands after handling nose and throat secretions (e.g. after throwing out used facial tissues).
Avoid touching your face and clean hands before touching eyes, nose or mouth.
Clean and disinfect surfaces, especially those that are high-touch areas.
Do not share water bottles, straws, eating utensils, cigarettes, toothbrushes, toys or anything else that has been in contact with saliva, nose or throat secretions.
If you are ill, stay at home and keep yourself away from others.
Avoid close contact with anyone showing symptoms of respiratory illness such as coughing and sneezing.
If you are ill and must visit a health care provider, call ahead or tell them right away when you arrive that you have a respiratory illness and wear a mask while waiting to be seen.
The World Health Organization does not recommend the use of face masks for individuals who are not sick as there is no evidence to suggest a benefit. Individuals with respiratory symptoms should wear a mask when attending medical appointments.
See additional Health Department resources regarding proper handwashing, stopping the spread of germs and practising social distancing.
Testing for COVID-19
Testing for COVID-19 is through an upper respiratory tract specimen (Nasopharyngeal swab and/or viral throat swab) to test for the presence of the virus. Testing people who are asymptomatic (e.g. those who have no symptoms) is not recommended.
How is COVID-19 treated?
There is no specific treatment for COVID-19. Supportive care based on symptoms may be helpful.
Is there a vaccine for COVID-19?
Currently there is no vaccine for COVID-19.
What is self-isolation?
Self-isolation is a strategy used to prevent COVID-19 from spreading to others. Individuals self-isolating must stay home, and limit time spent with others. While self-isolating individuals should not go to work, school, use public transportation, or go to other public areas (e.g. malls, restaurants).
The following individuals are being advised to self-isolate and monitor for signs and symptoms of COVID-19.
People who have been diagnosed with or are awaiting test results for COVID-19.
People who have been in close contact with a person with COVID-19.
People who have recently travelled outside of Canada.
People who are experiencing symptoms of COVID-19 (fever, new cough, shortness of breath).
People over 70 years of age and individuals who are immunocompromised.
What is the Health Department's role in managing and monitoring COVID-19?
Durham Region Health Department works closely with individuals who have been diagnosed with COVID-19. This is done to help identify potential risk for other community members who may have had contact with the person diagnosed with COVID-19 while they were ill. This includes identifying and assessing the risk of exposure for individuals (e.g. health care providers who provided care for the individuals while they were ill) and community settings (e.g. clinic waiting rooms, public transit etc.).
The Health Department is working collaboratively with local hospitals and health care providers to streamline processes for assessment and testing for COVID-19.
What are the potential impacts for workplaces?
For health care settings, there is specific guidance from Ontario's Ministry of Health
This guidance can be accessed on our Health Care Professionals page.
Durham Region's emergency management experts have some advice on how businesses can prepare their staff and operations for possible business disruptions from COVID-19.
Ministry of Health information sheet (available in multiple languages)
The Ministry of Health has developed an information sheet about COVID-19 to inform Ontarians about the virus, how they can protect themselves and what to do if they think they have contracted COVID-19.
Credible online resources
Facts about...
Health Department resources

Help prevent the spread poster (8.5 x 11 | 11 x 17) Watch our public health inspector discuss proper handwashing
---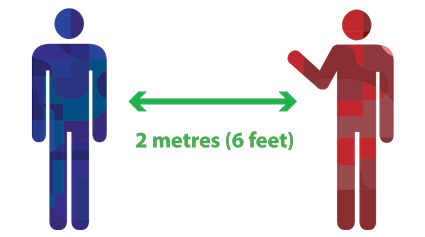 ---