Posted on Thursday, July 30, 2020 10:22 AM
Whitby, Ontario – Yesterday, Durham Regional Council approved the Expedited Supportive Housing Report, which identifies the urgent need for affordable and supportive housing. The report outlines two proposed projects—the development of a modular supportive housing project in Beaverton and a new micro-homes pilot project in Oshawa.
By expediting the development of these projects, the Region helps to address the needs of Durham's unsheltered residents, which were highlighted during the COVID-19 crisis.
Modular...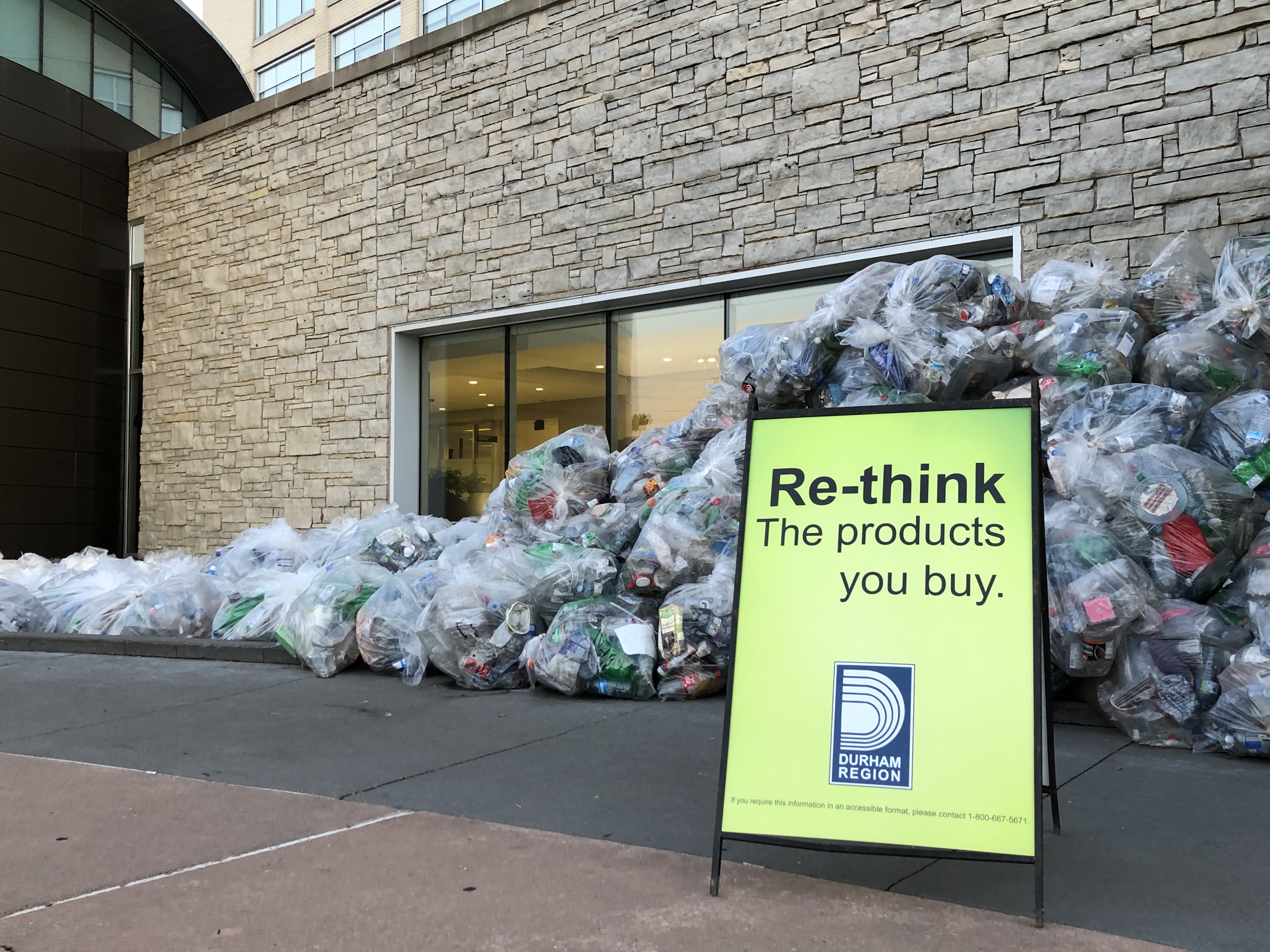 Posted on Monday, July 27, 2020 12:26 PM
Whitby, Ontario – The Regional Municipality of Durham has received the Municipal Waste Association P&E Silver Award in the category Other Tool, for its 2019 Waste Reduction Week campaign and single-use plastics display. The award was presented based on the creativity and innovation that went into advancing public engagement on single-use plastic waste and waste diversion.
On October 23, 2019, Regional Headquarters in Whitby was buried behind a pile of single-use plastics in recognition of Waste...
Posted on Wednesday, July 22, 2020 09:09 PM
Whitby, Ontario – The Region of Durham has released its updated Durham Region Profile—a demographic and socio-economic data report that provides comprehensive information in six key categories: population; social characteristics; households; employment; income and education; and agriculture.
For the first time, the report is accompanied by a new online dashboard of key statistics, with interactive tables and maps—highlighting data that is of interest to the general public, business...
Posted on Wednesday, July 22, 2020 09:08 PM
Whitby, Ontario – Since declaring a climate emergency on January 29, Durham Region has taken important steps to accelerate the transition towards a low-carbon, climate-resilient community.
Durham Regional Council recently approved projects for corporate and community-wide climate solutions that will support efforts to reduce greenhouse gas emissions and energy costs while creating local jobs and attracting private sector investment in the low carbon economy.
The investment plan for the $5 million...
Posted on Wednesday, July 22, 2020 08:05 PM
Whitby, Ontario – The COVID-19 pandemic is an unprecedented time in Durham Region and, as a result, many residents are experiencing new and unique needs.
In response to this need, the Region of Durham has convened a Durham Region COVID-19 Funders' Table—which includes the United Way, Durham Community Foundation, the Red Cross, local area municipalities and the Region of Durham. The table works to identify the most pressing needs in the region based on data, and to ensure that community funding...