Public Service Announcements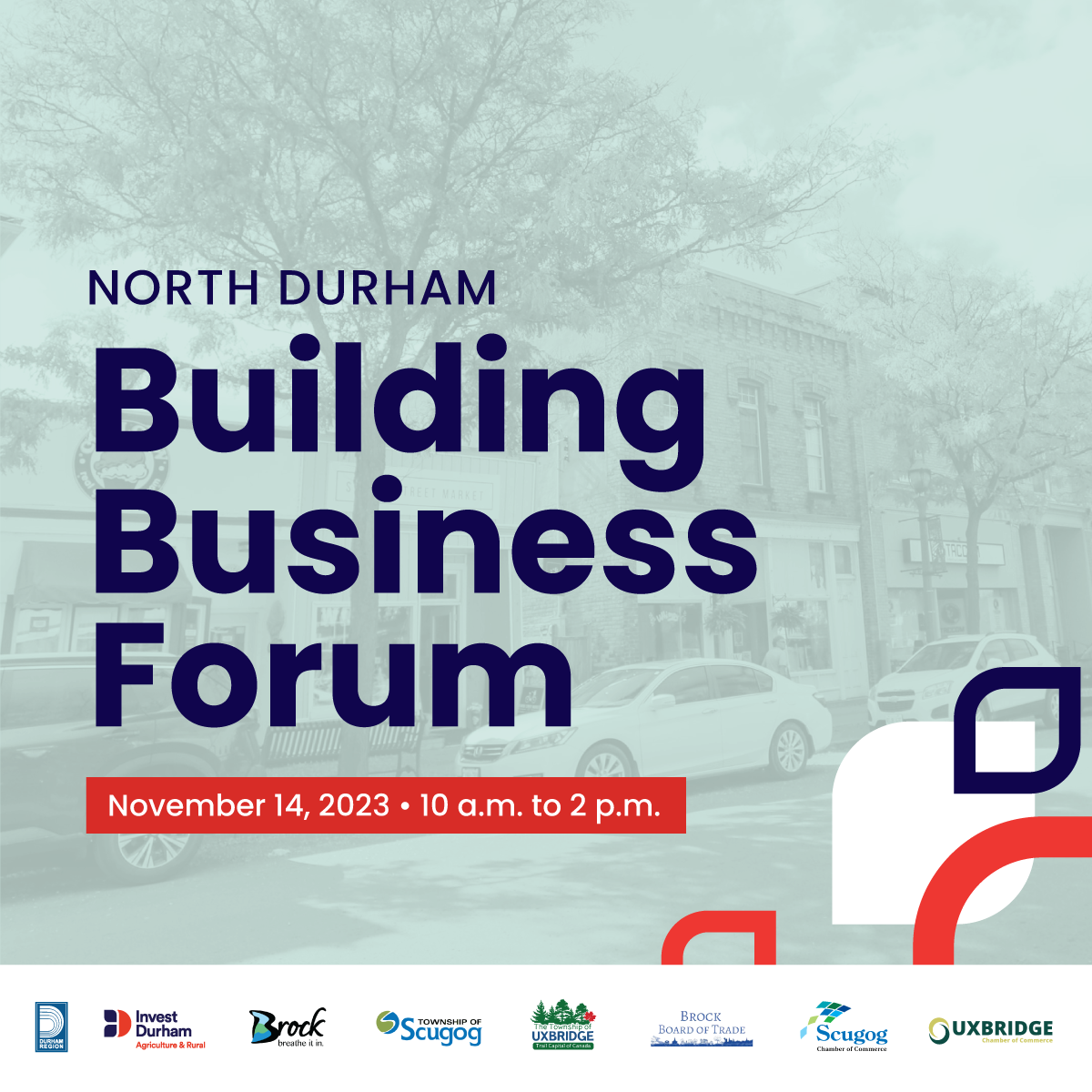 Posted on Tuesday, October 17, 2023 08:59 AM
Whitby, Ontario – The Region of Durham's Economic Development Division (Invest Durham), in partnership with the Townships of Brock, Scugog and Uxbridge, are encouraging local business and entrepreneurs from Durham Region's northern communities to register for the North Durham Building Business Forum on November 14 in Uxbridge.
The forum falls within Do It In Durham Entrepreneurship Week—an annual week of recognition from November 13 to 17 dedicated to celebrating entrepreneurship in Durham...
Posted on Monday, December 04, 2023 02:07 PM
Whitby, Ontario – Residents are invited to have their say on the Region's Business Plans and Budget, gain an increased understanding of the Region's programs and services and share input on key priority areas at the 2024 Budget Town Hall. Residents are encouraged to visit yourvoice.durham.ca/DurhamBudget to provide input and submit questions ahead of the event.
When: Thursday, January 11 at 6:30 p.m.
Where: The Town Hall will be livestreamed at durham.ca/Live and yourvoice.durham.ca/DurhamBudget....
Posted on Thursday, November 16, 2023 01:29 PM
Whitby, Ontario – The Durham Local Immigration Partnership (DLIP) is seeking applications from newcomer residents for the Newcomer Advisory Table.
Members of the Newcomer Advisory Table will inform the strategic direction of the DLIP; and support the work of the DLIP and its various action groups to strengthen economic prosperity, service coordination and sense of belonging among newcomers. Members will serve a one-year term with an option to renew.
When: The deadline to apply is December 7 at...
Posted on Thursday, November 16, 2023 11:07 AM
Project Update: Due to unfavourable weather conditions, this closure has been postponed until spring 2024. Details for the closure will be provided once they become available. To learn more about this project, visit durham.ca/BowmanvilleAveConstruction.
Whitby, Ontario – The Regional Municipality of Durham is advising residents of an upcoming road closure of Bowmanville Avenue in Bowmanville, in the Municipality of Clarington.
Where: Bowmanville Avenue (Regional Road 57), between King Street...
Posted on Thursday, November 09, 2023 12:51 PM
Whitby, Ontario – The Regional Municipality of Durham is advising residents of lane restrictions on Bayly Street (Regional Road 22) in the City of Pickering.
When: November 13 to 17. Unfavourable weather conditions may influence the work schedule.
Where: Bayly Street between Alliance Road and Krosno Boulevard, in Pickering.
Why: Lane restrictions will be in place to allow for a site servicing project.
Note: The Region realizes that the work may be disruptive and will make every effort to complete the...