What is a Pedestrian Crossover?

Pedestrian crossovers are a new way for pedestrians to easily and safely cross the road, including at right-turn channels. By law, drivers and cyclists must stop and yield to pedestrians intending to cross the road while waiting for them to completely reach the other side before driving ahead.
Pedestrian crossovers have special ladder-style stripes that mark the crosswalk and marked yield bars showing where drivers must stop. Some crossovers have flashing lights that are activated by pedestrian push buttons. Signs are also present telling drivers to stop for pedestrians.
If there is a push button, press the pedestrian push button and cross when all vehicles (including cyclists) have come to a complete stop. If a push button is not present, be sure to make eye contact with motorists before stepping into the crossover. Motorists must come to a complete stop when signals are flashing or when pedestrians are within the crossover. Drivers must not proceed until the signals have stopped flashing or until pedestrians are no longer in the crossover.
Pedestrian Crossovers
A pedestrian crossover is a new way for pedestrians to cross the road without stop signs or traffic signs. These locations are designated using special pavement markings, "stop for pedestrians" signage and sometimes lights.
Drivers are required to come to a complete stop while a pedestrian is within the crossover and may not proceed until the pedestrians are completely off the road.
Responsibilities
Drivers:
Must come to a complete stop to comply with the "stop for pedestrians" sign, proceed with caution and watch for pedestrians and cyclists.
Must remain stopped until pedestrians have completely stepped onto the opposite sidewalk. Driver must yield the whole roadway to pedestrians.
Must yield to vehicles after passing the crosswalk and only merge when safe to do so.
If a pedestrian is waiting to cross, drivers must make a complete stop to let pedestrians cross safely.
Pedestrians:
Look both ways, make eye contact with drivers to ensure vehicles clearly see you, and indicate that you want to cross.
If a vehicle is too close to safely stop, allow the vehicle to proceed before entering the crosswalk.
Only cross when it is safe to do so.
Cyclists (when riding through crossover):
Cyclists face the same responsibilities and fines as drivers. They must stop and yield at pedestrian crossovers when riding through crossovers.
When crossing with pedestrians, follow rules for pedestrians: dismount and walk your bike across the road.
Fines
Cyclists - $85 fine may be issued to cyclists for failing to dismount from their bicycle and walk across the road at a pedestrian crossover. When riding through a crossover, cyclists face the same fines as drivers as they are considered vehicles under the Highway Traffic Act.
Pedestrians - $35 fine may be issued to pedestrians for moving into the path of a moving vehicle that is so close to the crossover it is unable to stop safely.
Drivers - Up to $1,000, and four demerit points, may be issued to drivers for failing to yield at a pedestrian crosswalk.
*Fines are doubled in Community Safety Zones. These areas are clearly marked with signs.
Types of Pedestrian Crossovers within Durham
Pedestrian crossovers are identified by specific signs, pavement markings and sometimes lights. Some have signage overhead and pedestrian push buttons. There are three types of pedestrian crossovers within Durham Region:
Level 2 Type B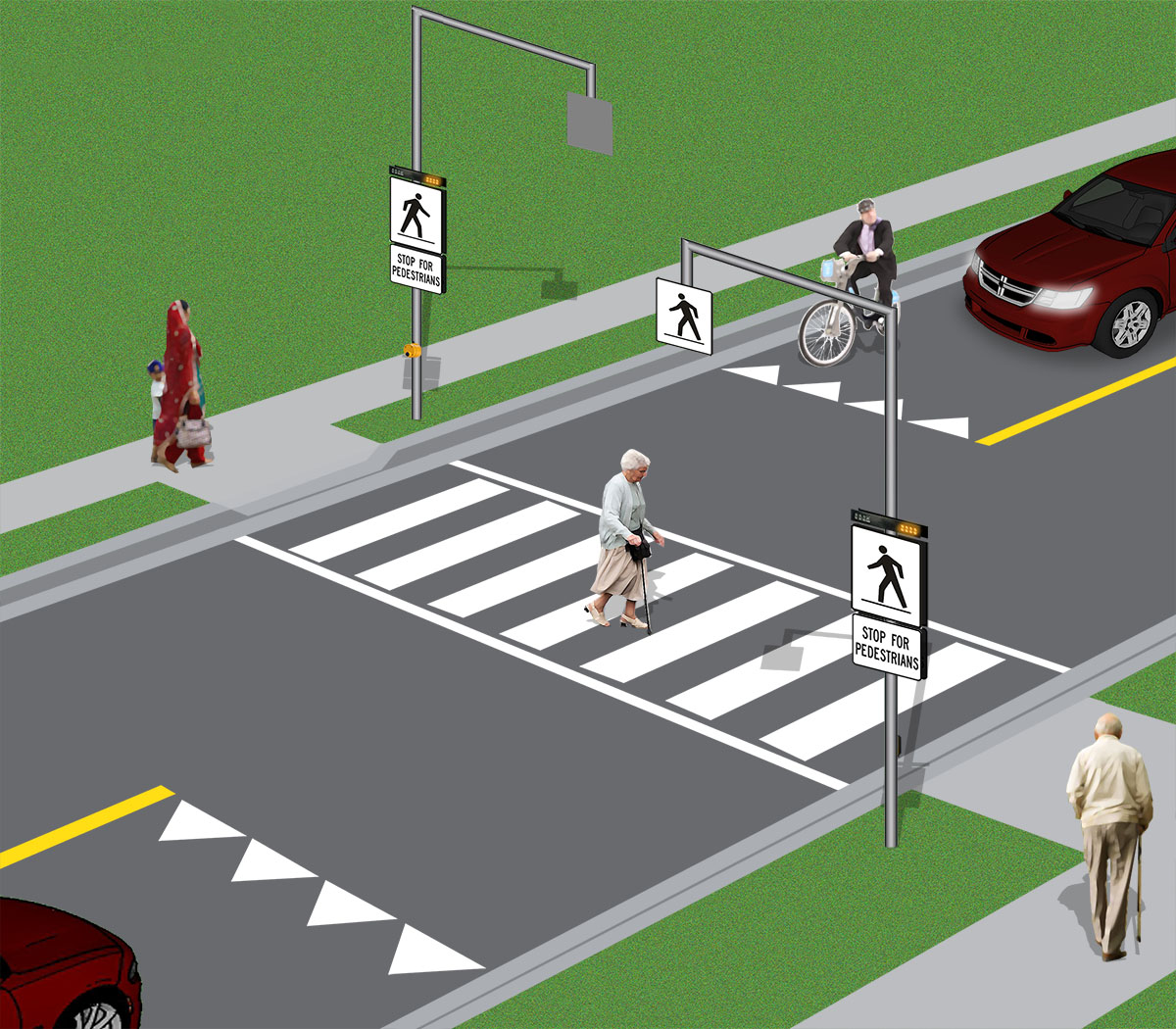 © Queen's Printer for Ontario, 2009. Reproduced with permission.
Identified by overhead signage in addition to a rectangular rapid flashing beacon.

Uses specialized yield pavement markings.

Typically used at high-volume crossings.
Level 2 Type C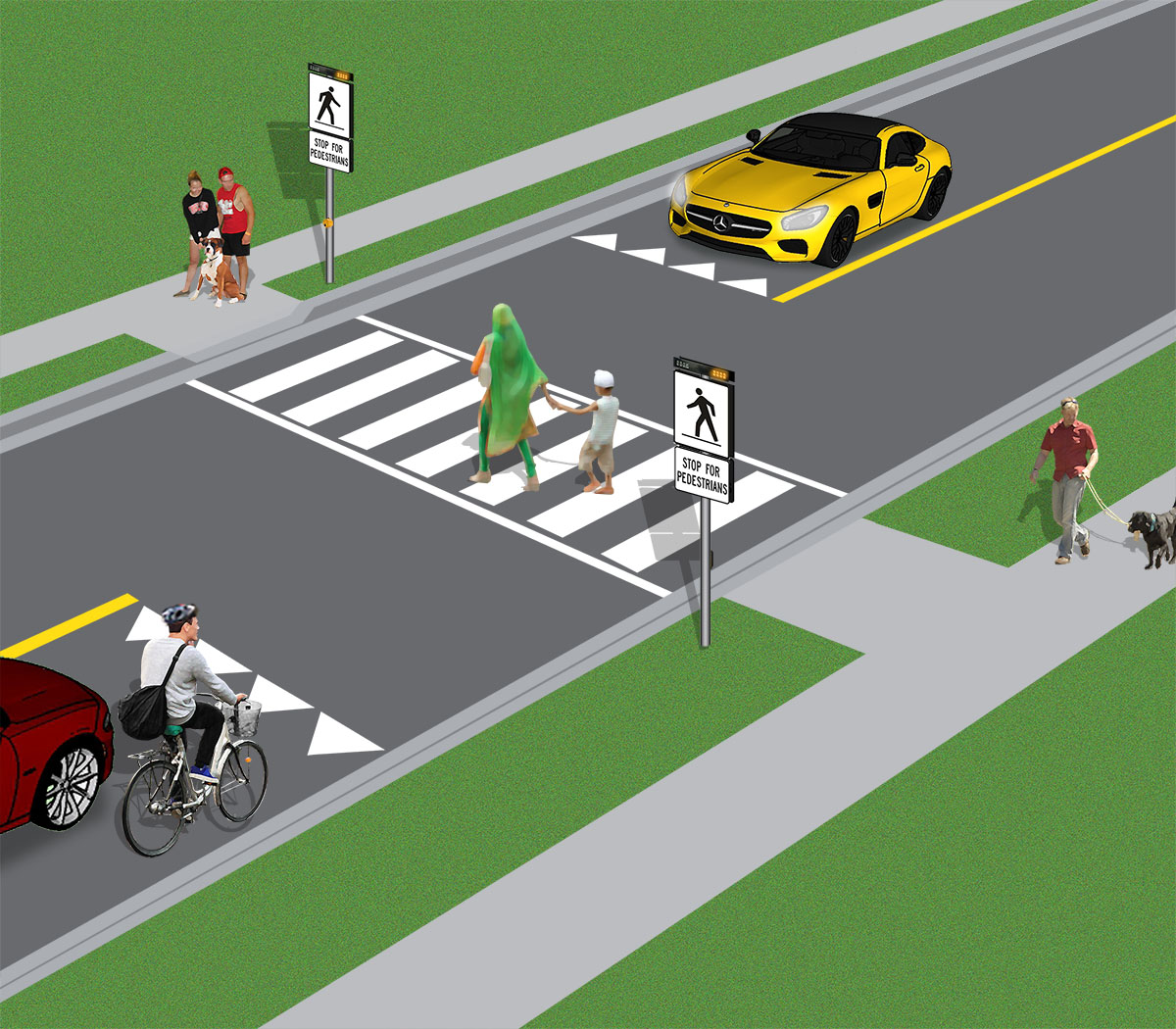 © Queen's Printer for Ontario, 2009. Reproduced with permission.
Identified by the use of rectangular rapid flashing beacons and push buttons at crossing.

Uses specialized yield pavement markings.
School Crossing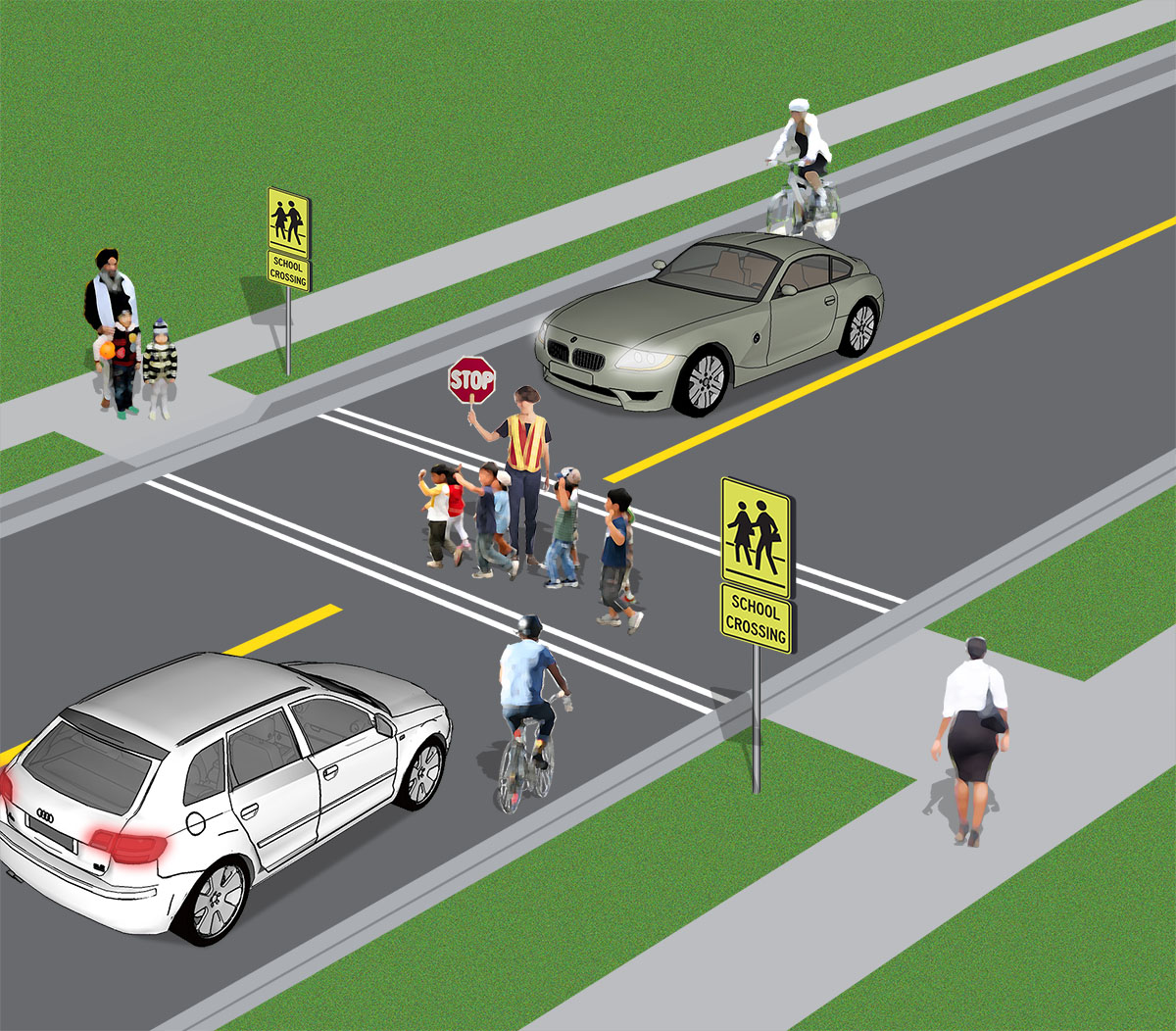 © Queen's Printer for Ontario, 2009. Reproduced with permission.
A school crossing is any pedestrian crossing where a school crossing guard is present and displaying a school crossing stop sign.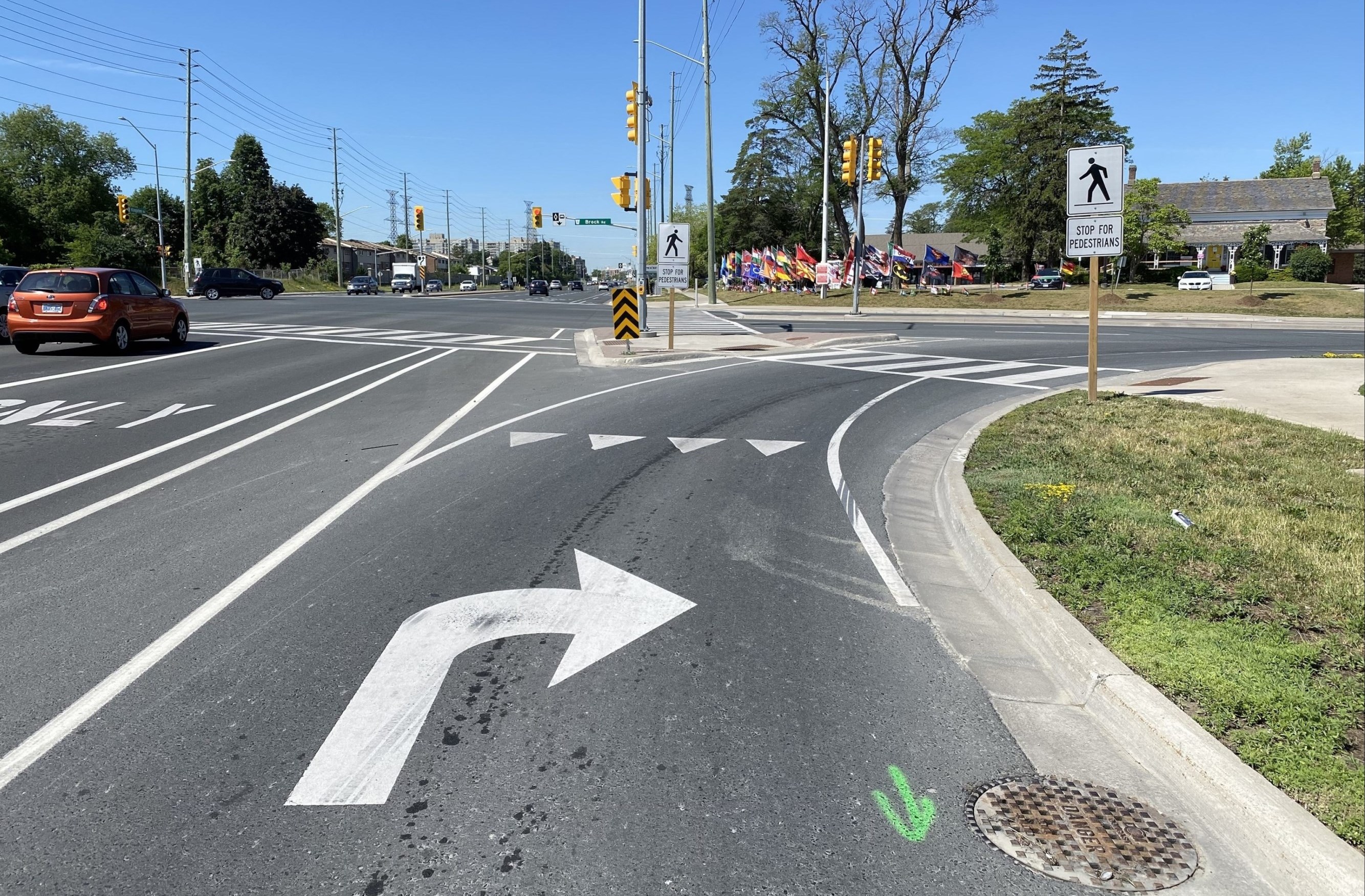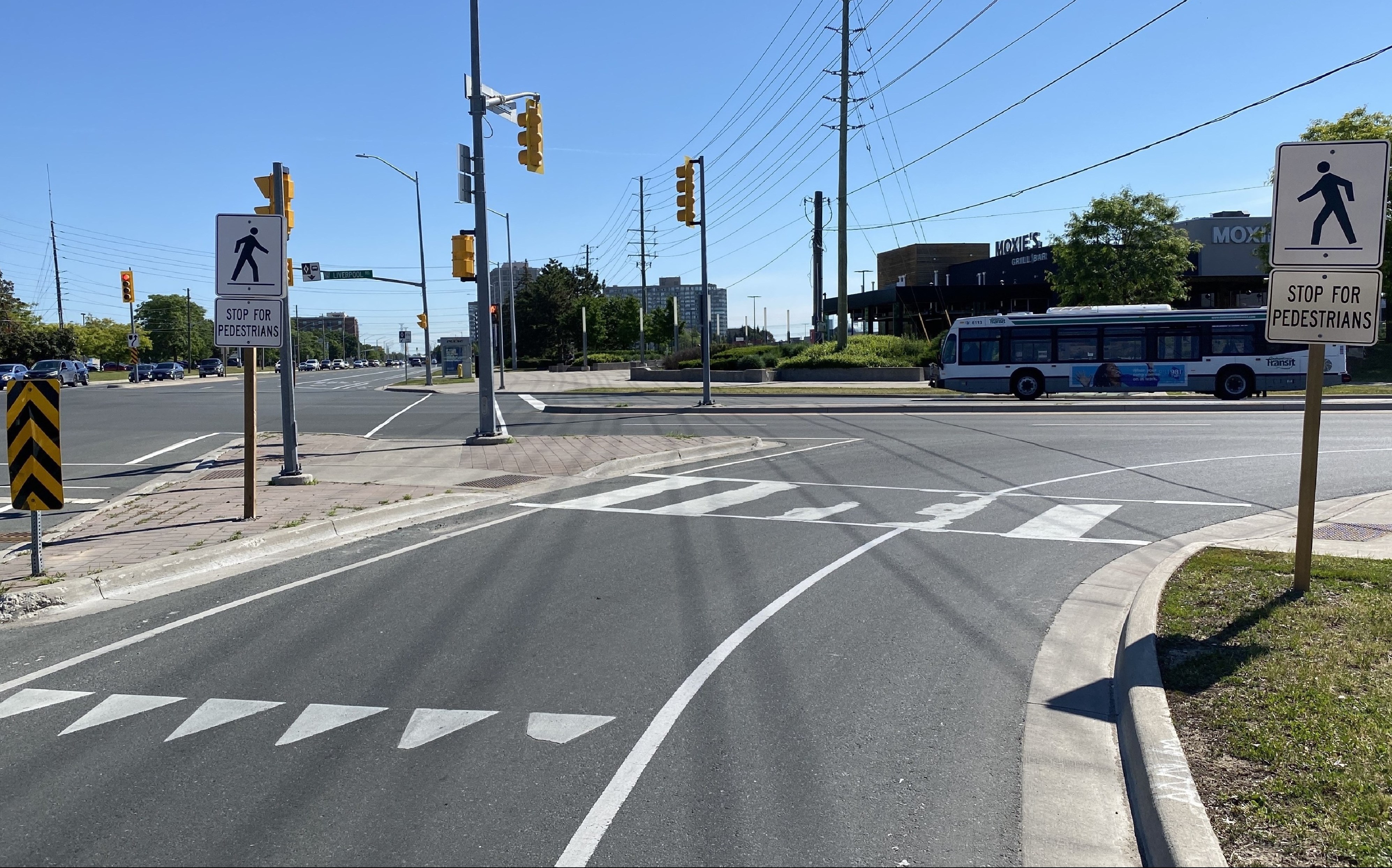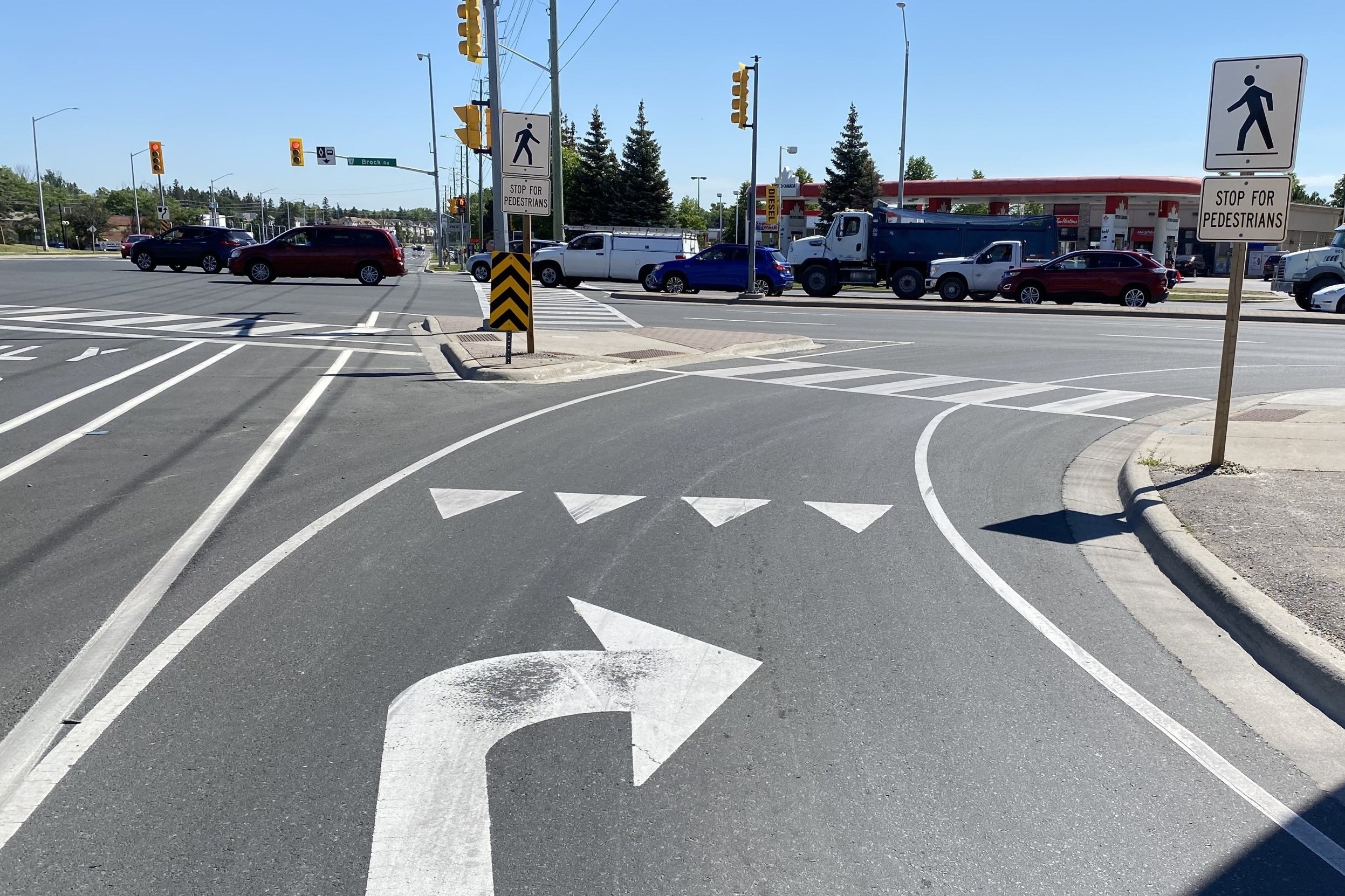 Identified by use of regulatory signage and pavement markings.

Used at low-volume crossings and right-turn channels.