Watch for reserved lanes for buses and cyclists in Durham Region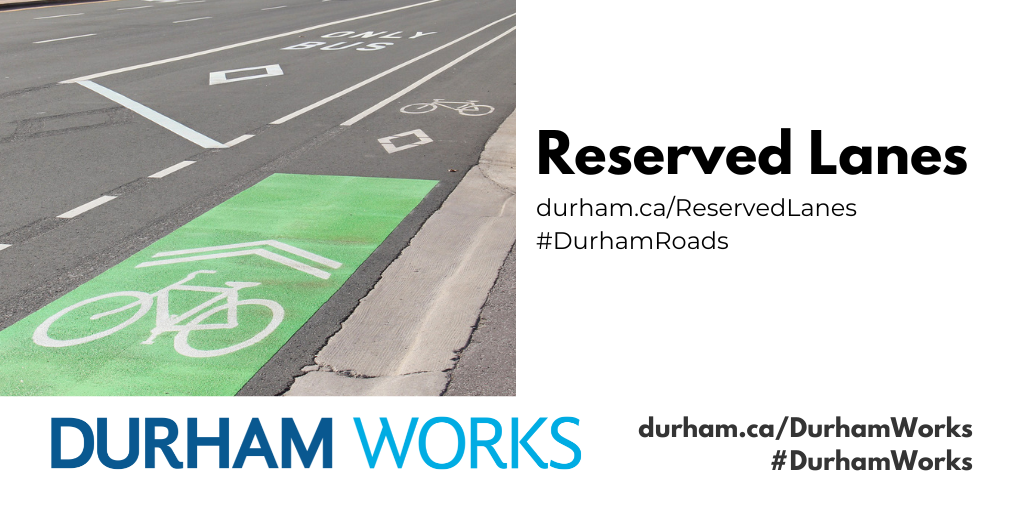 Reserved lanes for buses and cyclists are a traffic control device to help improve cyclist, driver and pedestrian safety. Reserved lanes are clearly marked with overhead diamond signs, ground-mounted diamond signs and pavement markings.
Bus-only lanes are reserved for public transit vehicles—Durham Region Transit buses and Go Transit buses—to help buses get through congested areas and stay on schedule. Motorists are prohibited from using bus-only lanes. Vehicles can enter bus-only lanes to access driveways or turn at intersections by safely merging where white markings are dashed. Motorists are required to exit the bus-only lanes as quickly as possible when it is safe to do so. Misuse of the lanes is subject to charges under the Highway Traffic Act.
A bicycle-only lane is reserved for cyclists only. Power assisted bicycles (including e-bikes and electric scooters) with a maximum speed of 32 kilometres per hour are allowed in the bicycle-only lane. Personal mobility devices, including wheelchairs, electric wheelchairs and medical scooters are not allowed in the cycling lane.
Cyclists are reminded to watch for buses pulling to the curb (in the bike lane) to pick up and drop off passengers. Buses must pull to the curb in order for the accessibility ramp to reach the sidewalk. Cyclists should also be mindful of buses when exiting cycling lanes to turn left.
For more information on reserved lanes, please visit durham.ca/ReservedLanes.
To learn more about how we are making Durham roads safer visit durham.ca/VisionZero.