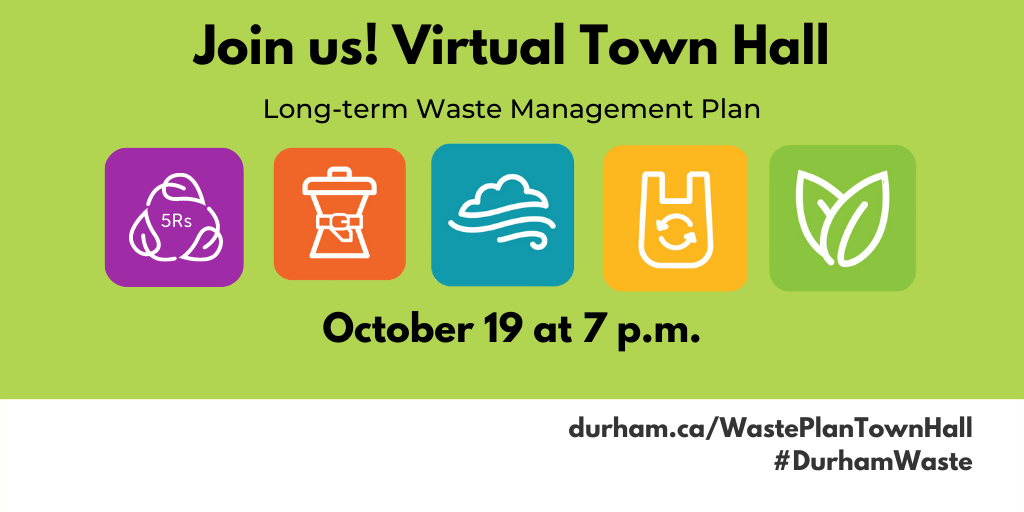 Posted on Thursday, October 14, 2021 11:16 AM
Join us October 19 for a virtual Town Hall on Durham Region's Waste Plan
Join Durham Region's Director of Waste Management Services and members of our Waste Management leadership team on October 19 for an hour-long virtual Town Hall session on the Long-term Waste Management Plan (Waste Plan).
Community members will have the opportunity to learn more about:
The Region's 2021-2040 Long-term Waste Management Plan.
The proposed targets and actions to achieve the plan's approved vision and objectives.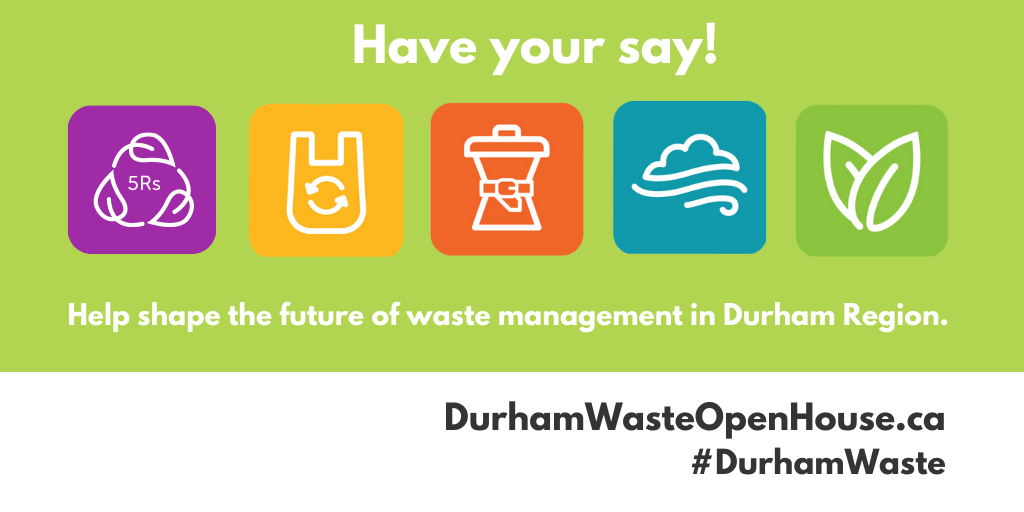 Posted on Tuesday, October 05, 2021 03:33 PM
Durham Region residents can share their thoughts on the draft 2021-2040 Long-term Waste Management Plan (Waste Plan) by completing a 10 to 15 minute survey by October 25. This is an opportunity for residents to provide feedback on the plan's proposed targets and actions by visiting the virtual public engagement website at DurhamWasteOpenHouse.ca.
Why do we need a Waste Plan?
The Waste Plan is a roadmap that describes the Region's vision and objectives for waste management over the next 20 years....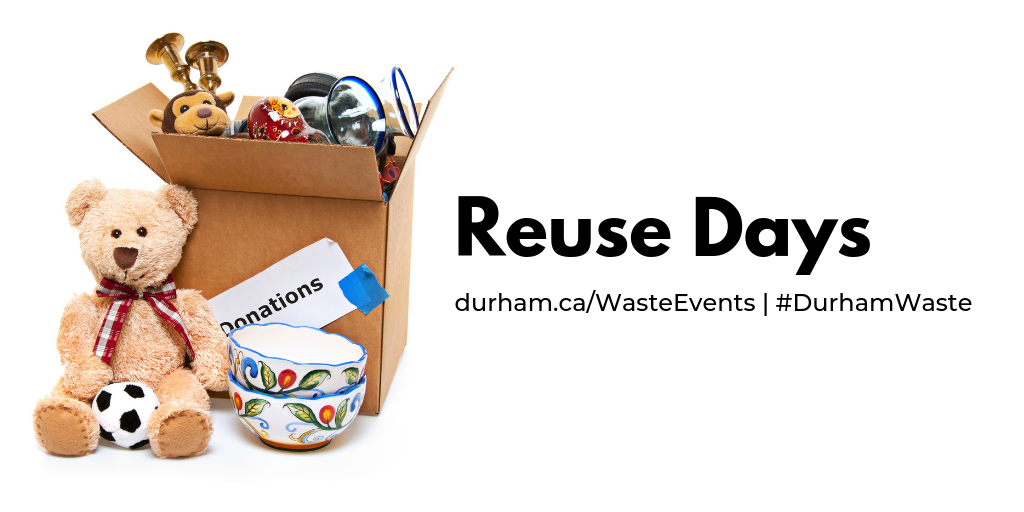 Posted on Wednesday, September 15, 2021 03:58 PM
Help keep quality, reusable items out of the waste stream by dropping off reusable items such as clothing, textiles, shoes, home décor, bedding, sporting goods and more, free of charge. Items will be donated to the Salvation Army Thrift Store.
Date: Saturday, September 18 from 9 a.m. to 1 p.m. (rain or shine).
Location: Durham Region Waste Management Centre, 4600 Garrard Road in Whitby.
Masks and physical distancing are required. Only items deemed to be suitable for reuse by local charities will...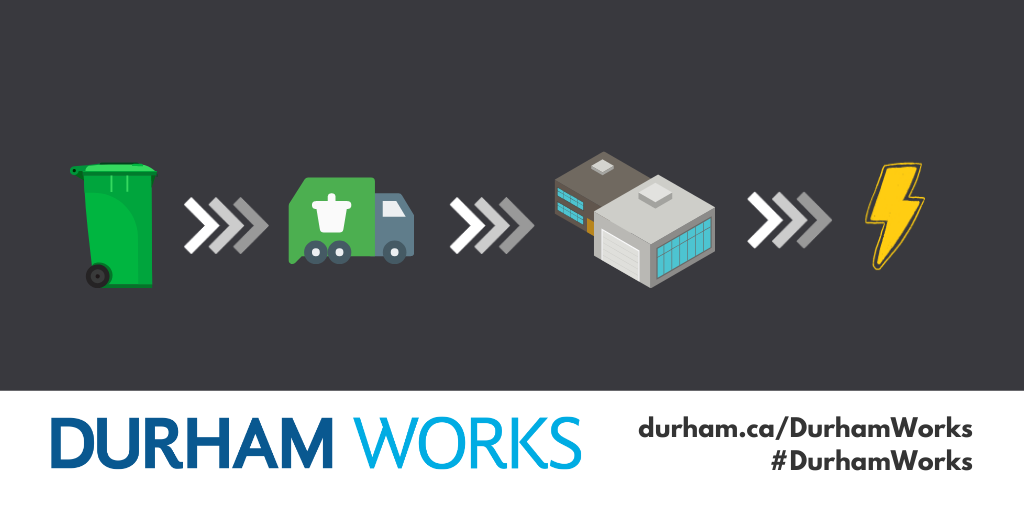 Posted on Friday, August 27, 2021 09:38 AM
Misconception: There has been no open disclosure, or a full environmental assessment done on the Mixed Waste Pre-sort and Anaerobic Digestion (AD) Facility.
Fact: The Environmental Assessment Act in Ontario does not require an environmental assessment for waste sorting or AD facilities. These types of operations are recognized as being low risk for environmental impacts and do not generate air emissions. The facility will obtain an Environmental Compliance Approval or permit issued by the Ministry...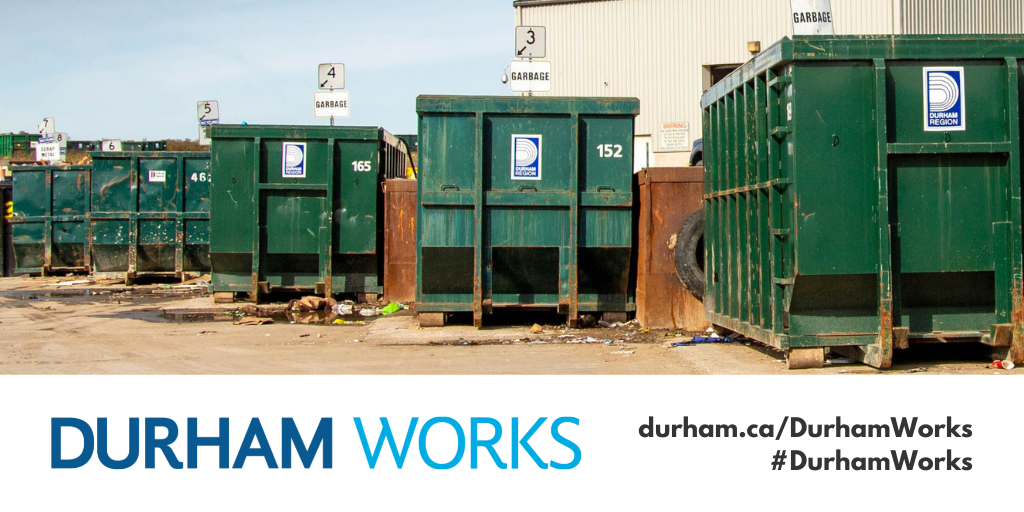 Posted on Friday, August 20, 2021 03:15 PM
The Scugog Waste Management Facility (WMF) at 1623 Reach Street in Port Perry will be closed to the public from August 24 to 28 to accommodate the installation of new scales. It will reopen on August 31. Users of the Scugog WMF are encouraged to visit the Oshawa WMF at 1640 Ritson Road North in Oshawa, during the closure.
For more information about the Regional WMFs, including hours of operation and a list of accepted materials, visit durham.ca/WMF.