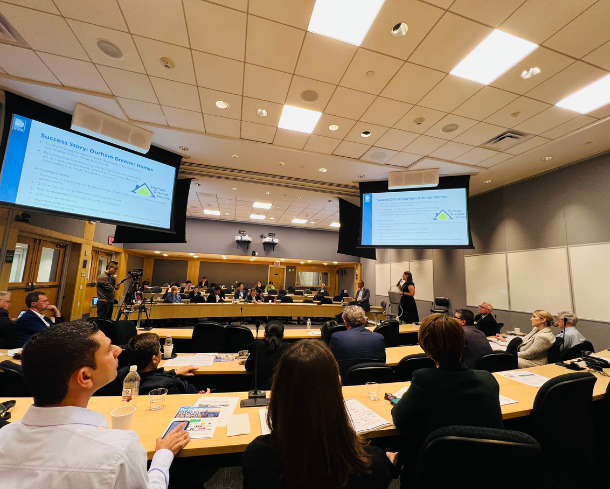 Posted on Friday, October 27, 2023 09:17 AM
Whitby, Ontario – Durham Region is participating in the Intelligent Community Forum Summit, where yesterday it received an award recognizing Durham as one of the top seven Intelligent Communities in the world in 2023.
Durham Region was named to the prestigious top seven list alongside cities from Australia, Brazil, the United States of America and Vietnam. Durham's Intelligent Community profile explains how the region is strengthening its large and diverse community through improved connectivity,...
Posted on Friday, December 01, 2023 02:12 PM
Whitby, Ontario – During the winter months, warmth and shelter are a matter of life or death for vulnerable populations. This is why the Region of Durham has a Winter Warming Plan in place, which offers spaces for unsheltered residents to stay warm.
Warmth and shelter are critical resources for health and safety, as people experiencing homelessness or those who are marginally housed are one of the most at-risk groups for cold-related illnesses. Cold-related illnesses include hypothermia, frostnip...
Posted on Friday, December 01, 2023 09:20 AM
Whitby, Ontario – In recognition of International Day of Persons with Disabilities on December 3, the Disability flag will be raised at Durham Region Headquarters.
Each year, the local Accessibility Advisory Committees (AACs) nominate individuals, businesses or services based on their efforts in identifying, removing and preventing barriers for individuals living with a disability.
On November 7, the 19th Annual Joint Accessibility Advisory Committee Forum was held and nine accessibility champions...
Posted on Wednesday, November 29, 2023 03:34 PM
Whitby, Ontario – The Regional Municipality of Durham and the Town of Whitby have reached an agreement related to 1635 Dundas Street. This decision will help to ensure collaboration that will allow the project to move forward.
The Region purchased 1635 Dundas to help address the urgent need for housing and services. This will become part of the system of services across Durham to support those experiencing or at risk of homelessness. It will help to provide immediate solutions to help individuals...
Posted on Thursday, November 23, 2023 11:30 AM
Whitby, Ontario – The Regional Municipalities of York and Durham are working together to carry out the York Region Sewage Works Project, a long-term wastewater infrastructure project spanning across Ajax and Pickering in Durham Region and several cities and towns in York Region. The public is invited to review and comment on the project report until December 4 by visiting durham.ca/YorkDurhamSewageProject.
As required by the Supporting Growth and Housing in York and Durham Regions Act, 2022, the...