Message from the Commissioner & Medical Officer of Health
I am pleased and proud to present our 2019 Durham Health Check-Up! which highlights our successes and summarizes our achievements to show the reach of our efforts.
The release of the 2019 Health Check-Up! was delayed due to Durham Region Health Department's (DRHD) limited capacity for engaging in regular programming and reporting activities amidst the COVID-19 pandemic. The entire Health Department has been actively engaged in COVID-19 response activities since March 2020, including case management and contact tracing; communications; inspections and investigations; issuing instructions and orders; surveillance; and, testing support. A snapshot of our team's COVID-19 response activities is provided in the #PublicHealthProtects Infographic which is updated regularly and available on durham.ca/novelcoronavirus. Plans to restore our regular services and reporting will be adjusted based on our capacity to respond to the COVID-19 pandemic.
At DRHD, our job is to protect and promote the health of Durham Region residents through the delivery of public health and paramedics programs and services. Our workforce includes dedicated staff with varied and diverse expertise, including paramedics, public health nurses, public health inspectors, dental assistants and hygienists, family visitors, infant and child development consultants, epidemiologists, and tobacco enforcement officers, just to name a few. Our programs are also supported by the important work of our administrative support staff, graphics designers, and community development, internet and resource coordinators, policy analysts and privacy officers. Together, our team works with community partners to promote and protect the health of Durham residents, prevent infectious diseases, and investigate occupational and environmental health hazards. We are here to answer questions about public health issues, including questions related to disease prevention, health protection or general health concerns.
Robert Kyle, BSc, MD, MHSc, CCFP, FRCPC, FACPM
---
Key Health Department Achievements
Paramedics provided 443,840 hours of emergency response
6,214 reports of infectious diseases investigated
Provided 7,495 home visits to at-risk families
Collaborated with 72 schools to promote active and sustainable school travel
Oral health screening provided to 25,773 students
Durham Health Connection Line Calls
Immunization (7,250)
Healthy Families (5,046)
Food Safety (1,754)
Infectious Diseases Prevention & Control - Health Protection (1,670)
Infectious Diseases Prevention & Control - Population Health (1,461)
Healthy Living (1,066)
Healthy Environments (738)
General (657)
Drinking Water (534)
Smoke-Free Ontario Act /Cannabis (338)
General Health Protection (204)
Sewage Systems (192)
Recreational Water (72)
Child Care (7)
Administration
Administrative Services

Goal: To provide effective and efficient support to all Durham Region Health Department divisions, programs and services that help to enhance the delivery of the Ontario Public Health Standards and to meet all requirements of internal and extensionernal customers.

Accomplishments:
Implemented a framework for guiding principles on civility and respect in the workplace for all Administration staff.
Conducted an environmental scan to identify training needs to build capacity among Administration support staff.
Community & Resource Development

Goal: To provide support to all Durham Region Health Department divisions, programs and services, helping to enhance compliance with Ontario Public Health Standards.
Accomplishments:
Redeveloped the corporate and Durham Region Health Department (DRHD) intranet sites with Regional partners.
Developed a video series on Opioid and Substance Use in collaboration with Healthy Living colleagues to reduce stigma for people who use substances and increase awareness of local opioid response efforts, receiving 129,452 views in 45 days.
Implemented the Cold Warning and Information System in collaboration with Healthy Environments colleagues to inform the public of extreme cold weather conditions.
Oversaw 100 per cent of DRHD media relations, social media accounts and advertising to promote Regional programs/services and increase awareness on issues of public health importance.
Privacy & Information Security

Goal: To provide effective and efficient privacy and information security support to all Durham Region Health Department divisions, programs and services that help to enhance compliance with applicable privacy and public health related legislation, information security standards and information management best practices.
Accomplishments:
Implemented new reporting requirements as directed by the Information and Privacy Commissioner of Ontario to further protect clients' personal health information.
Completed an environmental scan to investigate the feasibility of a health care provider portal on durham.ca.
100 per cent of Durham Region Health Department staff completed privacy training, including an online session for existing staff and classroom training for new staff to ensure compliance with best practices.
Investigated and closed 7 privacy incidents.
Health Analytics, Research & Policy
Goals:

Population Health Assessment: Public health practice responds effectively to current and evolving conditions and contributes to the public's health and well-being with programs and services that are informed by the population's health status, including social determinants of health and health inequities.
Health Equity: Public health practice results in decreased health inequities such that everyone has equal opportunities for optimal health and can attain their full health potential without disadvantage due to social position or other socially determined circumstances.
Effective Public Health Practice: Public health practice is transparent, responsive to current and emerging evidence, and emphasizes continuous quality improvement.
Accomplishments:
---
New surveillance systems present timely health data for public health action
Public health surveillance involves the ongoing collection, analysis and interpretation of health data that is used and shared to improve the health of communities. Health information can: serve as an early warning system for public health emergencies; track progress towards specific goals; monitor health problems; and identify priorities for decision-making and public health action.
The Health Analytics & Research Team created two different surveillance systems in 2019.
1) The Durham Region Opioid Information System (DROIS)
DROIS provides the latest opioid-related statistics by tracking and updating information on a weekly, monthly and annual basis, including:
suspected opioid overdose calls to Region of Durham Paramedic Services;
opioid overdose emergency department visits; and
opioid-related deaths.
Durham Region Health Department (DRHD) and the Durham Region Opioid Task Force use DROIS to address the increasing number of opioid overdoses.
DROIS is available online by visiting durham.ca/opioidstats. To subscribe for email notifications when new information is posted, click the "Receive email updates" button at the bottom of the DROIS page.
2. The Rapid Risk Factor Surveillance System (RRFSS) Data Explorer
RRFSS is an ongoing phone survey of Durham Region adults that collects information on health behaviours, conditions and determinants of health. The Data Explorer tool takes a modern approach to public health surveillance by using a web-based application to view RRFSS results. The tool tracks information related to:
alcohol, cannabis, tobacco and opioid use;
general health;
disease prevention; and
health protection.
The RRFSS tool is also capable of exploring health data by five categories, including age, gender, income, municipality and time trends. RRFSS data is updated annually, and new indicators are added as they become available. The Data Explorer is available at rrfss.durham.ca or via DRHD health statistics page: durham.ca/healthstats.
Health Protection
Emergency Management

Goal: To enable consistent and effective management of emergency situations.
Accomplishments:
Developed and maintained a network of community partners to improve effectiveness of a coordinated inter-agency response to public health emergencies.
Reviewed and updated the Health Department Emergency Master Plan to ensure business continuity in the event of an emergency.
Distributed 250,000 potassium iodide (KI) tablets to first responders and institutions within the 10-kilometre detailed planning zone of two nuclear generating stations and collected expiring KI tablets.
Increased public awareness regarding the availability and process for obtaining KI tablets by launching 3 communication campaigns in collaboration with departmental colleagues, including 1 online informational video.
Food Safety

Goal: To prevent or reduce the burden of food-borne illness and support the implementation and enforcement of the Healthy Menu Choices Act, 2015.
Accomplishments:
Completed 7,413 food safety compliance inspections, re-inspections and complaint investigations of food premises in accordance with the Ontario Public Health Standards and the Healthy Menu Choices Act, 2015.
Certified 3,325 new food handlers and held 70 food handler courses, in addition to 27 proctoring sessions to reduce incidents of food-borne illness.
Increased public awareness of food safety topics by creating: a Healthy Menu Choices vlog to help people make informed choices when dining out, receiving 4,300 views between October and December; 7 vlogs on food waste diversion and safety; and 9 food safety displays with Regional partners.
Healthy Environments

Goal: To prevent or reduce the burden of illness from health hazards in the physical environment.
Accomplishments:
Reviewed and commented on 6 secondary plans, attended consultation meetings and participated in sustainability stakeholder sessions for the Town of Ajax and City of Pickering to address local impacts of climate change and reduce exposure to environmental health hazards.
Piloted and evaluated a Cold Warning and Information System (CWIS) with community partners and started posting cold alerts on durham.ca.

Ontario Building Code - Part 8 (Sewage Systems)

Goal: To prevent diseases in humans and contamination of the physical environment due to on-site private sewage systems.
Accomplishments:
Completed 659 private sewage system inspections to reduce incidents of human disease and environmental contamination in accordance with the Ontario Building Code-Part 8.
Responded to 52 complaints, issued 185 building permits and 11 Orders, and approved 61 additions, in accordance with the Ontario Building Code-Part 8.

Safe Water

Goal: To prevent or reduce the burden of water-borne illness related to drinking water and to prevent or reduce the burden of water-borne illness and injury related to recreational water use.
Accomplishments:
Responded to 111 reports of adverse water quality incidents and issued 18 Boil-Water Advisories/Orders and Drinking Water Advisories to mitigate risks of water-borne illnesses.
Conducted 655 inspections of all year-round and seasonal recreational water facilities (e.g., pools, spas, and wading pools) in accordance with the Ontario Public Health Standards to reduce the risk of water-related illness and injury.
Completed 73 Small Drinking Water Systems (SDWS) inspections; issued 45 warning notices; issued 1 summonses; registered 1 conviction (resulting in compliance); and issued 9 offence notices to protect the public from exposure to unsafe drinking water.

---
Check&Go! disclosure program – easy access to health inspection results
Durham Region Health Department continues to make it easier for area residents to access health inspection results through the Check&GO! disclosure program. Check&GO! consists of on-site signage at establishments and online postings of health inspection results, confirmed infection prevention and control lapses, complaints and legal activities.
Check&Go! displays inspection results and legal activities for:
Food establishments.
Personal service settings.
Child care settings.
Recreational water facilities (public swimming pools, spas and splash pads).
Small drinking water systems.
Recreational camp facilities.
Convictions for retailers under the Health Protection and Promotion Act and Smoke-Free Ontario Act, 2017.
Through cloud technology, Check&Go! posts inspection results in real-time, minutes after an inspection is completed. In 2019, Check&Go! received over 125,000-page views from over 6,600 users. To access Check&Go!, visit durham.ca/checkandgo.
The Check&GO! disclosure program meets and exceeds the Ontario Public Health Standards' requirement for transparency.
Healthy Families
Durham Health Connection Line

Goal: To ensure Durham Region residents have access to health information and counselling and referral to appropriate resources on health issues as outlined in the Ontario Public Health Standards.
Accomplishments:
Responded to inquiries from the community involving 12,206 telephone contacts (with an average live call response rate of 66 per cent), 534 email inquiries and 2,918 resource mailouts.
Screened 110 clients using the Healthy Babies Healthy Children (HBHC) screening tool.
---
Health Connection Line - Your access to Durham's public health services
Durham Health Connection Line (DHCL) is a confidential help line available to people living, working and visiting Durham Region.
In 2019, Durham Region Health Department worked towards harmonizing call centers for three divisions: Population Health, Health Protection and Oral Health. Prior to harmonizing the call centers, each division promoted its own call centre and contact number. With the new harmonized line, all public health inquiries are directed to one phone number and brand. That means, clients only need to know one number to reach a public health nurse, public health inspector or an oral health team member. The DHCL team is available to assist clients with a variety of inquiries, including how to interpret well water test results, what immunizations a child needs or answer questions about the new Ontario Seniors Dental Care Program.
The new DHCL phone numbers are:
Local: (905) 668-2020
Toll Free: (800) 841-2729
The harmonized call centre was officially launched in January 2020. Existing Population Health, Health Protection and Oral Health phone numbers continue to operate during a transitional period to ensure that clients can access public health services without disruption.
Child and Youth, Prenatal and Newborn, and Healthy Babies Healthy Children
Goal: To achieve optimal preconception, pregnancy, newborn, child, youth, parental and family health.

Accomplishments:
Facilitated 162 breastfeeding groups, visited 395 homes and provided 1,606 breastfeeding clinic consultations, resulting in over 90 per cent of participants reporting that they met their infant feeding goals, increased their knowledge with breastfeeding, and received timely access to services.
Increased by 6 per cent public awareness of the adverse health effects of cannabis use during pregnancy and breastfeeding with the launch of 2 digital media communication campaigns.
Facilitated 10 health education sessions at the YMCA: Eat, Play, Love Program. 93 per cent of participants reported implementing strategies to support healthy child growth and development at home.
Collaborated with 7 urban Indigenous organizations, resulting in completing 7 community profiles to identify specialized public health priorities, and supported 4 Indigenous community events.
Screened 4,957 prenatal and postpartum families using the Healthy Babies Healthy Children (HBHC) tool to identify any risks to child development.
Delivered 7 training presentations to health care provider teams to increase referrals to the HBHC program.
Completed 7,495 home visits to support at-risk families, which resulted in 85 per cent of family service plan goals achieved or partially achieved.
Collaborated with 15 community partners to develop a regional approach to address early childhood vulnerabilities in Durham Region and hosted education sessions for social services and childcare providers on healthy growth and development and school readiness.
Infant & Child Development

Goal: To enhance the growth and development of children, including those with a developmental disability and/or risk of developmental delay by partnering with families to provide support, information and early intervention services.
Accomplishments:
Provided home visits to 857 children from birth to four-years old with a developmental disability or those at risk for developmental delay.
Developed 136 transition plans for children with special needs that were transitioning out of service and into childcare or kindergarten.
Healthy Living
Chronic Disease Prevention

Goal: To reduce the burden of chronic diseases of public health importance* and improve well-being.
*Chronic diseases of public health importance include, but are not limited to, obesity, cardiovascular diseases, respiratory disease, cancer, diabetes, intermediate health states (such as metabolic syndrome and prediabetes), hypertension, dementia, mental illness and addictions.
Accomplishments:
Collaborated with 72 schools to promote active and sustainable school travel initiatives.
Collaborated with 3 post-secondary schools to support a smoke-free policy on campus and reduce involuntary exposure to second-hand smoke.
Supported schools and school communities to address tobacco and vaping by: (1) developing various educational resources for parents and educators; (2) completing 4 school board presentations to secondary school educators; and (3) providing a presentation and panel discussion on cannabis, e-cigarettes and tobacco.
Supported 195 callers to access local community cessation services and provided 22 clients with free Nicotine Replacement Therapy to increase quit attempts.
Developed 18 Healthy Family vlogs, getting 149,500 views to increase awareness of healthy family topics and promote Durham Region Health Department (DRHD) programs and services.
Collaborated with 6 stakeholders to provide recommendations to increase the health promoting potential of built environments.
Participated in food security advocacy efforts, including participation in 2 networking groups and the preparation of 1 report and promotional campaign.
---
Vaping: an emerging and serious health trend
Vaping means inhaling and exhaling a vapour substance from an electronic device (e.g., e-cigarette or vape pen). A vape device can be open (i.e., refillable, typically with a liquid e-juice or cannabis product) or closed (i.e., not refillable).
Since vaping is a relatively new trend, the health effects are uncertain. However, evidence shows that long-term exposure to vapour products may be harmful to health in the following ways:
Many vape products contain nicotine, which is addictive and can alter brain development and affect memory and concentration.
Vaping e-juice (both with and without nicotine) increases exposure to harmful chemicals which has been linked to severe respiratory disease including coughing, wheezing and worsening of asthma, heart disease and eye irritation.
E-cigarette use among youth and young adults increases the risk of ever smoking cigarettes.
Local health data show that vaping among youth in Durham Region is an emerging trend. In a 2016 to 2017 survey, five per cent of elementary students and 17 per cent of secondary students reported smoking e-cigarettes within the past year (OSDUHS, 2016-2017). Further, 13 per cent of elementary students and nine per cent of secondary students felt there is no risk of harming themselves physically (OSHUHS, 2016-2017).
In 2019, DRHD accomplished the following in response to the emerging vape trend and associated health concerns:
Staff collaborated with 87 school communities to raise awareness of the risks of vaping and promote prevention.
Staff strengthened smoking and vaping restrictions in local workplaces and public spaces by passing the Regional Smoke and Vape by-law (28-2019).
Prevention of Injury and Substance Misuse

Goal: To reduce the burden of preventable injuries and substance use.
Accomplishments:
Consulted with municipalities to increase understanding of the impacts of cannabis and the importance of a public health approach to local cannabis policy development including: partnering with 1 municipality on a cannabis public information and consultation event; consulting with 6 municipalities on retail cannabis siting, discussing public health considerations for opting in/out of retail stores; and collaborating to address Regional activities with respect to cannabis legalization.
Supported 108 schools to promote mental health using the Healthy Schools Approach and collaborated with 4 school board mental health leads in the development and implementation of mental health promotional strategies.
Worked with 14 community agencies/stakeholders to re-orient harm reduction services to improve client access and address identified service gaps by leveraging and coordinating current services.
Distributed 1,807 naloxone kits and completed 305 refills to eligible organizations to reduce accidental opioid-related deaths.
Launched a social media campaign to raise awareness on concussions and Rowan's Law (Concussion Safety), 2018 resulting in 24,820 people reached via Facebook, 1,574 Twitter impressions and 919 Instagram engagements.
School Health

Goal: To achieve optimal health of children and youth in schools through partnership and collaboration with school boards and schools.
Accomplishments:
Delivered public health interventions to 221 or 98 per cent of Durham Region schools using a comprehensive health promotion approach and 134 schools were recognized with a Healthy School Award.
Promoted mental health at schools with 802 interactions from public health nurses.
Collaborated with 41 schools to address healthy active living behaviours.
---
New Vision Screening Program - Visual health care for all SK students
Timely vision care for children is important to support proper visual development and/or prevent misdiagnosis of a learning and/or behavioural problem. In Canada, it is estimated that only 14 per cent of children under the age of six receive professional eye care.
In Ontario, statistics show that:
Approximately one in four children experience learning difficulties related to vision.
Three to five per cent of children lose the use of one eye from an untreated vision problem.
In 2018, the Ministry of Health and Long-Term Care mandated boards of health to ensure all senior kindergarten (SK) students receive vision screening in the school setting annually. Requirements for the new program are outlined in the Child Visual Health and Vision Screening Protocol, 2018.
In 2019, DRHD rolled out the new vision screening program to SK students with public health nurses (PHN). PHNs identify vision problems which may otherwise go unnoticed. Between January and June 2019, PHNs screened SK students at publicly funded schools and interested private schools.
Program activities included:
Offering SK vision screening services at all 186 public elementary schools in Durham.
Screening 6,820 SK students (i.e., 94 per cent of the entire SK population enrolled at Durham public schools)
Please note: 416 or six per cent of students were not screened for one of the following reasons: absence (327) voluntary exclusion by parent/guardian (58); or inability to complete all three screening tools (32).
Referring 2,296 students to an optometrist (i.e., 34 per cent of students screened).
Referring 20 students to urgently seek visual health care by an optometrist (less than 1 per cent of students screened).
Regardless of test results, it is recommended that all children see their local optometrist for a comprehensive eye exam, which is free annually for all OHIP-covered children up to 19-years old.
PHNs continue to work with school communities to promote the health and well-being of children in Durham Region with the new SK vision screening program.
Oral Health

Goal: To enable all children in Durham Region to attain and sustain optimal oral health and development potential, and to support adults who require assistance in accessing oral health information and services.
Accomplishments:
Screened 25,773 students in all Durham Region schools and identified 1,410 students with urgent needs and 862 students with non-urgent needs.
Provided clinical preventive oral health services to children in need at 3,708 appointments which included screening, preventive services, and emergency and essential services.
Provided clinical oral health services to 358 Ontario Works clients in portable clinics and processed 5,454 Ontario Works Dental Benefits claims.
Delivered oral health promotion services reaching 3,534 students in 48 schools, and 12,394 participants at 158 community events.
---
New program offers free dental care to low-income seniors
On April 11, 2019, the province announced the creation of the 100 per cent provincially-funded Ontario Seniors Dental Care Program (OSDCP). Through the OSDCP, low-income seniors can access free comprehensive dental care. Locally, the new program was rolled out at Durham Region Health Department's (DRHD) Oral Health Clinic.
Services provided through the program include:
Examinations/assessments.
Preventive services.
Restorative services to repair broken teeth and cavities.
X-rays.
Oral surgery services to remove teeth or abnormal tissue.
Anaesthesia.
Endodontic services to treat infection and pain.
Periodontal services to treat gum conditions and diseases.
Prosthodontic services, including dentures.
To enroll in the program, individuals can get an application form online or by contacting DRHD to receive a form through the mail. Applications must be approved by the Ministry of Health prior to booking an appointment.
Program eligibility is determined based on the below criteria:
Age (i.e., 65 years or older).
Annual income (i.e., $19,300 or less for singles and $32,000 or less for couples).
Lack of access to another dental benefit (i.e., no private insurance plan or government program).
In late December 2019, the DRHD Oral Health Clinic opened its doors to its first OSDCP clients, and in that month, staff saw 9 clients and called 175 seniors on the waitlist to help them get application forms. With 4,000 clients expected to participate in the new seniors' program, DRHD received approval from Regional Council to relocate and expand the Oral Health Clinic. It is anticipated that the new clinic will open its doors in late summer or early fall of 2021.
Smoke-Free Ontario Act, 2017

Goal: To ensure that tobacco, e-cigarette vendors and other organizations that are subject to the Smoke-Free Ontario Act, 2017 comply with the Act and to restrict youth access to tobacco products and e-cigarettes.
Accomplishments:
Conducted 3,091 inspections and re-inspections of all known tobacco retailers in compliance with the Smoke-Free Ontario Act, 2017, including youth access inspections (laying 42 charges) and display and promotion inspections (laying 25 charges).
---
Smoke and Vape By-Law - Protecting residents from second-hand smoke exposure
Durham Region Health Department (DRHD) is making it easier for residents to avoid involuntary exposure to second-hand smoke in public spaces and workplaces. The Regional Smoke and Vape by-law (28-2019) was adopted on April 24, 2019, which expanded the number of places where smoking or vaping substances, including cannabis, is prohibited.
The new by-law prohibits smoking and vaping in the following locations:
Within nine metres of all entrances/exits at workplaces and public places.
Inside hookah/vape lounges, and specialty vape stores.
On the property or grounds of a post-secondary institution or municipal building.
In or within 20 metres of a public park.
These additional restrictions protect the health of Durham Region residents by reducing exposure to harmful second-hand smoke and vapour which are linked to chronic diseases and other adverse health conditions. Smoking and vaping cannabis was included in the by-law as cannabis smoke contains many of the same cancer-causing chemicals as tobacco.
DRHD posted signs in prohibited locations to inform the public of the new restrictions and will continue to work with municipalities and other community partners to provide education and awareness.
Infectious Diseases
Immunization

Goal: To reduce or eliminate the burden of vaccine preventable diseases through immunization.
Accomplishments:
Maintained immunization records for 100 per cent of school-aged children enrolled in Durham Region schools and enforced compliance with the Immunization of School Pupils Act (ISPA).
Held immunization clinics at 185 schools for all grade seven students, with 77 per cent of students completing the hepatitis B immunization series; 70 per cent completing the HPV immunization series and 92 per cent receiving the meningococcal vaccine.
Increased immunization coverage (by 4 to 17.5 per cent) in eight priority neighbourhoods with lower-than-average immunization rates for hepatitis B, HPV, meningococcal, and ISPA vaccines.
Infectious Diseases Prevention & Control - Health Protection

Goal: To reduce the burden of communicable diseases and other infectious diseases of public health importance.
Accomplishments:
Created and distributed weekly outbreak summaries for long-term care homes, retirement homes and acute care facilities, and created 10 FAX Abouts for community partners to communicate new and relevant information about diseases of public health significance and emerging trends.
Conducted 1,022 infectious disease investigations (Influenza, Campylobacter, Salmonellosis, Lyme disease, Giardiasis, Legionellosis, Cryptosporidiosis).
Investigated 104 gastrointestinal and respiratory outbreaks in institutions and public hospitals.
Conducted 840 infection prevention and control inspections at licensed childcare centres, 22 funeral homes and 11 homes for special care.
Ensured 24/7 availability to receive and respond to potential disease exposures of public health significance in accordance with the Health Protection and Promotion Act and Ontario Public Health Standards.
Investigated 1,650 animal bite cases with potential rabies exposures and 99 per cent of investigations were initiated within 24-hours of notification.
Held 7 low-cost rabies vaccination clinics, vaccinating 525 animals to ensure all Durham residents can afford to protect their pets and comply with the Health Protection and Promotion Act.
Produced 1 West Nile Virus (WNV) infographic and 1 FAX About to increase public awareness of WNV health risks.
Infectious Diseases Prevention & Control - Population Health

Goal: To reduce the burden of communicable diseases and other infectious diseases of public health importance.
Accomplishments:
Managed 495 sporadic infectious disease suspect and confirmed cases and contacts in accordance with the Ontario Public Health Standards.
Managed 37 Tuberculosis investigations in accordance with relevant protocols and guidelines.
Managed 604 sexual health clinic cases and their 289 contacts to prevent or limit the number of secondary cases.
Treated 1,138 sexually transmitted and blood-borne infections (STBBI).
Provided 1,073 clients with pregnancy prevention options in accordance with the Sexual Heath and STBBI Prevention and Control Protocol.
Paramedic Services

Goal: To deliver a quality Paramedic Services system that is responsive to client needs and to reduce mortality and morbidity related to illness and injury through the provision of pre-hospital advanced life support procedures. Primary program delivery is through the Region of Durham Paramedic Services with assistance from the Central Ambulance Communications Centre and local fire department tiered response programs.
Accomplishments:
Responded to 86,408 calls for emergency and non-emergency services.
Monitored response time performance and adjusted deployment plans and resource utilization as necessary, achieving all response time performance targets except for one incident.
Continued work to establish a new Seaton Paramedic Response Station.
Established the Primary Care Outreach Program (PCOP) as permanent; had 670 client interactions and supported 198 clients with referrals to housing, counselling and other services. The PCOP team provides specialized primary care to vulnerable populations in Oshawa (e.g., those experiencing homelessness, addiction, or mental illness).
Quality Assurance & Improvement
Goal: To ensure that programs and services meet requirements as articulated in policies, standards and legislation and to continuously improve the efficiency and effectiveness of services provided to Durham Region clients.
Accomplishments:
Supported Durham Region Health Department teams in their work to harmonize and re-brand two telephone information lines: Durham Health Connection Line and Environmental Help Line.
Implemented an e-client record system (ENCOUNTER) for the Infant & Child Development Program to improve reporting, provide user access to client information, and improve circle of care communication. The Infectious Diseases Prevention & Control program also explored the feasibility of using ENCOUNTER for communicable disease investigations.
Verified publicly disclosed inspection summary signs on the Hedgehog 5 disclosure portal with 988 disclosure checks.
2019 Financial Information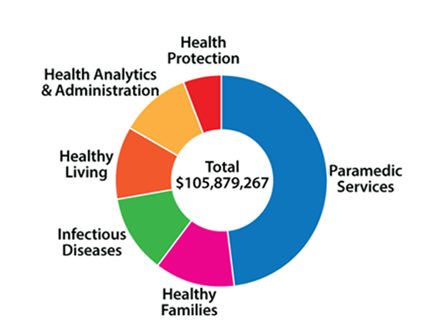 2019 Expenditures
Health Analytics & Administration ($11,865,413)
Health Protection ($6,191,797)
Healthy Families ($11,338,349)
Healthy Living ($12,494,838)
Infectious Diseases ($13,154,967)
Paramedic Services ($50,834,903)
Total $105,879,267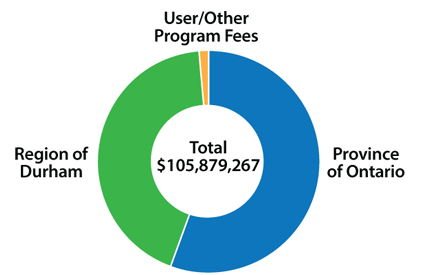 2019 Revenues
Province of Ontario ($58,990,809)
Region of Durham ($45,592,013)
User/Other Program Fees ($1,296,445)
Total $105,879,267