Durham Region's innovation community set to energize Collision Conference with Project Arrow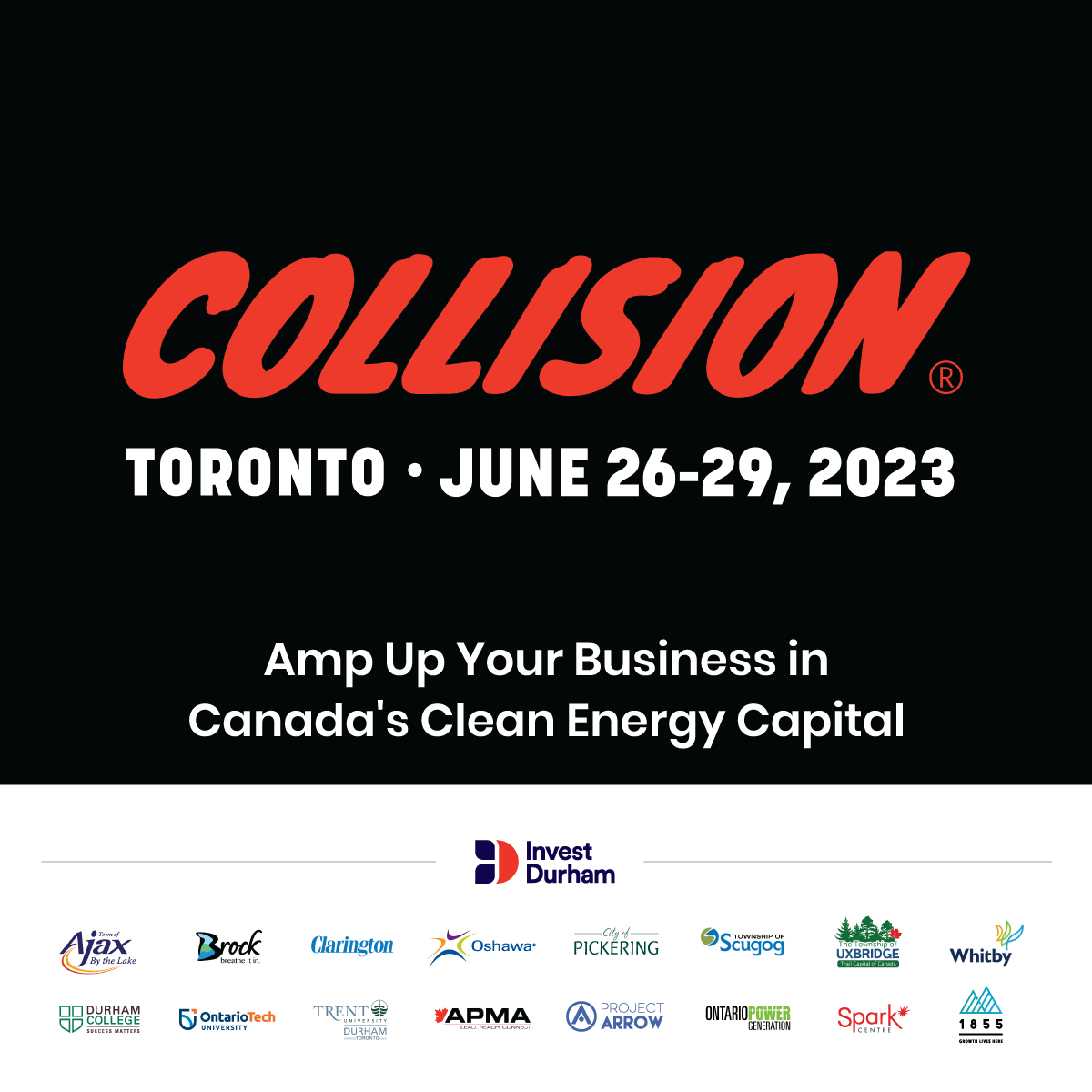 Whitby, Ontario – The Region of Durham's Economic Development and Tourism division (Invest Durham), along with partners, will be returning to one of the largest and fastest growing technology conferences in North America—Collision Conference—from June 26 to 29 at the Enercare Centre in Toronto. Project Arrow, the first all-Canadian, zero emission connected vehicle will be the centrepiece of Durham's pavilion.
Invest Durham in partnership with Durham Region's eight area municipalities, Durham College, Ontario Tech University, Trent University Durham GTA, Spark Centre, 1855 Technology Accelerator, Ontario Power Generation (OPG), and the Automotive Parts Manufacturers Association's (APMA) Project Arrow, will be activating space in booth E157. Together, they will present the Durham Region innovation community at the 2023 Collision Conference.
As the Clean Energy Capital of Canada, Durham is a great place to invent, engineer and test clean, connected and electric technologies.
The booth will host:
Project Arrow: The first all-Canadian, zero emission, connected vehicle, engineered and manufactured at Ontario Tech University's ACE Climatic Aerodynamic Wind Tunnel.
OPG: Participate in a fun and competitive race track experience while learning about the innovations and technologies helping to electrify life in one generation.
A playful activation from Durham College's Mixed Reality Capture Studio.
At the event further opportunities to build a tech business in Durham will be represented by:
Durham Regional Technology Development Site: A part of the Ontario Vehicle Innovation Network (OVIN).
Access IO: The Future of Energy at Ontario Power Generation.
Amp up your business in Canada's Clean Energy Capital. Invest Durham can assist your business in exploring opportunities to develop and test electric, green technologies in Durham Region; create connections within our incubators, hubs and programs; help to find your ideal property or office space; and assist in bringing your business to Canada.
For more information or to book an appointment with the Invest Durham team at Collision Conference, please visit Invest.Durham.ca/collision.
Quotes
"Durham Region is a leader in clean, connected and electric technologies, and continues to drive innovation, growth and productivity in the technology sector. Our established energy cluster, diverse business ecosystem and robust talent pipeline make our region an ideal place to start, relocate, or build a technology business."
– John Henry, Regional Chair and Chief Executive Officer
"Durham Region's innovation community is at the centre of clean energy and automotive innovation—making this year's conference a great opportunity to showcase our growing technology ecosystem. Come to the Collision Conference and connect with the Invest Durham team. We're confident we will be able to support your business growth, and know that Durham Region is the best place in the Greater Toronto and Hamilton Area (GTHA) to make that happen."
– Simon Gill, Director of Economic Development and Tourism
"The APMA is excited to showcase Project Arrow at the Invest Durham booth this year. We are proud to have chosen Ontario Tech University as our official build partner of the Arrow and to have Durham Region well represented on this vehicle."
– Flavio Volpe, President, Automotive Parts Manufacturers' Association
"Ontario Tech University proudly plays a key role in Durham Region's innovation ecosystem. With world-class faculty, academic programs, and research facilities, we are focused on developing Canada's future talent, undertaking emerging technology research and supporting lab-to-market commercialization with a keen eye toward Canada's net-zero future. These are exemplified in the role Ontario Tech played in the all-Canadian Project Arrow, which was engineered and built at Ontario Tech's ACE Core Research and Testing Facility."
– Dr. Les Jacobs, Vice-President, Research and Innovation, Ontario Tech University
"As Ontario's largest clean energy generator, OPG is on a mission to electrify life in one generation. From small modular reactors and energy storage, to green hydrogen and new hydroelectric development, we're excited to showcase the technology and innovation happening in Durham Region and across the province that will be key to powering Ontario's electric future."
– Steve Gregoris, Chief Nuclear Officer, Ontario Power Generation
Quick Facts
Durham Region is the largest municipal region within Ontario and makes up the eastern side of the GTA (Greater Toronto Area). Durham's location within the GTA provides residents with a desirable lifestyle through urban excitement and country charm; while also offering unencumbered access to the heart of Canada's technology ecosystem—something that growing companies need.
Durham Region is growing, with an expected population of 1,300,000 by 2051.
Approximately 290,000 people are employed in tech related jobs in the GTA—the number one region for high-tech job growth across North America.
Durham Region's post-secondary institutions—Durham College, Ontario Tech University and Trent University Durham GTA—are developing the highly skilled and specialized labour workforce that is powering a thriving technology industry.
Durham Region is the clean energy capital of Canada and has a strong history of technological innovation. Innovation and support resources include incubators, hubs, and accelerators for tech entrepreneurs and high-potential tech and innovation companies.
Industrial development charges in Durham Region are below average in comparison to other regions in the GTHA.
Durham Region is home to a supportive business ecosystem and emerging technology cluster, which includes several of Canada's fastest growing technology companies.
About Durham Region
Located on the eastern side of the GTHA, Durham is a region with momentum. Offering a competitive advantage like no other, Durham is a community where talented, smart, diverse and ambitious people—known for their innovation, creativity, skills and education—bring access to world markets, insights, invention and traditions. A place where an innovative ecosystem helps propel new ideas forward. Where ingenuity and industry help tackle global challenges. Visit durham.ca to learn more about one of Canada's fastest growing communities.
– 30 –
For media requests, please contact CorporateCommunications@durham.ca.