Cycling and walking are healthy travel options in Durham Region! Walk or ride your bike to work or to run errands for fun and exercise.
Active Switch
Active Switch is a health and wellness program for personal, workplace, and school use.
The Active Switch program is a partnership between The Regional Municipality of Durham and SustainMobility. SustainMobility is a not-for-profit social enterprise.
Regional Cycling Plan
The Regional Cycling Plan promotes the development of a Region-wide Primary Cycling Network (PCN) to link major centres and destinations. It supports longer trips between communities along Regional and local roads. When combined with the planned Regional Trail Network and local cycling routes, the result will be a cycling network that connects people to destinations - with safe and comfortable routes that support both utilitarian and recreational cycling.
Learn more about the network, how we build it, and the facility types in these maps:
Are you interested in helping to build a more Bicycle-friendly Durham Region? We're looking for your input as we develop our Regional Cycling Plan Update. Learn more here
Cycle Durham
We developed a three-year cycling communications strategy called Cycle Durham.
Cycle Durham supports current cyclists, encourages more people to try cycling, and educates all road users on how to safely share the road.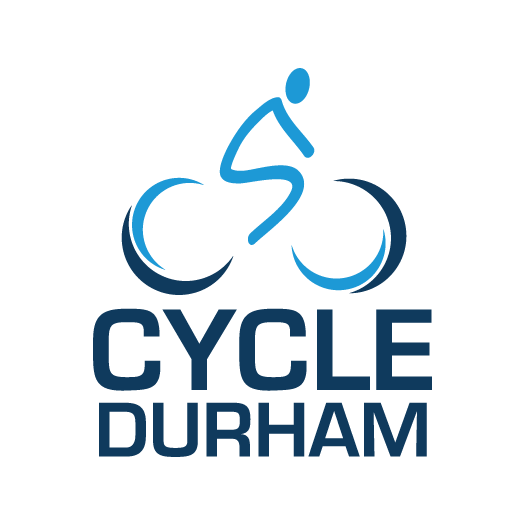 Working with area municipalities and community partners, the goals of Cycle Durham are to:
Grow resident awareness and knowledge of safe cycling and driving behaviours.
Promote the health, environmental, social and transportation benefits of cycling to communities, families and individuals.
Promote the Region's commitment to the development of cycling infrastructure and community partnerships that contribute to the development of a safe and engaged cycling community.
Cycling Events
Durham Region is a great place for cycling. The Region offers a wide range of cycling events for all ages and abilities. Check out our cycling events in Durham Region! If you don't see your event, or would like to add yours to the list, please email cycle@durham.ca.
Cycling Safely
Cycling is a fun and healthy activity. It is a low-cost mode of transportation, and it reduces your environmental impact.
Before you head out on a bike, prepare yourself by learning about what equipment you will need, proper bike maintenance, the rules of the road, and riding safely.
View our Cycling Safety brochure for information on helmet fitting, equipment, sizing, and road safety. Learn about cyclist and motorist responsibilities, safe passing, road infrastructure and bus and cycle-only lanes in our Road Sharing brochure.
Check out our safety video series for more information about cycling safely.
Equipment
Some bicycle equipment is required by law, while other gear is recommended.
Required equipment
Helmet: Cyclists under 18 are required, by law, to wear a helmet when cycling. The helmet must be on your head and the chin strap clip must be fastened under the chin. Does your helmet fit properly? Check out the Health Department's web page about helmet safety for more details.
Reflective tape: It is suggested to add white reflective tape on the front forks, as well as red reflector tape on the front and rear of the bike.
Light and reflector: If you ride between dusk and dawn, you need a white light on the front of your bike (not just a reflector), and a red rear reflector or rear light that is also red.
Bell or horn: A bell or horn that works must be attached to the bike.
Recommended equipment
Basket: Having a basket to carry items allows for hands-on steering.

Water bottle: A water bottle and cage, attached to the bike frame, will help you stay hydrated.

Proper footwear: When cycling, wear proper shoes that cover the toes and back of the foot, such as sneakers.

Bright clothing: Reflective and bright clothing make you more visible to drivers, especially when riding in the dark.

Eyewear: Protective eyewear can keep the sun, bugs and wind out of your eyes.
Keep your bike secure
Always carry a quality bicycle lock when riding. Always use this lock to secure your bike and quick release items, by attaching the wheels and seat to something solid.
Sizing your bike
There are a variety of bicycle types on the market. Whether you're choosing a touring, sport, mountain or hybrid bicycle, it should fit properly--making it easy to control and comfortable to ride.
Consider these important fitting points on your bicycle from Ontario's Guide to Safe Cycling:
Frame size
Frame size varies by the type of bicycle. But, as a general rule, you should be able to stand flat-footed over your bike's frame (top tube) with two to five centimetres of space. For a woman's frame bike, when sitting on the seat, the base of the seat should be at least five centimetres above the seat tube when the tips of both feet touch the ground.
Seat and handlebar height adjustment
Seat
Positioning your seat properly will help make pedalling more efficient and reduce strain on the knees. To ensure your seat is at the correct height, sit on the seat with the balls of your feet on the pedals. At the bottom of the pedal stroke, your legs should be almost straight, with your knees slightly bent.

Handlebars
In a normal riding position, your weight should be evenly balanced--allowing you to rest your hands lightly on the handlebars. You can adjust the tilt of your seat, and the height of your handlebars, to achieve a good balance of weight.
The handlebar stem and seat post must be at least five centimetres into the frame. Note that both usually have a mark that indicates the maximum extension point. Longer seat posts and stems are available if you need them.
Bike maintenance
Every cyclist needs to know how to tell when their bicycle is unsafe to ride and needs repair.
Do a detailed inspection of your bike at least once a year. Visit your local Durham bike shop if you aren't comfortable inspecting your bike yourself.
Each time before you ride, do a safety check of your bike. Try using CAN-Bike's method of the ABCs to make sure all the parts are working properly and your bike is safe to ride.
ABCs
Air
Check the tires and wheels:
Are the tires inflated? You'll find air pumps at your local gas station or bike shop if you need to fill your tires.
Is the tube valve sticking straight out of the rim?
Are the wheels "true" (spinning without wobbling)? If the wheels wobble, check for loose or broken spokes or looseness in the bearings of the hub.
Hold the wheel and try to move it from side to side. Is the tread or sidewall of the tire badly worn?
Brakes and bars
Check the brakes and handlebars:
Are the brake levers far enough from the handlebars? There should be at least two finger-widths between the bar and brakes, when pulled.
Are the brake pads touching only the rim of the wheel? Do the brake pads grab the rim effectively or are they too worn?
Are the brake cables worn or frayed?

To check the front brake: stand beside the bike, squeeze only the front brake and push forward on bike. The front wheel should lock, and the back wheel should leave the ground.
To check the back brake: squeeze only the back brake and walk forward. The back wheel should lock and skid along the ground.

Is the handlebar headset loose?

To check, apply the brakes, and rock the bike back and forth. Hold the front wheel between your knees and try to twist the handlebars side to side, and up and down. If the handlebars twist, they are too loose.
Chain and crank
Check the chain and crank:
Is the chain on properly and lubricated? Either over-lubricating or under-lubricating the chain can reduce the lifespan of the drive train components. If you're unsure, visit your local bike shop.
Do the pedals spin freely?
Is each gear derailleur (gear-shifting mechanism) in the correct position? Change the gears to see if you hear a clicking sound.
Is there looseness in the bottom bracket?
Quick Check
Can't remember the ABCs? Use this Quick Check to make sure all the parts are working properly and your bike is safe to ride, according to the League of American Bicyclists.
Quick
Evaluate quick-release levers and other parts for position and tightness:
Is the quick release lever positioned flush to the forks (so nothing catches on them)?
Are the nuts or levers that clamp the wheel axles to the forks on tight?
Check
Check for loose parts. Listen closely as you lift the bike several inches off the ground and drop it. Did you hear any clinking, jingling or rattling that might indicate broken or loose parts?
Riding safely
Riding with children
Use care and caution when cycling with young children who are too young to ride themselves. Keep in mind that a bicycle child seat, mounted behind the bicycle, may alter your centre of gravity while riding. This may increase the risk of losing balance. Take extra caution when placing and removing the child from the carrier. Never leave your bike unattended when a child is in the carrier.
An alternative way to carry children is to use a child bicycle trailer, which is towed behind your bike. Bike trailers are stable and not prone to tipping. Most trailers are attached either directly to the bike frame or the seat post by means of a universal joint (also called a u-joint).
Children are required to wear an approved bicycle helmet when riding in a child carrier or a bicycle trailer.
Legal
Trying to understand where you're legally allowed to ride a bike? Rules can vary from municipality to municipality.
Places where you can bike
On the road
A bicycle is considered a vehicle under the Ontario Highway Traffic Act. Cyclists have the same rights and responsibilities to obey all traffic laws as other road users. A bike travelling on a roadway at less than the normal speed of traffic should stay as close as possible to the right hand curb or edge of the roadway. You can legally ride your bike on any road in Ontario unless:
The road is an expressway or freeway highway (such as Highway 401 or 407).
No Bicycle signs are posted.
On multi-use trails
There are numerous kilometres of trails for cycling, walking, hiking and inline skating in Durham Region.
Health Benefits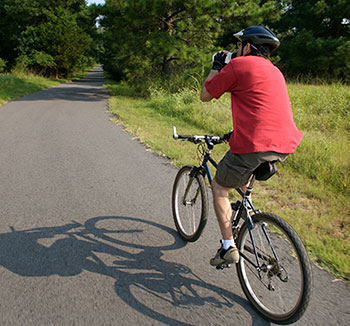 Cycling is a great way to get the recommended amount of physical activity: 60 minutes per day for children ages five to 18; and 150 minutes per week for adults, according to Canadian guidelines.
Cycling is a great way to be active and can help lower your risk of:
Bone and joint disease
Cancer
Cardiovascular (heart) disease
Depression
Diabetes
Hypertension (high blood pressure)
Active forms of transportation such as cycling can help people to:
Achieve and maintain a healthier weight.
Build self-confidence.
Cope with stress and anxiety; have better mental health.
Form supportive relationships.
Improve sleep, learning, concentration and memory.
Improve their cardiovascular and respiratory health.
Other benefits of cycling as active transportation include reduced:
Energy consumption.
Greenhouse gas emissions to lower the burden of respiratory diseases.
National health-care costs from physical inactivity.
Traffic noise.
Education
Bikes and Transit
The Region, through its Bus Rapid Transit project, has been constructing reserved lanes for buses and cyclists along Durham Highway 2.
Cycling Training
Cycling Canada's CAN-BIKE program is a series of courses about all aspects of cycling safely and enjoyably on the road. Program development is co-ordinated through two national committees. Course delivery and administration takes place through CAN-BIKE Delivery Agents, such as provincial and territorial cycling associations, regional instructor committees, community associations, municipal departments, service groups and the efforts of individual instructors.
Resources
Provincial
Area Municipalities
Other Organizations