Regional Cycling Plan 2021
Regional Cycling Plan 2021
The Regional Cycling Plan 2021 identifies actions and initiatives that will help the Region provide a high-quality, well connected, and safe cycling network that accommodates people of all ages and abilities. It identifies a series of new routes and facilities to provide increased connections to key destinations that are comfortable to all users. The Plan has been updated to increase cycling connections within and between area municipalities, improve coordination of implementation and maintenance, identify new routes and facilities based on Provincial and international best practices, and respond to changes in policies and priorities at the Provincial, Regional and area municipal level.

Project Documents
Frequently Asked Questions
What is the Regional Cycling Plan Update?
The Regional Cycling Plan Update builds upon the existing work that has been done by the Region of Durham since the approval of the initial Regional Cycling Plan (2012). Since the passage of that plan, much has changed with regards to designing for and encouraging cycling and other forms of active transportation.
The Regional Cycling Plan Update aims to identify ways to better connect the Region's existing trails and cycling routes with routes in local municipalities, to develop new policies and programs to support the implementation of the plan, and to create a path forward to create safe, connected cycling infrastructure throughout the Region.
Who is this project for?
Durham's Regional Cycling Plan Update is a project for everyone. By coming together to create a bicycle-friendly future for Durham Region, we are working to provide options for healthy, active living and more ways for people to move so they don't have to drive. This benefits everyone in our communities by helping to reduce traffic, save money, improve local air quality, support local economies and makes travel easier and safer for those who can't drive, especially children.
What parts of the municipality will the project look at?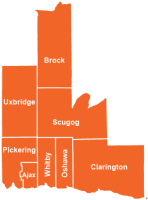 The Regional Cycling Plan Update is a plan for the entire Region of Durham. The goal of this project is to expand Durham Region's cycling network to all corners of the Region, providing safe and accessible options for cycling in all eight of the Region's local municipalities.
What can cycling do for Durham Region?
By developing a bicycle friendly Region, we are working toward providing more transportation options to Durham Region residents, including our Priority Neighbourhoods, and creating important facilities for recreation and exercise. Cycling supports active lifestyles, improves physical and mental health, protects our environment and is fun! Building bicycle friendly neighbourhoods that encourage more people to use bicycles may also contribute to our community's prosperity by reducing traffic congestion, reducing transportation and health costs, contributing to vibrant neighbourhoods and encouraging spending at nearby local businesses.
Videos