Please don't use oversized garbage cans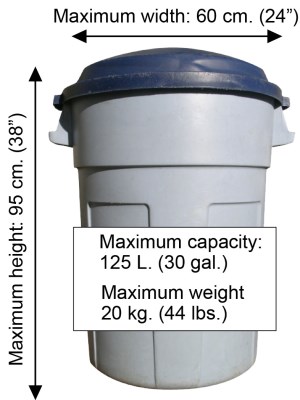 Oversized garbage cans increase the risk of shoulder and back injuries to garbage collectors. These cans easily hold more than the allowed 20 kilograms (44 pounds) of garbage and are difficult to handle, making it unsafe for collectors to lift. Only bylaw-approved garbage cans will be collected by garbage collectors. Each garbage collector picks up from as many as 1,000 households per day!
According to Durham Region's Waste Management By-law:
Garbage cans must hold less than 125 litres (30 gallons).
Maximum can size: Height 95 centimetres (38 inches), and width 60 centimetres (24 inches). Cans must have two handles, and any lids must be removable
The weight of the garbage can and its contents must not exceed 20 kilograms (44 pounds).
Residents who set out their waste in oversized garbage cans will not have their garbage collected. The use of garbage cans is not allowed in the City of Oshawa and Town of Whitby collection programs.