Posted on Thursday, July 20, 2023 01:39 PM
Whitby, Ontario - Throughout the summer, Durham Region Health Department conducts weekly bacteriological water tests to determine if beaches are safe for swimming. The Public Health Ontario Laboratory in Peterborough tests the water samples.
Test results for the week of July 17 indicate that six public beaches are posted as unsafe for swimming. Beaches are posted as unsafe for swimming when elevated levels of E. coli exceed the provincial standard of 200 E. coli per 100 ml of water.
The Health...
Posted on Wednesday, July 19, 2023 11:49 AM
Whitby, Ontario – The Regional Municipality of Durham is advising residents of the road closure on Concession Road 8 in the Municipality of Clarington's community of Bowmanville.
When: July 24 until late August. Unfavourable weather conditions may impact the work schedule.
Where: Concession Road 8 at Bowmanville Avenue to 200 metres east of Bowmanville Avenue in Bowmanville.
Why: This work is part of the Bowmanville Avenue Roundabout project. To learn more about this project, visit durham...
Posted on Tuesday, July 18, 2023 04:12 PM
The following statement is being issued on behalf of the Mayors and Chairs of Durham, Brampton, Halton, Hamilton, Markham, Mississauga, Oshawa, Peel, Toronto, Vaughan and York:
"Today, representatives of the Greater Toronto and Hamilton Area (GTHA) Mayors and Chairs met to address how to best support increased demand for settlement services—despite various ongoing challenges and limitations.
For decades, GTHA municipalities have offered a welcoming community for refugees and asylum seekers. We're...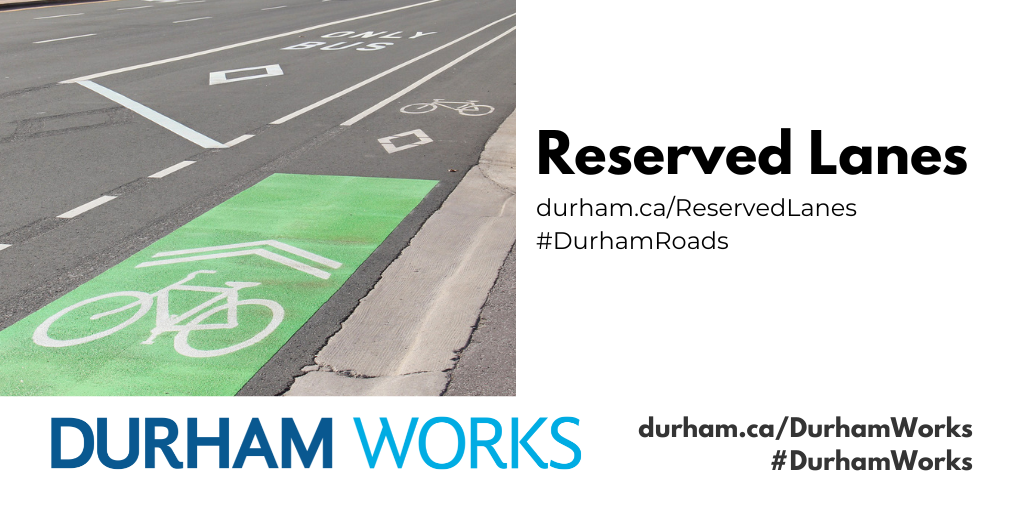 Posted on Tuesday, July 18, 2023 03:17 PM
Reserved lanes for buses and cyclists are a traffic control device to help improve cyclist, driver and pedestrian safety. Reserved lanes are clearly marked with overhead diamond signs, ground-mounted diamond signs and pavement markings.
Bus-only lanes are reserved for public transit vehicles—Durham Region Transit buses and Go Transit buses—to help buses get through congested areas and stay on schedule. Motorists are prohibited from using bus-only lanes. Vehicles can enter bus-only lanes to...
Posted on Monday, July 17, 2023 02:03 PM
Whitby, Ontario – The Regional Municipality of Durham is proposing to reconstruct Wentworth Street (Regional Road 60), from Cedar Street to west of Farewell Street (Regional Road 56), in the City of Oshawa.
When and Where: The public information package with the project background and preliminary design can be reviewed at durham.ca/Wentworth. Comments are requested by August 17.
Why: The reconstruction of Wentworth Street will include pavement rehabilitation, local road realignment, intersection...